Join the Breast Cancer Research Foundation in its mission to bring awareness to, and help find a cure for Breast Cancer while wearing fashionable jewelry, accessories, and more. There are so many ways to contribute to the cause and it's not just from wearing pink ribbons and running marathons–although I faithfully partake in both! From makeup to handbags, you can shop the following PINK Products for Breast Cancer Research from some of your favorite brands. Purchasing these beautiful items is guilt-free, knowing that each one makes a meaningful difference in the cause. To show your support and see all of the available pink products available, visit the SHOP PINK page of BCRF, the highest-rated breast cancer organization in the US. With every purchase, you help support the tireless and innovative research will help us find a cure. Get involved today by helping on your terms, either by purchasing a favorite item, fundraising or donating directly to the organization!

The BCRF website has thousands of products that donate proceeds to breast cancer research through their partnership with more than 130 brands that share their goal of ending breast cancer. From fashion and accessories to automotive and travel, there's plenty of wonderful products and gifts for everyone.
Sonia Kashuk for Target Proudly Pink Five-Piece Purse Brush Set, 15.99
"Professional quality makeup brushes."
This set of Sonia Kashuk Proudly Pink professional quality makeup brushes come with clean white handles, chic silver accents and pink plush bristles. And it's all wrapped in a silver carrying case with pink lining. Set includes powder/blusher brush, concealer brush, eye shadow brush, crease brush, and bent eyeliner brush. Fifteen percent (15%) of what you spend goes to breast cancer research. These lovely brushes are available year-round at Target locations and target.com.
Michael Aram Limited Edition Pink Mother-of-Pearl and Diamond Heart Necklace, $575.00
"Built around the simple but universal symbol of love, hope, friendship, and caring."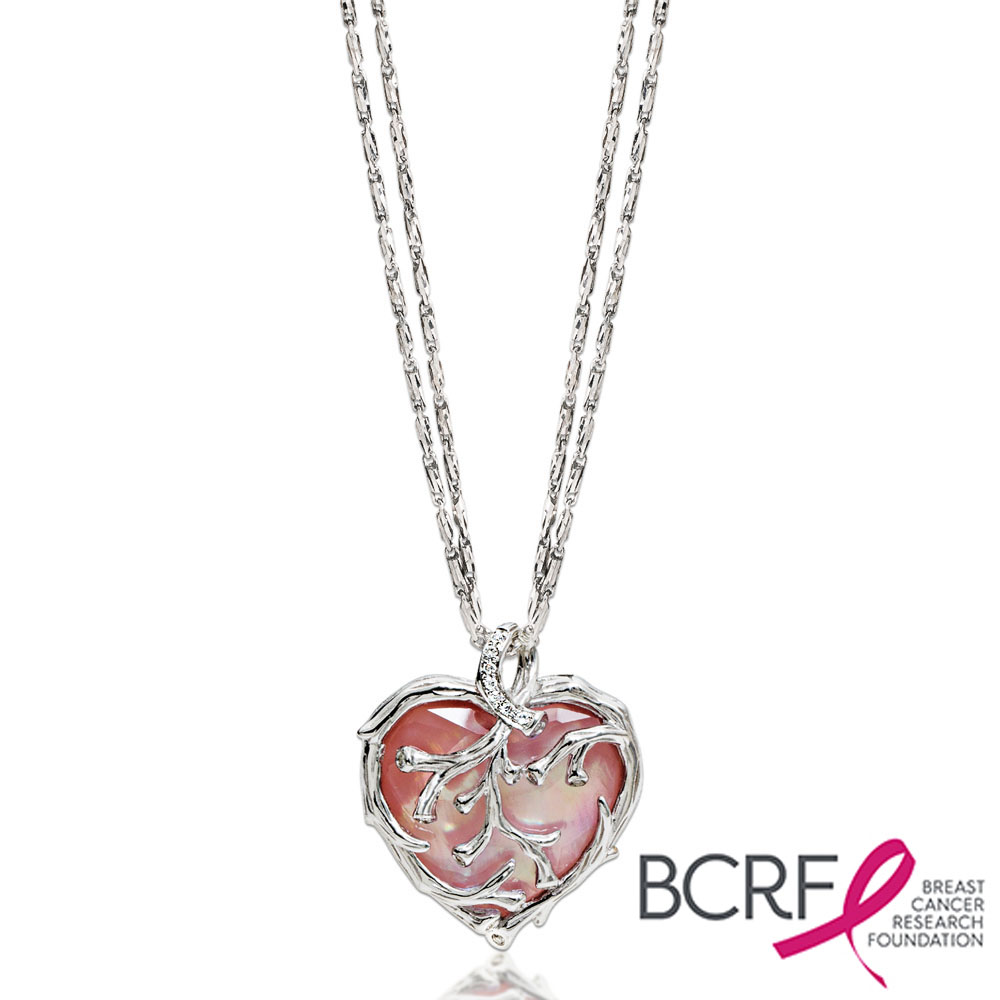 From the Heart Collection Sterling Silver, Mother Of Pearl, Diamonds, 0.08 Total Carat Weight, 24″ Length. One Hundred Dollars ($100) of your purchase price is donated to breast cancer research through December 2015. This absolutely gorgeous and unique necklace is available year-round at the Michael Aram store at 136 West 18th Street in New York City, in select stores, and on the Michael Aram websites: michaelaramjewelry.com and michaelaram.com.
Coach Legacy Sport Breast Cancer Awareness Watch, $298.00
"A dramatic sport watch designed for women who like to make a statement!"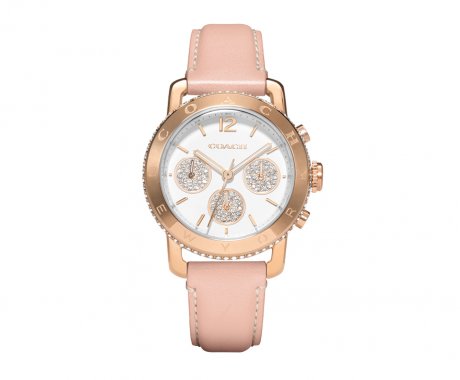 Featuring a rose gold ion-plated stainless steel case, blush leather strap, and multi-function dial detailed by Swarovski elements and rose gold-toned accents. The stainless steel case back is etched with the breast cancer ribbon motif. Ten percent (10%) of your purchase is donated to help find a cure. Available for a limited time at fine department stores including Macy's, Dillard's, Lord & Taylor, Coach stores and online at coach.com.
Smashbox Be Legendary Lip Gloss in Promise, $20.00
"Be Legendary—with a cause! "

Think pink with this limited-edition shade of our Be Legendary Lip Gloss in Promise, created exclusively for BCRF. Just one swipe of this airy, glassy gloss leaves your pout with a vibrant wash of gorgeous color that's never sticky. Find yours at ULTA Beauty stores, Ulta and at Smashbox while supplies last. Smashbox donated $5 of your purchase to breast cancer research.
Estée Lauder Evelyn Lauder and Elizabeth Hurley Dream Pink Collection, $29.50
"Shades that compliment each other perfectly for any occasion."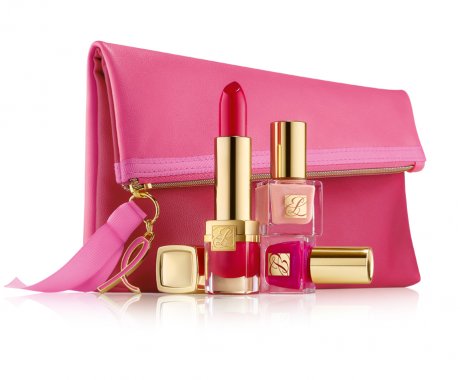 Housed in a chic pink clutch is a set of limited-edition includes Estée Lauder's best-selling Pure Color lipstick in limited-edition Dream Pink, and two mini Pure Color Nail Lacquers in limited-edition Blushing Lilac and Berry Hot. Twenty percent (20%) is donated to the Breast Cancer Research Foundation. This collection is available at Estee Lauder counters nationwide while supplies last.
Tory Burch Kerrington Zip Continental Wallet, $185.00
"It's a great, everyday organizer. "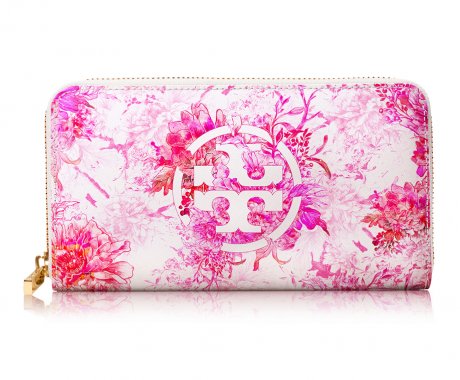 Who doesn't love Tory Burch? Check out this lovely wallet featuring a classic shape, a signature pink floral print and a plethora of pockets. It's durable, water-resistant, and has a zip-around closure with multiple pockets and a classic long shape that fits all full-length bills without folding. Twenty percent (20%) of the purchase price will be donated to breast cancer research. Available at Tory Burch stores and at toryburch.com.
Tara Pearls Stackable Pearl Bracelets, $30.00
"A fun way to dress up or wear casually."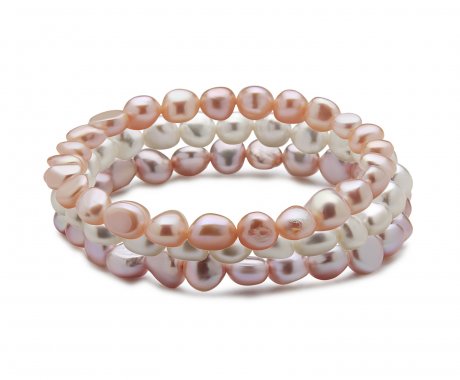 These beautiful and very affordable natural color freshwater bracelets. Wear one, two or all three. These lovely baroque shaped pearls are strung on elastic so one size fits most. Ten percent (10%) of your purchase price will be donated to breast cancer research. These beauties can be purchased year-round online at Tara Pearls.
Stage Stores Bracelet Collection of 3 Bangles, $15.00
"Floral inspired bracelet collection of 3 bangles."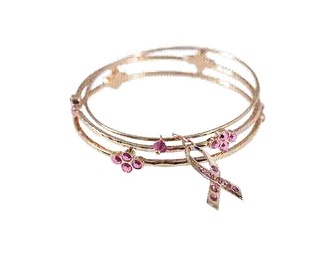 Bracelet collection of 3 bangles, with floral inspired pink crystal stationary charms, and two movable charms one being the pink ribbon all in rose gold tone. Available year-round at your local Bealls, Goody's Palais Royal, Peebles, and Stage Stores or online at Stage Stores. A minimum of fifty percent (50%) of the purchase price will be donated to the cause.
West Coast Novelty Corporation Support the Cure Apparel & Accessories, $1.50-11.00
"Show your support by wearing it!"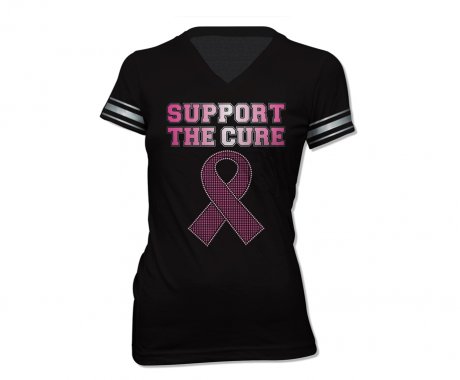 West Coast Novelty's Support the Cure Program offers retailers a beautifully merchandised breast cancer awareness brand solution that gives their customers the opportunity to show their support through wearable garments, accessories and fun race day gear. $100,000 goes to finding a cure for breast cancer…regardless of sales. Available at WestCoastNovelty.
There are lots of products to love and companies to support. To learn more or shop these PINK products for Breast Cancer Research, head over to the www.bcrfcure.org/shop-pink and help the BCRF be the end of Cancer.
Edited by Glasgow Skinner