Last summer we highlighted some summer fruits that we think make the perfect fast food. One of the fruits we highlighted were the deliciously sweet white cherries from Stemilt Growers. Today, in honor of the upcoming fall season, we're celebrating the many tasty Stemilt Growers apple varieties. We had the opportunity to sample three of their apple varieties: Fuji, Pink Lady, and Granny Smith. Stemilt Growers has a total of fourteen apple varieties growing in their Washington State orchard. Those varieties include the above mentioned three plus Gala, Pinata, Honey Crisp, Sweetango, Golden Delicious, Red Delicious, Jonagold, Braeburn, Ambrosia, Mcintosh, and Cosmic Crisp. Let's get to know more about the three apple varieties we enjoyed (all pictured below), starting with our favorite, the Pink Lady brand.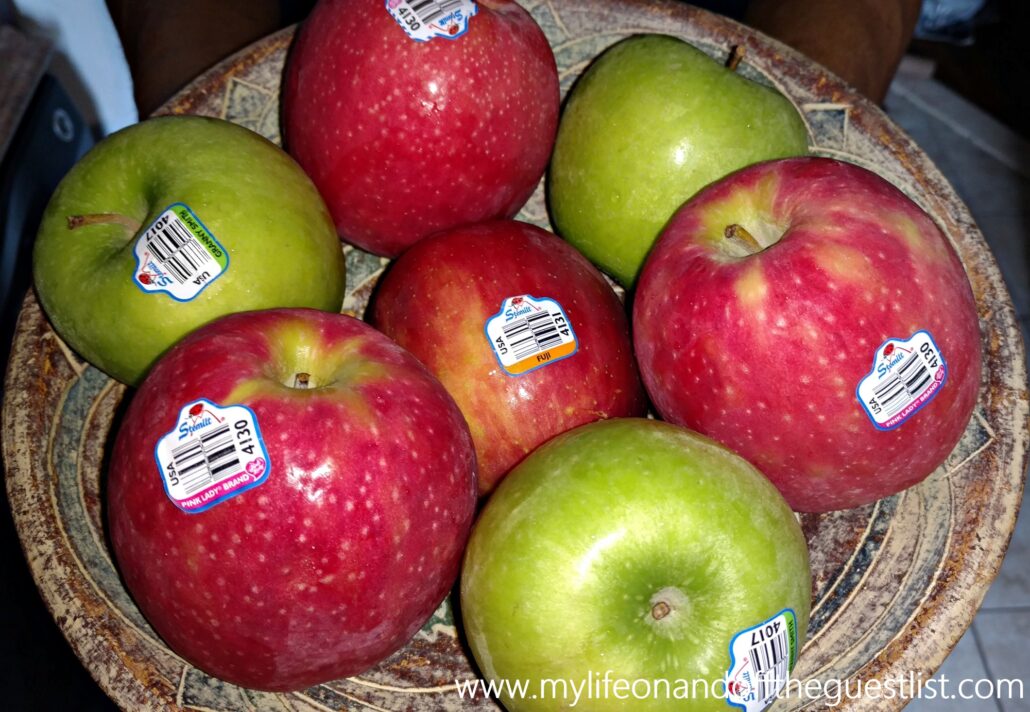 The Pink Lady brand is just as the name suggests, pink (with some slight yellow tones). This subtly sweet, crisp Australian apple will easily make you a fan at your first bite. It is a combination of the Golden Delicious and Lady Williams apple varieties, which accounts for its sweet flavor with a slight tartness. The Pink Lady is very firm and dense, which gives its continuous crispness with every bite. The inside is a bright white flesh that is resistant to getting brown when it's cut. Stemilt Pink Lady apples are harvested in October and November, and available through July.
My second favorite apple (tied with Gala apples) is the Fuji apple. The juiciest and sweetest of the three Stemilt Growers apple varieties, Fuji apples are the perfect choice for those with a sweet tooth. A cross between two classic American apple varieties – Red Delicious and Virginia Ralls Janet, the Stemilt Fuji apple are harvested in September and October but are available all year round. You'll recognize Fujis by their reddish stripes and slight red blush color over a yellow background color. Bite into the Fuji apple's crisp exterior to reveal a firm, creamy-white flesh.
The only green apple, as well as the most tart, the Granny Smith is one of the most well-known apple varieties and one of the best apples for baking pies. The Granny Smith apple is firm with a strong tartness similar to a lemon. Its interior is as firm as its exterior and boasts a bright white flesh that also resists browning when sliced. Just like the Fuji apples, Granny Smith apples are also harvested in September and October and are available all year long.
Do you have a favorite apple variety or an apple recipe you like to enjoy during the fall season? What are your favorite Stemilt Growers apple varieties?