It's nice to know that tucked away on a bustling busy street in the iconic East Village that there is a place, Desi Galli, that carries on the tradition of the diversity that makes this neighborhood great. We now have someplace to retreat to for fresh Indian cuisine at more than fair prices for those times when we retreat to Tompkins Square for some visual design inspiration, or on a hot toddy bar crawl and need some satisfying comfort food.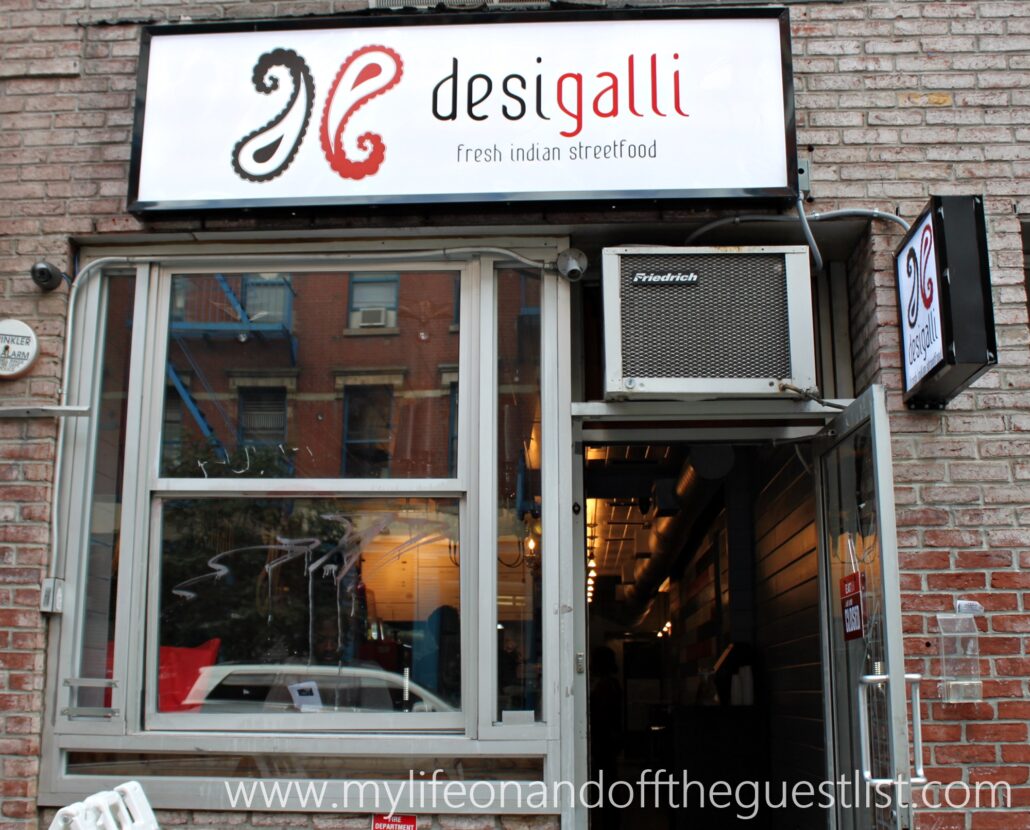 The small restaurant boasts two locations, one in Kips Bay, and the other in the East Village, where we dined. The intimate setting is the perfect location to fully immerse yourself in Desi Galli's delightful offerings. You're surrounded by the wonderful smells before you're even at the entrance. It's almost like the wonderul aromas lure you into the restaurant by invisible hands. We sat down for an amazing five-course meal of the most delicious and fresh Indian streetfood we've ever had. While David's palette was fairly new to this food genre, I've personally been enjoying it for years and Desi Galli did not disappoint. So get settled in as you journey with us on this magical culinary adventure into fresh Indian street food.
Course 1 – Desi Poutine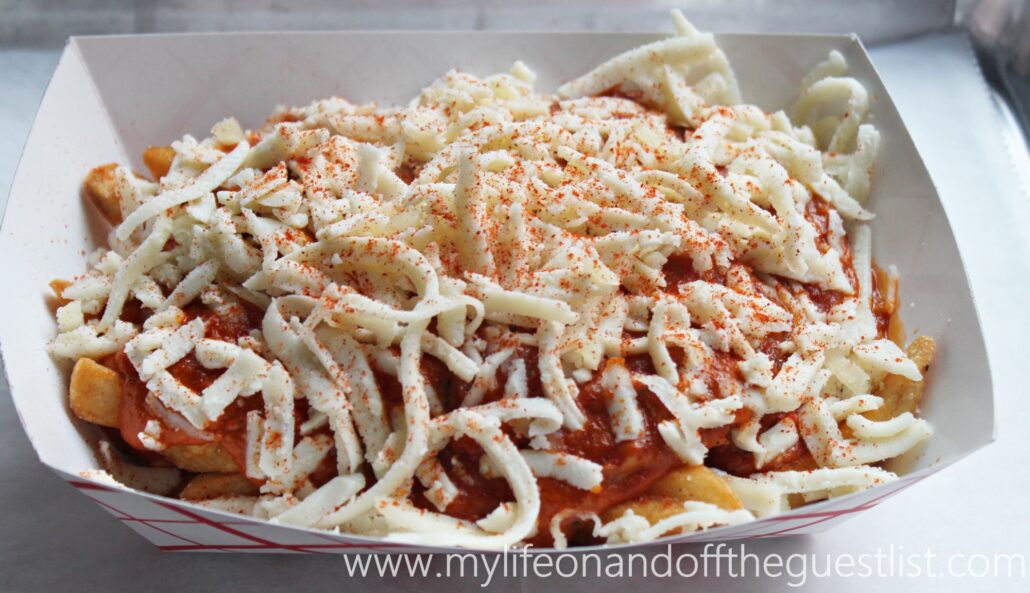 DAVID: This poutine remix is pretty delish. It's like Desi disco fries with the fragrant red curry that has a textural ragu-like thickness that balances nicely with the crisp fries. The creamy element of the cheese gives the dish that smooth topper that adds to the textural explosion. I liked that it was not greasy so like a classic poutine, the fries held up to the sauce.
GLASGOW: The fall season always puts me in the mood for savory, hearty meals that not only satisfies your hunger but also soothes your soul. That is what Desi Galli's take on Poutine did for me. For those familiar with the Quebec dish, french fries and cheese curds are normally topped with brown gravy, in Desi Galli's delicious spin, tikka sauce replaces the gravy, and grated paneer takes the place of the cheese. The result is a decadent dish that both vegans and meat eaters will thoroughly enjoy. An added bonus to the Desi Poutine is the fries remained wonderfully crisp under the tikka sauce, a huge plus for this fan of non-soggy fries.
Course 2 – Lamb Bhuna Kathi Roll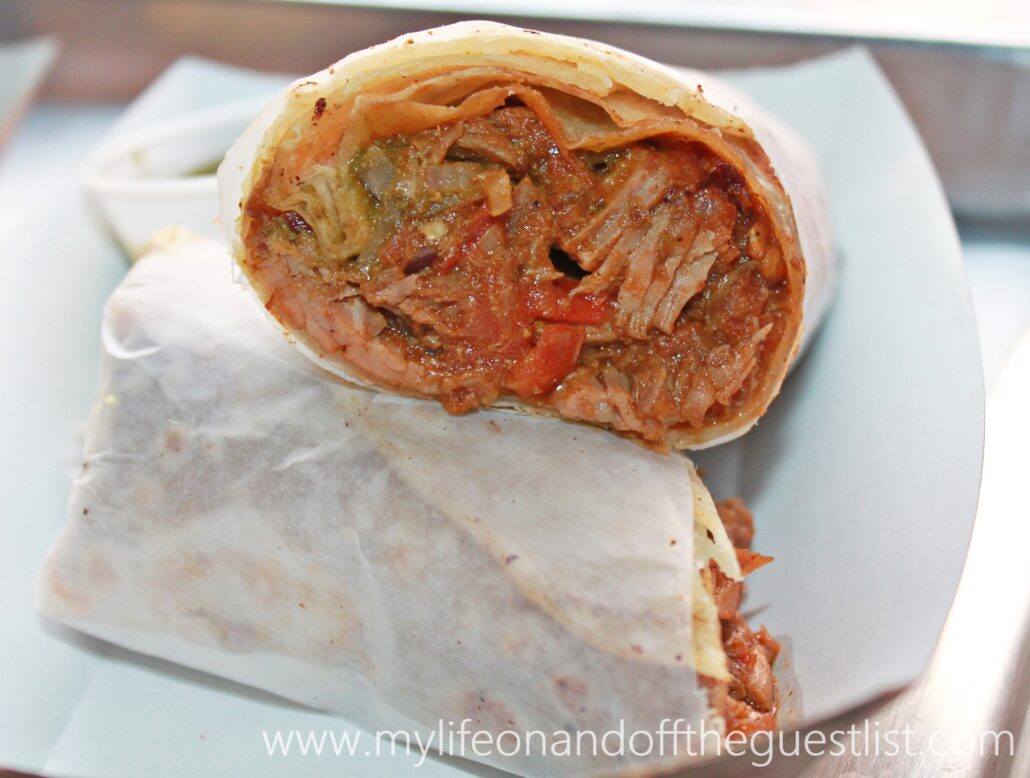 DAVID: There is so much flavor here. The wrap or roll is very light but has a surprising denseness that holds the chunky lamb and veggie mixture that are seasoned quite lovely. The tender lamb is quite wonderfully balanced coupled with the herbal mint, cilantro, spinach and natural sweetener (Desi Galli's secret) which adds a verdant pop of fresh flavor in the dish.
GLASGOW: I love a good Kathi Roll, but I usually go for chicken, so getting the lamb was a very nice change. The Lamb Bhuna Kathi Roll provided joyous levels of flavors that are almost…..almost indescribable. The hearty and slightly gamey flavor of the lamb seems to highlight the mint, cilantro and slight sweetness in the roll. It's just flavor, upon flavor, upon flavor. It's a definite must-try.
Course 3 – Palak Patte Ki Chaat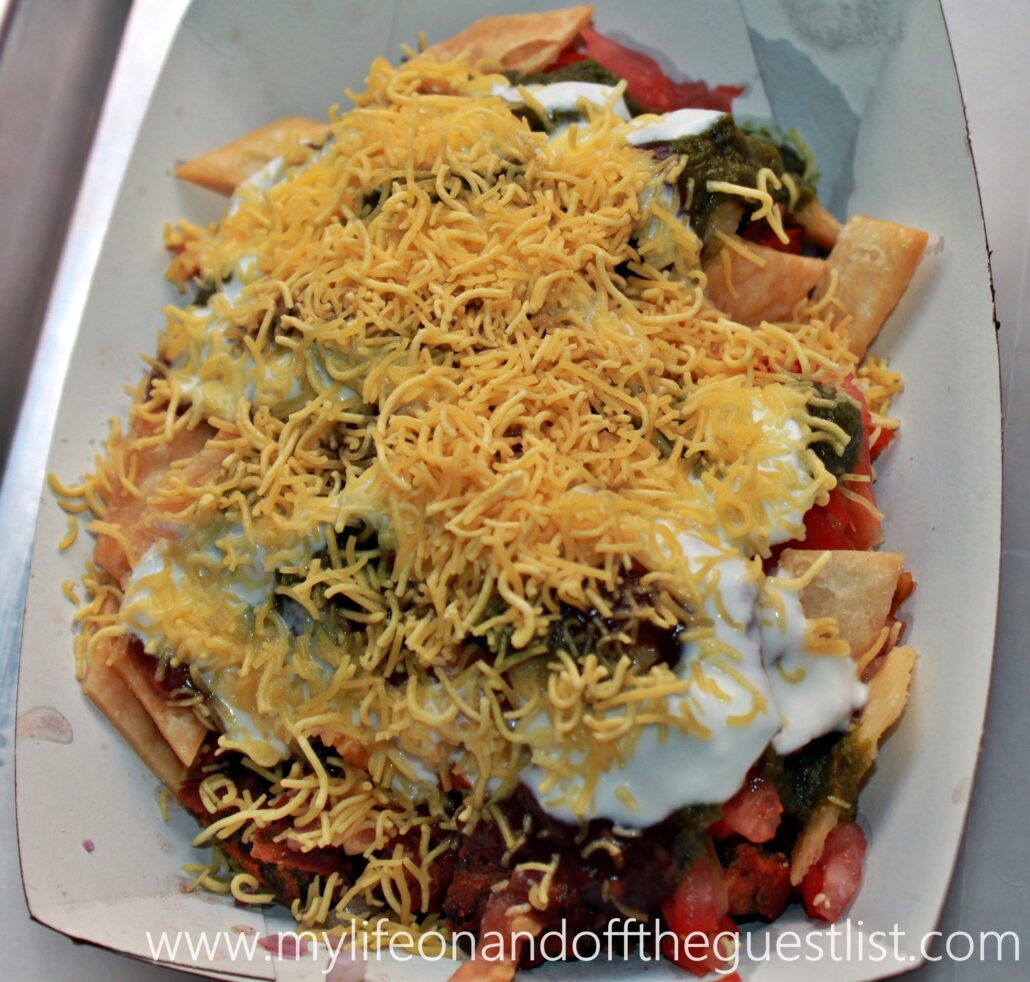 DAVID: As someone who always looks for the meat in things, surprisingly, I didn't miss the meat here. The layered vibrant texture of this dish creates a chunky, crispy, smooth satisfying loveliness as you hit each layer of coarse bold seasoning down to the finer more penetrating seasonings. My palette was quite satisfied especially with the added touch of pleasantness from the both sweet and slightly tart tamarind chutney.
GLASGOW: This dish is actually a new one for me as I tend to stick to the non-vegetarian side of all Desi menus, so I wasn't quite sure what to expect besides an assortment of flavors. The best way to describe this dish is to think of a layered dip, but more (if that makes sense). Not only was it an assortment of flavors, but textures as well. With the freshly chopped tomatoes, green chutney, mix of crunchy, crumbly, smooth, and crisp textures, and the multiple other spices, you are in for an explosion of palate pleasures.
Course 4 – Lamb Curry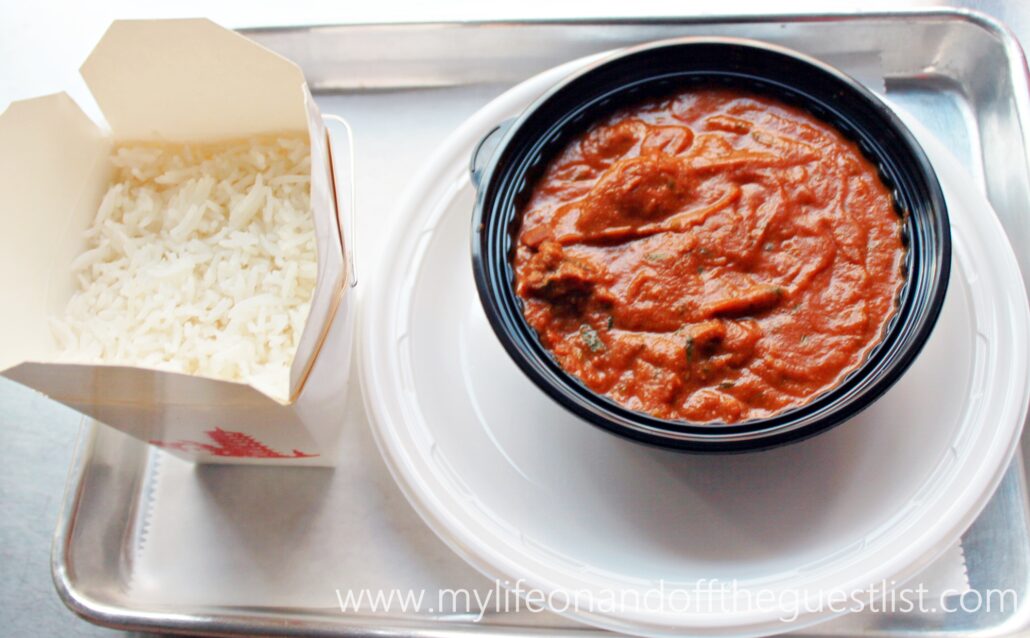 DAVID: This is a hearty lamb stew. The gamey tender lamb is kissed rather adoringly by the thick ragu-like curry. The filling robust weight of this stew was perfectly balanced with the fragrant basmati rice not only in flavor but also in depth. A stew like this needs a rice like this.
GLASGOW: Curry dishes are my favorite with dishes made with red and/or yellow curries being at the top of my list. I love curry everything, chicken, fish, shrimp, meat, vegetables….everything, so my take on this dish may be more biased than others. This time around,I continued the lamb journey continued with a wonderfully thick Lamb Curry made with Spiced Australian lamb chunks paired with the very fragrant basmati rice. It was heaven in every bite. This is the type of dish I'd happily enjoy every day of the season without getting bored of its flavors. It's hearty, perfectly spicy, with its own touch of sweetness. Just writing about it is increasing my desire to have it right now.
Course 5 – Shrimp Biryani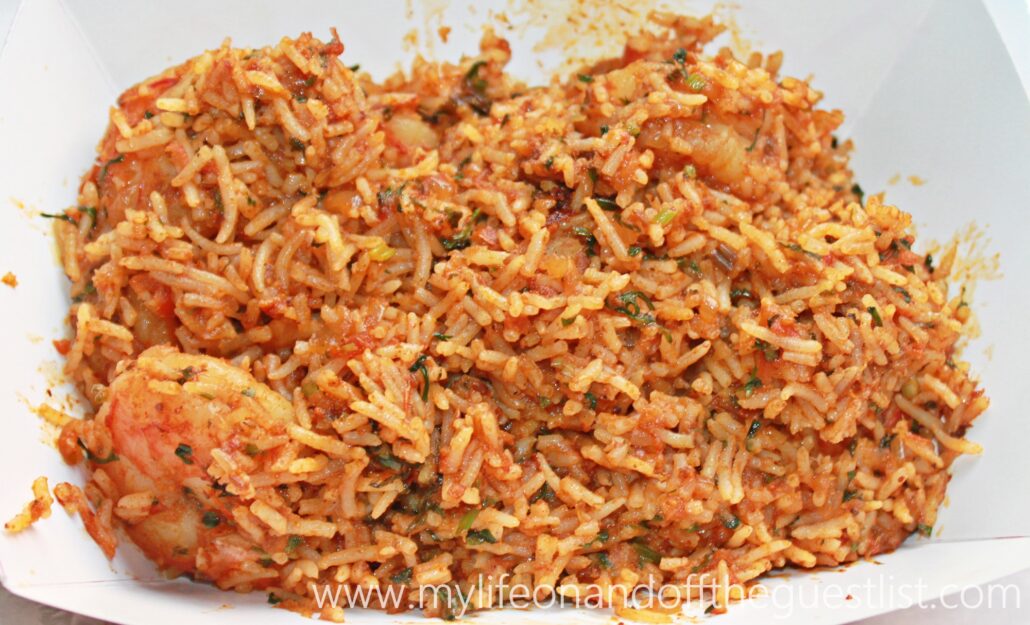 DAVID: This is such a fresh dish. The shrimp is very well-seasoned and has an airy freshness that turns into a spicy briny goodness. The yogurt sauce cools down this fragrant and zesty number with a cool and creamy crunch. Once again you may find yourself searching to figure out all the layers of the seasonings, but why bother, just napkin-up and dive in.
GLASGOW: Last but certainly not least is very flavorful and fragrant Desi Galli Shrimp Biryani, a dish boasting seasoned shrimp and fragrant rice containing tons of spices such as saffron, cardamom, ginger, etc, vegetables . Gluten-free. Served with raita (yogurt sauce . Biryani is another dish that's high on my favorites list. It reminds me of something similar I grew up with called "Cook Up", like Biryani, it's a complete meal in one.
It was a pleasure to experience the fresh Indian street food from Desi Galli, and we'll certainly be back again and again to indulge our appetite. If you're near Tompkins Square Park, head over to the Desi Galli East Village location at 172 Avenue B; and if you're in the Kips Bay area, you'll find the Desi Galli Curry Hill at 101 Lexington Ave. If you love Indian food, make sure to bookmark these two locations. If you've enjoyed the food at Desi Galli, please share your thoughts in the comments.