This year has certainly tested our resolve. Let's face it, 2016 has been a rough year for all of us. Tensions are high, there's so much sadness and uncertainty; so many losses. All of that can take its toll on your body, mind, and wellbeing. We all need a bit of an escape and some pampering to ease the tensions of our daily lives, even if it's just for an hour. Thank goodness the time for $50 Spa Week treatments is almost upon us. From October 17th – October 23rd, you can indulge in $50 Spa Week treatments from hundreds of spa, wellness and fitness facilities across the country. Services you can enjoy include facials, massages, body detoxing, laser therapy, pain management, etc.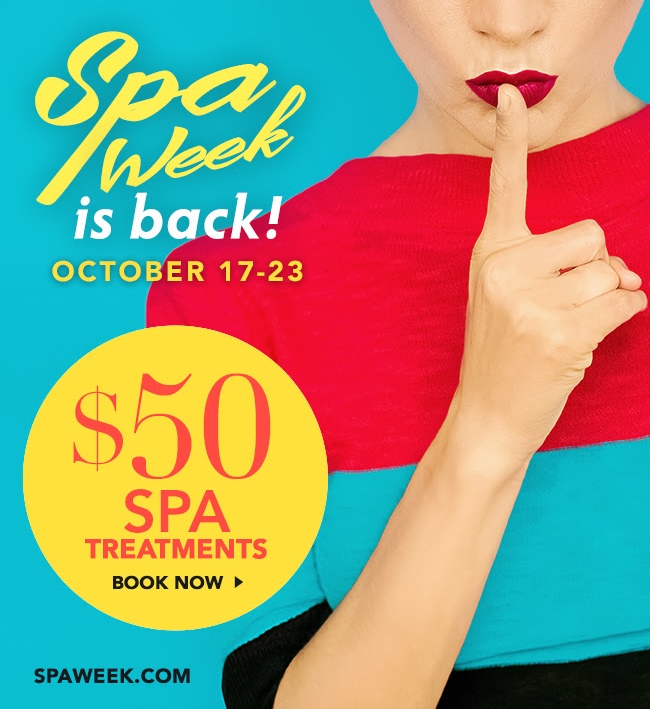 For that glorious week, anyone, nationwide can enjoy premium full-service treatments, regularly priced $100-$500, for the discounted rate of $50. Treating yourself to one or more of these wonderful treatments can put you back on track to optimal physical and mental wellbeing. Where are some of the spa locations you can visit during spa week? And what are some of their wonderful available treatments? See below for just a few spa week offerings:
Elizabeth Adam Salon & Day Spa in Chicago offers a 60 Minute French Wine Facial with Extractions and Sound Wave Treatment (Reg. $125, Spa Week $50). This indulgent seasonal treatment incorporates European techniques and uses Tannins for collagen regeneration and Resveratrol, an antioxidant in red wine that provides anti-aging benefits for your skin. Extractions and/or sound wave cleansing included.
Penelope and the Beauty Bar in Seattle provides a 60 Minute Hydrating Body Wrap with Dry Brushing Techniques and Warming Balm Moisturizer (Reg. $195, Spa Week $50). This hydrating body wrap starts with a dry body brushing and is followed by an application of a rich, warming balm with natural moisturizers. The body is then cocooned in a wrap to aid in absorption and rehydration, leaving skin silky-smooth and radiant.
Daphne in NYC offers a 45 Minute Non-Surgical Lift Facial with Micro-Current Treatment (Reg. $225, Spa Week $50). The most intensive and results-oriented facial offered, the facial is specifically designed for mature, neglected, and tired skin. In one session, a combination of a customized peel application and a non-surgical facelift is used. The treatment includes a personalized mask, an eye treatment, and finishes with an oxygen infusion. Immediate results are noticed and skin tone, texture, clarity, and elasticity are dramatically improved and restored. This also includes an anti-aging hand treatment.
Holistic 360 in Modesto, California offers a 60 Minute Deep Tissue Laser Therapy and Massage for Pain Management (Reg. $100, Spa Week $50). This treatment includes a therapeutic massage and up to 20 minutes of light force therapy; an infrared and heat laser treatment to target pain for acute and chronic issues. The treatment provides a pain evaluation and treatment plan for ongoing pain management.
The Spa at the Victory Club in Buckeye, Arizona boasts a 50 Minute Vitamin C Facial with 20% Vitamin C and Kombucha Cocktail (Reg. $85, Spa Week $50). Blending a 20% solution of Vitamin C with Kombucha, known as the "elixir of life" proves to effectively and dramatically enhance the tone and texture of the skin. This powerful vitamin tea "cocktail" works to bring radiance to the skin and to balance the pigmentation.
Euro Laser in Westchester developed a new 50 Minute Forever Young Facial Treatment with Growth Factor (Reg. $125, Spa Week $50). This facial is a deeply hydrating facial that encourages the skin's healthy cellular turnover with our growth factor mask by providing an immediate softer, smoother feel on the skin, restoring the moisture level from within.
Red Door Spas Nationwide are offering their 50 Minute De-Stress Body Treatment (Reg. $225, Spa Week $50) inspired by their signature stress-melter ritual. It includes exfoliation, an aroma-therapeutic body wrap and relaxing scalp massage to melt stress and rebalance spirit.
To see more spa locations, more $50 Spa Week Treatments, and to book your treatment in advance, visit www.spaweek.com.