Tucked away around the corner of Madison Avenue on 86th Street is a little bit of Paris. Even if you weren't looking for it, you can't miss the red awning and the white curtains that draw you into the warm and inviting bistro, Demarchelier French Bistro. Since its opening in 1978, the family-owned and operated restaurant has brought authentic French flair to the Upper East Side.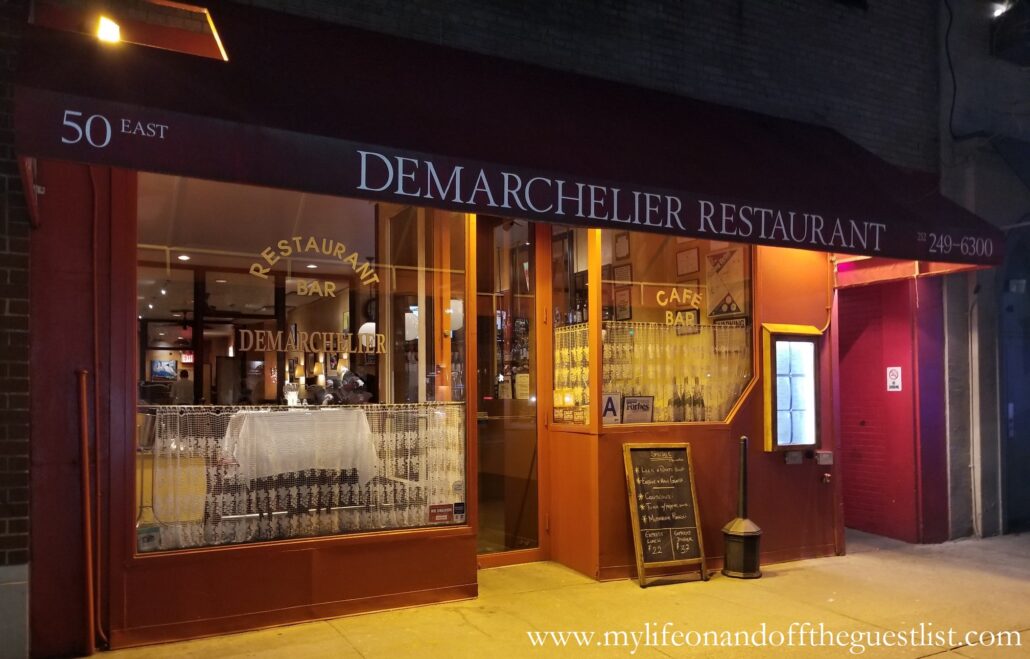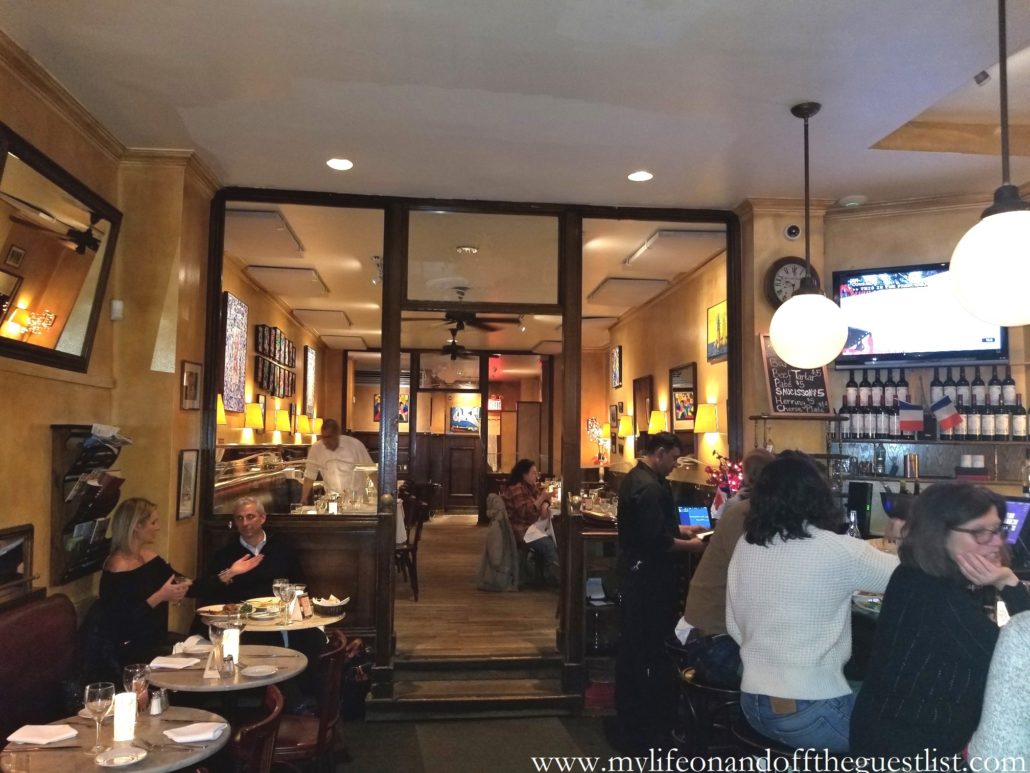 It was a welcome respite from a cold winter night. Stepping inside the cozy establishment, you're greeted by the convivial energy emanating from the bar. Unlike many of New York City's too-crowded watering holes, this one had enough room for everyone and wasn't overly noisy. Amidst the socializing patrons at the bar was the sweet and friendly Emily Demarchelier, greeting everyone with a smile. Emily runs the restaurant and is the daughter of the owner, artist, and restaurateur, Eric Demarchelier, and not to mention a niece to famed fashion photographer,
Patrick Demarchelier. With that said, it is no wonder that the walls are filled with colorful original abstract and figure paintings by Eric Demarchelier. They're all for sale should you wish to take home something quite special with your leftovers.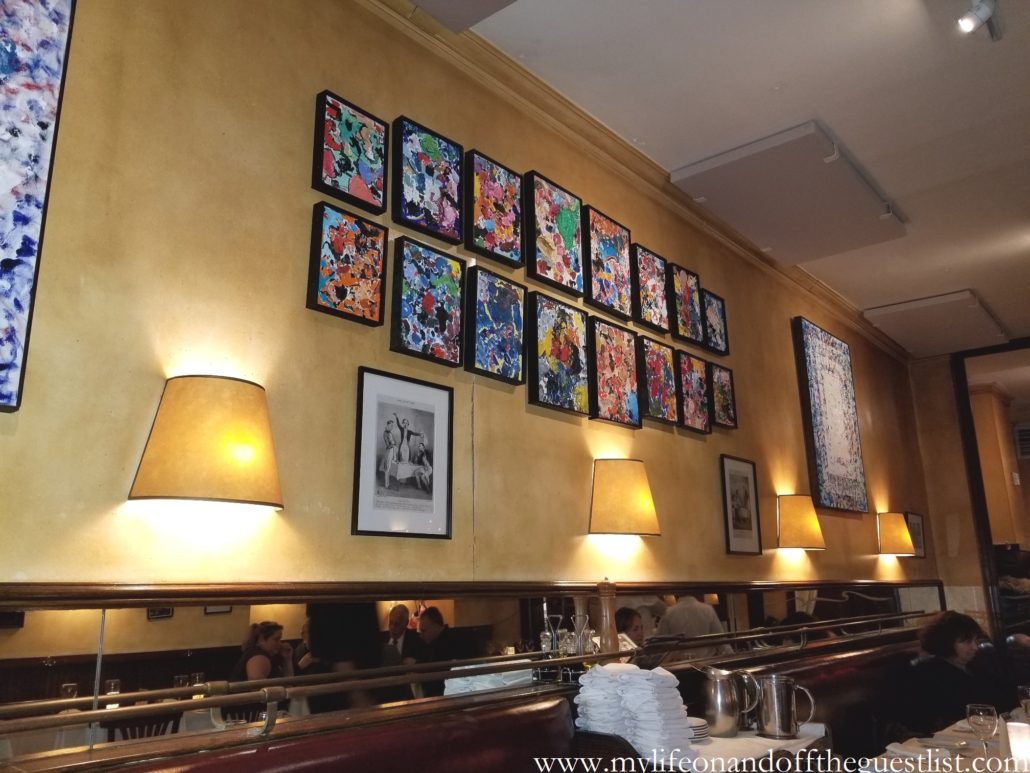 CHRIS: Unlike a lot of so-called French establishments that either offer Americanized versions of French meals or experimental fusions with French inspirations, this place offers up the hearty traditional dishes like bouillabaisse, duck confit, coq au vin, Moules Mariniere, quiche, and escargot. It's also good to note that many of the meat, poultry, and vegetables are organic and sourced from nearby farms. There's also a prix-fix menu paired with a glass of wine or sparkling French cider as well as a daily special. While we wished our stomachs would expand to try the whole of the menu, here were our picks for the night.
GLASGOW: It was an amazing pleasure to see so many authentic French dishes available at one restaurant in both the entree and dessert menus. We couldn't remember the last time we saw Pot au feu and Cassoulet (the latter is only available on Thursdays) on a dinner menu. Dessert-wise, both tarte Tatin and Crepes Suzette have been equally elusive on menus as well.
COCKTAILS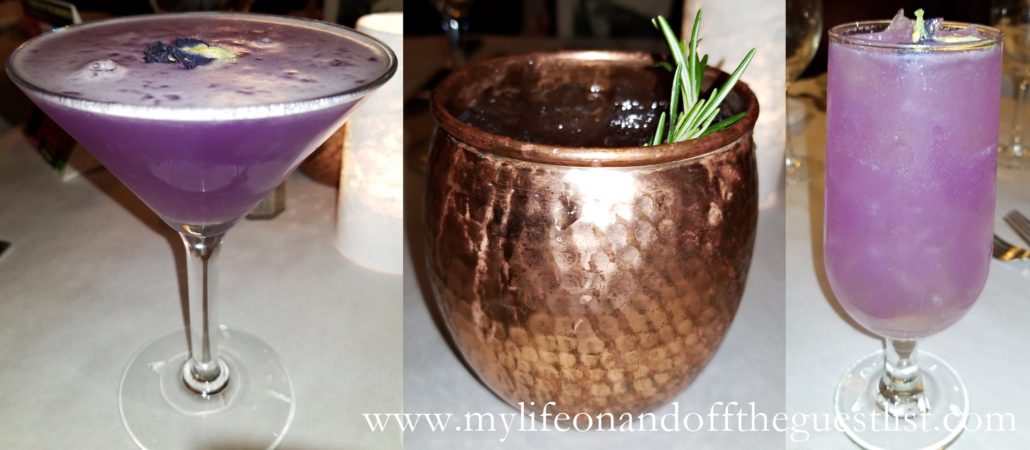 The Purple Blossom
GLASGOW: I love pea flower so this libation immediately caught my eye. This cocktail was very fresh and heavy on lemon juice. It may not look like it but the lemon juice really comes through in the Purple Blossom. There is a very light dash of simple syrup, so if you're expecting a sweet drink, this isn't it. Fans of gin cocktails, this is a must just to experience the Empress 1908 Indigo Gin.
Grapefruit Rosemary Mule
CHRIS: I've been on a mule kick lately (pun absolutely intended) and have been trying out all the different iterations of the Moscow Mule. I was skeptical about this one as I am not a fan of grapefruit. Surprisingly, it was not a bitter and tart drink. Made with Deep Eddy Grapefruit vodka, fresh lime juice, and ginger beer with a sprig of rosemary, this refreshingly simple concoction went down easy. The rosemary added a lasting aroma that perfectly accented each sip.
Empress 75
GLASGOW: I swear my color coordinating cocktails were not planned. I selected this cocktail because French 75 is one of my all time favorites and I wanted to see what how different champagne (as in the French 75) and sparkling wine (as in the Empress 75) would make the two. I must say it is very different. The dry sparkling wine is a noticeable difference but I still enjoyed the Empress 75 very much.
APPETIZERS
Moules Mariniere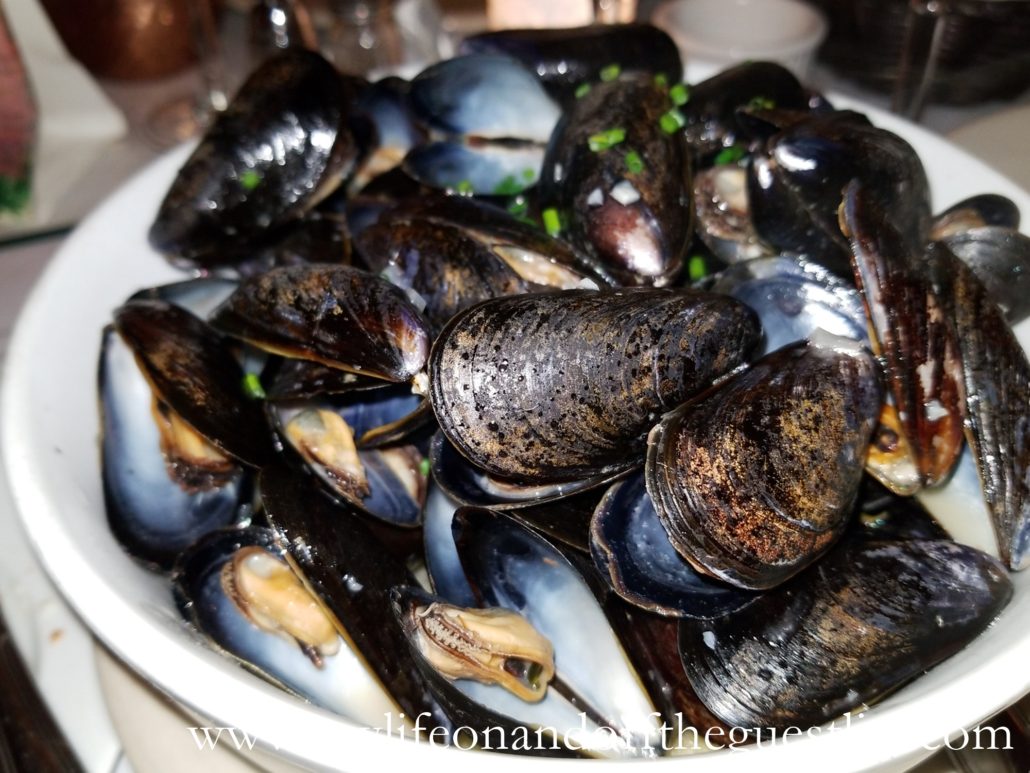 GLASGOW: Diana Ross has an old song where the chorus starts with "I want muscles"; granted she's talking about muscles on a man, not mussels but that song nevertheless describes our obsession with mussels. I want mussels and I want it all the time. The sauce was heavenly and you better believe we had to refrain from lifting the bowl to our mouth and drinking the incredible sauce. Thank goodness for the bread.
Avocado Crab Salad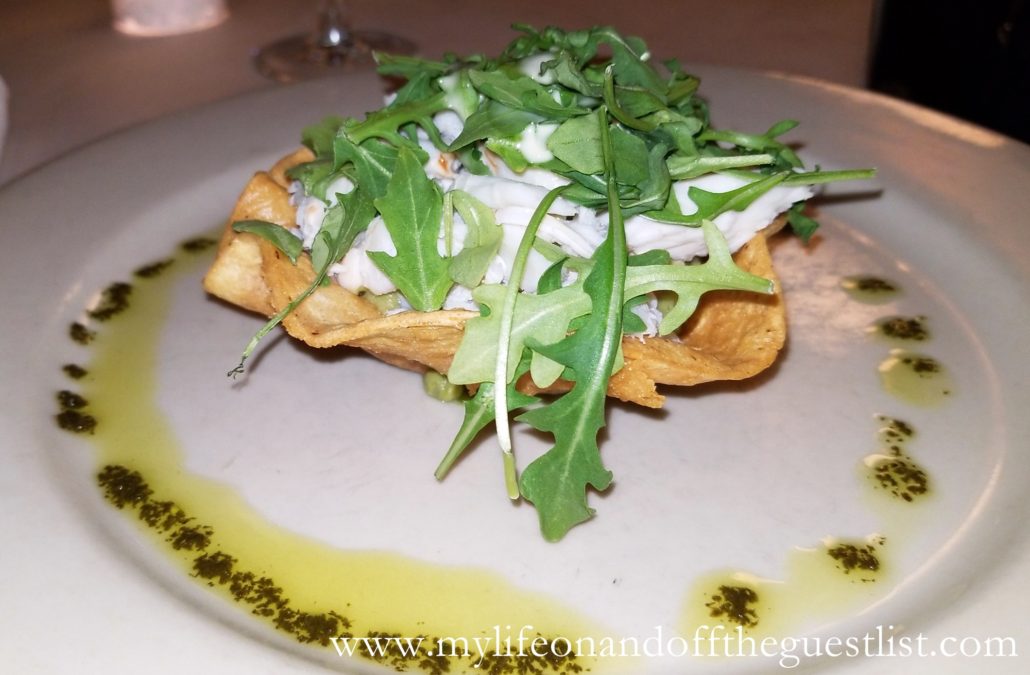 CHRIS: Not at all what I expected, but in a very good way. I was thinking I'd get the typical mixed greens with a few pieces of crab sprinkled in and drizzled with a light dressing. Instead, what is set before me is a decent sized tortilla bowl in the middle of a plate heaping with crab meat on top of fresh guacamole and topped with arugula. I love crab and this was a lot of crab. While the layered concept makes for a clean aesthetic presentation, it is much better when thoroughly mixed in the edible bowl.
ENTREES
Duck Confit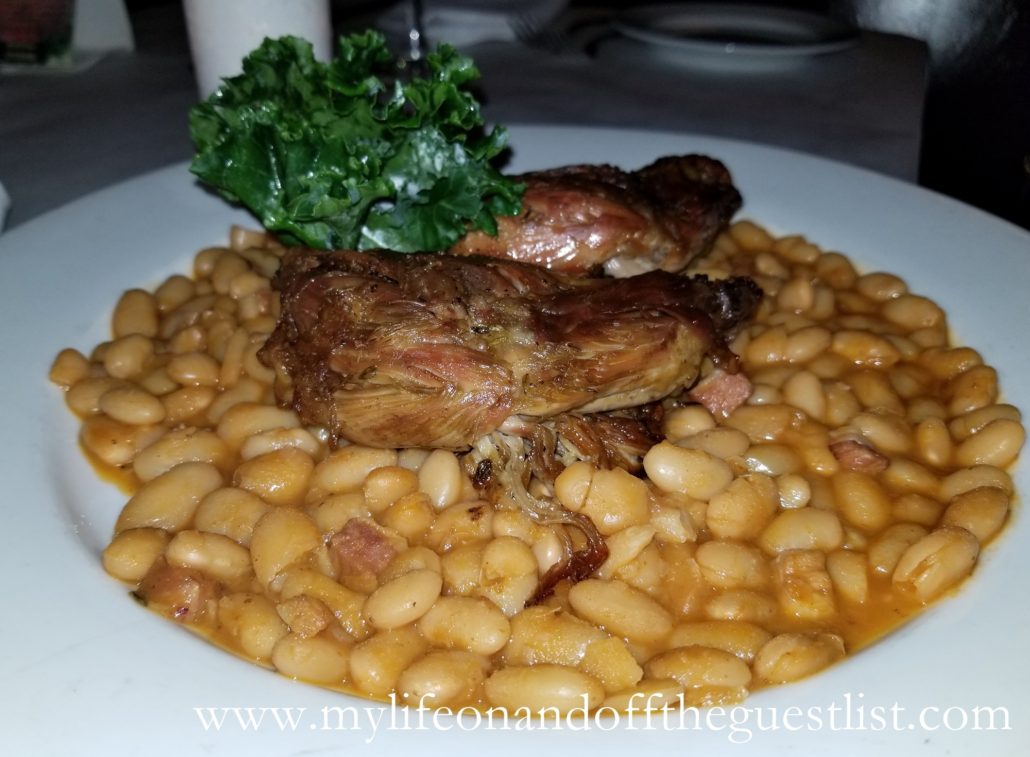 CHRIS: I like duck confit but it's always a gamble because it can be hard to cook it properly. While deceivingly simple, it takes some time to preserve the duck in its own fat. However, Demarchelier's duck confit is nothing short of amazing. The two juicy duck legs were served on a bed of white beans stew. This traditional French dish has ample flavor and melt-off-the-bones goodness. I was baffled when the waiter put a steak knife by me since I can peel the meat off with barely a tug from my fork. The beans were just right – not mushy with just a good amount of firmness.
Ribeye with Pepper Sauce and Cream Spinach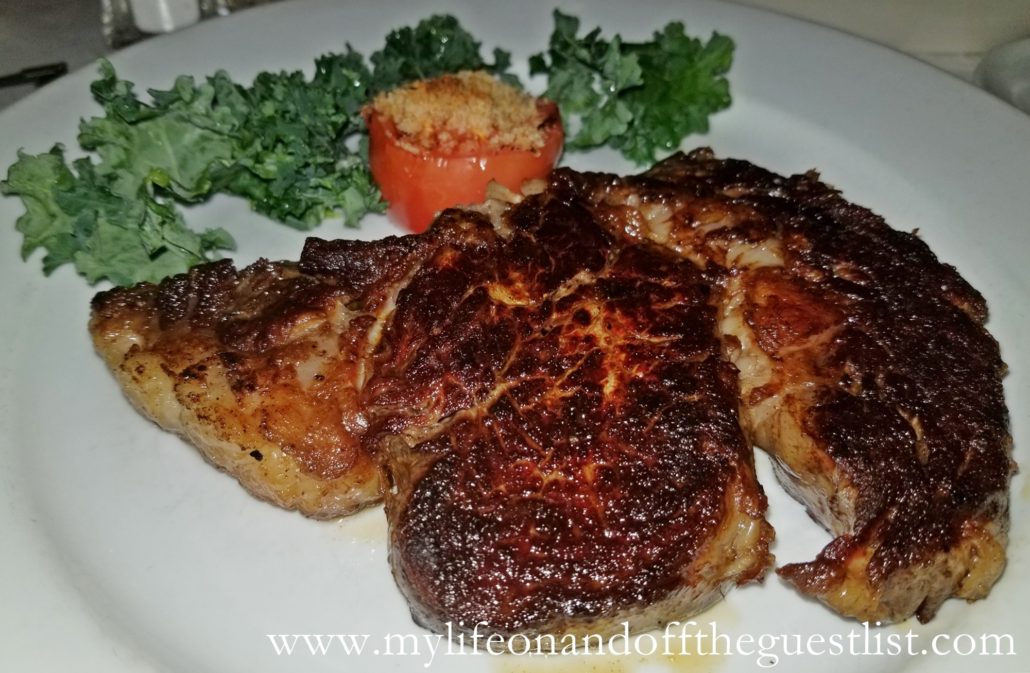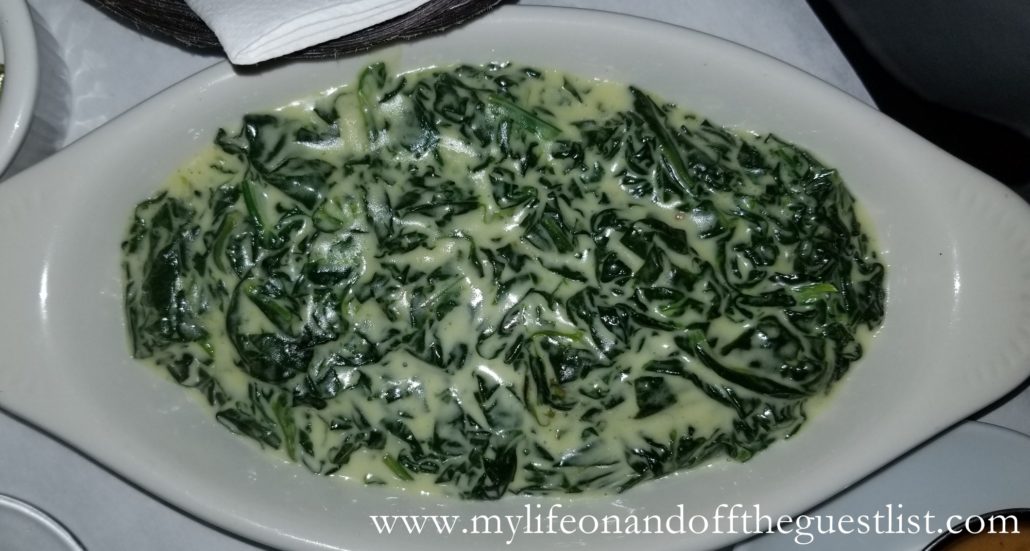 GLASGOW: I don't know if there's anything that beats a great peppercorn steak from a French restaurant. If there is, I haven't tried it yet. My medium-well steak (pictured sans peppercorn sauce) was very tender with a juicy interior and a subtle char. The pepper sauce was mild, not very peppery – perfect for those who are not used to a spice heavy palate like ours. The cream spinach was flavorful, very creamy but light on the thickness of the cream. We personally love a thicker sauce but that didn't take away from how delicious this was. Those on a low sodium diet will appreciate the light hand of salt.
DESSERTS
Chocolate Mousse Cake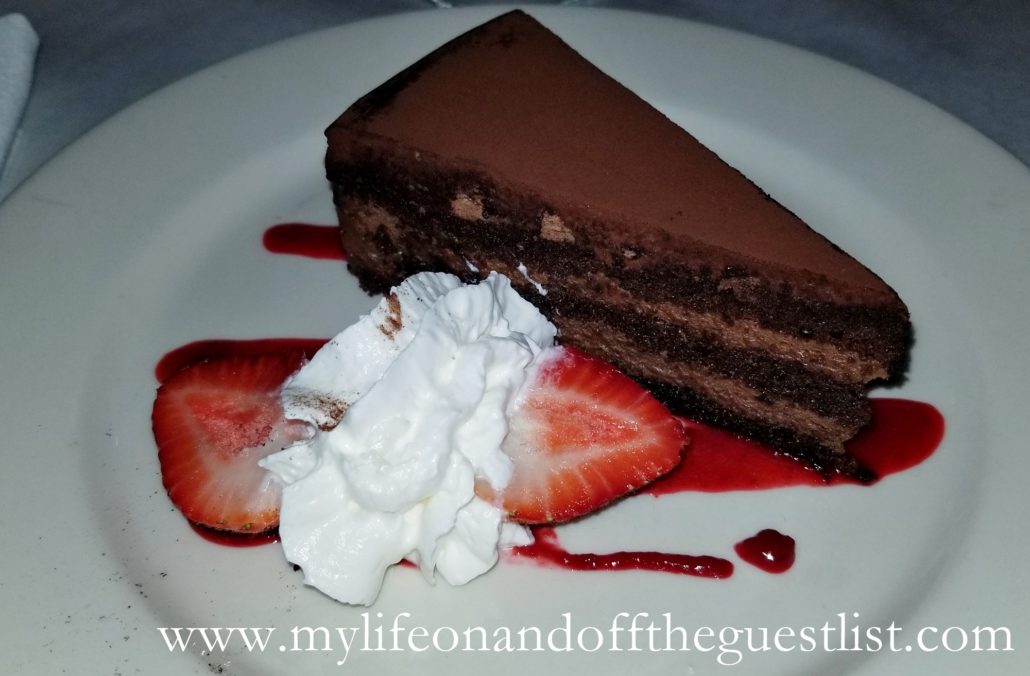 CHRIS: This was the perfect ending to an already gastronomically satisfying night. The cake part is perfectly moist and soft while the mousse layered in between is light, fluffy, and wonderfully chocolaty. Sitting atop a plate of strawberry sauce with a dollop of whipped cream, this cake was sweet and heavenly. A wise choice for a chocolate lover who didn't want to go over the edge of full.
Crepe Suzette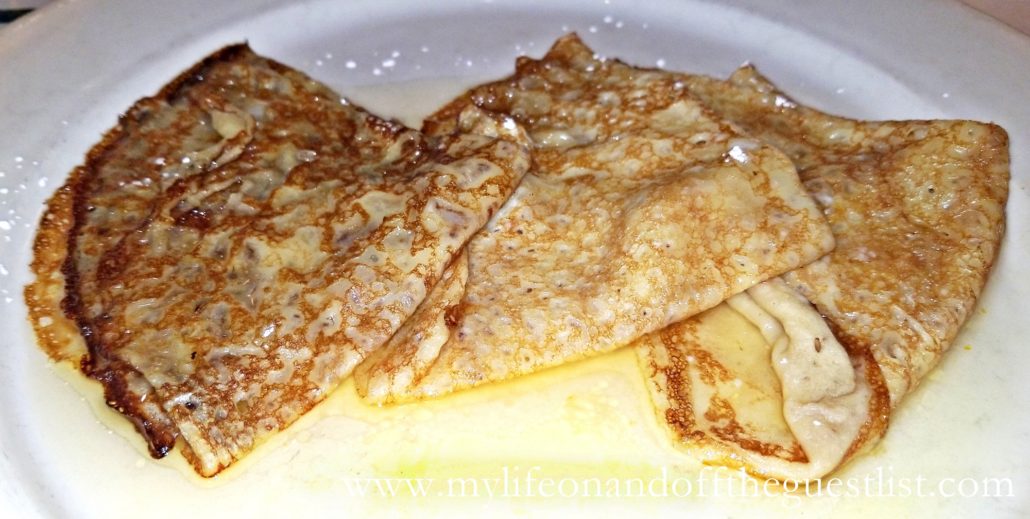 GLASGOW: Thank goodness for Demarchelier. You hardly see this indulgent dessert on menus anymore. We greatly appreciated the restaurant for bringing it back into our lives. We highly recommend being extra nice to your server so he will giddily douse your crepe in a waterfall of Grand Marnier before it's engulfed in the flames. Every bite sinfully divine, especially as we had more than enough Grand Marnier left over to make this dessert even more intoxicating.
Demarchelier is a neighborhood fixture for a reason, you can clearly see why in the photos above. Whether you're in the area for a quick bite or a romantic local for dinner, we recommend heading to 50 East 86th Street to sate your palate.
Written in Collaboration with Christine Ongsueng