Tis the season of holiday entertaining and gift-giving. Why not give the gift of decadent holiday spirits. Whether you are gifting the host of a party, your favorite drinking buddy or your boss, none of these wonderful holiday spirits will ever be exchanged. What better way to celebrate the festive spirit of the holiday season, than with a gift of holiday spirits.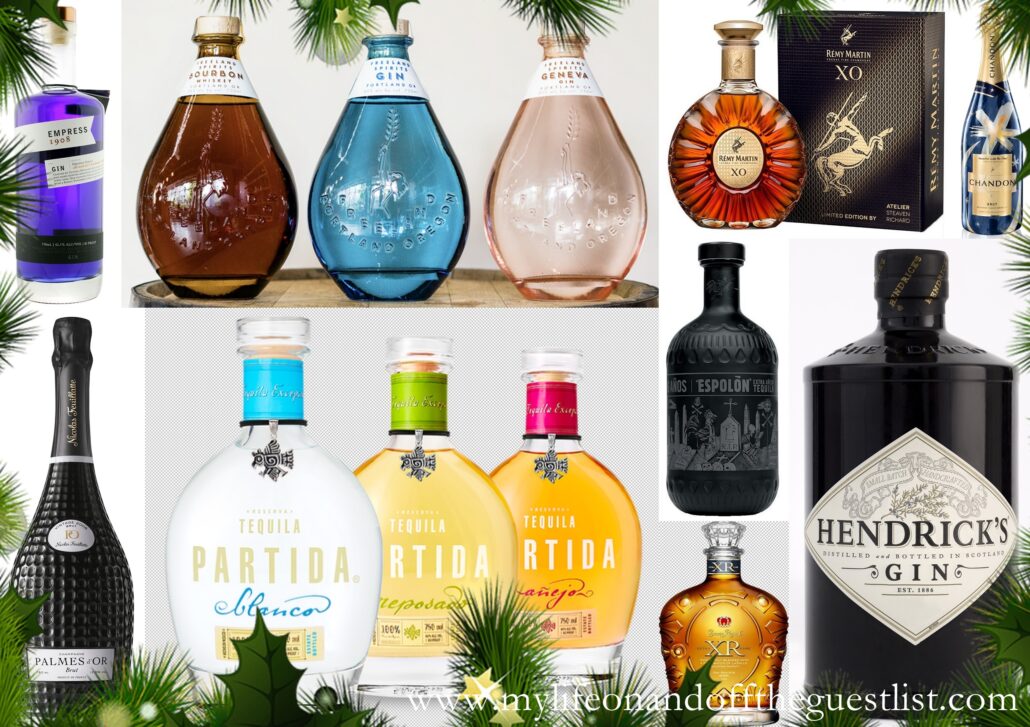 Know someone who loves tequila, gin, whiskey, cognac or bubbly? Then these offerings from Chandon, Crown Royal, Empress 1908 Gin, Espolon Tequila, Freeland Spirits, Hendricks Gin, Palmes D'or, Remy Martin, and Tequila Partida will make the perfect gift.
Chandon, Standard Bottle $19. 00, Magnum $43.00 – The first of our giftable holiday spirits is perfect to celebrate the season. Chandon launched a limited-edition bottle (available in both standard and magnum sizes) of their signature Brut varietal. The Chandon Limited-Edition "Harvested Under The Stars" Collection celebrates the cool California night that protects the quality of Chandon's grapes. This bubbly is a great way to give the gift of some California magic.
Crown Royal, $289.99 – Talk about special. Sadly, the Crown Royal XR is going away, so the holiday season is the time to snap up this exclusive gem before it disappears forever. This is the rarest in Crown Royal's extra rare whiskey series. It's handcrafted with a unique blend that includes one of the final batches of whiskeys from the renowned LaSalle distillery. Once it is gone, it's gone for good.
Empress 1908 Gin, $38.99, – The fashionable drinker on your list will love this as a gift. Classic Blue is Pantone's 2020 Color of the Year; what better holiday gift than the small-batch, copper-pot distilled blue gin, which boasts exotic butterfly pea blossom as it's 8th ingredient.
Espolon Tequila, $99.00 – Not only is this Añejo X is secretly laid to rest for six long years, it's housed in one sexy bottle that any tequila connoisseur will proudly display on their home bar. The extra aging creates a tequila of rich, complex flavors and uncommon character. Beautifully rich and subtly smoky. Its taste is prominent with vanilla, notes of nutmeg and white peppercorn and hints of cocoa nibs, bitter chocolate, rich roasted fruits. Its rich mouthfeel lingers traces of dark chocolate, cherry, tobacco, and honey.
Freeland Spirits, $40.00 – $50.00 – You'll love these three delicious holiday spirits come housed in beautiful tear-shaped bottles that look impressive with a simple bow or ribbon. Freeland Spirits small batch Gin, Bourbon, and Geneva are handcrafted by master distiller Molly Troupe, each with the flavor of the Northwest. Also, we really love the fact that they are a woman-owned and run distillery.
Hendricks Gin, $34.99 – For your more curious and adventurous guests, consider Hendrick's Gin, which boasts a distinctive blend of botanicals: a signature infusion of cucumber and rose petals, producing a divinely smooth gin that has character and balance of subtle flavors.
Palmes D'or, $136.00 – Let them celebrate the holiday in style! Available in Brut and Rosé, the 2006 vintage of Palmes D'or offers the finest crus in champagne and is aged for at least six years to further enhance its delicate flavor. The bottle has hundreds of distinct dimples, mirroring a disco ball – a perfect choice to pour (or gift!) this season.
Remy Martin, $200.00 – Give the gift of the Rémy Martin XO limited-edition bottle designed by celebrated French Atelier, Steaven Richard, a globally celebrated French metalsmith and artist. A perfect gift for the more artistic person on your list.  To achieve this beautiful bottle, Steaven Richard immersed himself in the story behind Rémy Martin; he found inspiration from the vineyards in Cognac to create this refined design.
Tequila Partida, $40.00, $45.00, and $50.00 – last but certainly not least; we end our holiday spirits highlight with Tequila Partida; this authentic, ultra-premium Tequila made from 100% blue agave in the heart of Mexico's historic Tequila Valley. The Partida Blanco ($40.00) boasts an unaged, pure agave flavor; the Partida Reposado, ($45.00) is aged 6 months and dubbed "the Bentley of Reposados"; and the Partida Anejo ($50.00) is aged 18 months and ideal for that single malt lover.
This concludes our holiday spirits gift guide. Because there are so many wonderful spirits to enjoy, there'll be much more to come. We'd love to know which of these spirits are favorites of yours.