As promised, we present several more wonderful alcohol brands to gift this holiday season, one for each day of Christmas. We really have something for the drink aficionado on your holiday list: whiskey, rum, bourbon, vodka, and gin; a truly international collection of some of the finest spirits we've ever had the pleasure of enjoying. If you don't want to buy a ready-made bottle for your loved one, why not look into getting some brewing supplies, such as whiskey barrels. The brewing industry is growing rapidly and who wouldn't want to brew alcohol themselves? Brewing supplies is the perfect gift for a friend who is serious about alcohol. Anyway, here are wonderful 12 spirits to gift this holiday season.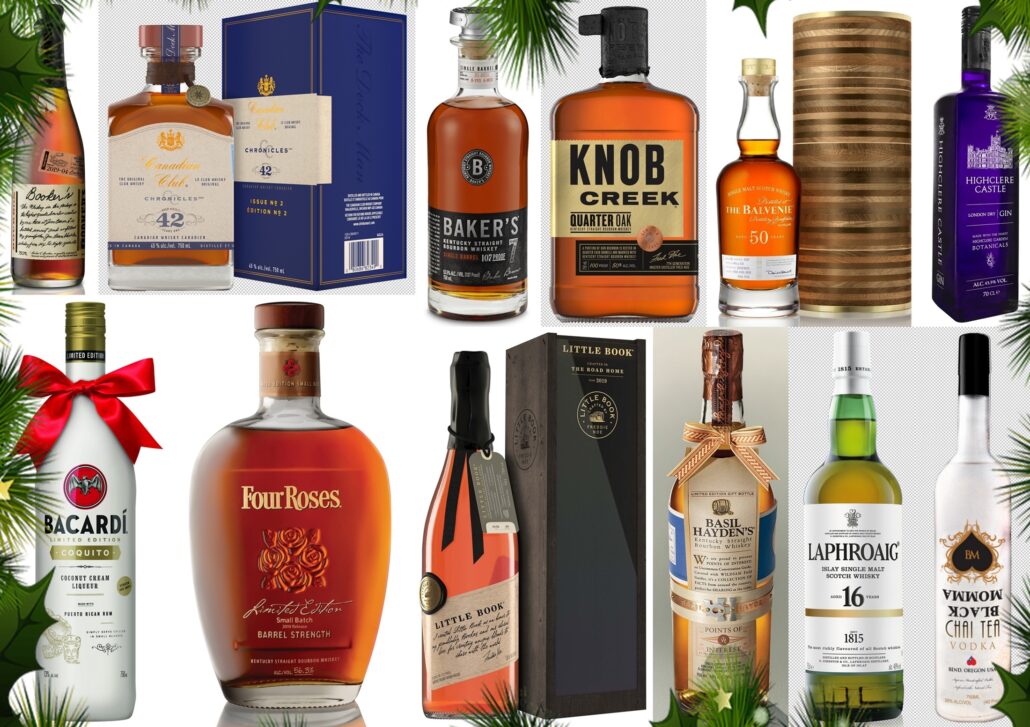 Because of the holiday season, whiskeys make up the majority of this alcohol holiday gift guide. As well as this guide, for even more choices of whiskey, it may be worth checking out sites like https://www.thebottleclub.com/collections/whisky for more options.
But as we stated, we do have something for the arbiter of taste in your life. Whether they be your bestie, partner, or family, we think they'll love the offerings from these amazing brands. Keep reading this 2019 holiday gift guide to get to know each of the 12 spirits to gift this holiday season from the following alcohol brands: Booker's, Canadian Club, Bakers, Knob Creek, The Balvenie, Highclere Castle, Bacardi, Four Roses, Little Book, Basil Hayden's, Laphroaig, and Black Momma.
ON THE 12TH DAY OF CHRISTMAS, OUR TRUE LOVE GAVE TO US……….

Booker's Batch 2019- 04 "Beaten Biscuits" ($79.99) is the newest and final release of 2019. This deep chestnut-colored bourbon is named after the small, cracker-like biscuits 6th Generation Master Distiller Booker Noe loved to make. It bears hints of the oak barrel through the sweetness, much like the scent of caramel icing for a cake. The finish is medium and very flavorful.
Canadian Club 42-yr Old Whisky ($299.95) – The second release within the premium expression series, CC Chronicles/MC. Batched and barrelled more than four decades ago, this limited-edition expression is masterfully blended. It showcases its robust rye spice, delicate notes of brown sugar and baking spices that creates its exceptionally rich, smooth taste.
Bakers Bourbon ($59.99) – Re-emerged as a single barrel product in October 2019 with a new bottle design to celebrate the individual characteristics inside each and every Baker's Bourbon barrel, while delivering the smooth, medium-bodied bourbon fans enjoy.
Knob Creek Quarter Oak ($49.99) is the newest limited-time bourbon to join Knob Creek's award-winning portfolio. The expression has been aged in quarter cask barrels; this adds a layer of richer notes of oak, balanced with Knob Creek's traditional sweet flavor. Quarter Oak is here just in time to add to your collection or gift to friends and family this season.
The Balvenie Fifty: Marriage 0197 ($38,000) – The second in a coveted series of unique expressions of exceptional quality that continue the distillery's rich history of aged variants. Showcasing Malt Master David Stewart's unique skill and knowledge, the bottling is comprised of highly rare liquids aged 50 years or over. This bottling has been selected from American Oak casks in the oldest sections of TheBalvenie's stocks. This single malt Scotch whisky is rich and deep with an abundance of oak tannins, dark fruits, bitter chocolate, and intense spice. The taste encompasses big and bold character; indulge in its malty sweetness and a spicy outburst, hints of honey and dark chocolate balance the oak tannins while the finish is a rich and spicy mouth coating with a luscious oak sweetness.
Highclere Castle Gin ($48.99) – The latest offering from the 800-year-old Highclere Castle estate that will forever be the iconic Grantham home on Downton Abbey. The gin is made with botanicals inspired by the castle's herb gardens; these gardens were originally planted in the ninth century by the Bishops of Winchester. The grounds boast an ancient underground water source which enhances the crisp yet smooth gin. It also integrates Highclere's acclaimed estate-grown oats into the blend to add a unique smoothness and a long, memorable finish.

BACARDÍ Coquito ($17.99) – Nothing says bring on the holiday season like the famous Puerto Rican holiday drink, Coquito! Thanks to Bacardi, there are no more waits for someone's tío or Abuela to "hook you up" with a bottle. The new ready-to-drink coquito is made with the signature BACARDÍ Superior white rum, toasted spices, coconut cream, vanilla, and cinnamon. Now you can fully indulge in the heritage-filled libation in two easy steps – open bottle and pour over ice.
Four Roses 2019 Limited Edition Small Batch ($140.00) – The first Four Roses limited-quantity bottle to feature a 21-year-old Bourbon from the distillery's OBSV recipe. Non-chill filtered and bottled at a 112.6 proof, the 2019 Limited Edition Small Batch offers elegant aromas of oak, honey, red raspberries, and vanilla. The Bourbon is complemented by flavors of bright, sweet fruits, cinnamon, baking spices, and mellow barrel flavors leading to a
rich, soft and lasting finish. This limited edition release will also feature a 15-year-old OESK, 15-year-old OESV and 11-year-old OESV.
Little Book Chapter 3: "The Road Home" ($99.99) – A one-of-a-kind blend and features specialty aged liquid streams, representing each of the original Small Batch Bourbon Collection brands in honor of Freddie's grandad, Booker Noe.
Basil Hayden's X Wildsam's "Points of Interest" Bourbon ($39.99) – For the travel addict or collector on your list, this limited edition bottle from Basil Hayden's Bourbon and must-have travel guide company, Wildsam Field Guides is a must. The two brands have teamed up to create a limited-edition gift featuring the best of Brooklyn. The new release, "Points of Interest," features a bottle of Basil Hayden's Bourbon wrapped in a Wildsam Field Guide. The guide includes exclusive facts, hidden spots, and drink recipes that only pertain to your city. This bespoke conversation guide is the perfect conversation starter and perfect for discovering something new right in your background.
Laphroaig 16 Year Old Whisky ($89.99) – An exceptional expression that has been matured in ex-bourbon barrels. Over time, the whisky's smoky flavor softens on the senses; it is beautifully married with sweet vanilla notes, enhanced by aging in American Oak barrels. The result is a long-lasting, smoky, sweet and rich flavor. We find it's best to enjoy this 16-yr old neat or with a drop of water.
Black Momma Chai Tea Vodka ($4.75 Mini 50ml bottle) – Tea lovers will swoon over this gluten-free and kosher vodka infused with natural tea leaves and chai spices. Handcrafted in small batches, this 5X distilled and 5X filtered, tea-flavored vodka will warm you up from your toes up.
What do you think of these 12 spirits to gift this holiday season?