As the COVID-19 pandemic continues to change the lives of Americans across the country, individuals and organizations are stepping up to help those in need. This help is still sorely needed, despite recent talks from federal officials about reopening the country to start resuming "normal" life. New York, one of the hardest-hit spots in the country, is still seeing about 2,000 coronavirus hospitalizations every day and Governor Cuomo has announced that nonessential businesses will stay closed until at least May 15.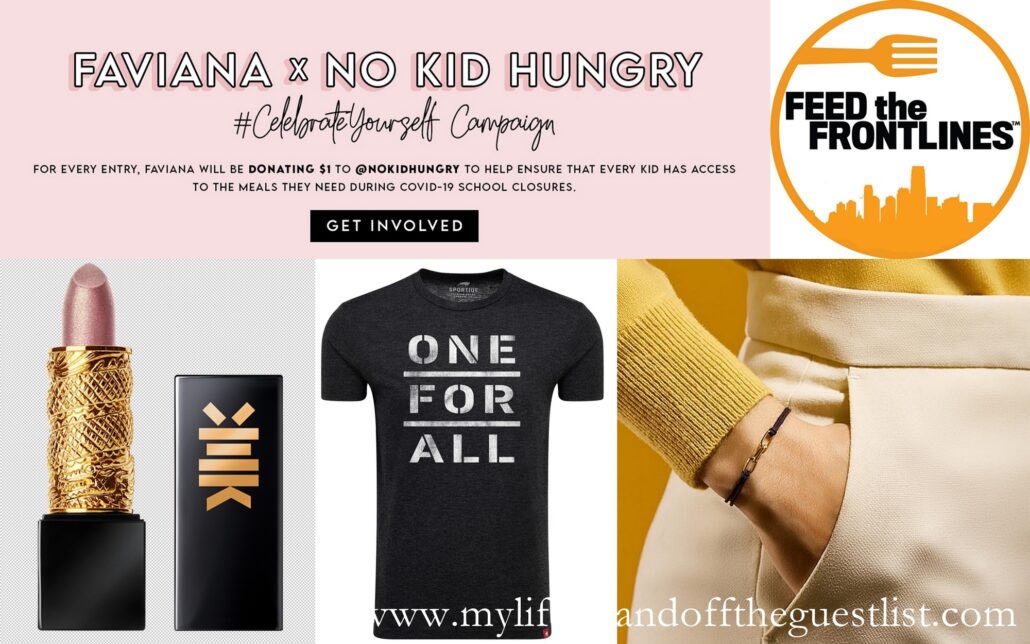 To help healthcare workers, essential staff, and everyday citizens affected by the virus, companies of all shapes and sizes have been raising money for COVID-19 relief efforts. Here are five organizations making a difference during these unusual times.
Faviana and No Kid Hungry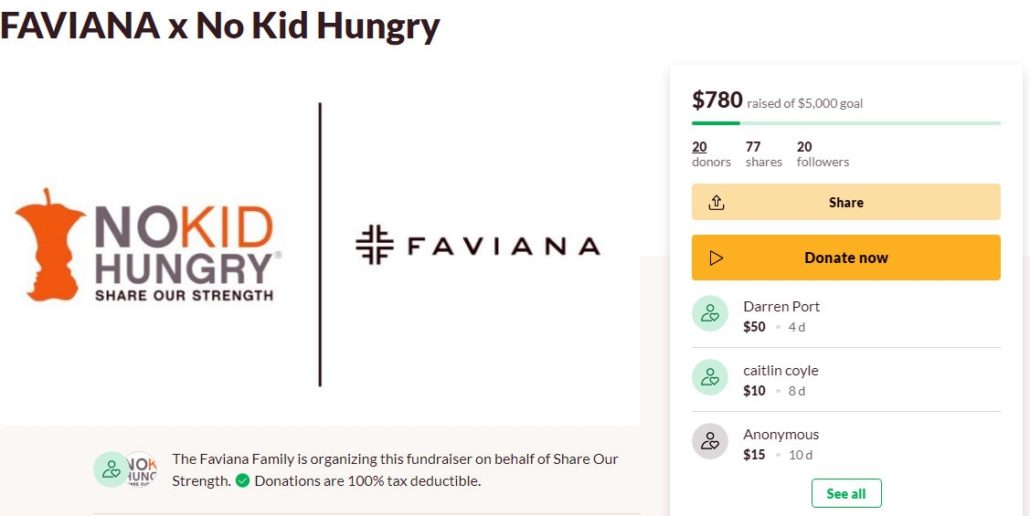 Faviana, a high-end evening wear brand founded and based in New York City, has partnered with the No Kid Hungry campaign to help support the millions of vulnerable children impacted by the COVID-19 pandemic. Share Our Strength, a nonprofit with the objective of solving issues of hunger and poverty in the U.S. and around the world runs the national No Kid Hungry campaign. This campaign connects children in need with nutritious food and helps teach their families how to cook meals that are healthy and affordable.

To support the campaign, Faviana is encouraging its community to post photos on Instagram that capture themselves in a moment of positivity using the hashtag, #CelebrateYourself. For each post, Faviana will donate $1 to the No Kid Hungry campaign. Faviana is offering free virtual styling appointments and consultations to incentivize participation. They are also accepting direct donations through GoFundMe for the No Kid Hungry campaign to help boost their Instagram initiative.
Feed the Frontlines New Jersey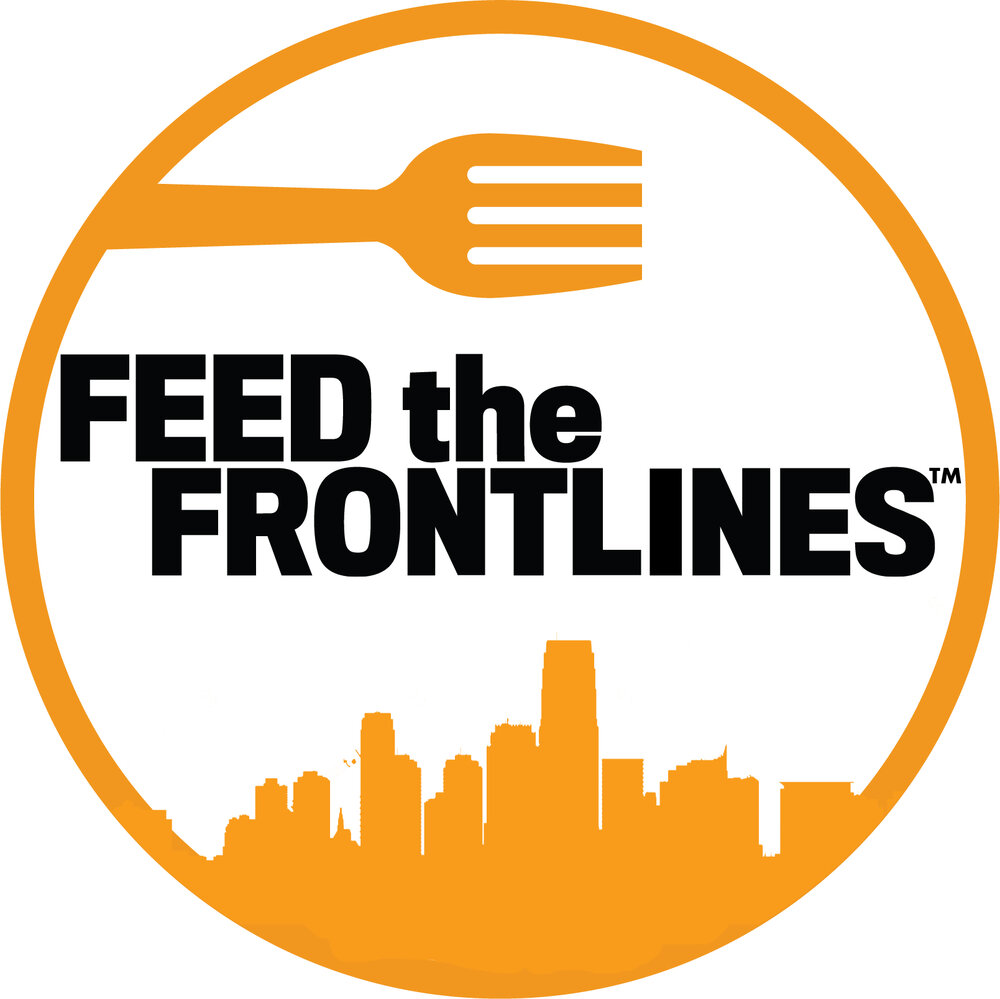 A coalition of New Jersey restaurants has formed a new initiative known as Feed the Frontlines New Jersey, inspired by Feed the Frontlines New York. Eddy Sujak of Sofia Restaurant in Englewood, New Jersey started the initiative to help feel healthcare workers on the frontline of the fight against COVID-19 in New Jersey. Other local restaurants such as Giovanni's Bicycle Club, Axis Taverna, and Bennie's have also joined the cause of supplying meals to the state's hardworking healthcare workers.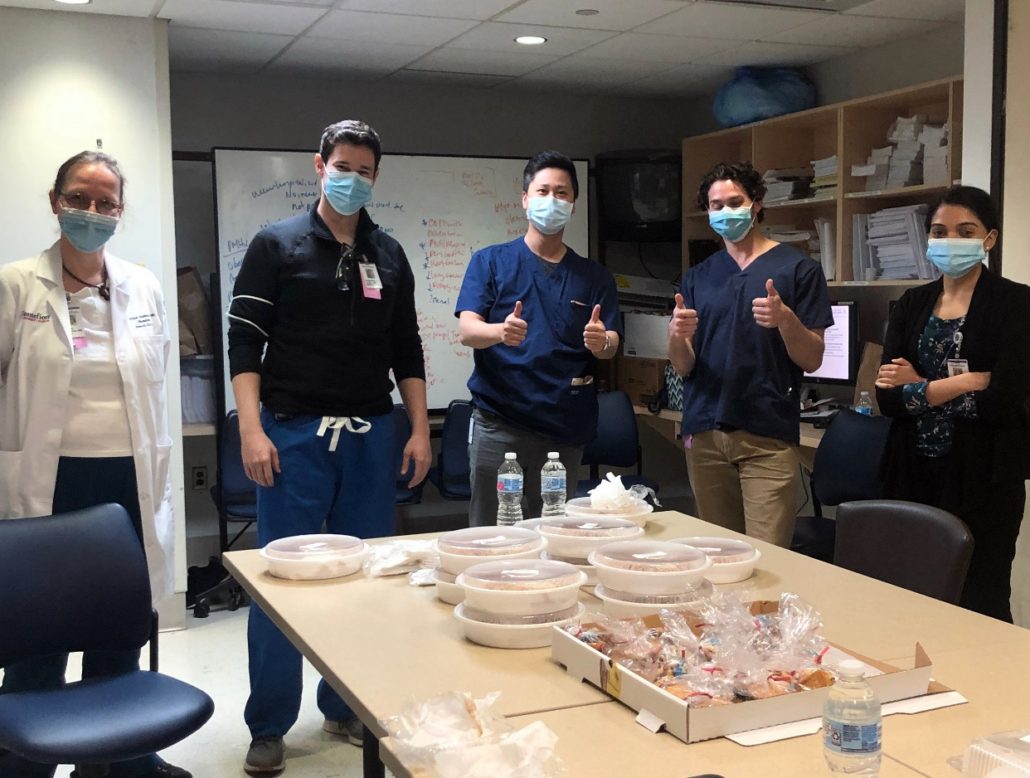 The mission of Feed the Frontlines New Jersey is to raise money to fund the meals from participating restaurants. By visiting the initiative's website, donors can choose the restaurant and medical institution they would like to support. Not only do these donations help keep healthcare workers fed and energized, but they also support local restaurants and their employees.
Proper No. Twelve Whiskey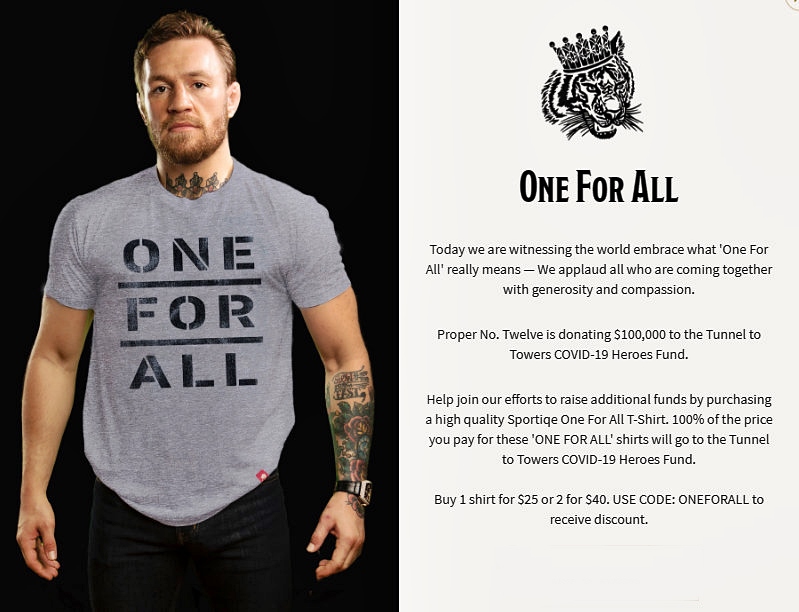 MMA Champion Conor McGregor is used to fighting, but he has recently joined a battle unlike any he's ever fought before. McGregor's Proper No. Twelve Irish Whiskey brand has donated $100,000 to the COVID-19 Heroes Fund. This fund is run by the Tunnel to Towers Foundation and is also focused on the healthcare workers risking their lives to fight the novel coronavirus. The fund has pledged $3 million to provide these workers with meals and personal protective equipment. The fund will also provide financial relief through temporary mortgage payments to a healthcare worker's family should they lose their life-fighting COVID-19.
In addition to their $100k donation, McGregor's brand is encouraging individuals to purchase a "One For All" t-shirt. If you purchase a shirt, 100% of the proceeds will be donated to the COVID-19 Heroes Fund. A repeat donor to Tunnel to Towers, McGregor's brand donated $1 million to the foundation earlier this year in support of the country's first responders. As these responders handle life-threatening emergencies such as crashes related to operating a vehicle while impaired, supporting them year-round is essential.
Milk Makeup and the Wu-Tang Clan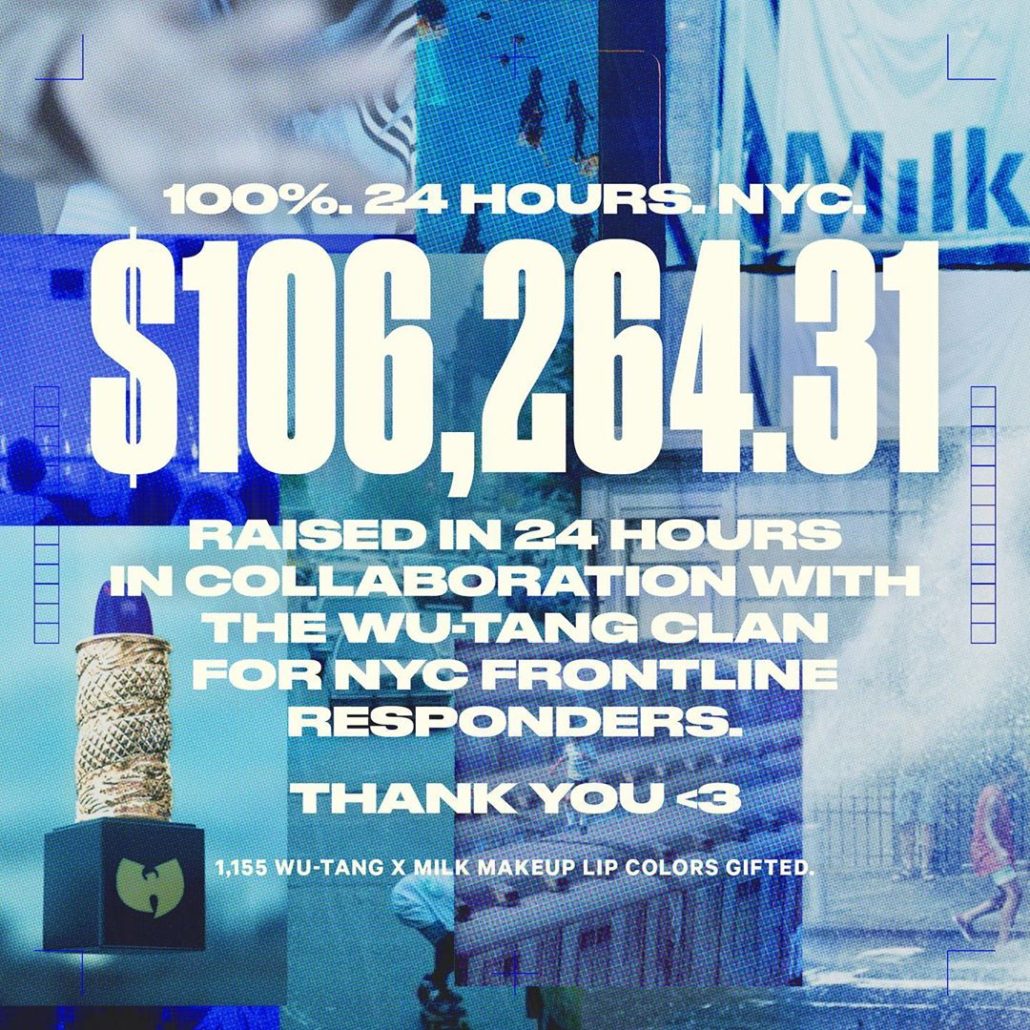 You heard that right. NYC-based skincare brand Milk Makeup has partnered with the iconic Wu-Tang Clan to support New Yorkers affected by the pandemic. On April 10, Milk Makeup donated 100% of proceeds from purchases made on that day to the NYC COVID-19 Emergency Relief Fund. This fund supports healthcare workers, local small businesses, essential staff, displaced hourly workers, youth, families, and other New Yorkers in need at this time.
The collaborative COVID-19 relief efforts raised a total of $106,264.31 in just 24 hours. All shoppers who bought at least $55 worth of Milk products received a complimentary, limited-edition Wu-Tang x Milk Makeup Lip Color. During this successful one-day sale, the makeup brand gifted 1,155 lip colors to their generous shoppers. The brand also donated $250,000 worth of skincare products to frontline responders in New York City hospitals.
Ana Luisa Jewelry
The jewelry company has launched the #UnitedTogether campaign to help fight COVID-19. In this campaign, Ana Luisa Jewelry has launched the Unity bracelet and is donating all proceeds from purchases of the bracelet to the CDC Foundation. The foundation uses their donations to help communities prevent, detect, and respond to COVID-19, deploy emergency staff to the frontlines, and fund and deliver home essentials to quarantined individuals.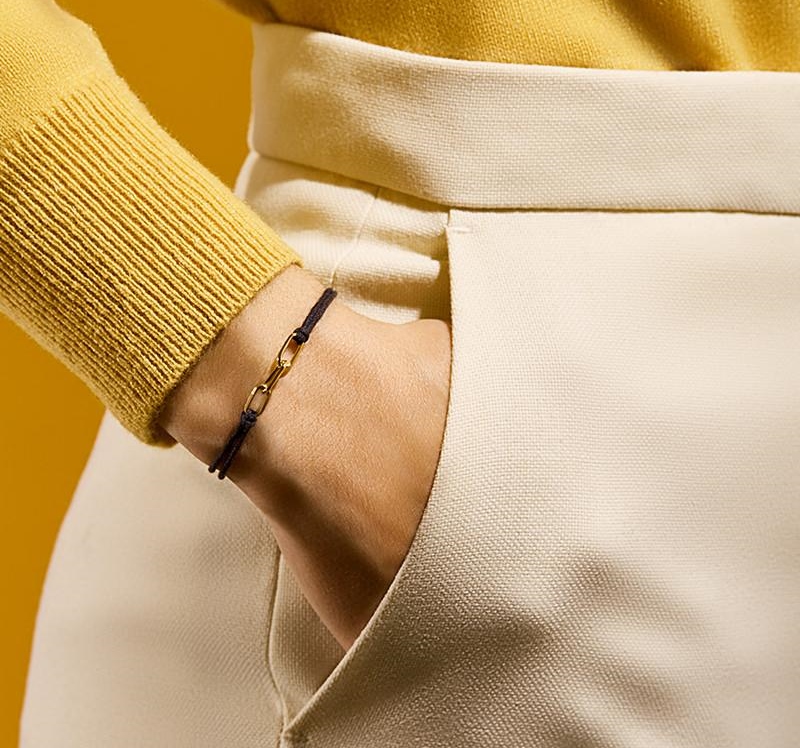 The unisex bracelet is made with an adjustable black cord and three gold chain links. Each bracelet costs $25 and shoppers can buy one for themselves as well as send bracelets to their friends and family. Ana Luisa created the bracelet to symbolize interdependency and encourage everyone to stand together, even when physically apart. With no vaccine for the coronavirus yet in sight despite the U.S. holding over 45% of the global pharmaceutical market, the message to stay united in the fight against COVID-19 is more important than ever before.
All of these COVID-19 relief efforts come at an important time when our country is faced with an emergency the majority of our population has never before experienced. Although Americans are accustomed to fighting disasters like hurricanes that plague the Atlantic region for six months every year and fires that ravage the west coast during scorching months, the coronavirus has tested the country's resources and resiliency. With efforts like these, however, it's only a matter of time until we come out of the other side of this pandemic together.