As we enter into the season of cold, dry air, you may notice your skin gets drier, itchier, and looks and feels less supple. That's because the cold will drastically affect your skin. The cold air has less moisture; the harshness of the winds will strip your skin of its moisture; and unless you have a humidifier at home, the heated air in your home will dry out your skin. All of these leads to your skin looking aged. It is a fact that your skin needs an extra level of love and hydration during the cold, winter months. Luckily, there are some wonderful skincare products out there to help and we're highlighting them today. Let's face it, we all want luminous skin for the holiday season and all winter long and these winter skin savers are here to help.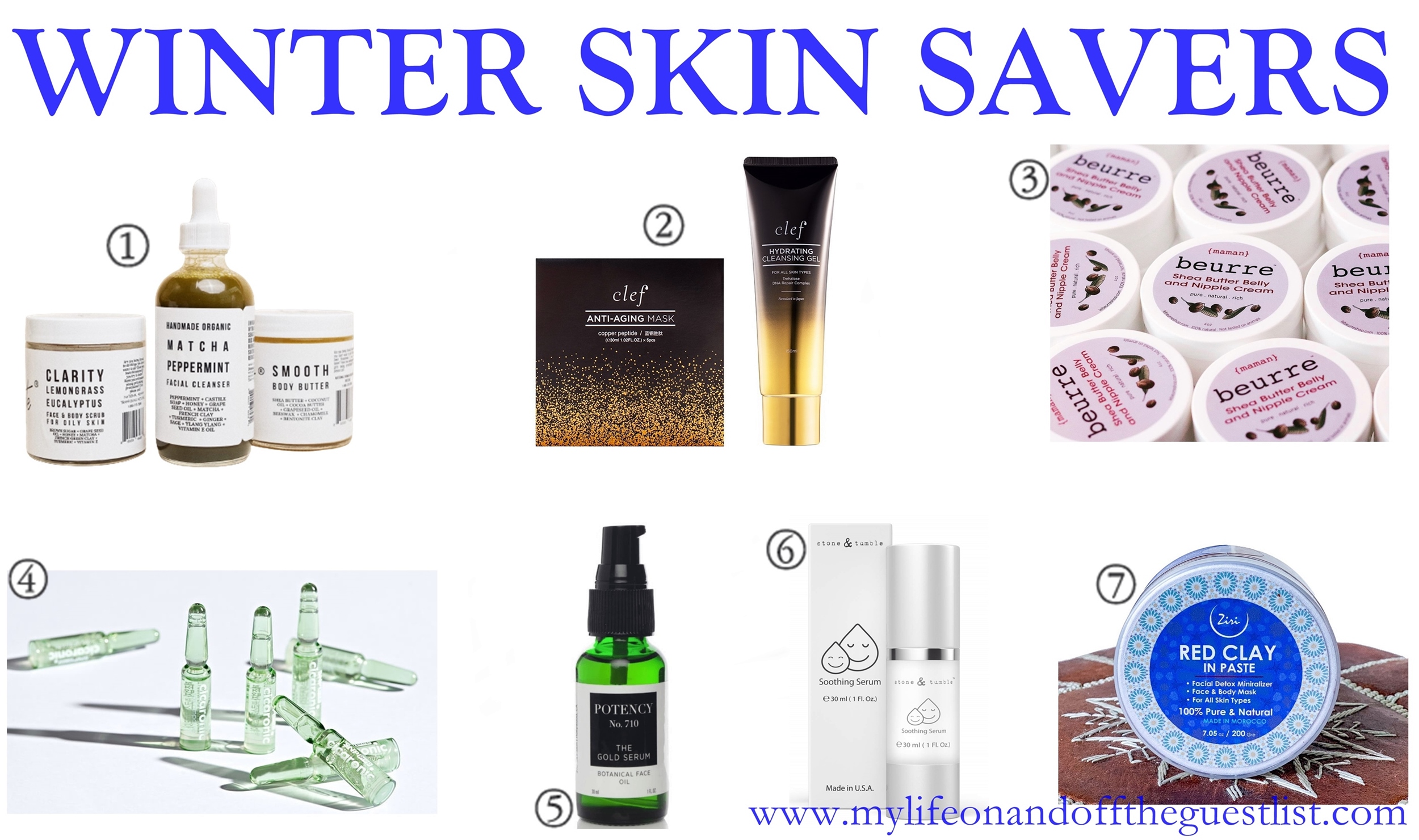 Whether you're looking for preventative skincare or skin rescuing products, these winter skin savers are here to get your skin to its optimal state. You'll love the handmade products from Black-owned organic skincare brand Choate Body; the effective, multitasking products from Clef skincare; the softening power of Beurre's butters; the advantage of the science behind SNP Prep; the potency of Potency No. 710; the skin calming effects of Stone & Tumble; and the skin clearing mask from Ziri Skincare.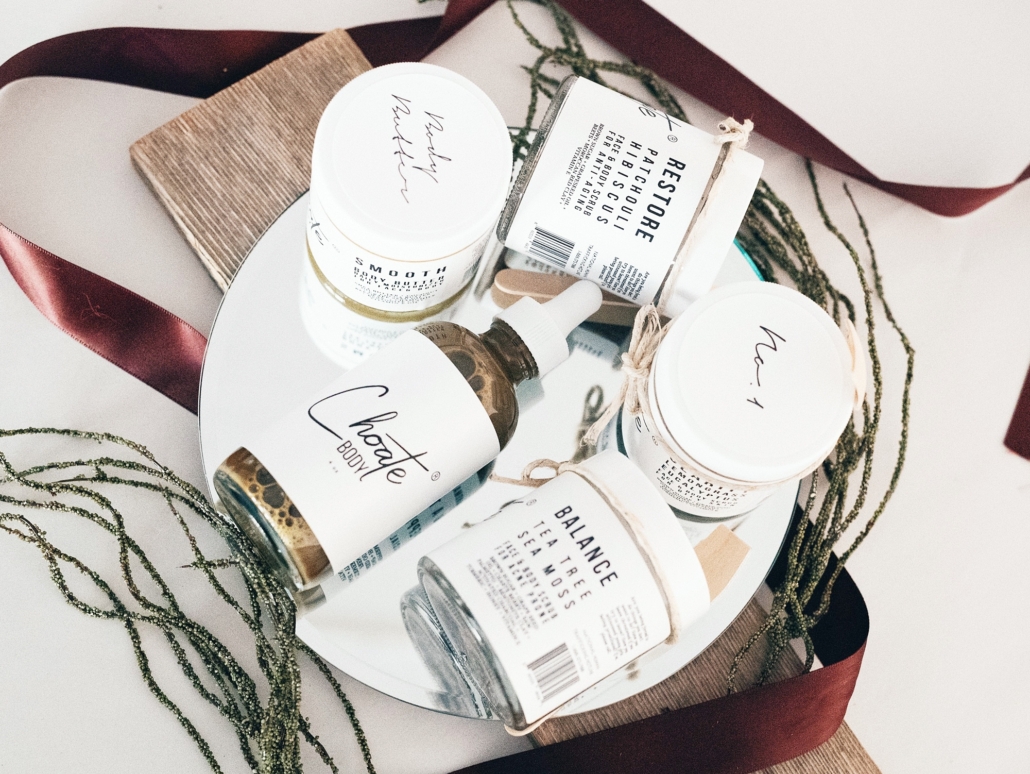 Let's face it, your skin can get angry. The stress of life (especially living in a pandemic), face masks, the dry, cold air, and other environmental factors can wreak havoc on your skin. Choate Body has a trio of organic products, $77.00, that are wonderful at calming your skin.
Their Matcha Peppermint Facial Cleanser boasts Turmeric, Honey, Matcha Green Tea, French Clay, and Castile Soap meant to help balance oils and your skin's ph. Packed with antioxidants, this cleanser soothes sensitive, acne, and eczema-prone skin and helps to reduce signs of aging, dark marks, and scars. The Lavender and Honey Face and Body Scrub calms inflammation from dry itchy skin; restores moisture and softens dry, rough skin. It helps to release ingrown hairs, rids dead skin, dirt, and oil that clog pores and cause breakouts. After you slothed off the dry, dead skin, slather your skin in the rich, moisturizing, organic Body Butter. Prepare to relieve your itchy, dry, and inflamed skin, soothe eczema and psoriasis, repair elasticity, minimizes scars, and stretch marks. All of Choate Body products are handmade in small batches to give you the freshest, cleanest ingredients for your skin.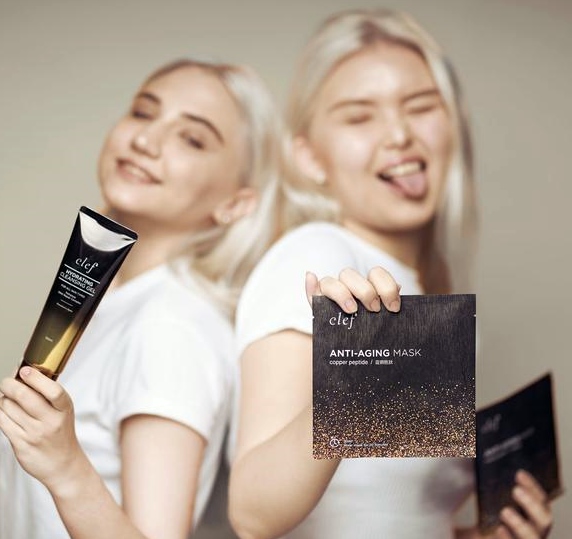 For those of us trying to reduce our skincare routine to less than a dozen products (we've all seen those "Go to Bed With Me" nighttime skincare videos), say hello to Clef Skincare. Wouldn't you love a skincare product that is an all-in-one solution?
The CLEF Skincare Hydrating Cleansing Gel is a multifunctional cleanser that delivers multiple benefits in a single step. It's a moisturizer in a cleanser, formulated to deep cleans pores, moisturize, repair, and forms a protective layer to prevent loss of moisture. The Copper Peptide Mask has the benefits of nine masks in one convenient package. It brightens, repairs, increases firmness, reduces wrinkles, increases elasticity, fades scars, reduces pigmentation, minimizes pores, and of course, moisturizes. It helps to rejuvenate skin by stimulating your natural collagen boost; plus it's the thinnest nighttime mask out there, and is great for treating "maskne."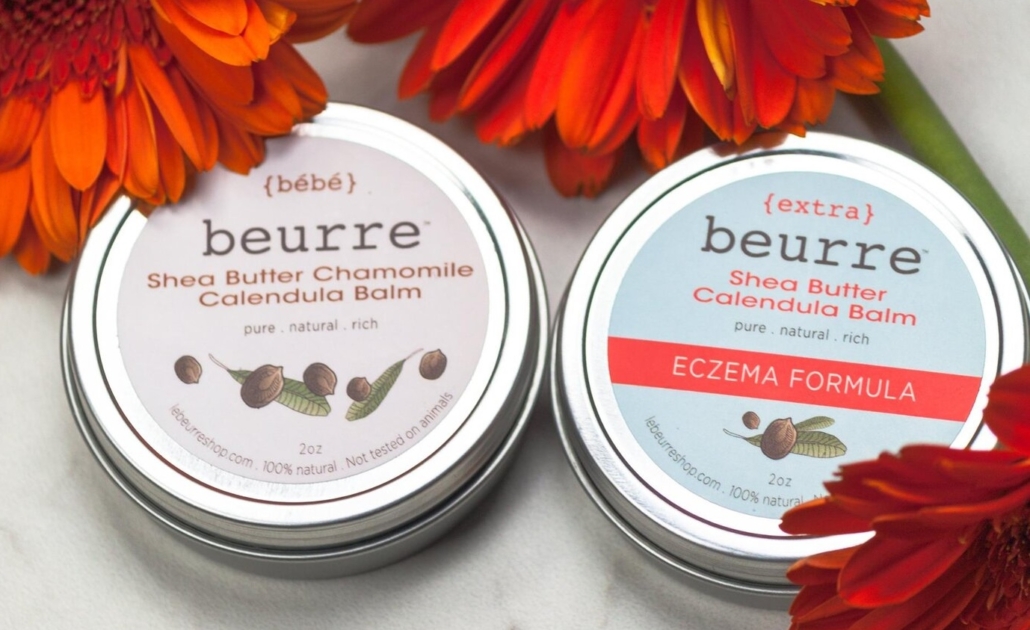 Sometimes you can't beat the classics. This is why we love the yummy shea butters from Beurre Butters. This wonderful line of clean shea butters are all handcrafted, cold-pressed, plant-based, and vegan. This New York-based shea butter skincare company has shea butter for whatever skincare ailment you might have, in delicious scents.
Their classic shea butter comes in raw, vanilla, lavender, and unscented. For those who suffer from Eczema, there's a hand and body cream and a Calendula Balm. The brand also provides a Belly & Nipple Cream for moms, an unscented Chamomile, and Shea Butter Chamomile-Calendula Diaper Balm for babies.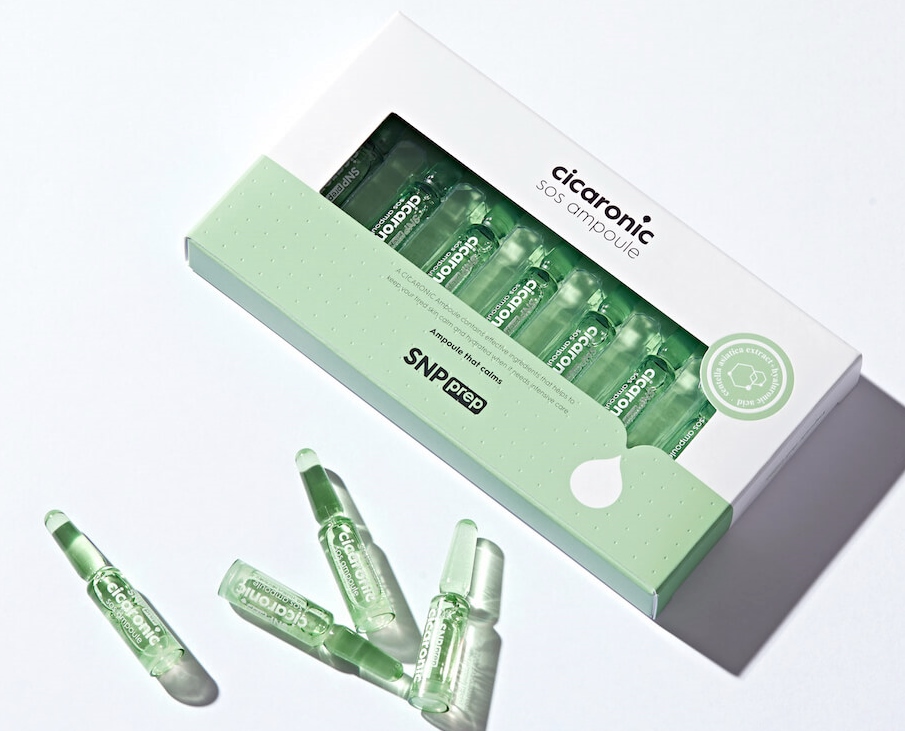 SNP Prep's Cicaronic SOS Ampoules are filled with lightweight yet deeply hydrating 7-day skincare vials. The powerful hydrating skincare that's in these vials will stop the dryness of winter skin dead in its tracks. These individually-packed ampoules combine two key ingredients, Centella Asiatica (Tiger Grass) and Hyaluronic Acid, to quickly soothe and restore skin within a week and provide intense moisture to help improve skin energy and vibrance. It helps heal irritated skin by drenching your skin in soothing and healing properties. Your skin will be restored within a week and provides intense moisture to help improve your skin's energy and vibrance.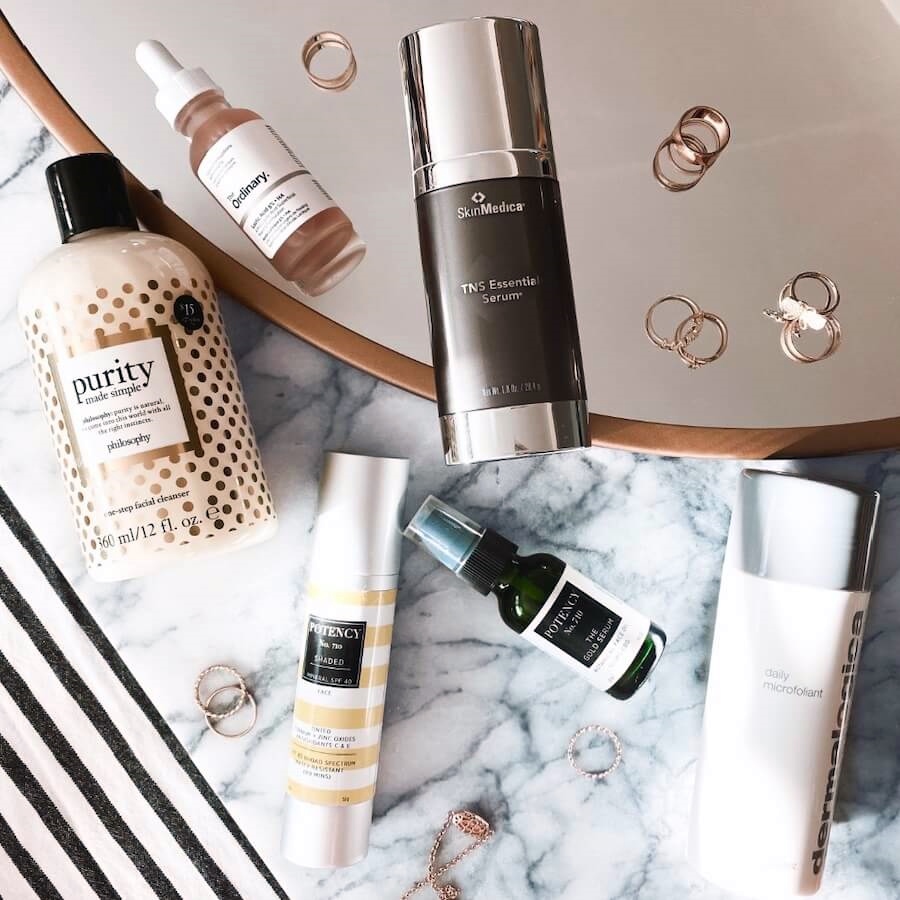 Potency No. 710 uses an expert blend of plant oils and CBD to create a range of skincare products like no other. You may have heard of CBD as a kind of edible for stress relief but did you know CBD is going very strong in the skincare category? Even simple bottles of Vibes CBD oils have anti-inflammatory properties which can help reduce problems like acne and eczema. As a professional skincare product, CBD can increase skin elasticity, speed up cell renewal, and is a true skin balancer for every skin type.
Potency No. 710's range of CBD products bring your the power of plants to get your skin to selfie-perfection. Their Gold Skin Serum is jam-packed with over 20 of the world's most sought after plant oils. Blended with full-spectrum CBD, plant oils like blue tansy, frankincense, sandalwood, and rose oil makes this serum incredibly potent.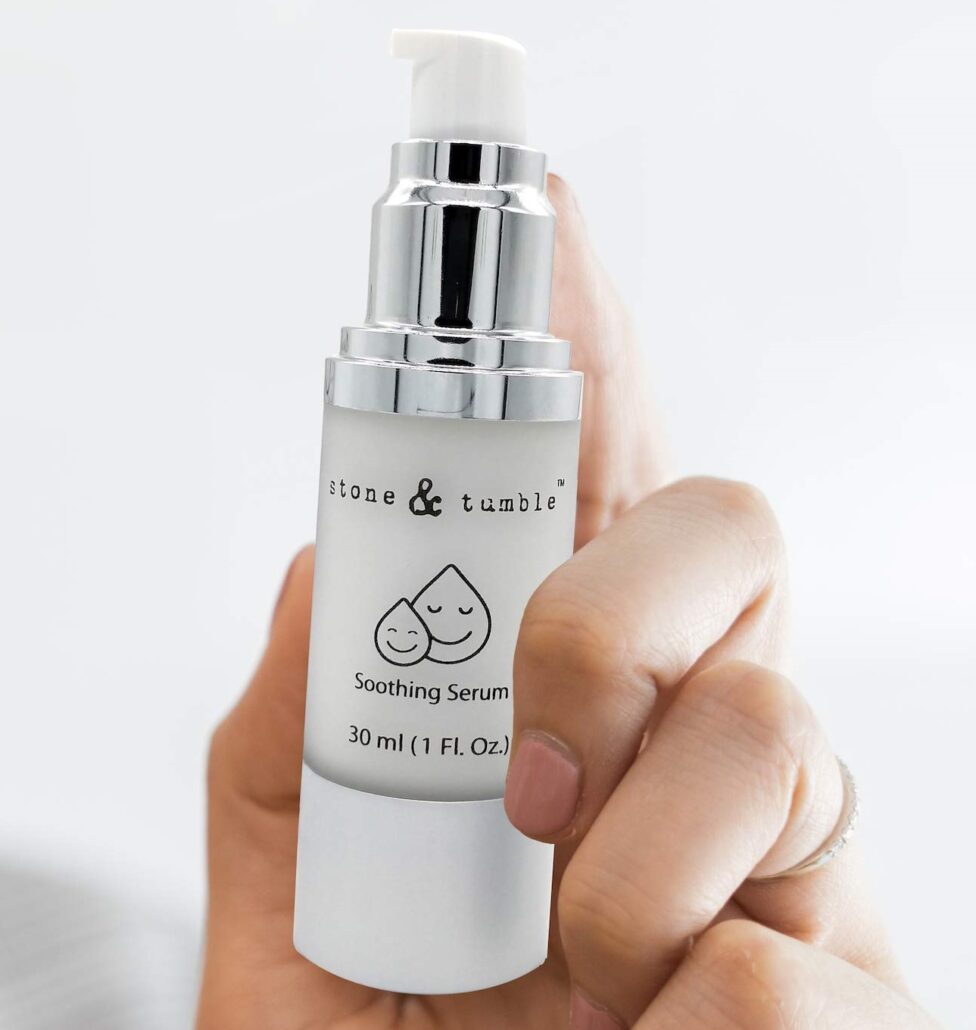 Stress-induced skin conditions on top of dry, winter skin can sometimes get painful, so it pays to be preventative. If you suffer from dry skin, acne, rosacea, redness, inflammation, and/or irritation, you need Stone & Tumble's NEW Soothing Serum. This clean, plant-based skin serum will soothe and heal stressed skin, no matter the skin type or skin sensitivity levels.
The Stone & Tumble Soothing Serum is an effective concentrate that contains active, plant-based ingredients such as Cardiospermum, Echium Plantagineum, Sweet Almond, and Sunflower Seed oil to help heal, repair, rebalance, and calm irritated skin to reduce redness and dryness. This serum strengthens the skin's natural defenses while minimizing the skin's sensitized reaction. The brand avoids harsh ingredients sulfates, parabens, phthalates, silicones, mineral oils, petroleum, artificial dyes, and fragrance. Founded by Brianna Gilstrap, Stone & Tumble is a cruelty-free company and never tests on animals.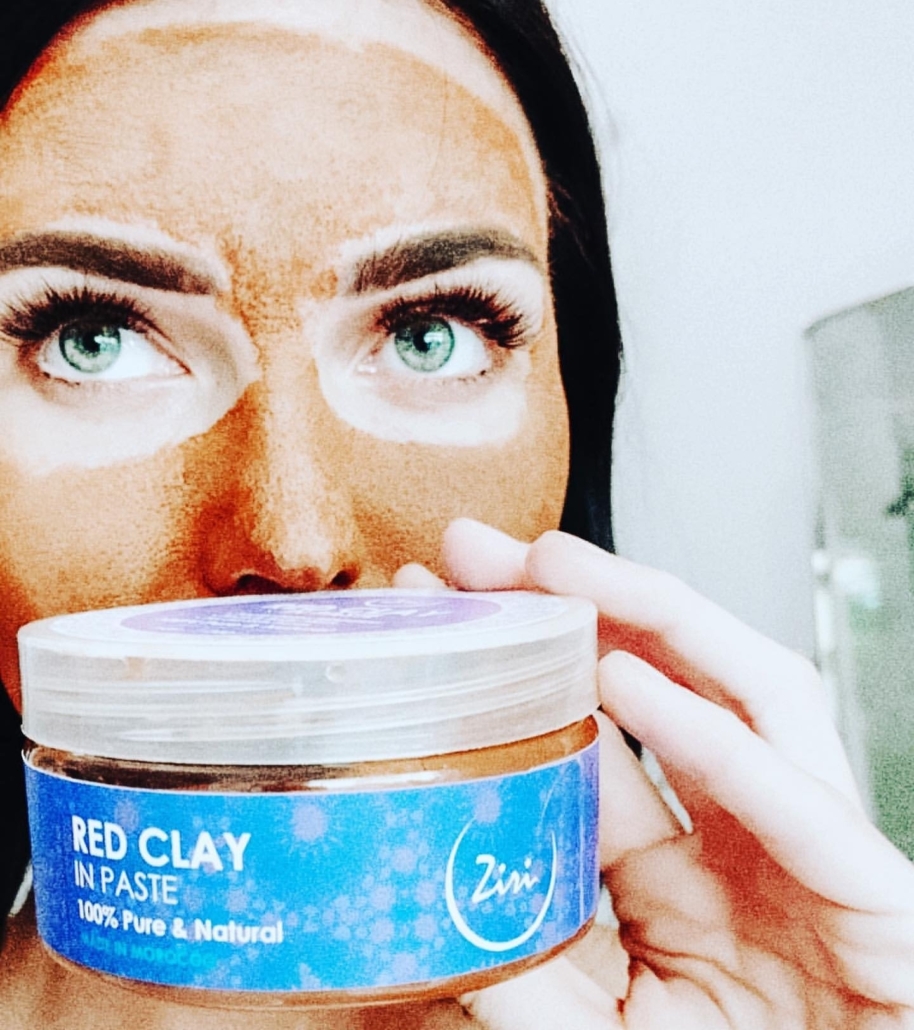 Over the summer we highlighted a few Ziri Skincare products, including their Moroccan Red Clay Mask. Although the winter air is drying, those with oily skin know, oiliness doesn't stop in the winter. This mask is rich in iron and silica; it effectively absorbs both sebum and excess oil, unclogs pores and blackheads, restores skin elasticity, evens out skin tone, reduces acne and brightens skin, promotes cell regeneration, and improves blood circulation. It's one of our favorite winter skin savers.
We hope you get to love these winter skin savers as much as we do. Let us know which ones you're dying to try.