Giving chocolates is all fine for Valentine's Day but sometimes we need a bit more. One can't live by chocolate alone. We want cookies, brownies, popcorn, and other delicious treats. This is why we're here to sing the praises of giving the gift of gourmet food gifts like these ones from Gourmet Gift Baskets. Everyone loves food, especially if it comes wrapped up in a lovely gift basket. Valentine's Day is just over a week away and Gourmet Gift Baskets' Valentine's Day collection is a great way to show loved ones how much you care. They have some great 2021 gift options that your Valentine or Galentine will devour.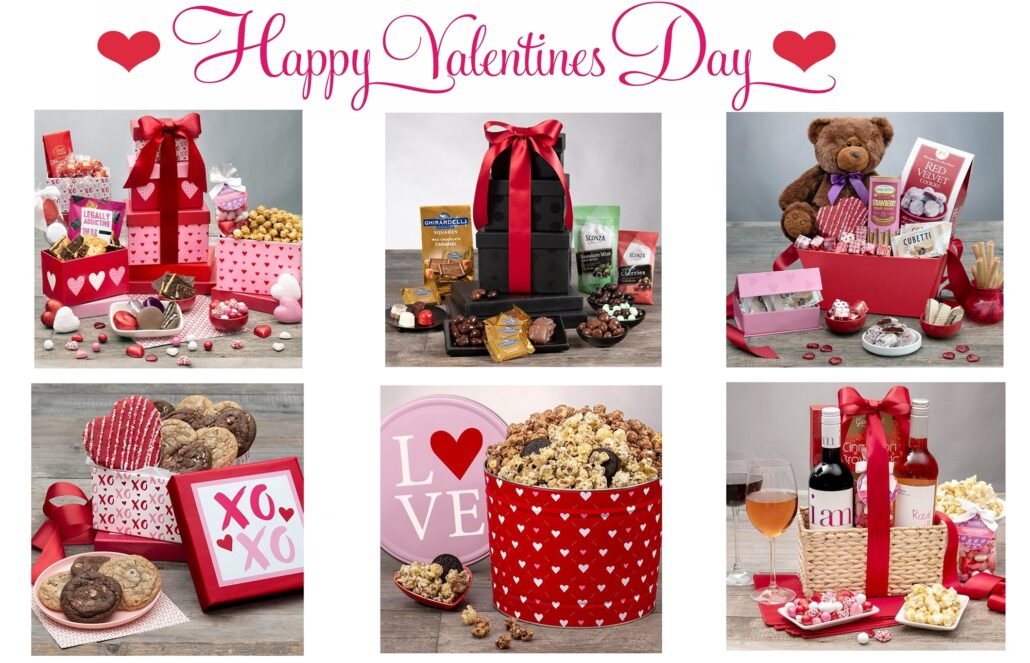 Gourmet Gift Baskets has gourmet Valentine's Day and Galentine's Day gifts for everyone, whether they love sweet or salty snacks. There are options to entice any foodie with particular favorites or a snack lover who loves it all. Why not give the gifts of cookies, chocolate, and popcorn? Or chocolate-covered strawberries? Gourmet Gift Baskets even offers gifts for the beer, wine, and champagne lover. Keep reading to get to know these delicious 2021 gourmet foodie gifts below: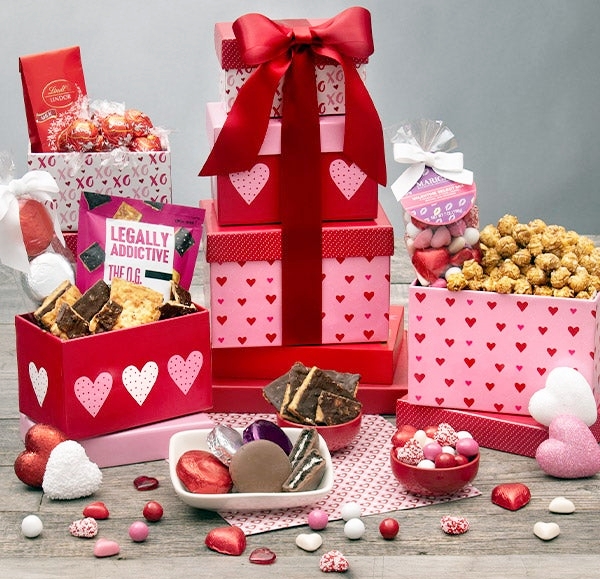 These heart-themed gift tower boxes overflow with caramel popcorn, chocolate covered Oreos, toffee and chocolate cracker cookies, and more! This sweet gift is perfect for your sweetheart and is a great way to say "I love you" this Valentine's Day. The tower contains the following:
Valentine's Select Mix by Marich
Foiled Chocolate Covered Oreos by Williams & Bennett
Milk Chocolate Truffles by Lindt – 0.8 oz.
The O.G. Toffee, Chocolate, Cookie Combo by Legally Addictive
Caramel Popcorn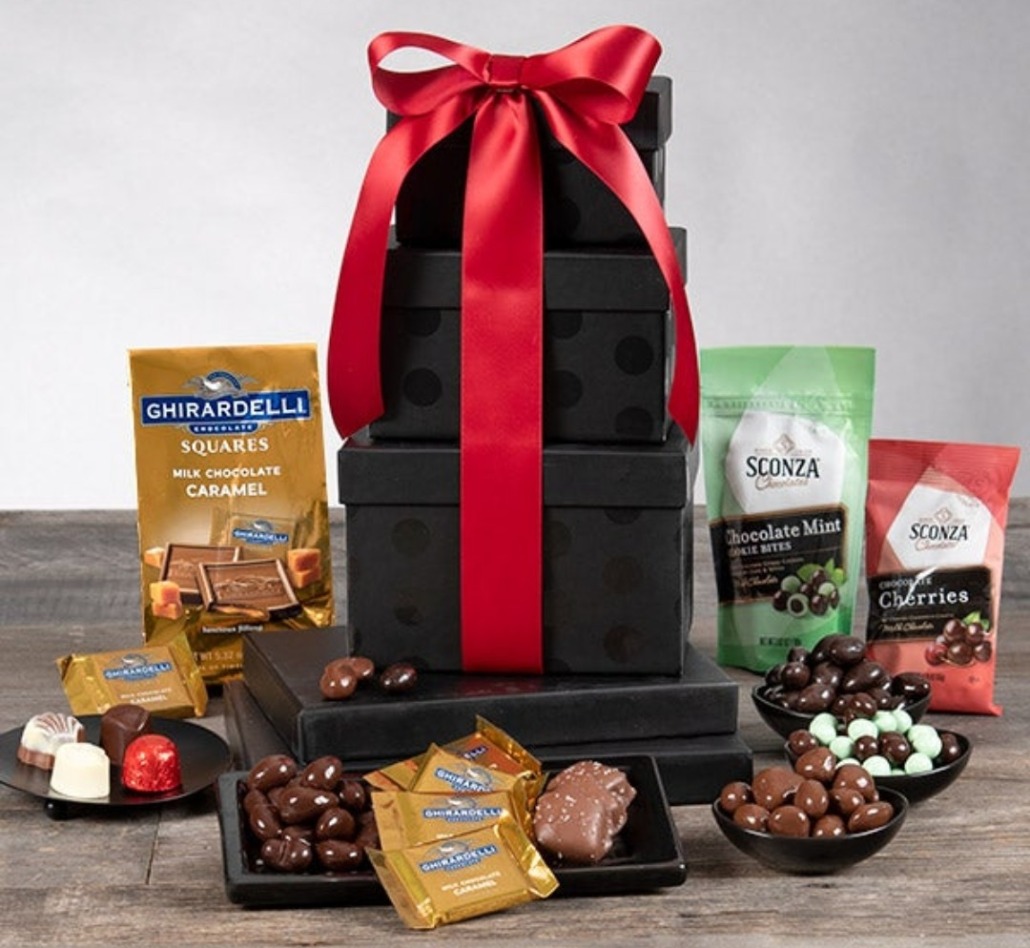 Want a sleek, sweet, and SALTY gift for someone you love? Then check out this elegant gift tower. Your recipient's snack cravings will be satisfied when they discover chocolate sea salt caramels, chocolate-covered nuts and cherries, cookie bites, Belgian chocolates, and more in each of the three-box layers. This gift tower contains:
Caramel filled Milk Chocolate Squares by Ghirardelli
Dark Chocolate Almonds
Dark Chocolate Sea Salt Cashews by Marich
Milk Chocolate Sea Salt Caramels by Morley Sanders
Belgian Chocolates by Annalie's Chocolates
Chocolate Covered Cherries by Sconza
Chocolate Mint Cookie Bites by Sconza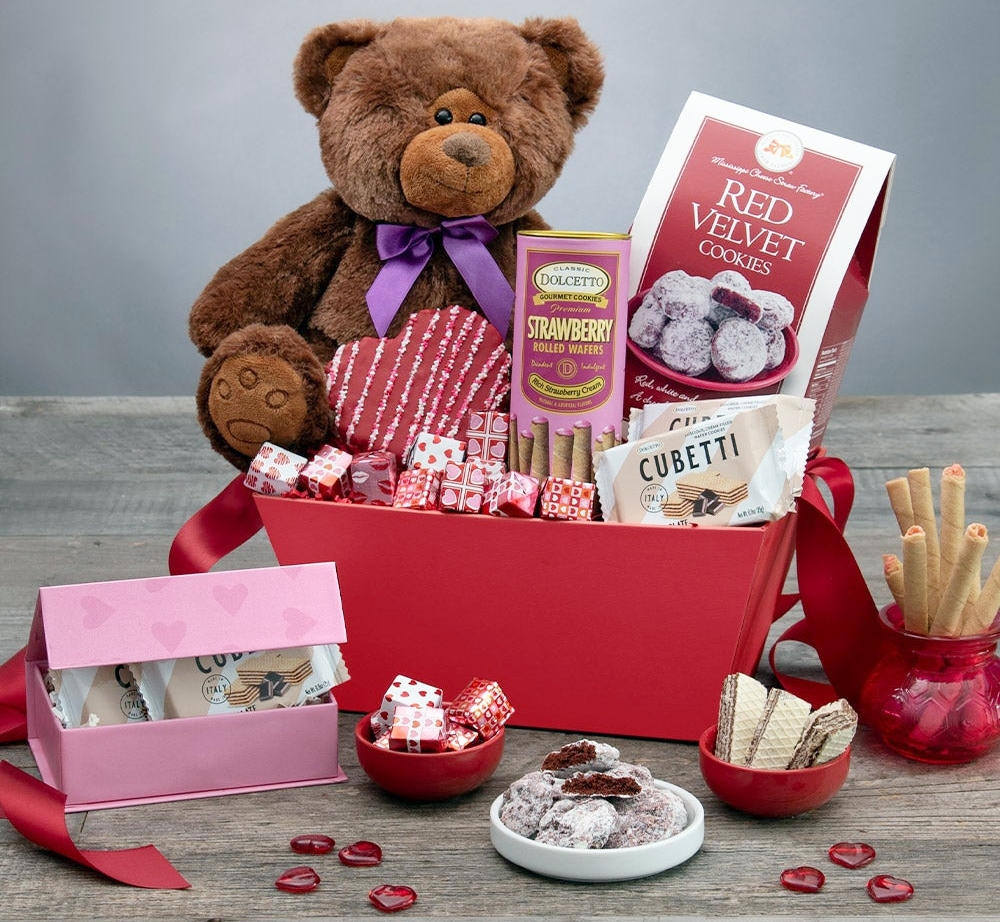 What's the best way to let someone know you care? With red velvet and chocolate, of course! This sweet gift basket is packed with red velvet cookies that taste just like a red velvet cake, decadent chocolate, and chocolate wafer rolls. Top it off with cube cookies and a soft and cuddly teddy bear and you're sure to make the object of your affection feel great. Giving this gift means they'll enjoy:
A Plush Bear
Red Velvet Cookies by Mississippi Cheese Straw Factory
Valentine's Chocolate Presents by Madelaine Chocolates
Strawberry Wafer Rolls by Fusion Gourmet
Heart Crispy Treat by Selma's Cookie Company
Chocolate Cubetti by Fusion Gourmet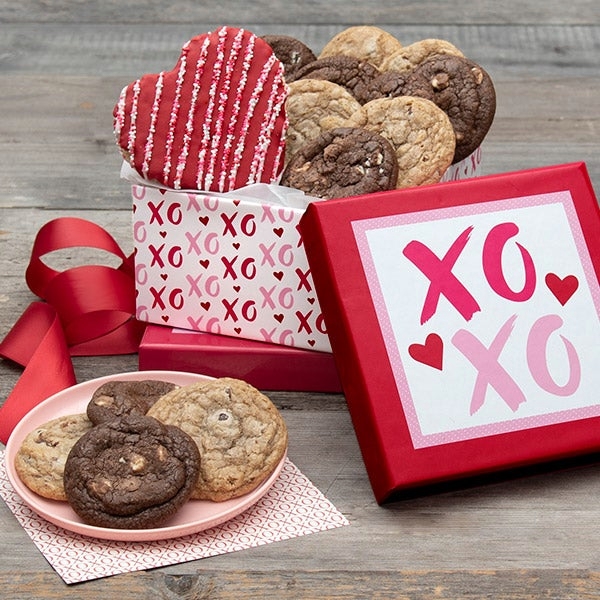 Gourmet Gift Baskets has taken the tastiest, freshest cookies they could find, fudge brownie and chocolate chip, and packed them in a very attractive red, pink, and white XO-themed gift box. Then they added a heart-shaped, drizzled chocolate crispy treat. This is the perfect gift for your sweetheart or anyone else who could use a little added sweetness for Valentine's Day. Your love or bestie will enjoy the following:
Chocolate Chip Cookies – (2) 2 pack
Fudge Brownie Cookies – (3) 2 pack
Heart-Shaped Drizzled Crispy Treat
All baked goods in this gift box are Kosher OU-D certified except for the crispy treat.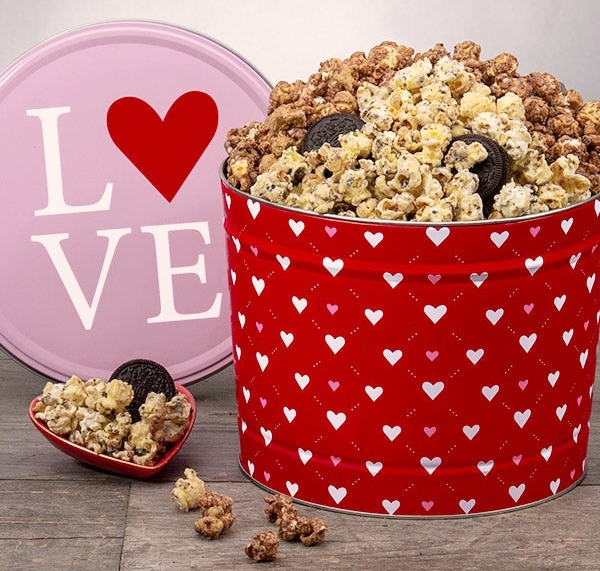 Love is in the air and what's better for celebrating than gourmet popcorn?! Our Valentine's Day 2-gallon popcorn tin has three of our best and most beloved flavors including Cookies & Cream, Mint Cookie Mayhem, and Peanut Butter Cup, while our one-gallon tin includes white chocolate drizzled popcorn mixed with M&M's® & waffle shaped pretzels. All packaged in a heart patterned Valentine's Day themed tin. This popcorn gift is just the thing for a sweetheart that loves to snack! One tin design contains two different sizes and flavor combinations and is as follows:
Gallon – Tin w/handle & cover – Cupid's Crunch: Luxurious white chocolate drizzled popcorn mixed with M&M's and waffle shaped pretzels.
Gallon – Tin w/cover – Chocolate Dreams Trio: Includes Cookies & Cream, Mint Cookie Mayhem, and Peanut Butter Cup popcorn flavors.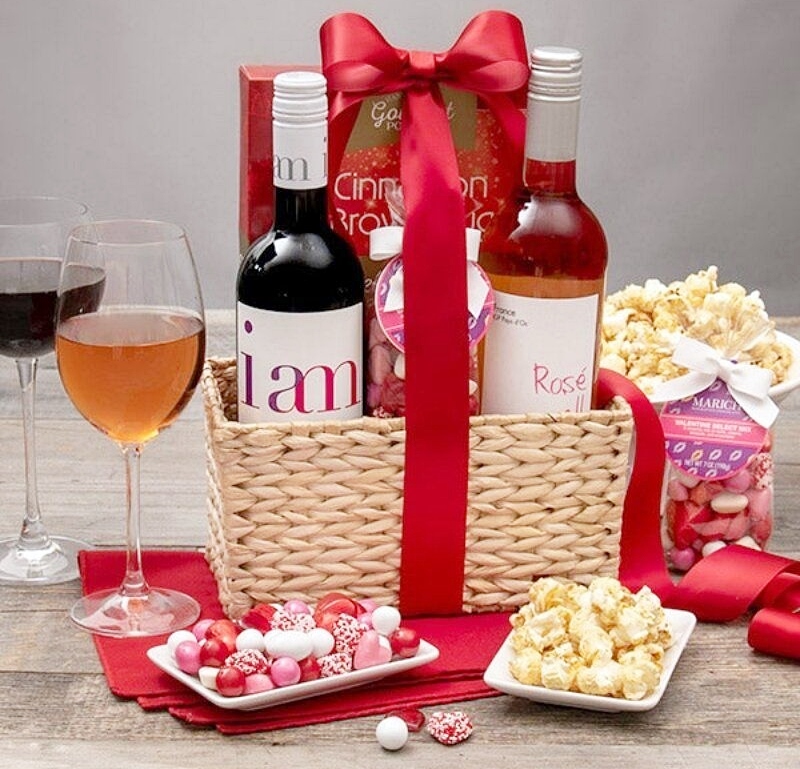 When one bottle of wine just won't do, your sweetheart will fall head over heels for our Valentine's Day Wine Duo! Nestled side by side in our new water hyacinth basket is a bottle each of Pinot Noir and Rosé wines*. Accompanying these incredible wine selections is our house-made cinnamon & brown sugar kettle corn and a selection of Valentine's day candies. This perfect for two gift basket contains:
Cinnamon & Brown Sugar Kettlecorn
Valentine's Select Mix by Marich
Pinot Noir by I Am Wines
Rosé All Day
*Wine glasses not included.
We'd be happy to any of these Valentine's Day gift baskets (okay, all of them) and we know you would too. We'd love to know which of these Gourmet Gift Baskets would you like to receive for Galentine's and Valentine's Day?