After eight seasons and 196 episodes, OWN TV's The Haves and The Have Nots are coming to an end. This highest-watched cable series with black women will premiere its final season on Tuesday, June 1st at 8:00 pm EST. But we were able to (virtually) sit at the roundtable with Angela Robinson (Veronica Harrington) and Reneé Lawless (Katherine Cryer) on May 26th for one last lunch celebrating the final season. (And thanks OWN for the lunch! We were all treated to lunch via DoorDash.)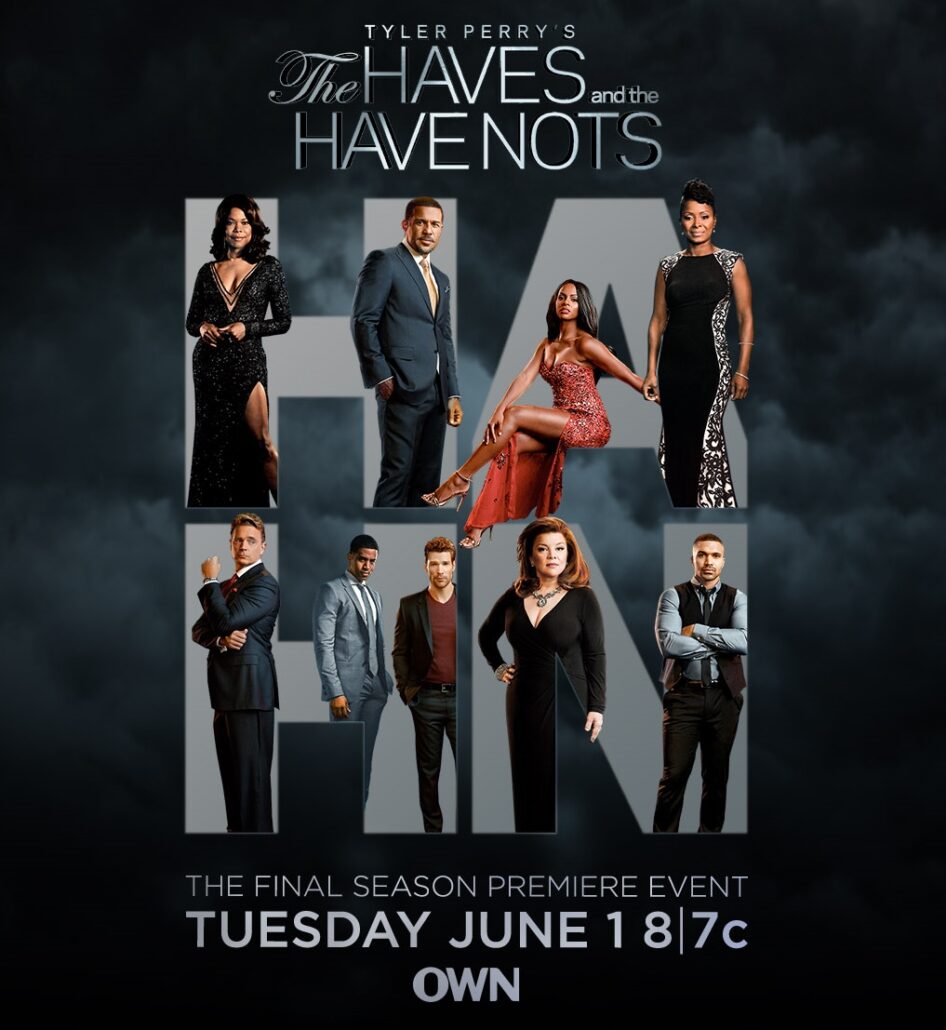 I was excited to join in because I have been watching the show from episode 1, so I am no casual viewer. The chemistry and camaraderie between Angela and Reneé were not only evident but contagious. There was plenty of laughs and tearful messages to the fans as they say goodbye to "one of the best times of their career" and "experience of a lifetime". But while I may know everything about what's happening on The Haves and The Have Nots, it's the behind-the-scenes that I loved learning about. Did you know they film a whole season in just 2.5-3 weeks? Reneé gave us that fun fact and said it is like shooting 100+ pages of script a day.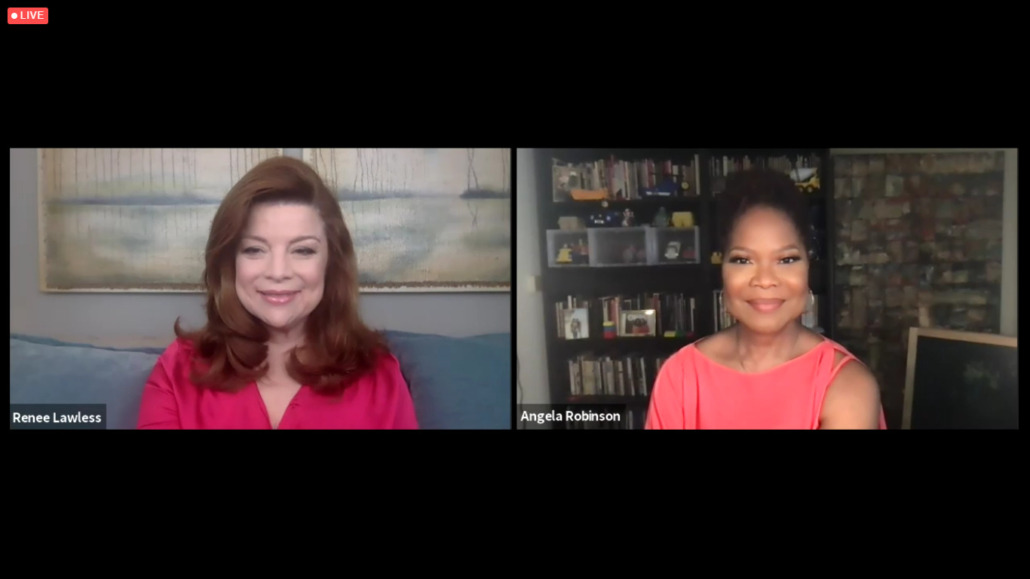 Both Angela and Reneé hadn't met Tyler Perry when auditioning for The Haves and The Have Nots. But Angela learned why she could only hear him and not see him from the stage was because he was filming a Madea movie and was dressed like Madea, and he didn't want to interfere or distract with her audition. Reneé told us that The Haves and Have Nots was actually loosely based on the Tyler Perry movie, The Family That Preys. She drew inspiration for Katherine Cryer from Kathy Bates' character, Charlotte Cartwright.
When it comes to playing Veronica Harrington, while everybody would describe her as evil and definitely crazy, Angela says, "I don't describe her as evil. I describe her as complicated. […] Men are allowed to do
all of those things and the audience will say he is ruthless. I'd say she's ruthless. But she does have crazy
tendencies."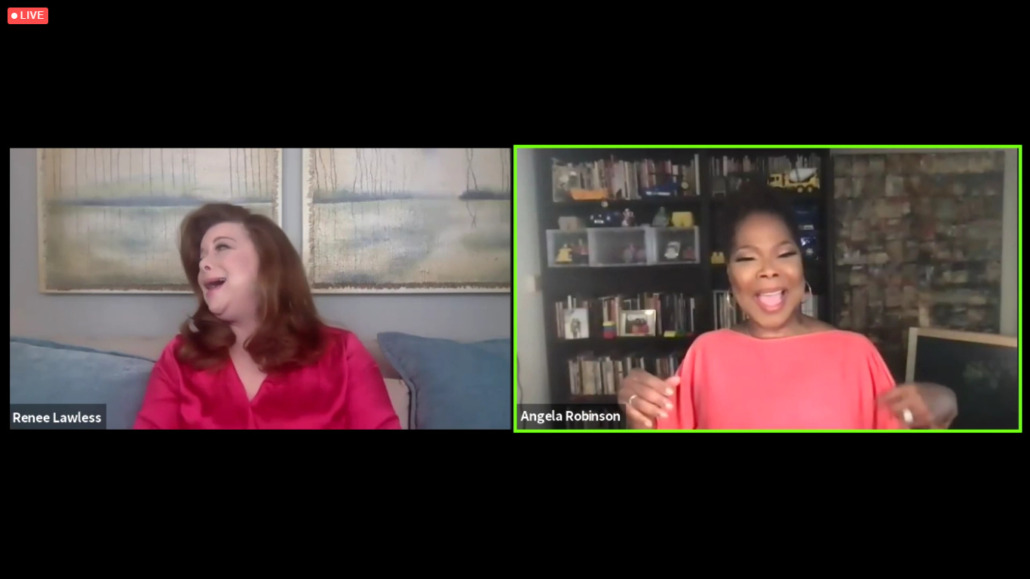 Thankfully, we were able to ask the ladies some questions. So here's our personal Q&A sesh with them –
How have enjoyed your character's growth and development?
Angela: Veronica is different from me. I always enjoy creating characters. It has been very fulfilling. The cast has been a joy to get to know and love.
Reneé: It has been the role, job, character, and experience of a lifetime. Seeing the character grow and change and blossom has been great. I love taking a character and making it my own. It is going to be hard to let go of Katherine. She will always have a place in my home.
What similarities, if any, do you share with your character?
Angela: Veronica and I look alike. That's it (laughs). I love fashion. She loves fashion. Everybody has a little Veronica in them. What separates you from Veronica is Jesus and a good upbringing (laughs). But there is not much in common. Veronica is extremely controlling and a perfectionist.
Reneé: Fashion. Katherine and I are both of a certain age we fight that. We may not be as attractive, complain about our weight, but I have a moral compass. I do have Jesus in my life (laughs). We share the same personal hangups, but Katherine has the money and wealth to cover it up. I deal with my inner turmoil than she does.
With this being the final season, what projects are you looking forward to working on?
Angela: Everything! Getting back on Broadway. Writing the book I want to write. Making more time with
my family. Anything to cheer my castmates in. I would love to be like FRIENDS, where we can come back
and celebrate years later.
Reneé: Next acting adventure. Get back into theatre, TV projects, increasing my speaking engagements. I also enjoy crafting and looking forward to pitching projects. I also applaud my castmates and go to their premieres and cheer them on. I can't wait to see what doors the Lord is opening for me.
If you follow the show like I do, you know I had to ask Reneé what happened to Amanda? At first, it was concluded that she committed suicide, but in episodes and scenes to follow, it was alluded that she may have been murdered. I needed closure once and for all and Reneé gave it to me.
"Amanda killed herself! You can write that down. She killed herself."
Check the entire roundtable video and jump to the 29:34 mark for her hilarious response.
Angela made sure to confirm why we could trust it, "Reneé is type A. She knows every detail. She goes through the script. So, if she says Amanda killed herself, then Amanda killed herself." Case closed and mystery solved.
After 8 seasons, here is their personal (and tearful) message to the fans –
Reneé: We are here now because of you. We would not have made 8 seasons without you. These were some of the most memorable times of my life. I hope down the road we come back to visit. Enjoy every episode…every minute. We gave it our all. We valued you as you valued us.
Angela: We love you. You changed our lives.
Thank you Angela and Reneé for the stories, laughs, fun facts, and 8 seasons of showing us how the scripted other side lives. Thanks to OWN TV and One35 Agency for the press invite and sponsored lunch. And you know where you can find me on Tuesday at 8 pm.