The Spring season brings many things, like flowers, warmer weather, spring break, and the Easter holiday. A time to commemorate the resurrection of Jesus…….and for most Americans, Easter gift-giving. One of the best gifts to give and get during this time is Easter gift baskets and no one does gourmet gifts better than GourmetGiftBaskets.com.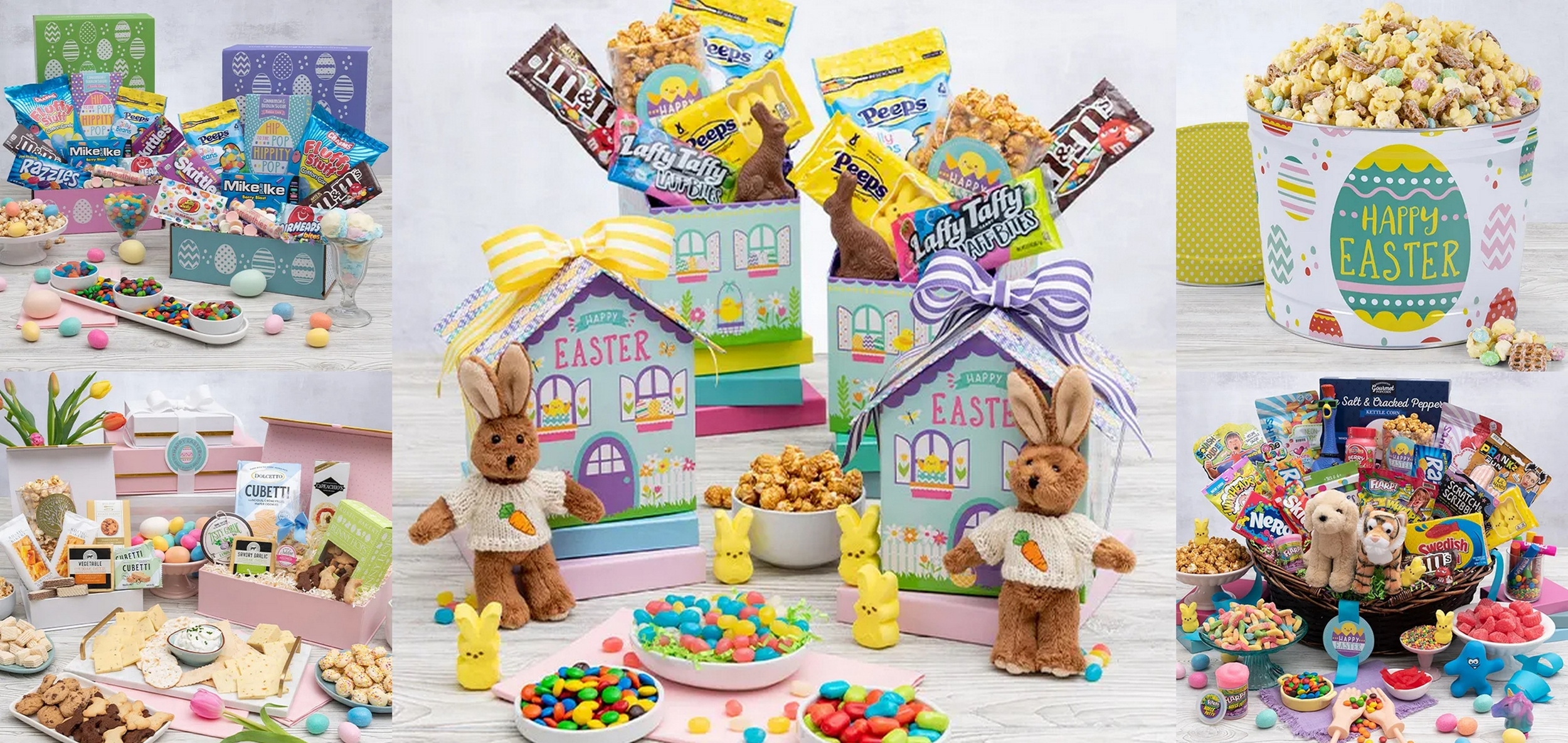 You've fallen in love with their Valentine's Day gourmet gift baskets; already enjoyed previous Easter gift baskets; this year, www.gourmetgiftbaskets.com's gourmet Easter baskets offerings include decadent cakes and gourmet wines to take your Easter celebrations to the next level. they also make it easy to get your Easter baskets delivered wherever you want. They offer a wide variety of Easter gift baskets but we're highlighting just a few of our favorites below. Check them out!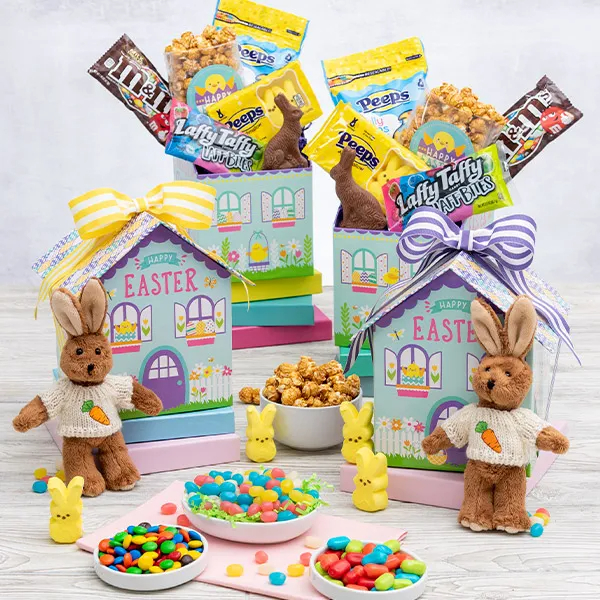 Yes, you are seeing double with these Double Bunny Easter Baskets! Avoid Easter morning tantrums when both children receive the same gift (you're welcome)! Both bunny homes include a plush bunny with adorable carrot sweaters hiding under the removable roofs. Also included in each gift is a solid milk chocolate bunny, caramel popcorn, marshmallow PEEPS®, Laffy Taffy Bites, M&M's®, and jelly beans, all wonderfully packed in an Easter Bunny House. Make your Easter gift giving easy, and double the fun for you and your family or friends.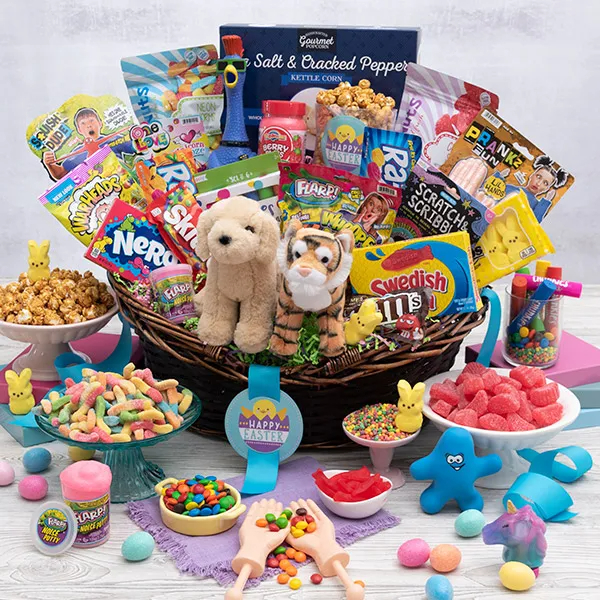 This beautiful, jaw-dropping basket includes an impressive collection of the most beloved classic candies, two plush animals, decadent chocolate treats, and entertaining toys. This abundant gift basket is guaranteed to make Easter morning unforgettable!
This drool-worthy gift basket includes: Plush Yellow Lab, Plush Tiger (Lava), Flarp Squish Dude Toy, Lil' Hands, Self Inflating Whoopee Cushion, Classic Chunkies Paint Sticks by Ooly – 6 pack, Sea Salt & Cracked Pepper Kettle Corn, PEEPS Bunnies by Just Born, Squawkin' Chik'n, Neon Gummy Worms, Cherry Slices, Warheads Smashups, Caramel Popcorn, Plain M&Ms, Skittles, Swedish Fish Theater Box, Rainbow Nerds Theater Box, Barefoot Basket, Whipped Slime, Funtastic Friends Scratch & Scribble, Unicorn Ooze, Original Razzles, and Tropical Razzles.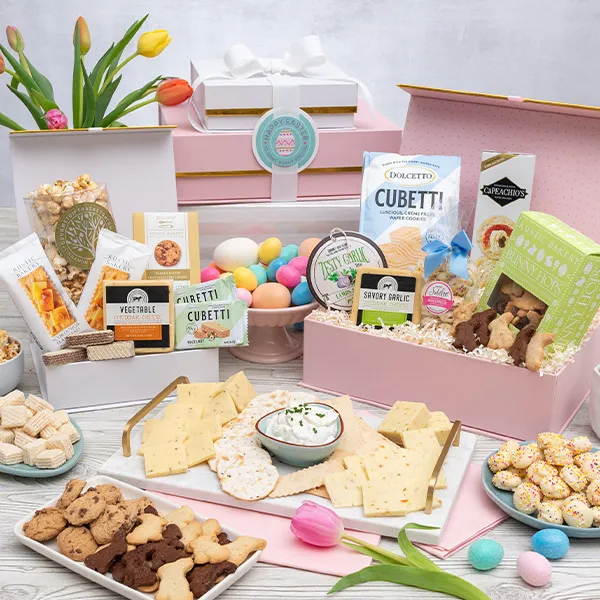 GourmetGiftBaskets.com understood the assignment because their Premium Easter Gift Tower is tied with a bow, boxed, and ready to deliver to your loved ones this Easter! Make some bunny feel special when they discover what's inside these two magnetic closure keepsake boxes. Filled with an assortment of sweet and savory snacks, this wonderful tower of treats has something for every palate.
A surprise collection of gourmet goodies awaits you with this gift tower, including Vanilla Cubettis by Fusion Gourmet, Vanilla & Chocolate Bunny Cookies by Rustic Bakery, Garlic Cheese by Mountain View Farms, Peppercorn & Poppy Crackers by Capeachio, White Chocolate Covered Mini Oreos with Pastel Sprinkles by Jubilee, Peanut Butter Chocolate Chip Cookies by Dulion, Cinnamon & Brown Sugar Kettlecorn, Magnetic Closure Box – Medium, Magnetic Closure Box, Zesty Garlic Dip by Lambs & Thyme, Hazelnut Cubetti by Fusion Gourmet, Vegetable Cheddar Cheese by Mountain View Farms, and Olive Oil & Sel Gris Organic Flatbread Crackers.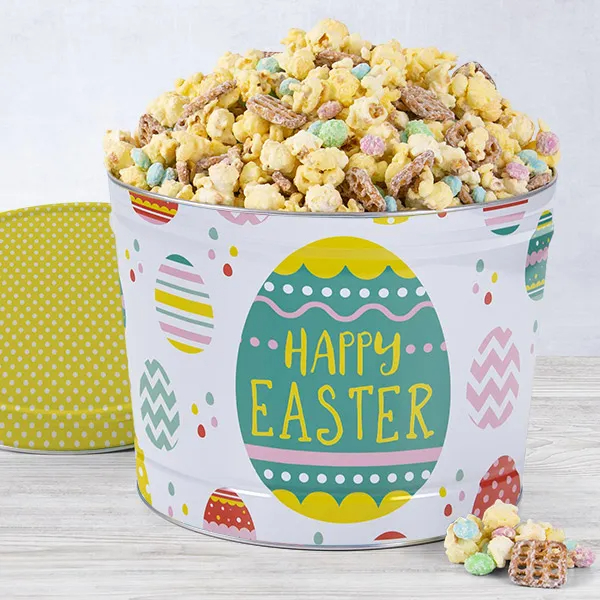 Knowing that Easter couldn't possibly be complete without a treat that's both sweet and savory, GourmetGiftBaskets.com set out to create the perfect one. And, they succeeded, and produced this unbeatable Easter snack! These festive 1 & 2-gallon spring tins, are filled with their beloved kettle corn that's been coated with ribbons of silky white chocolate and tossed with sweet pastel chocolate candies, and chunks of salted pretzels, creating the perfect Easter "Bunny Munch" treat!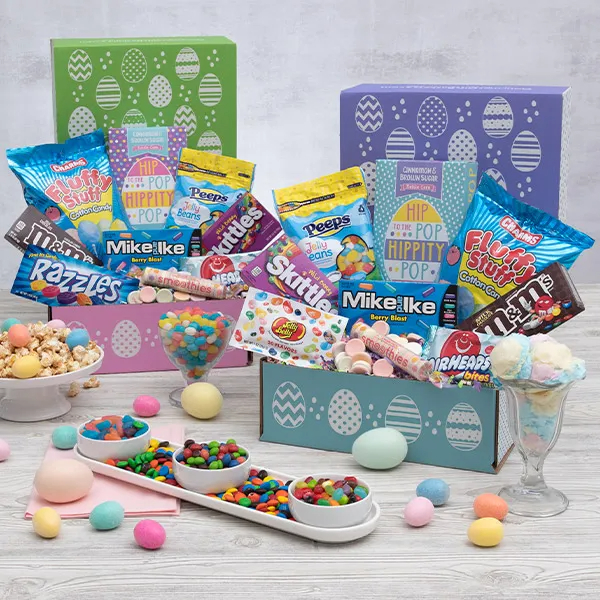 When you're away, nothing is better than being reminded of home by the people who love you most. That's why our experts developed these four Happy Easter Candy Care Packages. Each box includes a classic collection of cheery confections, including cotton candy, traditional Easter candy, sweet jelly beans, and crunchy gourmet popcorn. Sure to make their Easter special, no matter where they are. Choose your care package box color: green, purple, pink, or teal! Indulge in such treats as Hip to the Hop Easter Popcorn, Berry Blast Mike & Ike's, Milk Chocolate M&Ms Theater Box, Wild Berry Skittles, Peep Fruit and Marshmallow Jelly Beans, Fluffy Stuff Cotton Candy, and Mega Smoothie Smarties.
The green care package also includes:
Milk Duds by Hershey's
Reese's Peanut Butter Cups – Fun Size Bars
The purple & teal care packages also include:
Airheads Bites Paradise Blend
Original Razzles
The pink care package also includes:
Airheads Bites Paradise Blend
Jelly Belly 20 Flavor Mix
No matter how you celebrate the Easter holiday, these amazing Easter gift baskets from www.gourmetgiftbaskets.com will never disappoint.