We're continuing our Earth Month highlights by showcasing multiple enviro-friendly and sustainable products from brands whose values and actions help to reduce environmental impact. If you are looking for brands that align with your personal, ethical, and sustainable values, the ones we're showcasing below do that just. These sustainable brands practice ethical practices and celebrate Earth Day every day thanks to their environmentally mindful products.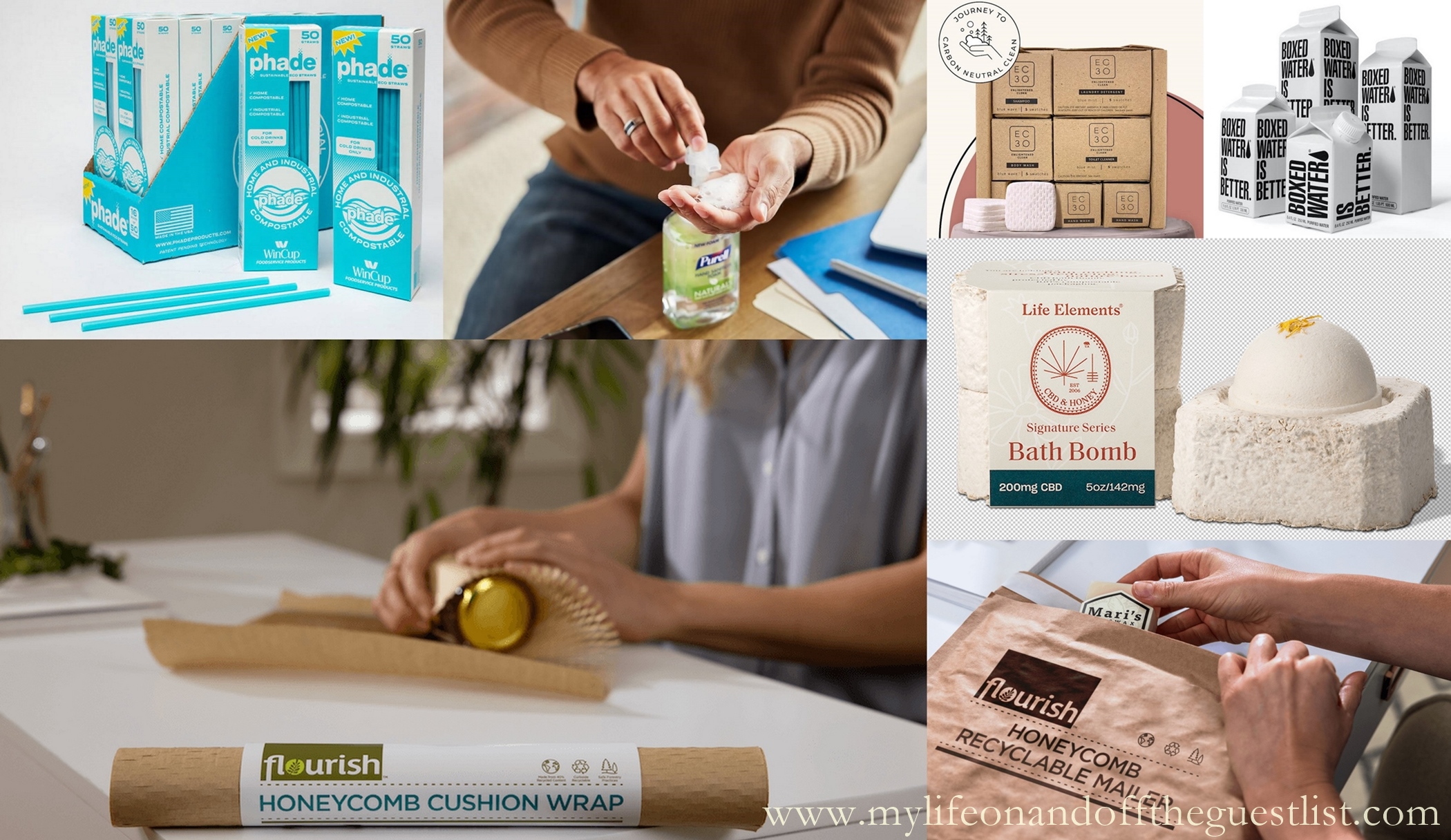 Join us as we honor brands that feature plastic-free packaging, mindful and Earth-conscious ingredients, and do away with single-use products. These enviro-friendly brands practice carbon footprint and waste reduction, use sustainable packaging, commit to ethical work, and respects our planet, as well as human rights. This Earth Day, join us in honoring Phade Straws, Purell, EC30, Boxed WaterTM, Life Elements, and Flourish.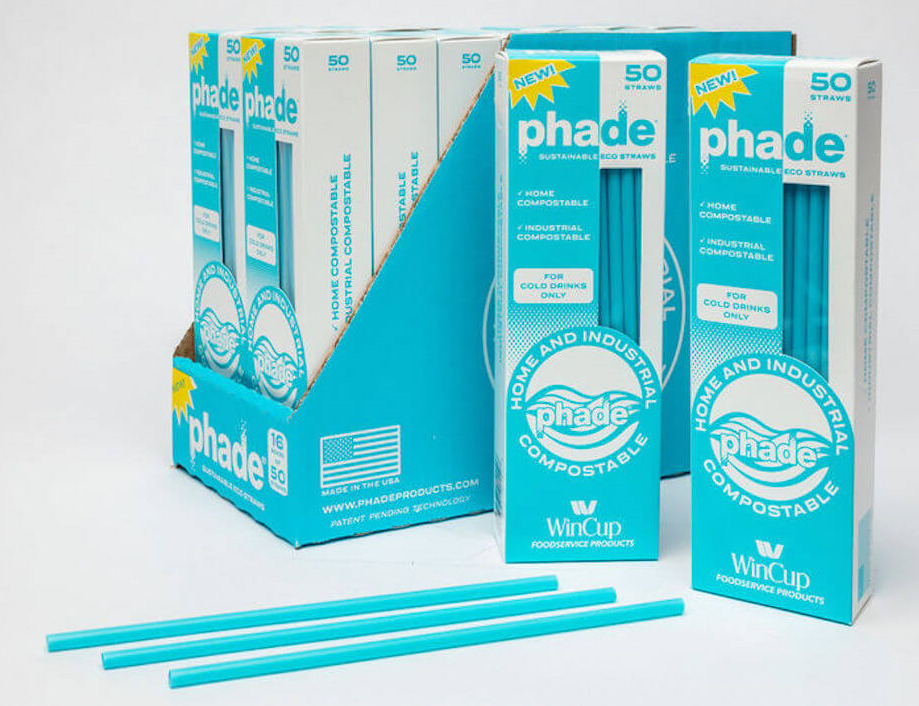 One of the most common and easiest ways to commit to a more sustainable lifestyle is by avoiding single-use plastics. Did you know that an estimated 500 million straws are used per day! Replacing this seemingly small plastic product with a superior sustainable alternative does make a huge difference. Don't know where to begin, how about with reusable straw that biodegrades in a few months? Phade Straws are made from a substrate derived from the fermentation of canola oil that maintains the feel and use of traditional plastic, but when composted, Phade completely biodegrades. How's that for an enviro-friendly brand!
These marine biodegradable drink straws are a perfect example of how traditional plastic consumer products can be replaced by bioplastic alternatives. Get a box of 50 for $9.98 at www.phadeproducts.com and Amazon.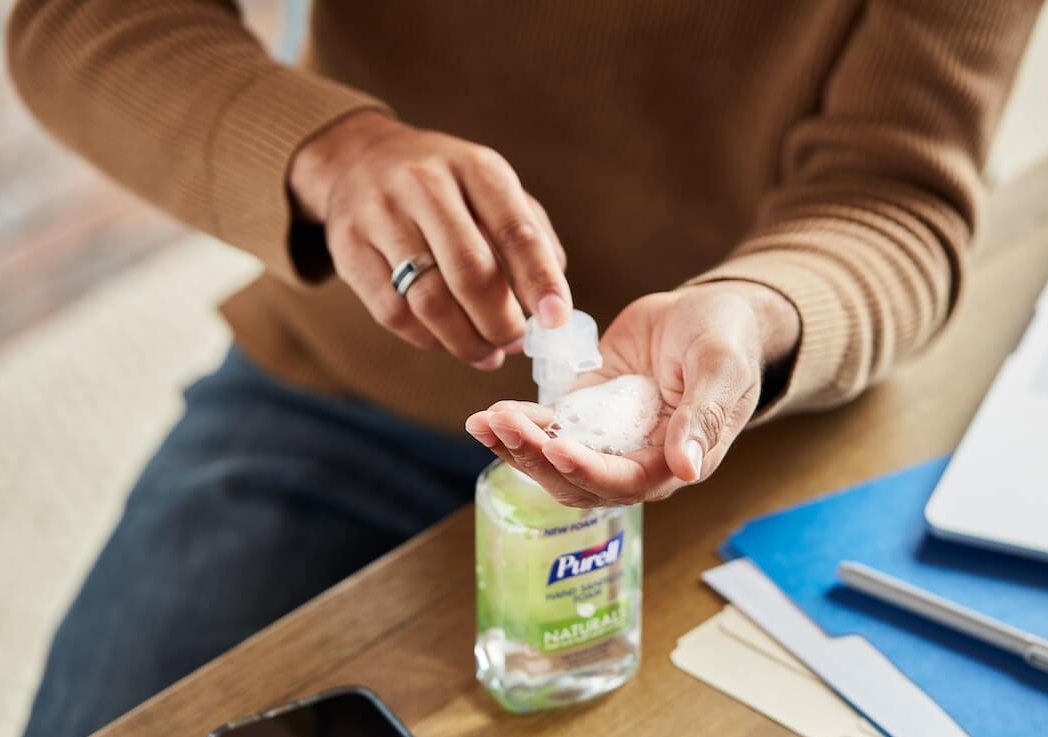 Are you ready for a luxurious formulation made from plant-based ethanol with 91% biobased content, so you can feel good as you kill 99.99% of the most common germs that may cause illness on your hands? This hand sanitizer applies quickly and easily, so it's perfect for anyone looking for a trusted hand sanitizer that kills 99.99% of the most common germs that may cause illness. The rich foam applies easily and dries quickly on your hands for mess-free sanitizing. It's formulated to be gentle on your skin and clinically proven to maintain skin health.
This enviro-friendly product is ECOLOGO Certified and has a USDA Certified Biobased Formulation made with naturally renewable ethanol. It contains no harsh preservatives, dyes, triclosan, parabens, or phthalates. It's naturally fragranced with a blend of essential oils – which are all clearly listed on the label. The Purell Advanced Hand Sanitizer Naturals Foam is currently available for purchase at Walmart and soon Target, CVS, and Walgreens.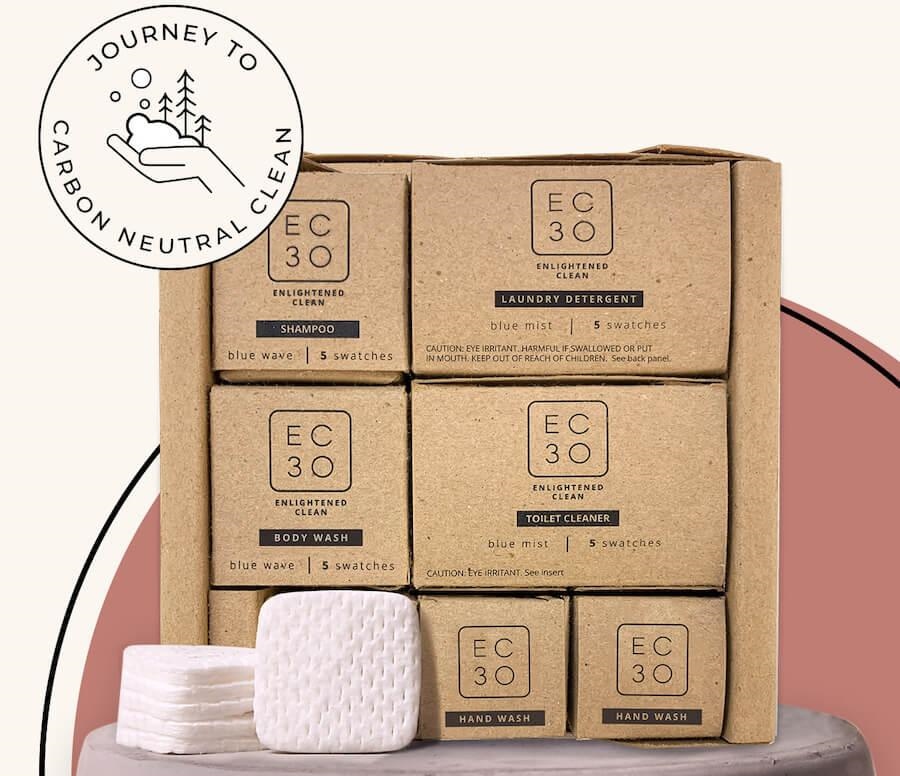 Meet the range of EC30 personal and household cleaning products, a sustainable clean that works! These enviro-friendly products are water-free and plastic bottle-free home and skincare products; it's backed by more than 100 years of revolution from Procter & Gamble. EC30 was designed and manufactured with the goal of transforming cleaning for generations to come. the products are TSA Friendly, suitable for all septic tanks, boast a crisp, refreshing scent, and with every purchase, one tree is planted.
Activated with water, the EC30 swatches, such as their shampoo and laundry products, transform into a powerful lather that cuts through life's tough messes. A great way to get to know the EC30 products is to try their Try It All Kit. The Kit will help you join the journey to carbon-neutral cleaning for home and body; it includes the following:
5 swatches of laundry detergent - optimized for all colors and fabrics, with stain removal power you need.
5 swatches of toilet cleaner – our one-drop shop for conveniently cleaner toilets.
10 swatches of shampoo – lovely lather, lovelier performance.
10 swatches of conditioner – a gentle, yet effective moisturizer.
30 swatches of hand wash – gentle performance, for clean and soft hands.
The EC30 Try It All Kit is currently available for purchase at www.ec30clean.com.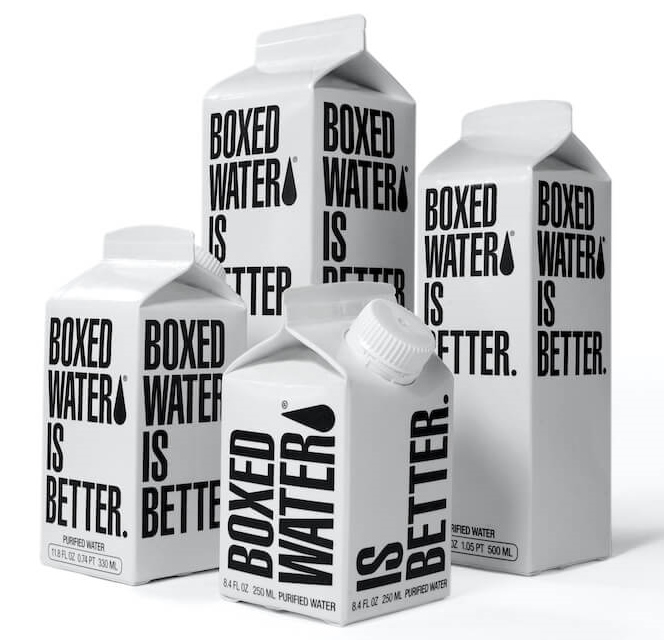 You may remember we introduced Boxed Water and their delicious flavors last Earth Month. The enviro-friendly and sustainable brand has always used sustainable packaging, at 92% plant-based (this also includes the cap!). They are the first national company to offer a sustainable alternative to plastic bottles. Boxed Water produces pure water in cartons made using paper from well-managed forests. They are helping combat the overwhelming usage of single-use plastic bottles. Although plastic bottles are recyclable, recycling efforts can no longer keep up with the world's plastic production. Boxed Water is truly better.
Boxed WaterTM is currently available for purchase at boxedwaterisbetter.com, Amazon, and select CVS Pharmacy and WholeFoods locations as well as regional grocers.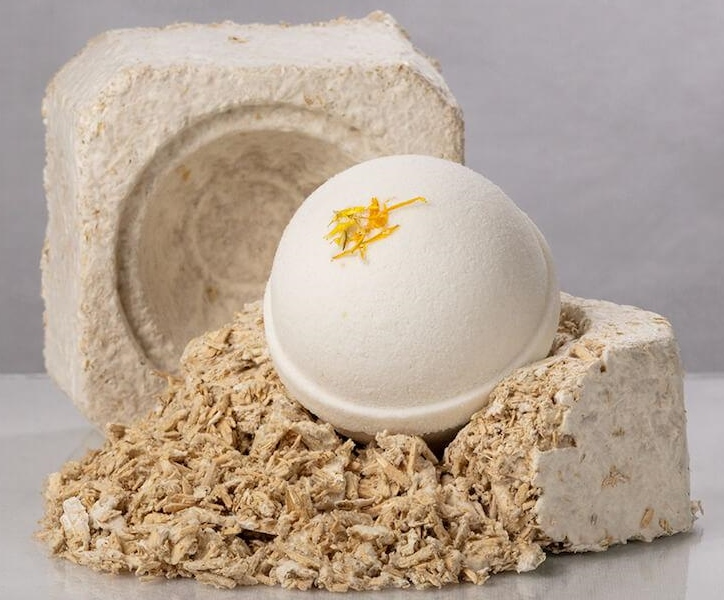 On to another product with compostable packaging. Formulated without synthetic fragrances or colorants, Life Elements CBD Bath Bombs can support improving sleep and recovery from inflammation. They feature a zero-waste "naked" packaging made from 100% home compostable Mushroom Packaging. The Life Elements CBD Bath Bomb Collection supports pain relief, recovery from inflammation, and improves sleep. The bath bombs range in strength from 50mg – 300mg Broad Spectrum CBD (organic, water-soluble, and cultivated in the USA).
Unlike most bath bombs on the market, Life Elements doesn't use shrink wrap or external packaging components. The hydrophobic Mushroom Packaging protects the naked bath bomb from damage during shipping, repels moisture, and ultimately can be repurposed and easily composted in a garden or lawn. Life Elements is currently available for purchase at www.lifeelements.com or at independent retailers and practitioners around the country. Use discount code EARTH2022 for 20% off any purchase from 4/22 through 4/30. Cannot be combined with other discounts or existing sales.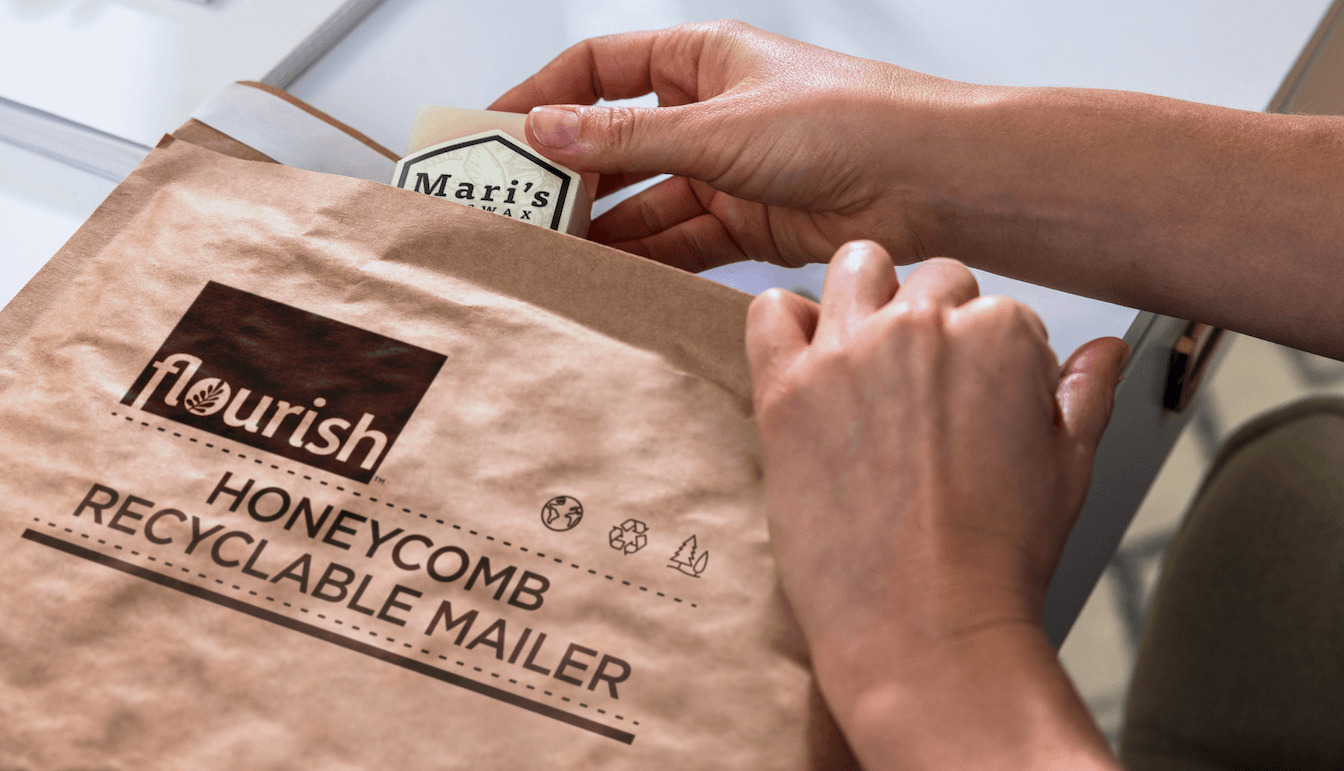 For those of you not familiar, Flourish offers simple, affordable, and sustainable alternatives to everyday products such as mailing and shipping solutions. These products are not only curbside recyclable, they're made from recycled content. If you're looking to lessen your environmental impact, Flourish boasts products that allow you to live easily and responsibly, each day.
Honeycomb Mailers – These recyclable mailers are the perfect solution to keep items safe during mailing or shipping in an environmentally responsible way. They are made of 100% recycled content and offer greater impact protection than standard bubble mailers for superior protection. The mailer also features a unique die-cut honeycomb layer that creates loft and cushioning to protect items during shipment.
Honeycomb Cushion Wrap – A more sustainable solution than traditional bubble cushioning, Honeycomb Cushion Wrap is made with 40% recycled content. The die-cut honeycomb design stretches easily to create loft and cushioning that protects items and the interlocking paper structure attaches to itself, so no tape is needed. Use Honeycomb Cushion Wrap to protect items or fill empty voids when packing boxes so valuables stay put and stay safe.
Spiral Fill – This box fill is made with 100% recycled content paper and offers a simple and sustainable alternative to traditional packing peanuts and crinkle paper. The spiral design offers a unique and appealing look and expands to 10 times its original size for added protection during shipping and gift wrapping. All you have to do is lift, shake and fill.
Flourish products are currently available for purchase at duckbrand.com and Amazon.