Thanksgiving is almost upon us and I've heard so many cooking stories, trading of recipes and lots of ideas for a healthier Thanksgiving. So many of us think if you use certain ingredients, then you're eating healthier but it's not just the ingredients you have to worry about, how your food is prepared is important too. I was introduced to one heck of a machine from called the T-fal ActiFry. A wondrous machine that allows you to cook entrees, sides, desserts, and appetizers without worry.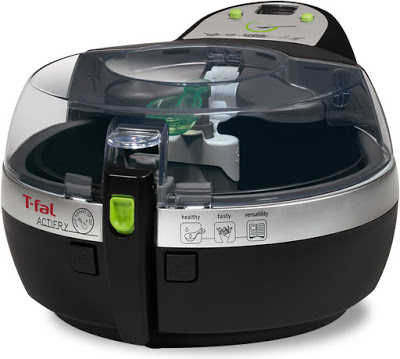 ActiFry is a unique kitchen appliance engineered with innovative heat-pulse technology. It will definitely make you throw out your deep fryer. ActiFry will change your perception of how food can be cooked. Enjoy absolutely delicious homemade meals with this versatile low fat multi-cooker, using just a tablespoon of oil, its pulsating heat system and stirring paddle. There are several amazing recipes that are possible with the t-fal ActiFry but I wanted to start out with something simple, so I decided to try some healthy fried chicken. All I did was season the chicken and place them in the Non-Stick Removable Pan (I didn't even need any oil in the recipe)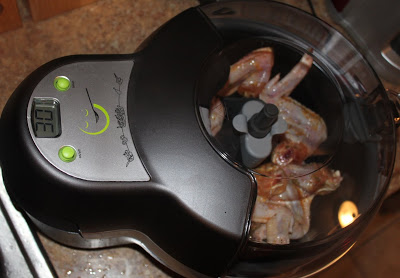 The T-fal ActiFry features a removable ceramic-coated, non-stick pan, a transparent steam-free lid, a measuring spoon and an automatic stirring paddle which ensures even distribution of oil in each meal prepared (all which are dishwasher safe so cleaning up the ActiFry is just as easy as using it to cook). The recipe called to set the timer for 25-30 min but I put it at 30 because I like my fried foods crispy. The ActiFry features a timer, which can be set for up to 99 minutes. Simply place the ingredients in the non-stick pan, close the lid, set the timer and switch your ActiFry on. The timer beeps to let you know when your food is ready. It's amazing to see this baby in action. I literally didn't have to do anything else but wait for the timer to go off an enjoy some amazingly tasty (and super healthy) chicken. I took some video a few minutes after I started the ActiFry
and again when there were just about four minutes left when the wings were a beautiful golden brown
I cannot wait to try some of my Thanksgiving recipes and I don't plan on being boring either. I might experiment with Spicy Thai Chicken Curry, Chicken and Pineapple or maybe chili (god I'm so excited to cook).
The T-fal ActiFry comes in Black and white and is available at T-fal.com, Amazon.com, Bed, Bath & Beyond, Kohl's, JCPenney, etc. Happy Thanksgiving!