Nautica is on a mission. A mission to charm the same hearts that Sir Lauren charmed many years ago by making Polo into a certifiable household name. What David Chu started years ago as a delving into his love for fun & classic American sportswear, Chris Cox is now cultivating into a brand that takes the same honed aesthetic of American sportswear translated for a generation of men with less rules and greater diversified life encounters.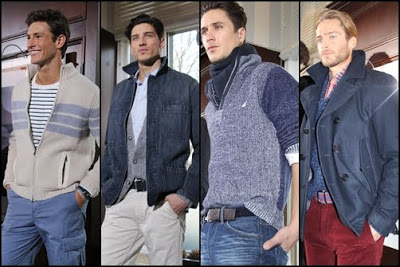 What strikes me as key about many designers with a keen foresight for greatness is their reliance on continuity. Continuity is key to establishing a lasting impression and follows a basic framework that can be tweaked here and there for modernity. However, it's that continuity through construction, advertising images, quality and fit that leave a commanding presence on the minds of the consumers which they can recognize season after season while still moving along with a brand's growth.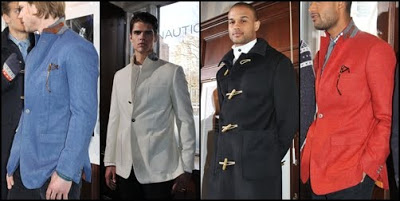 The in-store presence of Nautica is vast. That is the key to understanding Nautica's approach. They reach a lot of men throughout the nation with an aesthetic that is essentially and classically American. With this in mind, the brand doesn't really need to reinvent the wheel every time at bat. What it needs to do and what it does well is connect that continual presence of triumphant sportswear with the essence of an American man's way of life. This is why the brand's past advertising images and the selection of the models for the Fall/Winter 2012 presentation all convey strong boy next door, quarterback, active American male personas that live in our minds and subtly make men seek out these kinds of clothes in their shopping escapades.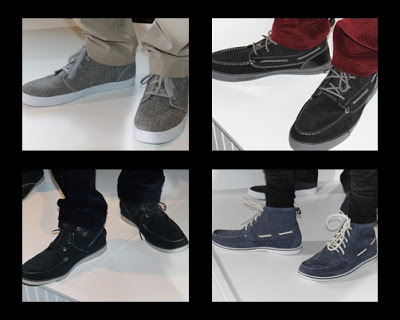 The collection Nautica presented during fashion week was littered with a welcomed and growing continuation of what the brand bumped up for Spring 2012. Color! Vibrant color is something designers usually relegate to spring to kind of imitate the foliage and sunlight while keeping their fall winter accessories more "springily/summerly" inspired. However, while sticking to its sportswear strengths, Nautica suggested that a broader consensus of men should create their own rules and pay homage to the brighter, warmer seasons in the grayer colder months of the year. Still this is also a business which exists to make a profit, so it still caters to those men who are slower to adapt to change by offering their classic staples of cable knit sweaters, wash & wear shirtings, loden coats, puffer vests and pea coats in classic American navies, varsity blues, collegiate greys and New England whites. My favorite pieces of the collection were the elegantly tailored heavier weighted wool blazers with a bit more shaping. Also of note were the modern shoes that took inspiration from menswear lore in herringbones and flannels in mute tones that leave the canvas crystal clear for the poppier tones of some of the outerwear.
Another good thing to note about Nautica is that since it does have a nationwide retail presence, intermediate deliveries will be peppered with color all throughout the season. This in turn sinks it deeper into the psyche of the male consumer that color is welcomed and OK anytime time of the year.