On hot days like today, I always find myself stocking up on yogurt. It's usually the only thing I can eat that won't make me feel like an overly stuffed turkey. I usually enjoy one or two and sometimes love to mix flavors. I try to spice up the way I enjoy it – sometimes I freeze it, other times toss it in a blender with fruit. Though some brands have changed over the years for, this delicious snack remains a staple for me. My most recent yogurt obsessions (when I say obsession, I mean I purchase 10 or more at a time) are
Yoplait Greek 100
(Yoplait has been a favorite since childhood),
Muller FrutUp
and
Dannon Oikos Greek
.

If you love Greek yogurt but are worried about calories, then you'll love Yoplait Greek 100. You get all the amazing deliciousness of Yoplait's regular, thick and creamy Greek Yogurt but with only 100 calories. Yoplait Greek 100 comes in six flavors and is also favorited by Weight Watches and is only 2 points. My favorite flavors are the Tropical and Strawberry flavors. Beware, you may find yourself enjoying more than one at a time.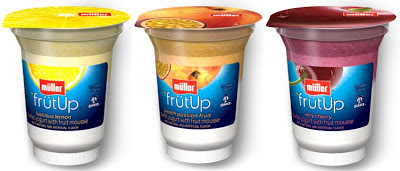 Forget fruit on the bottom, Muller has turned yogurt upside down with delicious results. Cool, creamy, low-fat yogurt is topped with a luscious layer of fragrant fruit mousse that is so delicious, it seems bad for you. Muller FrutUp comes in six delicious flavors that are free of preservatives and high fructose corn syrup; each flavor is more delicious than the last. I challenge you to try to eat only one. I'm currently addicted to Lemon, Peach & Passion Fruit and Very Cherry.
For those of you who want to fully indulge in the deliciousness that is traditional Greek yogurt or want to yield to your guilty pleasure without going the cake or candy route, Dannon Oikos Greek should be on your shopping list. Each flavor is a delicious spoonful of decadence. It's sinful how delicious it is. I am now addicted to the Key Lime and Banana Cream.
Try any of these brands and you are sure to be hooked but that's okay because while they taste amazing, they are much healthier for you than other indulgences.