It's a sad fact that many people think going green or organic means you have to give up your favorite foods and drinks, but they would be very wrong. While it is true you may have to give up your preferred brands, there are hundreds of companies that offer phenomenal organic options in every category (you most likely will end up liking the organic choices more). For example, we love wine and like to enjoy a glass or two often, and we couldn't see ourselves giving it up just because we're going organic. We recently discovered a lovely collection of organic wines called
Philosophy Wines
, by the recently dubbed "green Martha Stewart" (NY Post), Danny Seo. The first two wines in Danny's Philosophy Collection include a
2011 Zinfandel and 2012 Sauvignon Blanc
.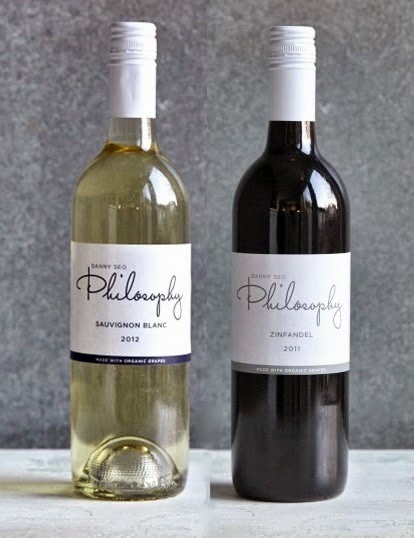 Proving that you don't have to give up on taste and quality even though you are drinking sustainably, Philosophy Wines offers exceptional wines from organic grapes grown in prized, organic vineyards in the cool climate of Mendocino, CA.
"The 2011 Philosophy Zinfandel is complex and full with plenty of fruit-forward notes. Raspberries, plums, and blackberries burst onto the palate with notes of cedar, vanilla, and bramble in support. This wine has nice structure and the heavy texture of the wine helps it to finish smooth and long.
The 2012 Philosophy Sauvignon Blanc explodes with bright citrus flavors, tropical fruits, lemongrass, and pears. The acidity of the grapes is well maintained in the wine which is refreshing, clean, and vibrant. The wine is distinct and complex while delivering easy drinkability."**
Both Philosophy wines are right at home indoors and outdoors, with the Zinfandel pairing perfectly with anything off the grill, especially steak, pork chops, etc, and the Sauvignon Blanc great with savory dishes like lemon chicken, and fish in citrus, along with various cheeses, especially goat cheeses.
We found that we couldn't get enough of the fresh, crisp taste of the Sauvignon Blanc. We certainly didn't have any trouble devouring several chilled glasses and even experimented a bit by adding with chunks of fresh mango to a glass on one occasion and slices of fresh ginger to another. It was no surprise to find out the resulting flavors were amazing. The Zinfandel played up the flavors (we are die-hard fans of bold seasonings) of our hickory BBQ Chicken, Turkey Chili, and Szechuan Beef dishes we paired it with. Both wines are available nationally for a retail price of $19.99 and can be purchased on PhilosophyWine.com.
**Tasting notes by Philosophy Wines