Who wants to party with Kiehl's and celebrate the
Kiehl's LifeRide for amfAR
"motorcycling philanthropists"
when they finish their multi-state ride in New York? Inspired by Kiehl's history with motorcycles, spirit of adventure, and philanthropic heritage, the company embarks on the fifth annual Kiehl's LifeRide for amfAR aka
#LifeRide5
, an 11-day, multi-stop charity motorcycle ride taking place from August 2 – 12, 2014. With the help of Harley-Davidson Authorized Rentals, and FIJI Water, the riders are making their way from Milwaukee to New York City, with the mission to continue to heighten AIDS awareness and raise funds for amfAR. There's nothing sexier than a hot man on a hot bike raising money and awareness for a great cause….I mean Tyson Beckford straddling a motorcycle (huge cheers to the two female rides as well).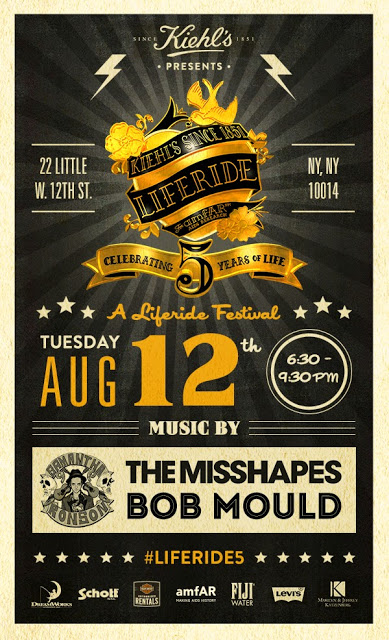 Chris Salgardo, President, Kiehl's USA and Kevin Robert Frost, amfAR CEO leads the #LifeRide5 motorcycle enthusiasts who are fighting against HIV/AIDS. This year marks the fifth for this amazing charity event's riders include:
Tyson Beckford, model
Ben Cohen, World Cup Rugby Champion
Jay Ellis, actor
Kevin Robert Frost, CEO, amfAR
Conrad Leach, artist
Vanessa Marcil, actor
Gilles Marini, actor
Scott Niemeyer, producer
Grant Reynolds, actor
Katee Sackhoff, actor
Chris Salgardo, President, Kiehl's USA
Teddy Sears, actor
Jesse Lee Soffer, actor
Malcolm-Jamal Warner, actor
On August 12th, the day after the Kiehl's LifeRide for amfAR's Dedication of The AIDS Memorial Quilt, the riders will be making three stops in New York ending with a finale celebration party in the Meatpacking District
Stop 1: Kiehl's at Macy's Herald Square – 11:30am – 12:30pm
Stop 2: Kiehl's Rally: Kiehl's Flagship Store, 109 3rd Avenue – 5:30pm – 6:30pm
Stop 3: Finale Celebration: 22 Little West 12th Street – 6:30pm – 9:30pm (see above flyer)
Kiehl's will offer a Celebration Discount of 15% off all purchases at each LifeRide stop store for two days: the day it is hosting an event and either the day before or after (check with each store for details.) In addition, Kiehl's will offer the 15% Celebration Discount at remaining Kiehl's retail stores nationwide, and Kiehls.com, Aug. 9th and Aug. 10th. Kiehl's will donate that 15% difference to amfAR, up to the $125,000 total donation. If you can't attend a ride event, you can join the fight against HIV/AIDS:
Follow Kiehl's to support amfAR! Kiehl's will donate $1 to amfAR for every follow they receive on their @Kiehls Twitter account (up to $15,000).
Use your hands to find a cure! Follow Kiehl's on Facebook, Instagram & Twitter to play. Tag your image #HandsOn #contest and they will donate $1 for every participant (up to $10,000 of the overall donation). Rules on how to play can be found on our social media platforms.
Or make a purchase of a Limited Edition product to benefit amfAR. A Limited Edition Kiehl's Ultimate Strength Hand Salve, a jumbo size of the company's classic formula and customer favorite, is available for $28.50 at Kiehl's retail stores and specialty store partners nationwide, and Kiehls.com with 100% sale profits, up to $25,000, will benefit amfAR. The Limited Edition Ultimate Strength Hand Salve will be available in a specially designed 7.8.oz size, and features a red cap.