Ready to get into the Holiday Spirits? Or rather, are you ready for the Holiday Spirits to get into you? The Village Voice is back with another celebrated experience that is a unique way to indulge in your favorite alcohol brands, and perhaps discover a few new specialty cocktails. Coming very soon, November 20th to be exact, is the
Village Voice 2nd Annual "Holiday Spirits" Tasting Event
, where 25+ distilleries, wineries and more from New York and beyond will be on hand to share samples of their delicious spirits, and treat you to a night of fun.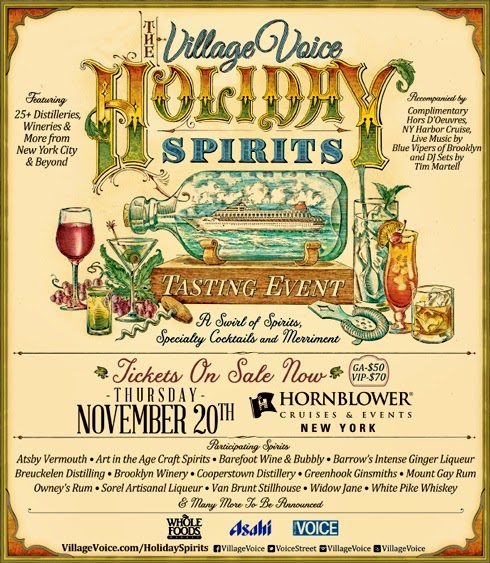 During this second round of what is surely a very festive event, which takes place on The Hornblower Infinity Cruise Ship from 6:00pm – 9:00pm, attendees of the Village Voice 2nd Annual "Holiday Spirits" Tasting Event will get to enjoy a fun harbor cruise as they sample drinks from Barefoot Wine & Bubbly, Barrow's Intense Ginger Liqueur, Brooklyn Winery, Mount Gay Rum, Sorel Artisanal Liqueur, Van Brunt Stillhouse, Widow Jane, Art in the Age Craft Spirits, Atsby Vermouth, Breuckelen Distilling, Cooperstown Distillery, Greenhook Ginsmiths, Owney's Rum and White Pike Whiskey, and many more local and artisan spirit brands.
This year's Holiday Spirits will feature two ticket options: general admission tickets ($50.00), and VIP tickets ($70.00). Both offer unlimited sampling from 25+ distilleries, wineries and more, a souvenir tasting glass, live music*, and complimentary hors d'ouevres. The VIP ticket allows guests access to the Captain's Lounge, a private VIP deck located on the top level of the ship, which will include a private bar, and a VIP gift bag. For more details on this year's two ticket options, visit: ww.villagevoice.com/holidayspirits.
*Each level of the ship will feature live entertainment throughout the night from jazz quartet, The Blue Vipers of Brooklyn, and local New York DJ Tim Martell, who has worked his "turntables" opening for Beyonce, performing at Shaun White's X-Games Gold After Party, and MTV's VMA official after party. For more information on attending this great event, and to purchase your tickets, see below:
DATE: Thursday, November 20th 2014
VENUE: The Hornblower Infinity Cruise Ship
Pier 40 @ West Houston St., Manhattan, NY
TICKETS: On-sale now, here: http://ticketf.ly/1yhVPCo
General Admission Ticket – $50 | VIP Ticket – $70
TIME: 6PM – 9PM
5:30pm Boarding | 7:45pm Leave Dock For NY Harbor Cruise
Hope to see you all on the cruise!