If you found yourself drooling over our previous coverage of Village Voice Choice Eats post and thought, I wish I was there, you will soon have your chance to indulge, just like we did. The must-attend foodie event is back for another year of culinary delights to sate every palette. With 18 restaurants already signed up (the event will feature over 50 handpicked restaurants from all five boroughs that have been reviewed and heralded in the famed newspaper), the Village Voice will hold its 8th Annual Choice Eats tasting event on Friday, March 13th, from 6:00 pm – 10:00 pm at the Metropolitan Pavilion.The Village Voice has also released the first round of 18 participants including 2 Duck Goose, 606 R&D, Awadh, Bobwhite Lunch & Supper Counter, Butter & Scotch, Commerce Restaurant, The East Pole, Fletcher's Brooklyn Barbecue, Huertas, John Brown Smokehouse, Littleneck, Luke's Lobster, MAX , No. 7, The NoMad , Spicy Pot, Thai Rock, Tuome and many more to be announced. All Choice Eats guests will be able to enjoy unlimited sampling of the best dishes from the 50+ restaurants, along with desserts, complimentary craft beer pairings, wine and liquor beverages.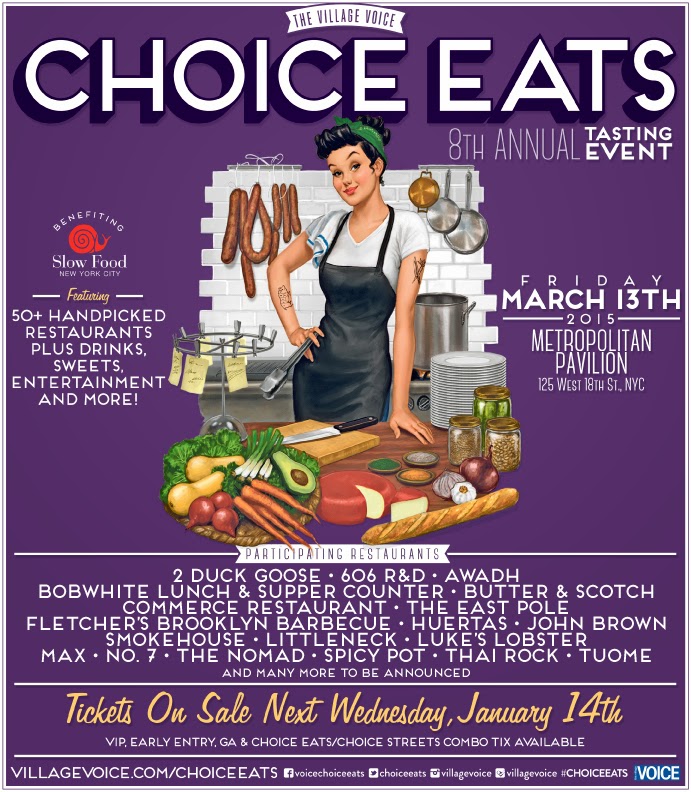 UPDATE: The following restaurants have been added to the final list of participating restaurants, bringing the total to 68 restaurants: Ample Hills Creamery, Brooklyn Kolache Co., Casa Mono and Bar Jamon, Gloria's Carribean Cuisine, Mable's Smokehouse, The Queens Kickshaw, and Robicelli's, The Blue Stove, Brucie, Bustan, Butter Lane, Carlo's Bakery, Coppelia, Delaware and Hudson, Doughnut Plant, Edi & The Wolf, Egg, El Atoradero, Fay Da Bakery, Fort Defiance, Genuine, Grandaisy Bakery, Juliette, Los Tacos No 1, Luca & Bosco Ice Cream, Papa's Kitchen, Pickle Shack, Recette, Rubirosa, Sigmund's Pretzels, Sugar Couture, Venturo Osteria, Veselka Restaurant, Wilma Jean, and Xe May Sandwich Shop.
This year's Choice Eats will feature three tiers of ticket options – General Admission tickets ($65.00), Early Entry Preview tickets ($85.00) and VIP tickets ($99.00) – all of which will be available for pre-sale now through Tuesday, January 13th using the exclusive press release pre-sale code: EATSPR. Tickets will go on sale to the general public on Wednesday, January 14th at 12:00 pm. The Early Entry Preview ticket will allow guests to get a half hour head start on tasting and sipping, along with the ability to skip the line and beat the crowd. The VIP ticket grants guests admission to the full event one hour early, with access to a private VIP room, and an exclusive VIP gift bag. For more details on this year's three ticket options, visit: www.villagevoice.com/choiceeats.
The Voice will also offer ticket buyers access to a limited number of Choice Eats/Choice Streets combo tickets for an additional 10% off savings. Both VIP combo tickets ($170.00) and GA combo tickets ($115.00) are available until supplies last and will offer guests tickets to Choice Eats as well as the 4th annual Choice Streets Food Truck event at The Intrepid on May 5th with a sampling of 20+ of NYC's more popular food trucks.
This year marks the 7th year working with the non-profit organization Slow Food NYC as the charitable partner of Choice Eats, whom a portion of proceeds will be shared with. Slow Food NYC is the New York City chapter of Slow Food, a non-profit, member-supported organization founded in 1989 to counteract the culture of fast food. Slow Food stands against the disappearance of local food traditions and people's dwindling interest in the food they eat, where it comes from, how it tastes and how our food choices affect the rest of the world.