In our attempt to drink more water (women should drink 9 cups a day while men should average 13 cups a day), we've found ourselves wanting to know more about our water supply, and frankly some of what we've come across scares us a bit. Did you know that bottled water is often only filtered tap water? We didn't realize there was so much to fear from our tap water but we have learned there is. Because of this, we find we're more inclined to purchasing bottled water, but even that brings up a whole other set of researching on bottling methods, packaging, water sources, etc. The result of our research led us to Icebox Water, a clean, crisp, pure spring water from Canada that is packaged at its source, the True North Spring.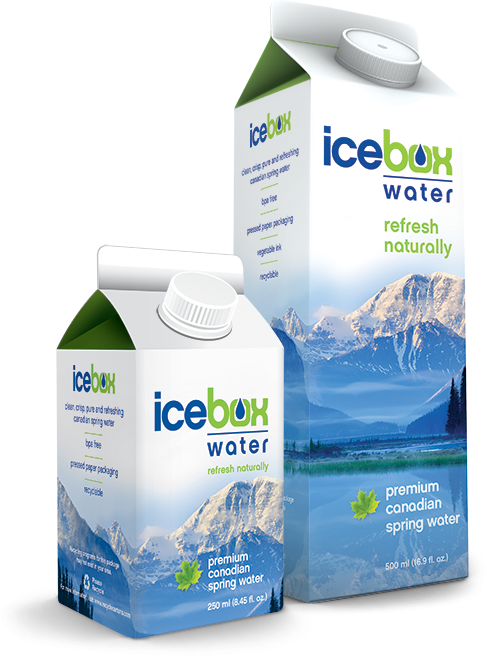 The naturally organic Icebox Water spring water is filtered in the glacier-carved freshwater fjords ("a long, narrow inlet with steep sides or cliffs, created by glacial erosion"*) of Newfoundland, far away from contaminants. This refreshing, environmentally-friendly, and safe for you, premium spring water has a pH of 7.4, 14.0 mg/L of Calcium, 2.0 mg/L of Magnesium, boasts safe and eco-friendly, BPA-free, pressed paper packaging that contains 76% less plastic than a PET bottle (regular water bottles made of polyethylene terephthalate), is compostable and 100% recyclable, and has a shape that fits just about anywhere. We didn't realize there was a difference in water until we tried Icebox and tasted how different it was from the filtered tap water and the bottled water we drank. The difference is beyond it being good for you, Icebox made us realize that we didn't drink more water because we just didn't like the taste. With Icebox, we easily met and surpassed the required amount of water we're supposed to drink in a day.
We think everyone should try Icebox Water, a case of 12 – 500ml Cartons is only $12.00, and compare it to their current drinking water, you won't go back.