Are you heading to New Orleans for Mardi gras next month? We've teamed up with our favorite Louisiana coffee to bring you a top ten list of tips and trick to fully enjoy your Mardi Gras experience in honor of the return of their Mardi Gras-inspired flavored coffee, Community Coffee Mardi Gras King Cake Coffee.

If you'll be in New Orleans to partake in the carnival festivities, this is the perfect time for some insider tips on the celebrations. Did you know the origins of Mardi Gras in New Orleans can be traced to medieval Europe? The revelry passed through Rome and Venice to evolve into the ornately costumed festivities we see and enjoy today. There's a lot of tradition and heritage that have helped shaped the Mardi Gras scene into its current celebrated state, and we want to make sure you all there is to have a fully immersive and wonderful time. Without further ado, here are our top ten good things to know to enjoy Mardi Gras like a New Orleans native:
Number 10
How to spell "krewe" and "flambeaux" and "Mardi Gras" and, well, you get the point.
Number 9
Technically, Carnivale is a season, and Mardi Gras is a day. But New Orleans tend to generalize and refer to the weeks of parades leading up to Fat Tuesday as Mardi Gras.
Number 8
The Mardi Gras colors are purple, green and gold. Remember to coordinate your outfit appropriately.
Number 7
The Captain of the Krewe is more important than the King. But the King gets all the glory while the Captain does all the work.
Number 6
If you miss a doubloon thrown from a float, never reach down to pick it up. Always put your foot on it. If you go with your hand, you're either too late or you'll get your fingers stepped on.
Number 5
If you bite into a plastic baby in a King Cake, that's a good thing.
Number 4
Any beads shorter than two feet long are unacceptable unless they are made of glass — the bigger and longer the beads, the better.
Number 3
Once any beads have touched the ground, they are sullied and should not be picked up unless under the rarest of circumstances.
Number 2
The vast majority of people in the French Quarter during Carnivale are from out of town.
Number 1
The Number 1 thing you must know about Mardi Gras season is that Community Coffee Mardi Gras King Cake coffee hits the shelves. We suggest you celebrate with the "king" of all flavored coffees, the delicious Mardi Gras King Cake coffee with light vanilla and cinnamon flavoring. For a limited time you can have your cake … and drink it, too.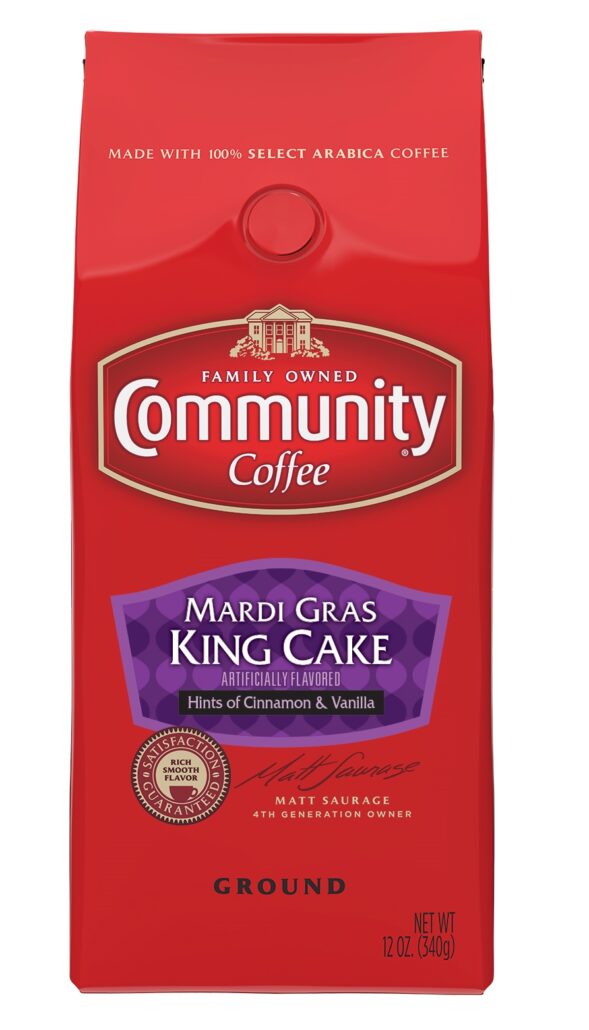 Named after the famed Mardi Gras cake, the limited edition, Community Coffee Mardi Gras King Cake Coffee is a seasonal flavored coffee which boasts a blend of cinnamon and vanilla. Made from only the top 10% of the world's coffee beans, this festive blend is a light, well-balanced sweet roast that is full-bodied and possesses a mild to medium level of acidity. This unique coffee flavor perfectly captures the spirit of Mardi Gras and the flavor of king Cake. The Community Coffee Mardi Gras King Cake Coffee is available for a limited time only, in 12-ounce bags and single-serve K-Cup® pods. For more information, visit on where to purchase, visit www.CommunityCoffee.com.