Welcome fellow foodies, to another culinary discovery and adventure with my partner in good food, David White. Today's restaurant review takes us to Brooklyn, to indulge in Fromage Garage Grill Shop & Belly Repair, which promises (and delivers) "suped up grill cheese sandwiches". Join us as we journey through some of the many offerings from this mechanic's garage-themed eatery, located in Williamsburg, Brooklyn at 441 Metropolitan Avenue.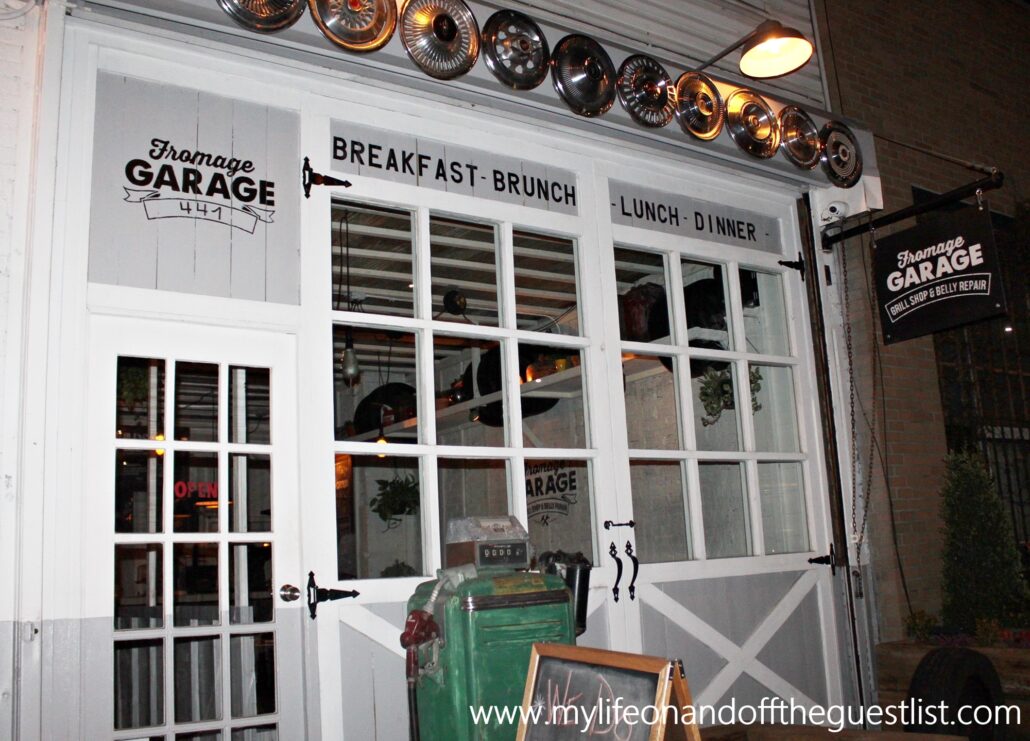 For those who may think there's nothing revolutionary about grilled cheese sandwiches, get ready to have your mind blown away, and for those who like things their way, you will love the overall concept of Fromage Garage. You can either enjoy many of the dishes available on the menu as is or you customize items like your salads and grilled cheese sandwiches and make them as epic as you want. Let's begin our food journey with the first course.
SMOKY & EL BANDIDO: 1ST COURSE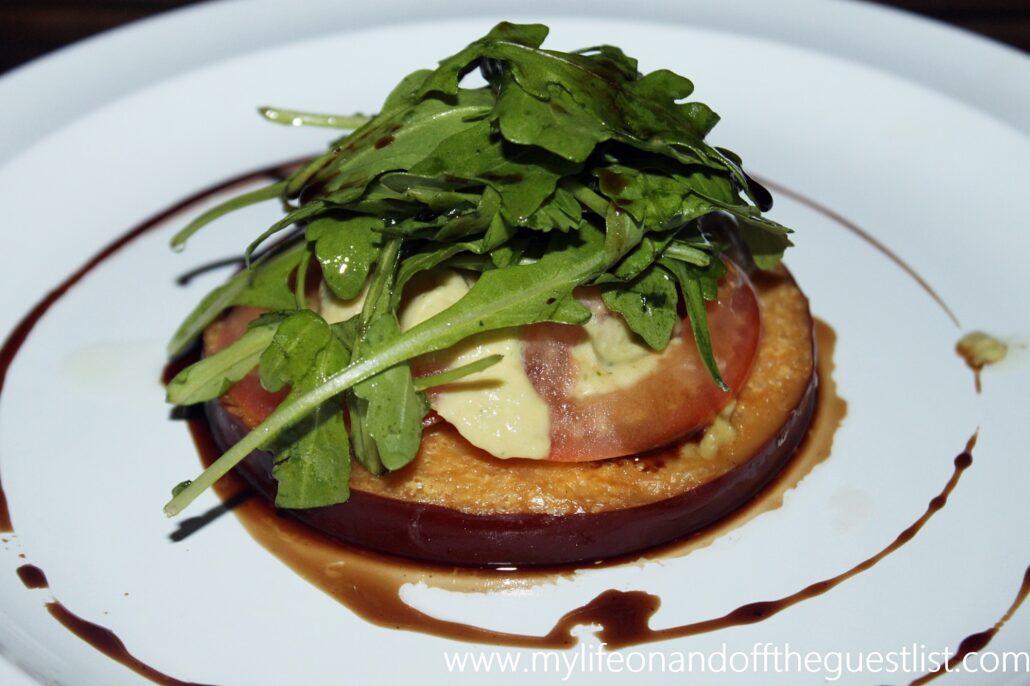 David: A smoked gouda round served with chickpea basil pesto and a balsamic reduction, EVOO, tomato, and arugula. The flavor was a nice marriage of salty with a touch of sweet along with a nice balance of the smoky grilled cheese with the freshness of tomato, pesto, and fresh greens. The familiar acidity of the balsamic reduction rounded off the intense flavor profile with a nice tart edge.
Glasgow: I loved many things about this first course which boasted both an elegant and rustic look. I loved the savory aspect of the warmed gouda round, chickpea basil pesto, and smokiness, and the added hint of sweetness is what really got my eyes rolling back in complete enjoyment. This was the perfect starter to begin the night with.
GREEN MACHINE MIXED GREENS SALAD: 2ND COURSE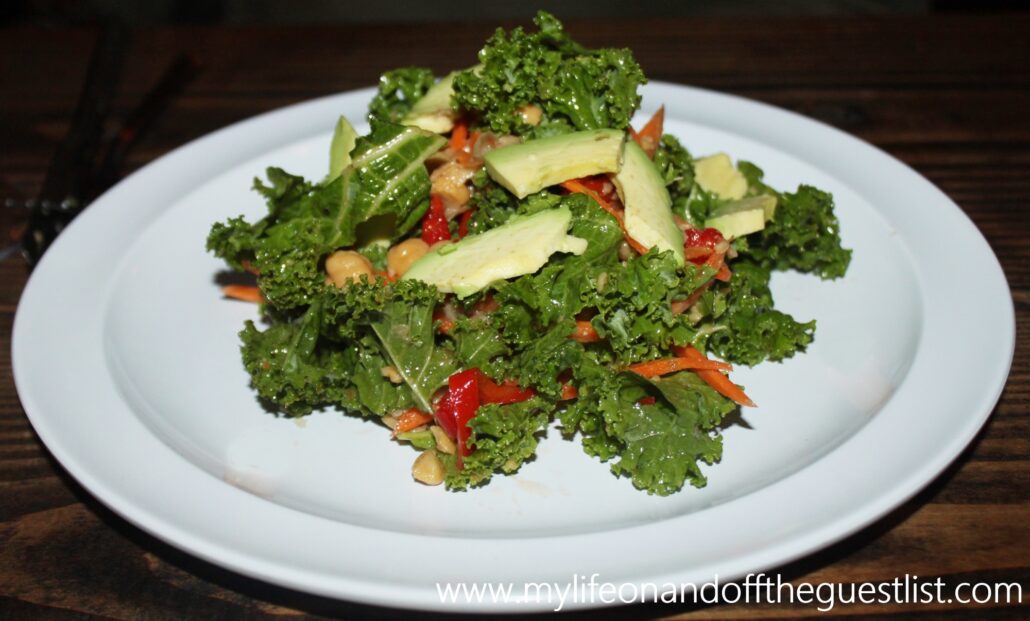 David: An easy but fresh and clean salad that worked well with or without the addition of cheese. The kale, avocado, carrots, roasted red peppers, chickpeas, and sesame ginger dressing created satisfying proof that with the right accompaniments, kale is a wonderful buoyant green. The textures were perfect together.
Glasgow: You salad, or Green Machine, can be customized how you want it. You begin with a selection of Kale, Spinach, Arugula or a mix of all, then choose your Parts (you can select up to 5 parts from the list of 19), such as avocado, mushroom medley, roasted red peppers, various meats, caramelized onions, etc, then you top it off with your Lubricant (salad dressing). This non-kale fan was head over heels for this salad (I usually stay away from anything that even hints at the word Kale), and our custom Green Machine was especially amazing with the Ginger Sesame dressing.
TIMING BELT & FUEL INJECTION GRILLED CHEESE W/ KALE POTATO DIP/SOUP: 3RD COURSE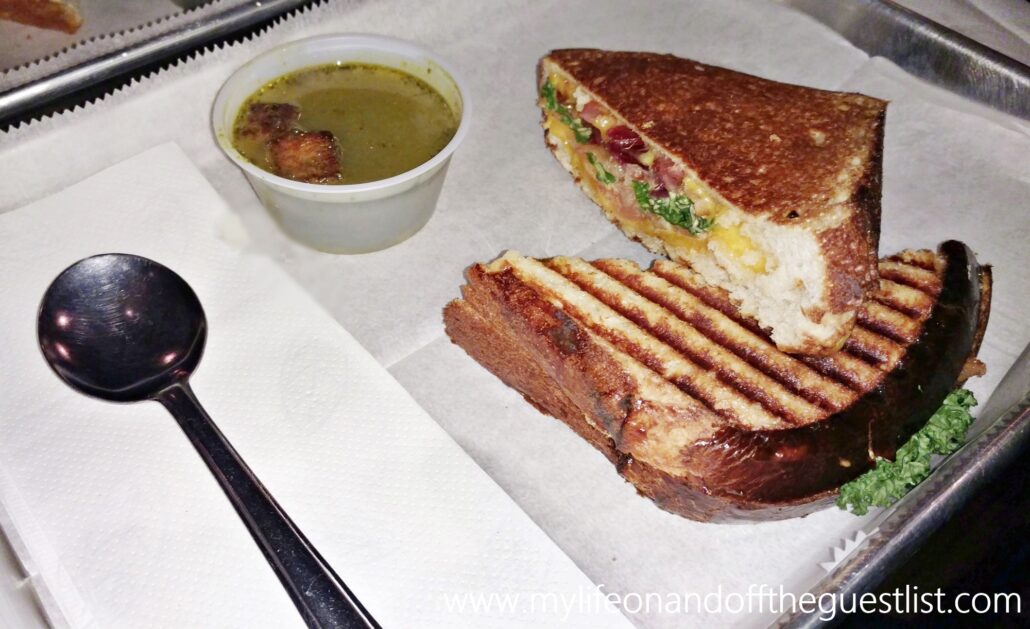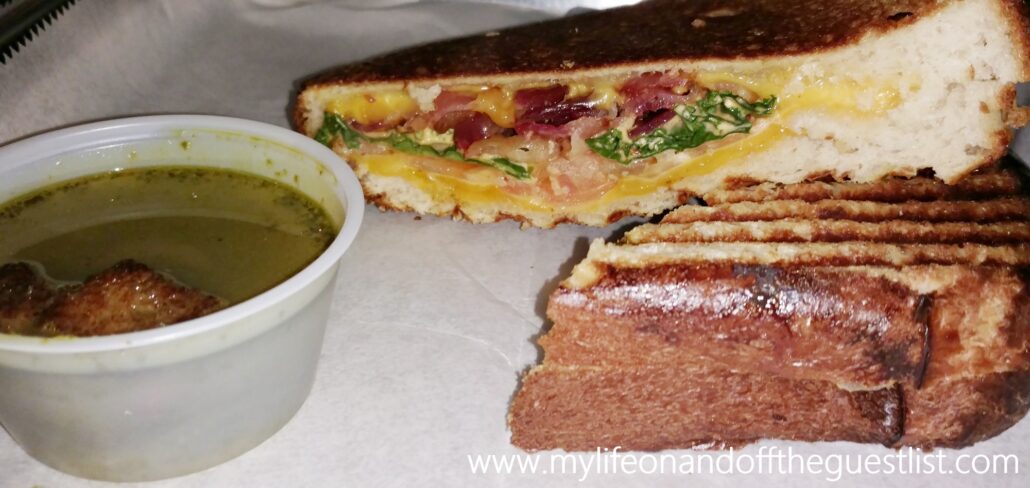 David: Next I sampled the Timing BeLT, a medley of cheddar, chive butter, kale, tomato, chipotle mayo and bacon on brioche. This was also a great dipping sandwich as the zesty blends of spicy and salty made harmonious culinary magic together for a provocative and very satisfying flavor profile. The salty smoky perfect bacon, the sharpness of the cheddar, the crunch of the kale and the creaminess of the butter were textural delights together.
Glasgow: As stated above, you can customize your grilled cheese but we decided to go with one of Fromage Garage's custom builds already on the menu. I too wanted to see how the owner, Eddy, could rev up the traditional BLT, and he did not disappoint. First we must note, all of Fromage Garage's breads are made in-house (with a gluten-free option), our Timing BeLT boasted cheddar, chive butter, kale, tomato, chipotle mayo, and bacon on crispy, buttery brioche bread. I for one will never go back to an ordinary BLT, not when this exists.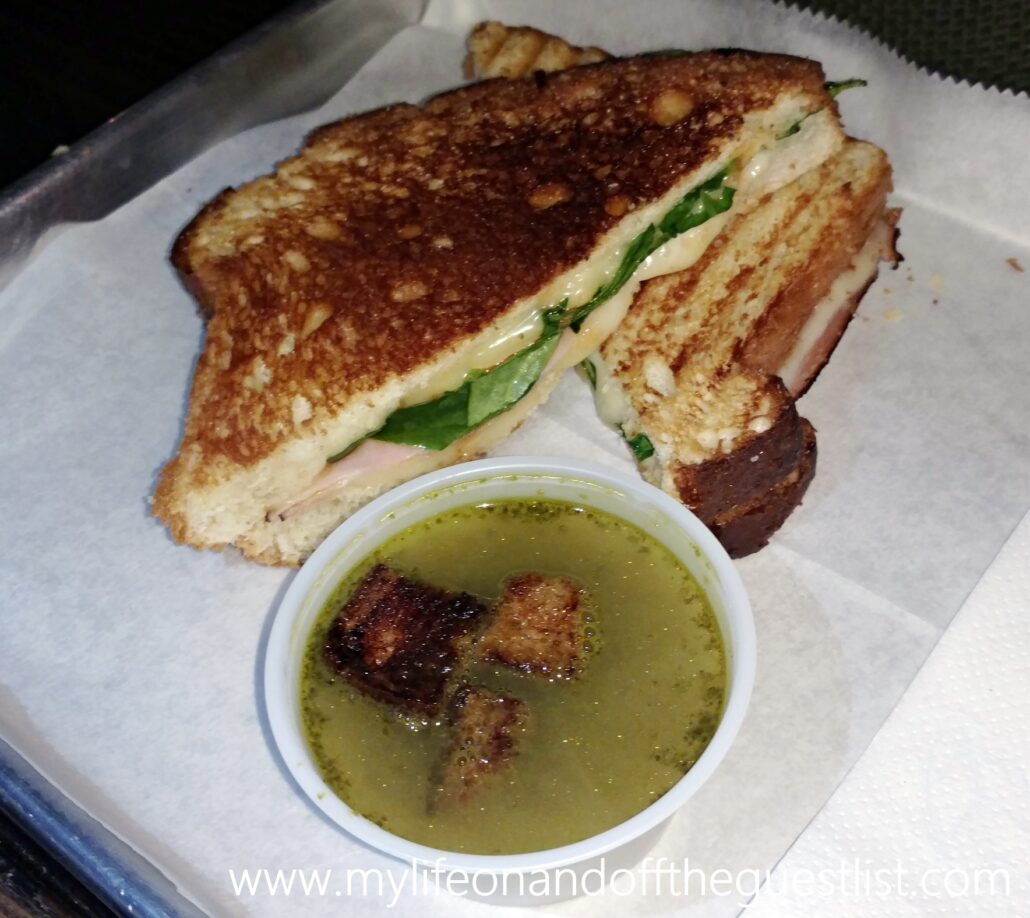 David: I found the soup of the day to be a great half of the grown and hearty remix to the soup and sandwich pairing. Kale and potato with a hint of ginger, was it? It was perfect for dipping my Fuel Injection Grilled Cheese Sandwich, a combination of gouda and fontina with scallion butter, ham spinach, tomato jam and truffle oil on brioche. This was a delicate Latin sandwich that reminded me of the Croque Monsieur with the perfect blend of smoky gouda and aromatic fontina grilled with ham and spinach for a delicate and comforting flavor. The tomato jam and the truffle oil brought in an earthy almost herbal flavor to seal the deal.
Glasgow: The soup/dipping sauce has to be commented on separately because it deserves it's open separate praise. As I've stated, not much of a Kale fan, but I found myself devouring this delicious Kale Potato Soup/dipping sauce. It actually reminded me of a Caribbean dish that originated in West Africa called Callaloo, a very thick leafy soup that I thoroughly enjoyed during my childhood. I love a dish that brings back happy memories. I could eat several full bowls of this delicious soup.
DESSERTS
Dessert fans should run (or drive), don't walk to Fromage Garage, if only to indulge in their sweet tooth offerings. whether there's room for dessert, trust us when we say, make room!
TRES GREASE MONKEYS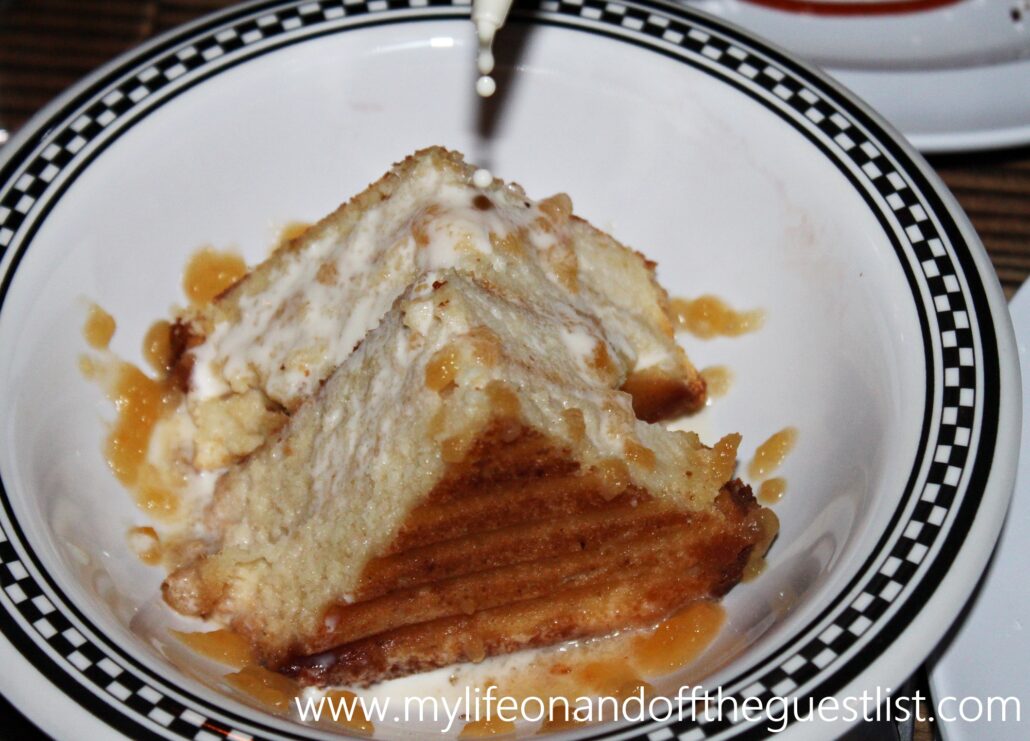 David: I thoroughly enjoyed Eddy's remix of the Dominican tres leches cake made with grilled brioche and tres leches creme. The addition of the pineapple and guava jams were just the perfect touch of island sweetness for the creamy cheeses and warm soft bread
Glasgow: I've never heard of a grilled Dominican Sponge Cake or of anyone grilling a Tres Leches cake….until now! Eddy's interpretation of the traditional Tres Leches Cake was phenomenal. from the first bite to the last, down to the additional drops of milk and the tropical fruit jam, it was divine.
DON EDDY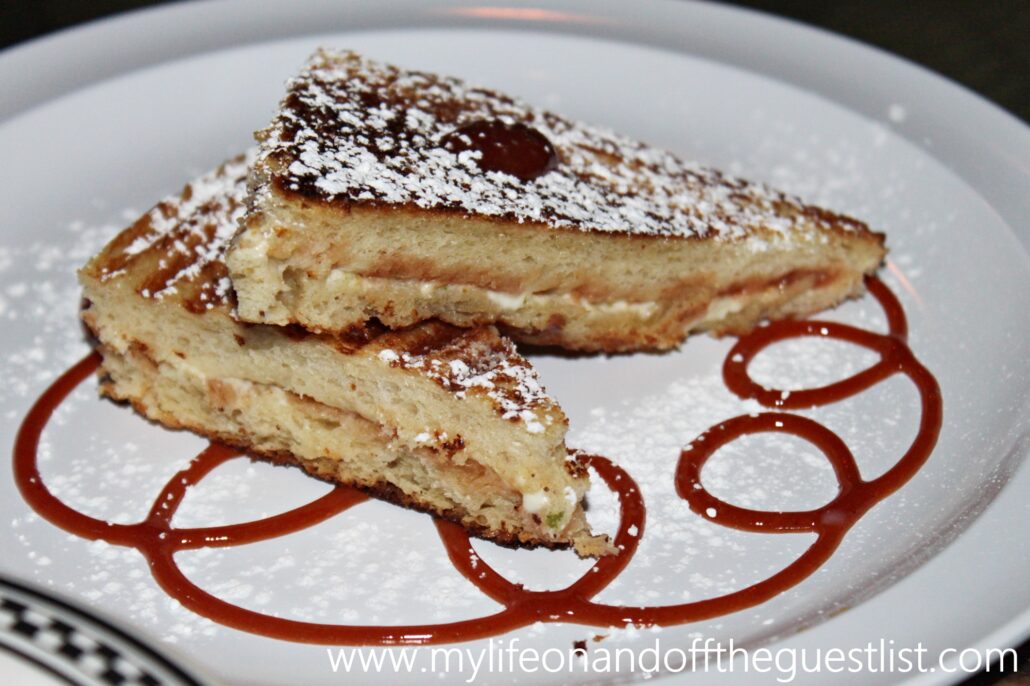 David: Talk about sweet and creamy. As the gooey sweet dulce de leche, tart and sweet mascarpone and sweet fruit chutney slid down my throat I had sweet tooth nirvana anchored by the soft chewy bite of the perfectly grilled brioche.
Glasgow: As you can expect from a restaurant that's all about grilled cheese, one of our favorite desserts naturally involved cheese, Mascarpone to be exact. The Don Eddy was the perfect amount of sweet and creamy. I loved the addition of the sweet fruit chutney, taking the side dish and putting it on display. Once again, I was delighted to see those telltale grill marks on my brioche.
EL GOMERO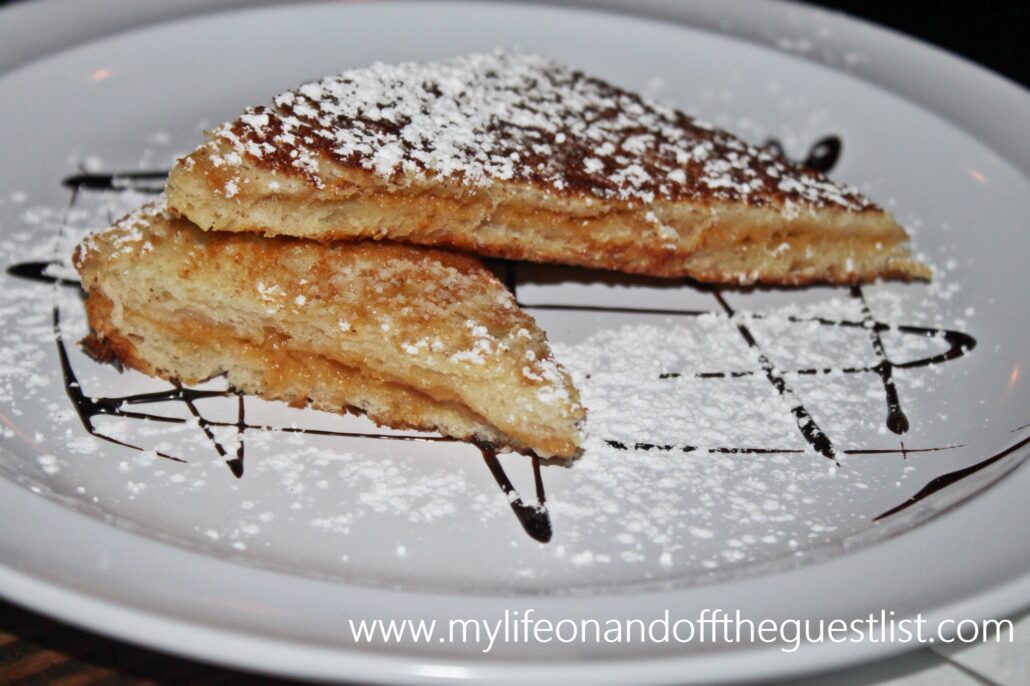 David: It was hard to choose a favorite dessert but this was it. The guava paste with the citrus zest was pure island delightfulness. Then when paired with the cream cheese, it was like dessert meets breakfast chewy bread and the cream cheese just melted orgasmically together with the citrus for an explosive flavor profile.
Glasgow: For those who want a little island style, let this the guava paste, and citrus zest cream cheese in this El Gomero satisfy your palate with its refreshing burst of flavor. You won't want any bite go to waste.
THE SETTING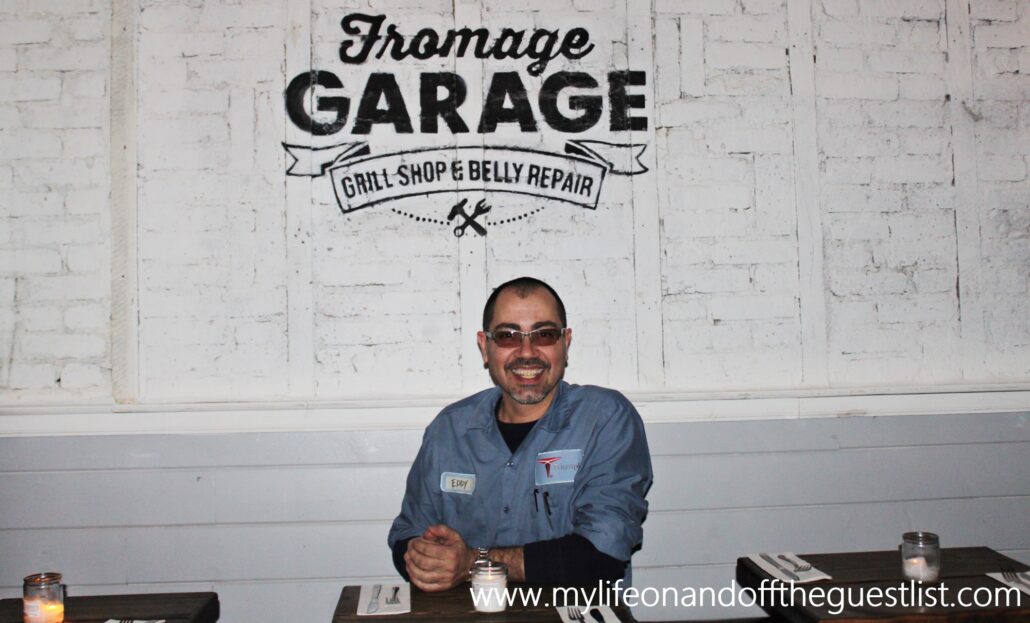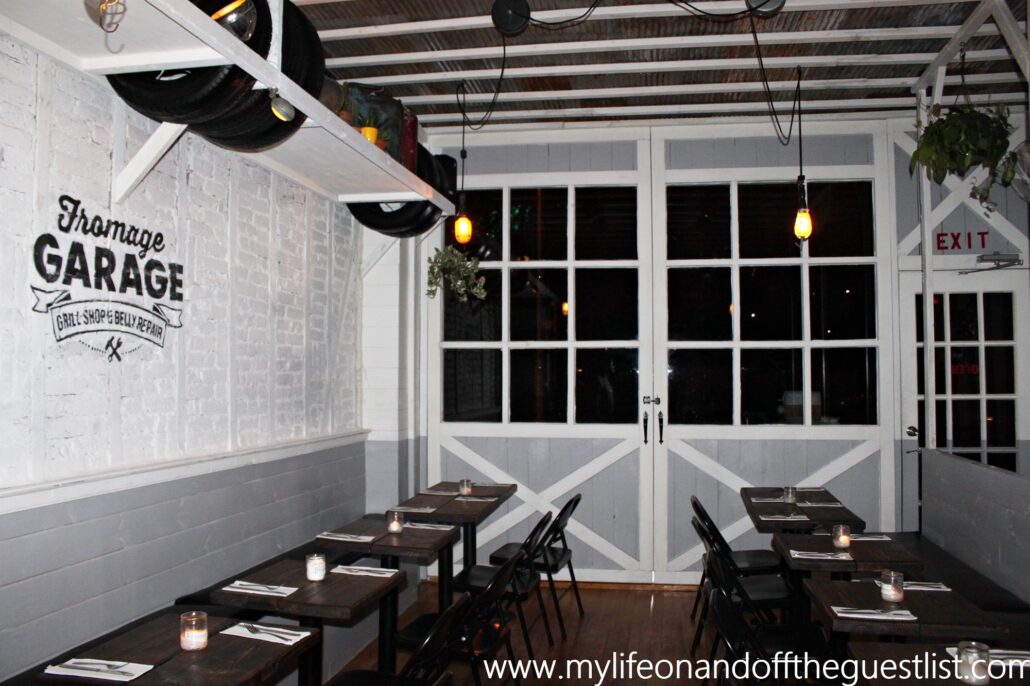 David: Eddy at Fromage Garage must've taken inspiration from the rise of the boutique experience that's been taking over department stores and quaint little streets everywhere from Bushwick to SoBro. Fromage Garage's layout was a kitchy and intensely charming homage to Eddy's pop who was a mechanic. While waiting with the heady aromas of grilling cheese in the air, I found myself constantly catching some interesting way in which he linked the idea of his love of grilling with the love of his dad and his profession.
Glasgow: Inspired by his father, Eddy Fontana created Fromage Garage as an homage to his father, who was a Mechanical, Civil and Structural Engineer, whose image is the first thing you see as you enter the restroom. Everything from the decor to the music playing is exactly what you'd expect to see and hear at a garage. We were quite impressed ith the small details, such as the drum sink and truck side mirror in the bathroom, the cogs, and gears cemented into the counter, the wall of license plates, the tires, and garage lights hanging overhead, the mechanic shirt uniforms, and the windshield sneeze guard.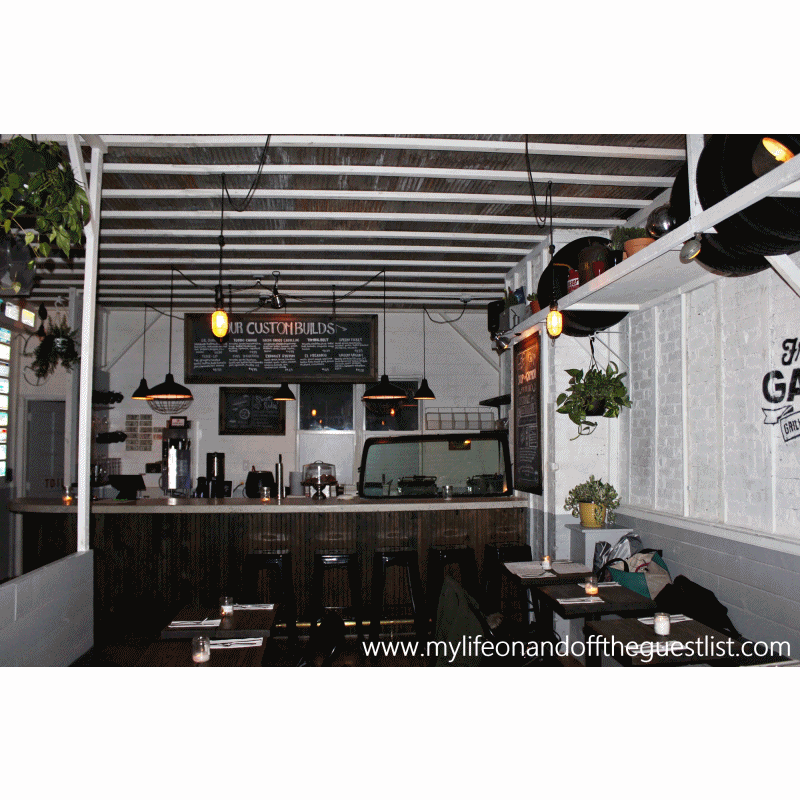 FINAL THOUGHTS
Glasgow: Thanks to Eddy and the delicious menu at Fromage garage, I have learned that I don't hate Kale, I just hadn't had it served so deliciously before. I also know that a truly amazing meal can bring back wonderful childhood memories and that grilled cheese sandwiches are no longer just for kids. I will be back for brunch. We hope to have inspired you to take a visit to Fromage Garage Grill Shop & Belly Repair.