Calling all bakers, celiac suffers, foodies, and fans of all things gluten-free, have we got some cool culinary news for you. PEREG Natural Foods, makers of gourmet spices, herbs and seasonings, launched a range of alternative, gluten-free flours for your baking pleasure. Six alternative gluten-free flours to be exact! Get ready to bake up a storm with the following varieties: Almond Flour, Banana Flour, Buckwheat Flour, Chickpea Flour, Coconut Flour, and Quinoa Flour.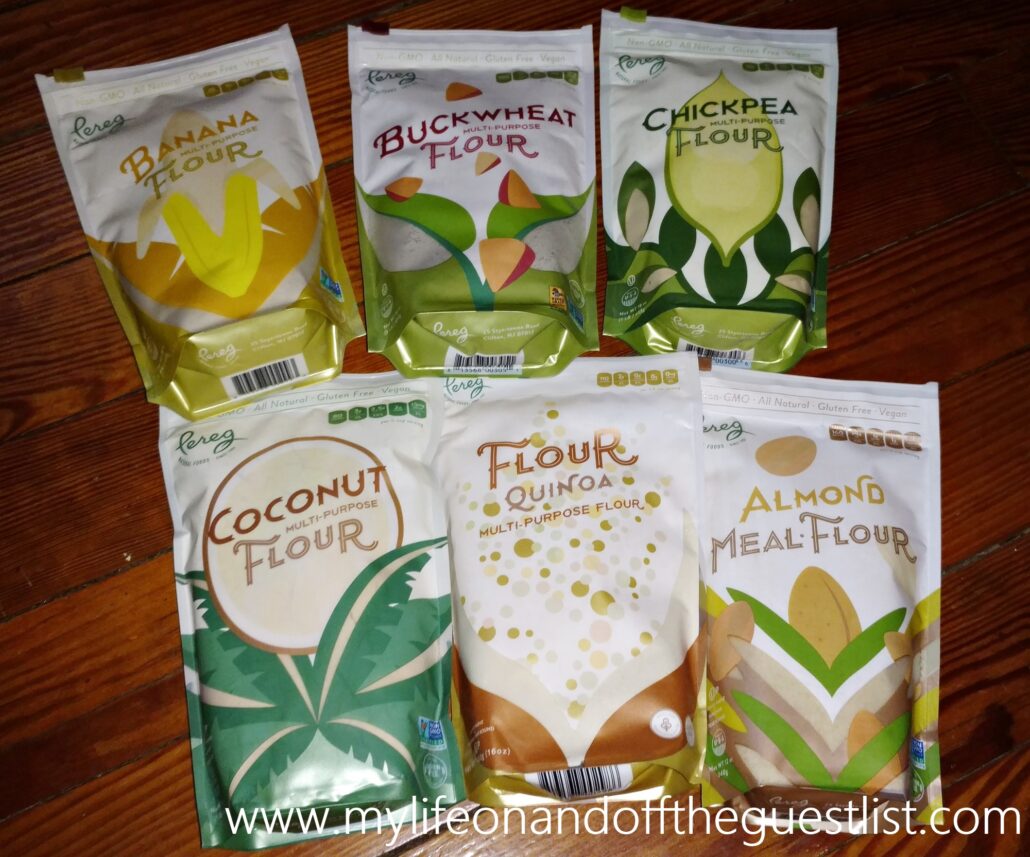 All of the PEREG Natural Foods flours are gluten-free, 100% natural, non-dairy, GMO-Free, Vegan and certified kosher. They are packaged in 16 oz. resealable stay-fresh bags which retails for $4.99 each. The 100% blanched Almond Flour is made from multi-purpose flour made from Almonds. It's wonderful for use in pizza crusts, shortbread cookies, and as a coating for chicken nuggets. The Banana Flour, which mimics wheat flour, is made from ripe, peeled bananas. It boasts a light and fluffy texture, is a great addition to your morning smoothie, and as you can imagine, makes great banana bread. The Buckwheat Flour is made from whole ground buckwheat (the seed of a plant that is related to rhubarb) and makes great crepes, pancakes, English muffins, cookies and buns, and to thicken soups, stews, and sauces. We've actually enjoyed a Buckwheat pasta at Ornella Trattoria Italiana in Queens, so if you make your own pasta at home, we highly recommend using this. The high in protein, iron, and fiber Chickpea Flour is made from ground chickpeas and great for making delicious falafels, pancakes, cookies, and fritters. We all know the benefits of drinking coconut water, get ready to create healthy recipes with the PEREG Coconut Flour. Think cupcakes, cookies, pancakes, bread, etc. The possibilities are endless. The high in protein and fiber Quinoa Flour is one very versatile, gluten-free flour. It has a very slight sour flavor, especially after toasting, that adds a wonderful flavor to bread, tortillas, and English muffins.
"According to industry statistics, sales of gluten-free products will exceed fifteen billion dollars by 2016, twice the amount of five years earlier. PEREG is pleased to introduce an extended choice of gluten-free and ancient grain flour types, which offer health-conscious consumers more variety for delicious cooking and baking," says Gill Schneider, PEREG Natural Foods president.
The PEREG Natural Foods Gluten-free Flours are available at select retailers throughout the US, Canada, and on www.pereg-gourmet.com.