It was a dark and stormy night and the wind was howling like the banshees. It was four years to the day that they found the twisted bodies of party guests that were too crocked to go home, all asleep in the living room, the staircase and a peculiar guest cradled in the kitchen sink. Your Halloween may come with your fair share of stories, but what's essential to making any party a memorable one is a glass, a carafe, a pitcher or a bottle or two of Sauza Tequila. Tonight we dish on the most important part of any adult's spooky night festivities, the Sauza Tequila Day of The Dead cocktails.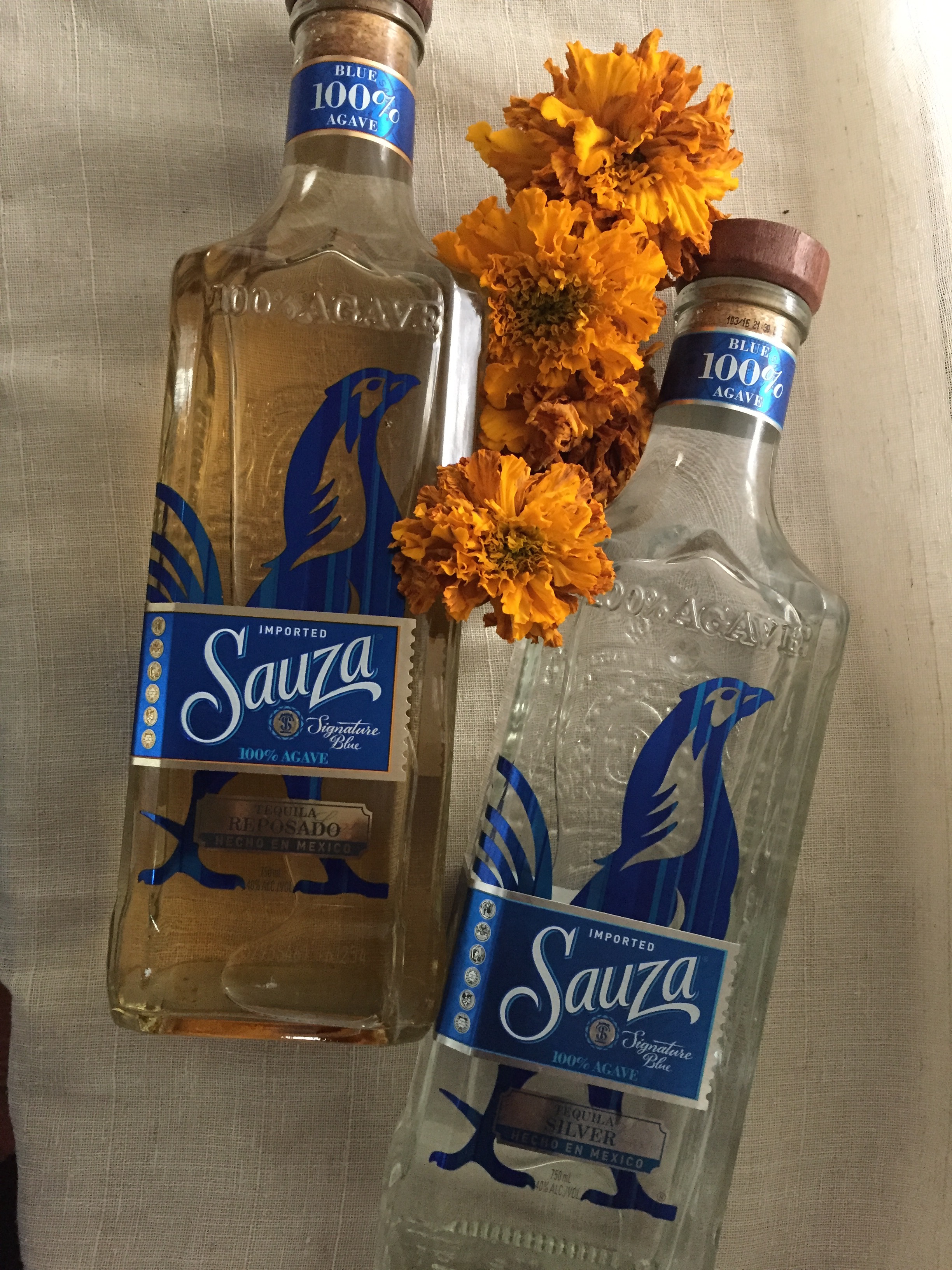 People turning into cosmopolitan examples of inebriated zombies in last minute costumes that channel their inner desire to be a garden hoe, bloodsucking vampire or a giant chocolate chip cookie could make for interesting stories, however, our inner foodie much prefers the menu over the masquerade.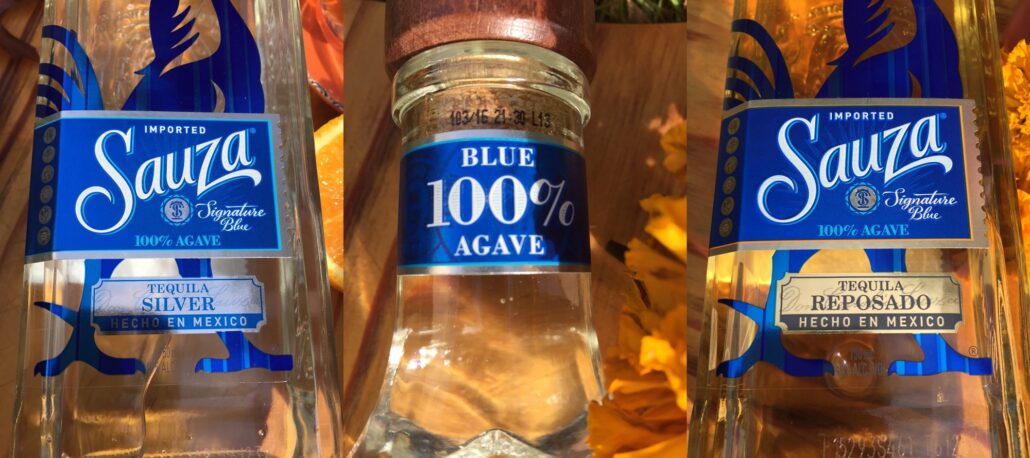 We'd rather listen to the stories of others at this time of year, not so much in the spirit of Halloween, but rather in the spirit of the Day of The Dead. The lesser known, but way more maturely macabre, Dia de Los Muertos is a Mexican holiday that celebrates the lives of the loved ones that are gone. The holiday consists of dinners, gatherings, memorials and a newly formed parade in Mexico City.  Marigolds, ornate skulls, costumes, food and drink and music all characterize components of this day in Mexico and the Southwestern United States.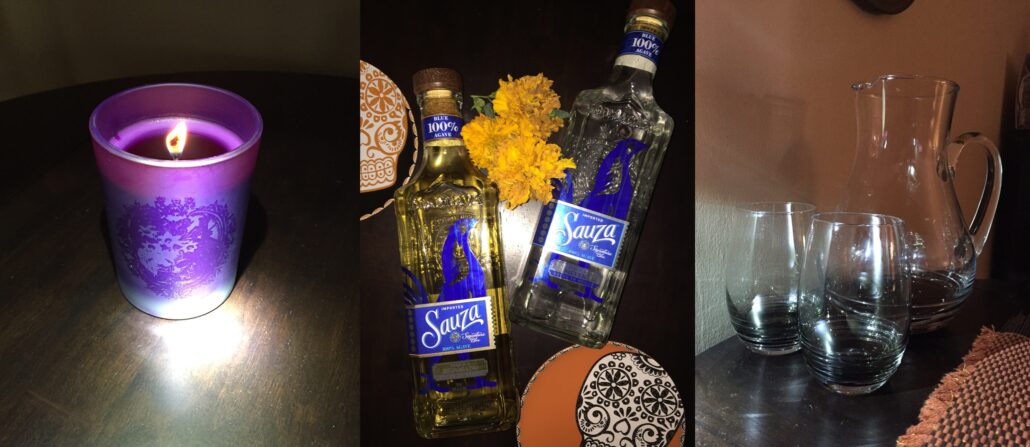 So when we say we'd rather listen to the stories of others this day, we invited my fellow horror movie aficionados over to binge watch scary cult horror flicks and pay homage to the real Day of The Dead with a Weekend of the Dead.  With such an undertaking on tap, what soiree would be a soiree without the presence of tequila this or tequila that?  Luckily our dear friends at Sauza Tequila, experts at deliciously smooth 100% blue agave tequilas, offered up some free inspiration in the form of drink and wonderful decorations from Mikasa and Modern Alchemy to get the ball rolling.  So check out these three smooth Sauza Tequila Day of The Dead cocktails and arrangements that we tried out for our Day of The Dead Binge Fest:
Red, Red Rita Remix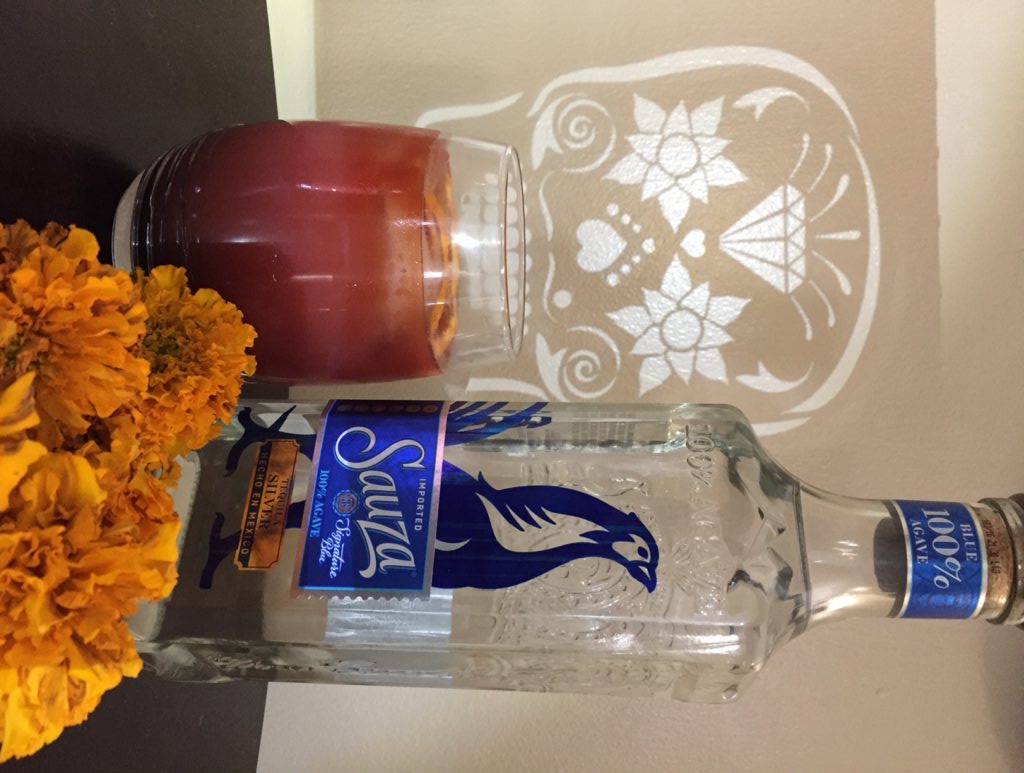 Tart and sweet with a citrus kick and the wonderfully smooth taste of Sauza Silver 
1 part Sauza Signature Blue Silver Tequila
1 part blood orange juice
1/2 part lime juice
1/2 part simple syrup
1 orange wedge
Add ingredients to an ice-filled shaker.  Shake and strain over ice (sugar-rimming the glass optional). Use a blood orange wedge during blood orange season but you can also let a regular orange wedge soak in blood red orange juice for a couple of hours and use that as a garnish.
Bewitching Berry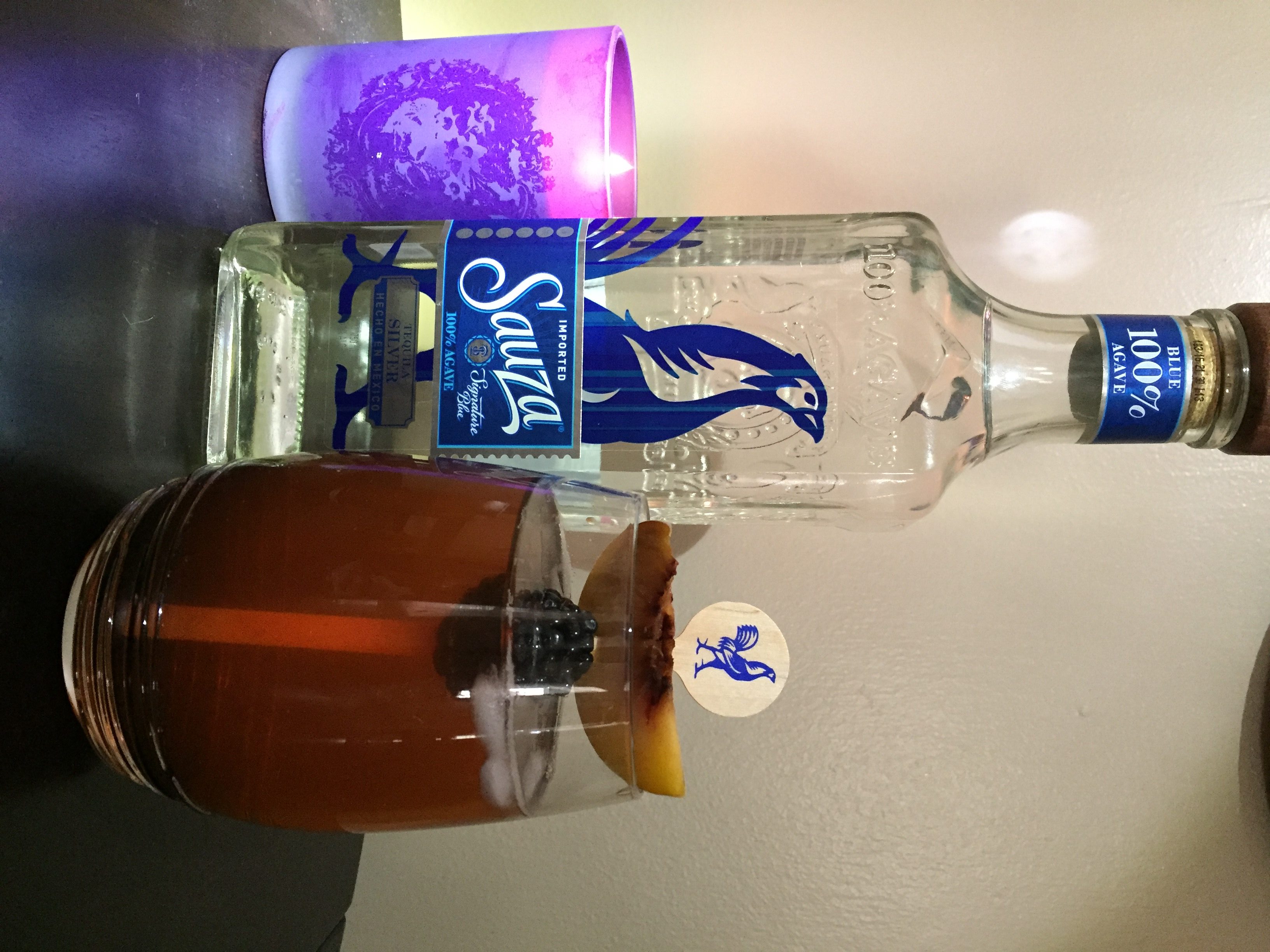 Refreshing with a balance of citrus, sweet and a nod to a peach tart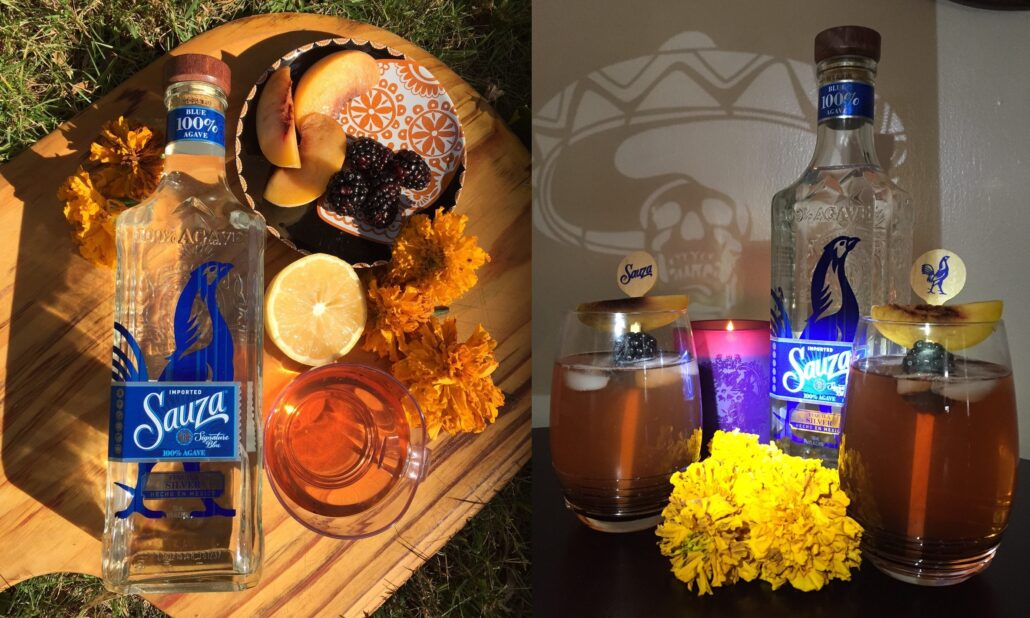 2 parts Sauza Signature Blue Silver Tequila
1/2 parts peach juice
1/2 parts blackberry puree (pint of blackberries into a food processor, strain and let set 24-48 hrs)
1/2 lemon juice
1 part simple syrup
1 peach slice
1 blackberry
Add ingredients to an ice-filled shaker.  Shake and strain over ice into a glass.  Garnish by skewering a fresh blackberry and a slice of peach.
Bloody Dusk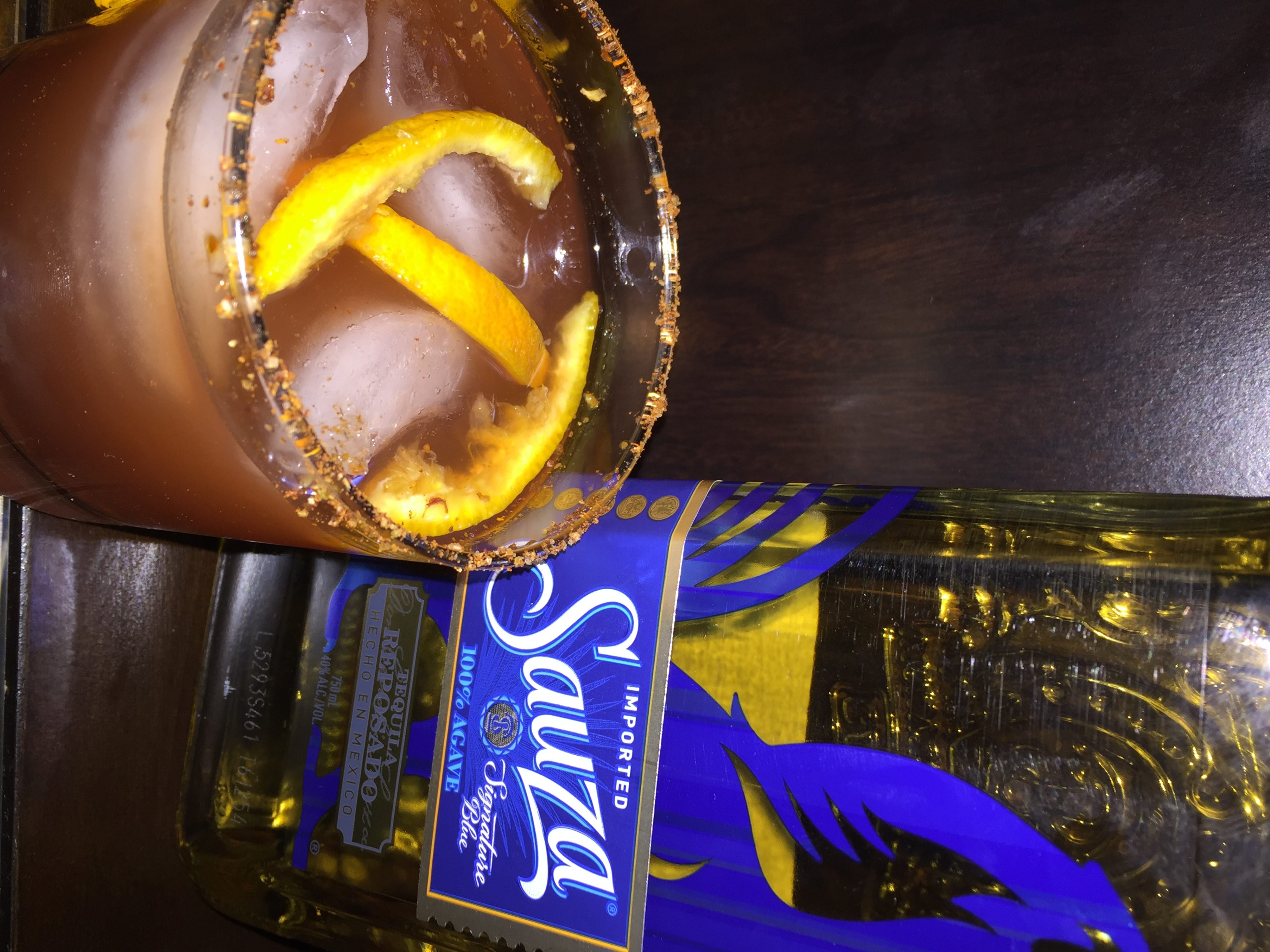 Slightly smoky seasoned with Sauza Reposado and equal touches tart & sweet with the pop of heat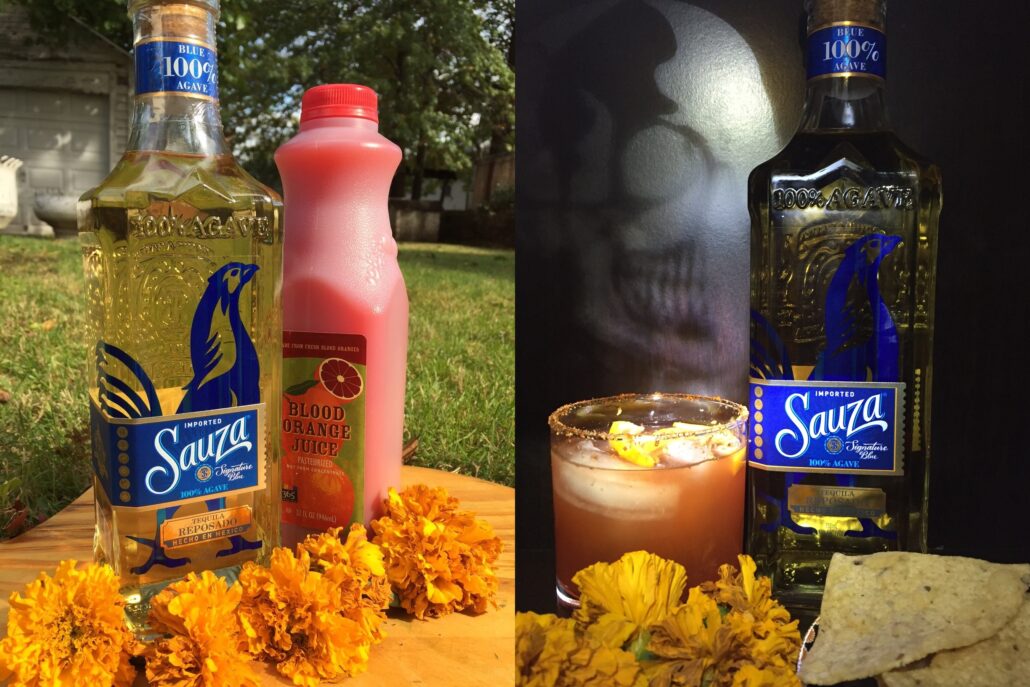 2 parts Sauza Signature Blue Reposado Tequila
1 part blood orange juice
1 part simple syrup
blended pepper rim
ice cubes
orange peel
Add the ingredients to an ice-filled shaker. Dip the rim of the glass into the pepper mixture of choice. (We used cayenne, black pepper, chili powder and crushed red pepper flake).  Shake ingredients and pour into glass.  Garnish with thin slices of orange peel.
These Sauza Tequila Day of The Dead cocktails are cool recipes that work well for a quiet frightening evening or that can be tweaked for a larger group of rabble rousers.  Just don't drink till you start becoming the walking dead because we want you to be safe and stay enlightened this Day of The Dead and as always please remember to drink responsibly.
Find Sauza 100% Blue Agave Tequilas at your finer wine and spirit retailers.