While we never need an excuse to indulge in a slice or two of chocolate cake, the upcoming National Chocolate Cake Day is the perfect reason to enjoy a slice or two in celebration of this most decadent of desserts. That's right, on Friday, January 27th, two days from now, you are obligated to enjoy the sinful pleasures of chocolate cake. So without further adieu, in celebration of National Chocolate Cake Day, here are original recipes from Epicurious Wine, Veestro, and Terra's Kitchen. We invite you to try out one or all of these delicious recipes. Here's a great tip: To make your National Chocolate Cake Day incredibly fluffy, use sparkling water in your cake batter! We love using Sparkling Ice Essence of sparkling waters, an unsweetened, zero-calorie alternative with no artificial colors or preservatives. We promise each bite will be light as air.
Epicurious Wine's "Darkest Chocolate Cake with Red Wine Glaze"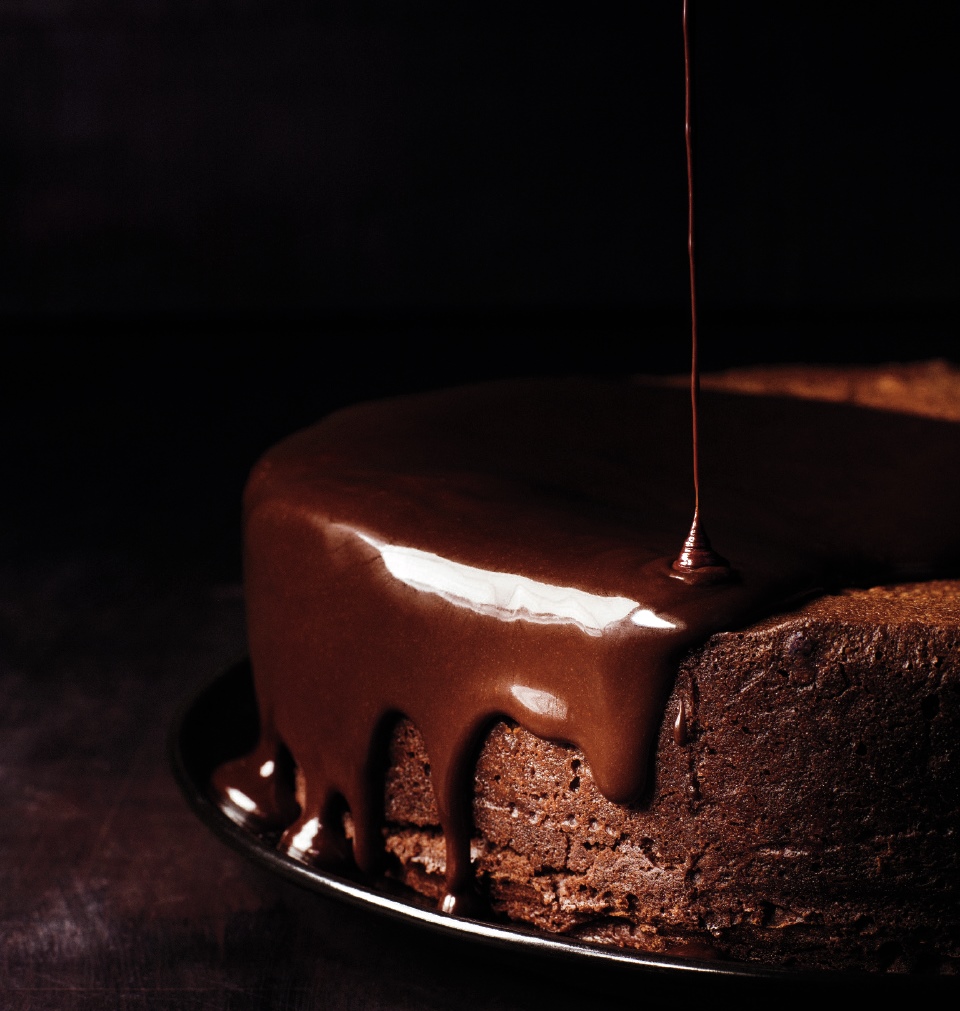 YIELD: Makes 10 servings
For cake:
1 cup (2 sticks) unsalted butter, cut into pieces, plus more for pan
1/3 cup all-purpose flour, plus more for pan
8 ounces bittersweet chocolate (at least 70% cacao), chopped
1 cup sugar
4 large eggs
3/4 teaspoons kosher salt
Preheat oven to 325°F. Lightly butter and flour pan. Heat chocolate, sugar, and 1 cup butter in a heatproof bowl set over a saucepan of simmering water (bowl should not touch water), stirring, until chocolate is almost completely melted, about 3 minutes; remove from heat and continue to stir until chocolate is completely melted. Let this National Chocolate Cake Day cool completely. Using an electric mixer on medium speed, add eggs to chocolate mixture 1 at a time, beating to blend after each addition. Beat until mixture has a mousse-like consistency. Reduce speed to low and add salt and 1/3 cup flour; mix until smooth. Scrape batter into prepared pan; smooth top. Bake cake until top is firm and edges are slightly darkened, 55–65 minutes (rely on visual cues; a tester inserted into cake's center will come out clean before the cake is truly done). Transfer pan to a wire rack and let the cake cool completely in pan before turning out.
Glaze and assembly:
8 ounces bittersweet chocolate (at least 70% cacao), finely chopped
1/4 cup (1/2 stick) unsalted butter, cut into small pieces
1/2 teaspoon kosher salt
1/2 cup powdered sugar
1/2 cup Epicurious Cabernet Sauvignon
Special equipment:
9″ springform pan
Heat chocolate, butter, and salt in a heatproof bowl set over a saucepan of simmering water (bowl should not touch water), stirring, until chocolate and butter are melted about 5 minutes. Whisk in powdered sugar. Meanwhile, bring wine just to a boil in a small saucepan. Remove chocolate mixture from heat and whisk in wine; let cool until slightly thickened and a rubber spatula leaves a trail in the mixture when stirring, 8–10 minutes. Set cake on a wire rack set over a rimmed baking sheet. Pour glaze over cake and spread it across the top and over the edges with an offset spatula. Let cake stand at room temperature until glaze is set, 2–3 hours. Cake can be made and glazed 2 days ahead. Chill. Bring to room temperature before serving.
Veestro's SuperFood Chocolate Cake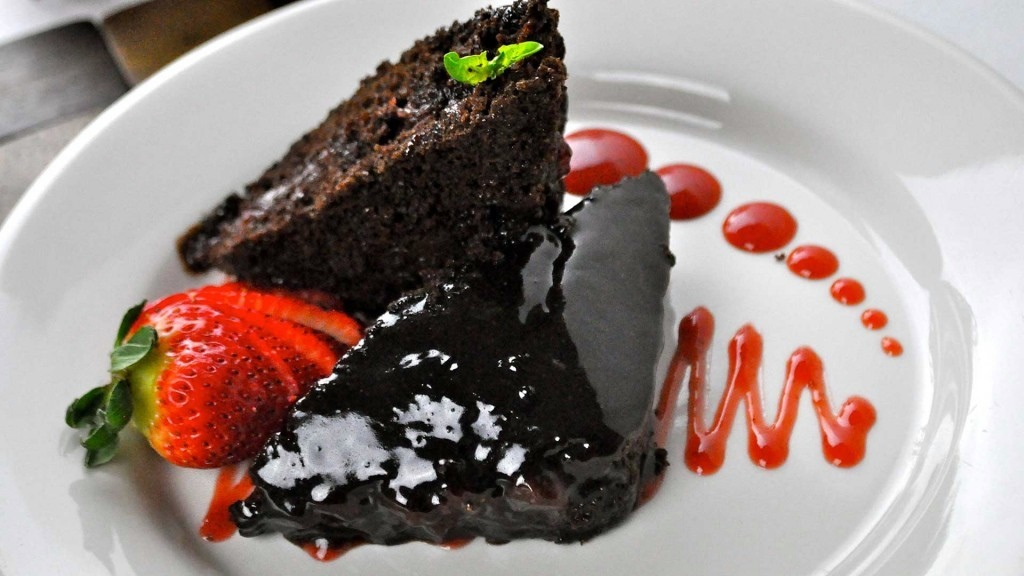 1 1/4 cups cooked amaranth
1 cup cane sugar
1/3 cup good cocoa powder
1 teaspoon baking soda
1/2 teaspoon sea salt
1 cup filtered water
1 teaspoon vanilla extract
1/3 cup apple sauce
1 teaspoon apple cider vinegar
Combine all ingredients and mix until smooth and well incorporated. Place in a cake pan and bake at 350 for 15-20 minutes or until a toothpick inserted into the middle comes out dry.
Terra's Kitchen Bundt Cake Recipe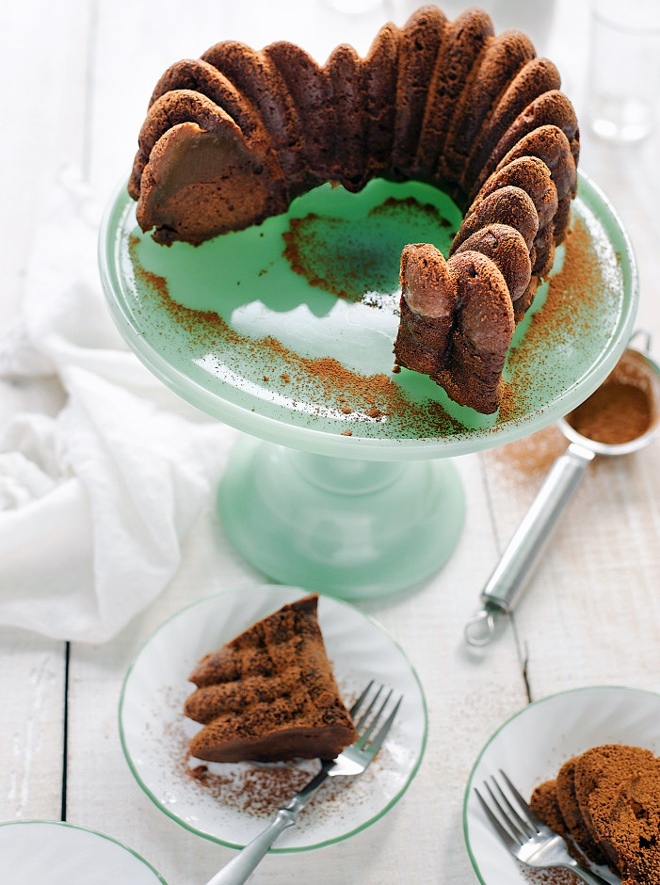 2 cups cake flour, plus more for dusting
2/3 cup high-quality cocoa powder, plus more for dusting
1/2 teaspoon baking soda
1/4 teaspoon salt
1 cup (2 sticks) unsalted butter, plus more for greasing the pan, room temperature
1 1/4 cups brown sugar
4 large eggs, room temperature
1 1/4 cups sour cream
5 tablespoons cold brewed coffee
Butter Coffee Pour Over (recipe to follow)
Preheat the oven to 350°F. Generously grease a Bundt pan with butter (we used a heart-shaped Bundt for Valentine's Day). Set aside. In a medium mixing bowl, whisk together the flour, cocoa powder, baking soda, and salt. Set aside. In a standing mixer, fitted with the paddle attachment, add the butter and sugar. Beat on medium speed until the mixture is smooth and light in texture (about 5 minutes). Add the eggs, one at a time, beating well and scraping down the bowl after each addition. Add the sour cream and coffee and mix until combined. Gradually add the dry JUST until incorporated. Pour the batter into the prepared Bundt and bake until the center of cake springs back when touched and a skewer inserted near the center comes out clean (about 45-50 minutes). Remove the cake from the oven and pour Butter Coffee Pour Over mixture over the hot cake. Let cool completely in the pan on a wire rack. Release the sides and bottom of the cake from the pan with a narrow metal spatula or knife. Invert the pan onto a plate or cake stand. Remove the pan and dust with cocoa powder or powdered sugar before serving.
Butter Coffee Pour Over (Makes 1 ¼ cups)
1/4 cup water
1/4 cup brewed dark roast coffee
1/2 cup butter
1/4 cup sugar
Add ingredients to a small saucepan over low heat, stirring until all the sugar has dissolved. Set aside and allow to cool slightly.
We're sure one of these decadent chocolate cake recipes will help you celebrate National Chocolate Cake Day properly. We know our favorite (all of them), which chocolate recipe is your favorite?