We love food, we consider ourselves to be distinctive foodies, and we thoroughly enjoy indulging in amazing culinary journeys. We recently did just that at Rahi Artisanal Indian Restaurant, located at 60 Greenwich Avenue in NYC. Rahi, (meaning traveler in Hindi) is a collaboration between Chintan Pandya, an Indian chef with playful artistry, and restaurateur, Roni Mazumdar. They offer vibrant Indian food that slightly strays from the traditional Indian cuisine and uses local New York produce.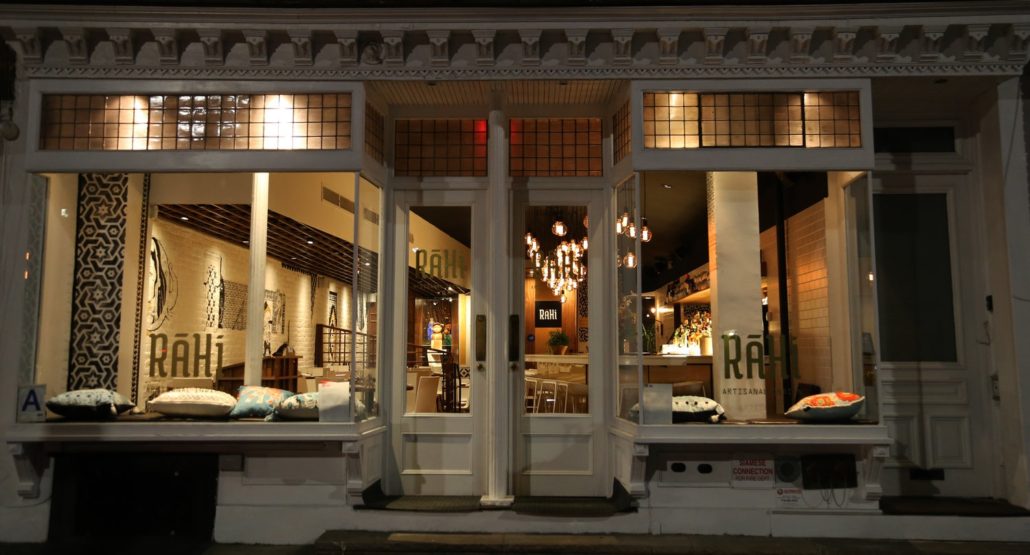 Staying true to the name's meaning, Rahi Artisanal Indian Restaurant took us on a culinary journey to the four unique flavor corners of India. We started out with classic cocktails in delicious, untraditional flavors, and yielded to the explosion of various flavors of the appetizers, entrees, and desserts. We were in FOODIE heaven at Rahi Artisanal Indian Restaurant.
FIRST COCKTAILS
Cardamom Margarita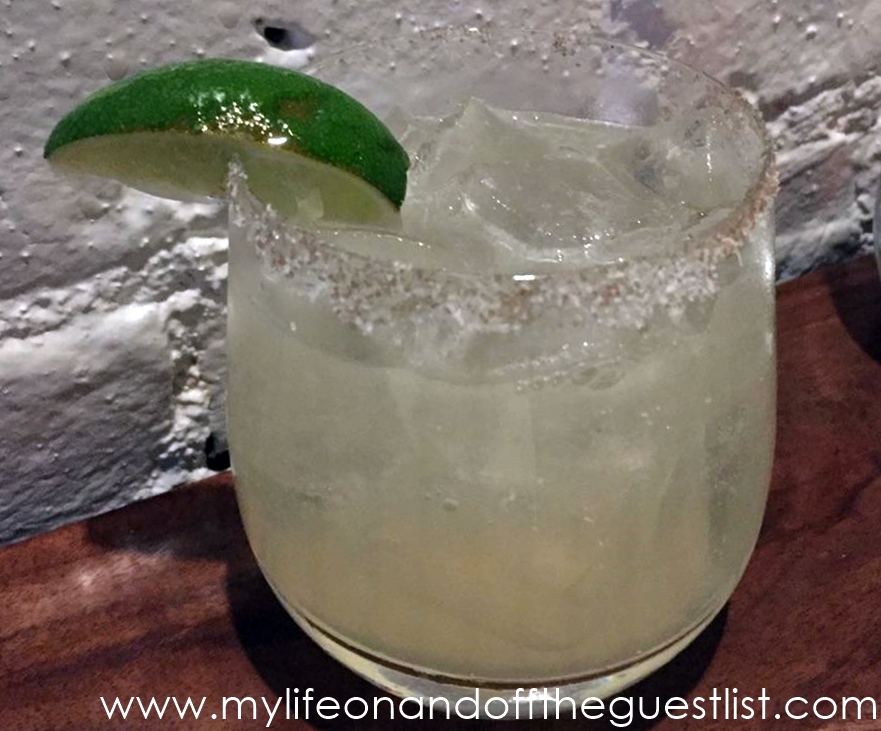 DAVID: This is a comforting and fragrant starting drink with a cardamom hit that sneaks up on you for a pleasant flavor & finish. You have the tart saltiness of the tequila and rim with the soothing ending of the warm cardamom.
Juhu Daiquiri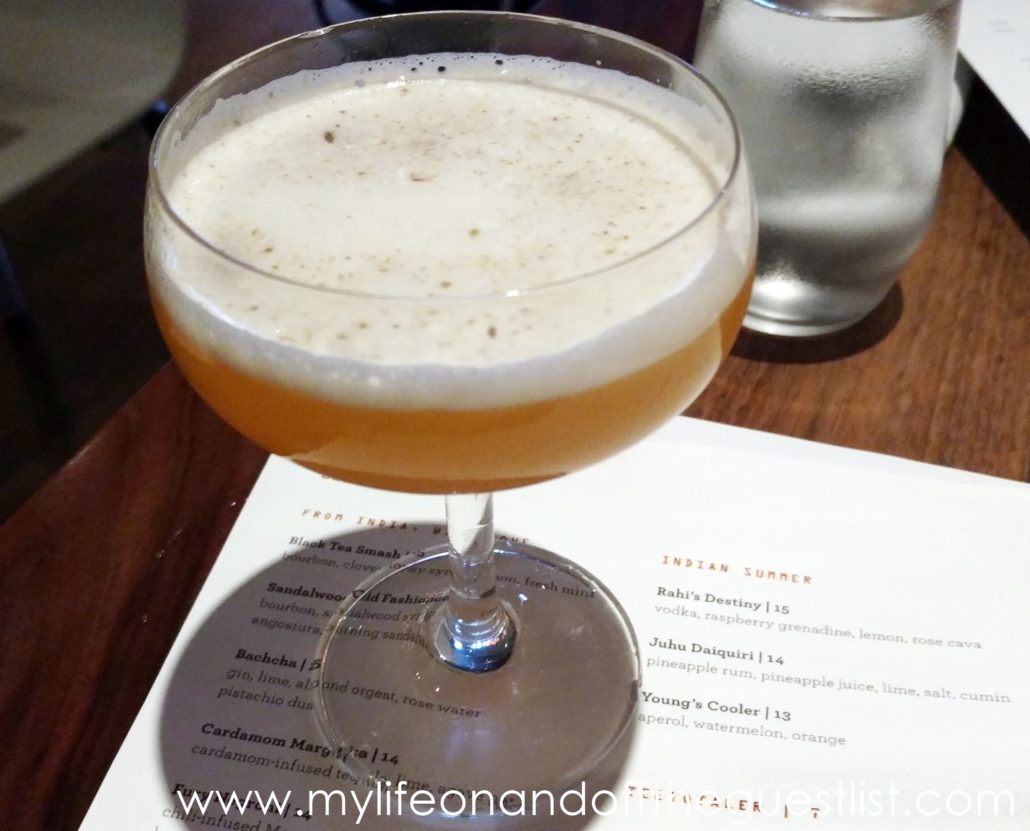 GLASGOW: The cumin gives the pineapple flavors an interesting, almost savory flavor. It not only complimented the natural sweetness and tartness of the cocktail, the sharp, slightly bittersweet taste of the cumin evened out the sweetness of the pineapple rum.
SECOND COCKTAILS
Bachcha Cocktail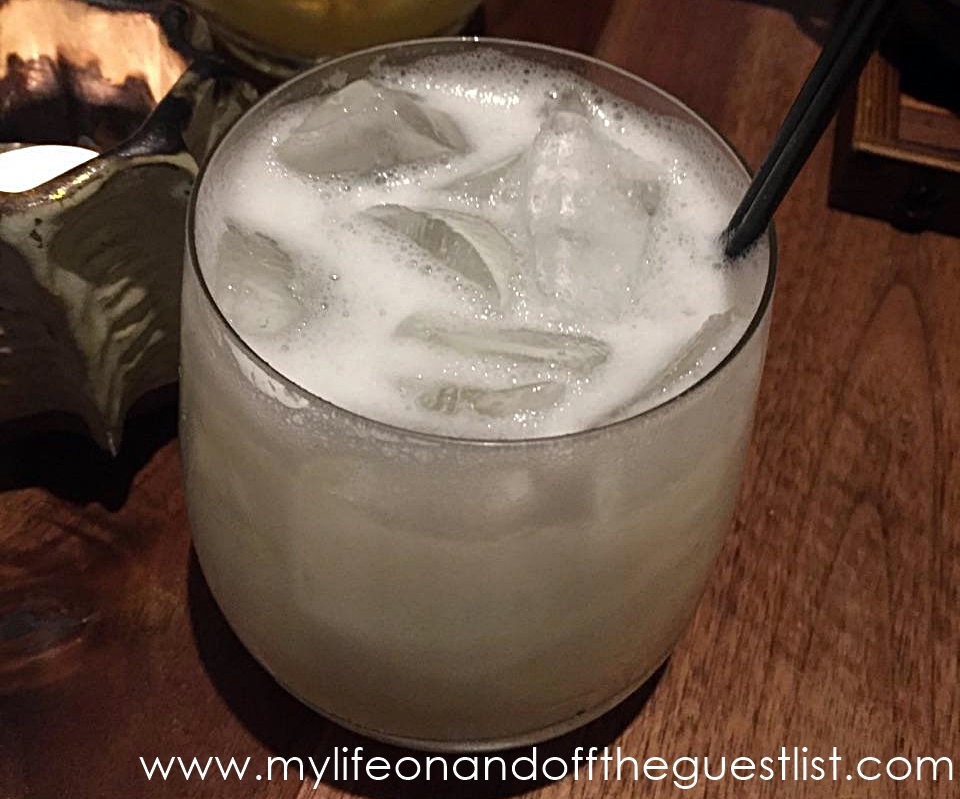 DAVID: This was such a delicious cocktail. So satisfying was the weight of the heavy juniper note of the gin was toned down by the earthy almond and pistachio. What you're left with is a fragrant soft and slightly sweet flavor brought about by the rose water with the grown and relaxing heft of the gin.
Black Tea Smash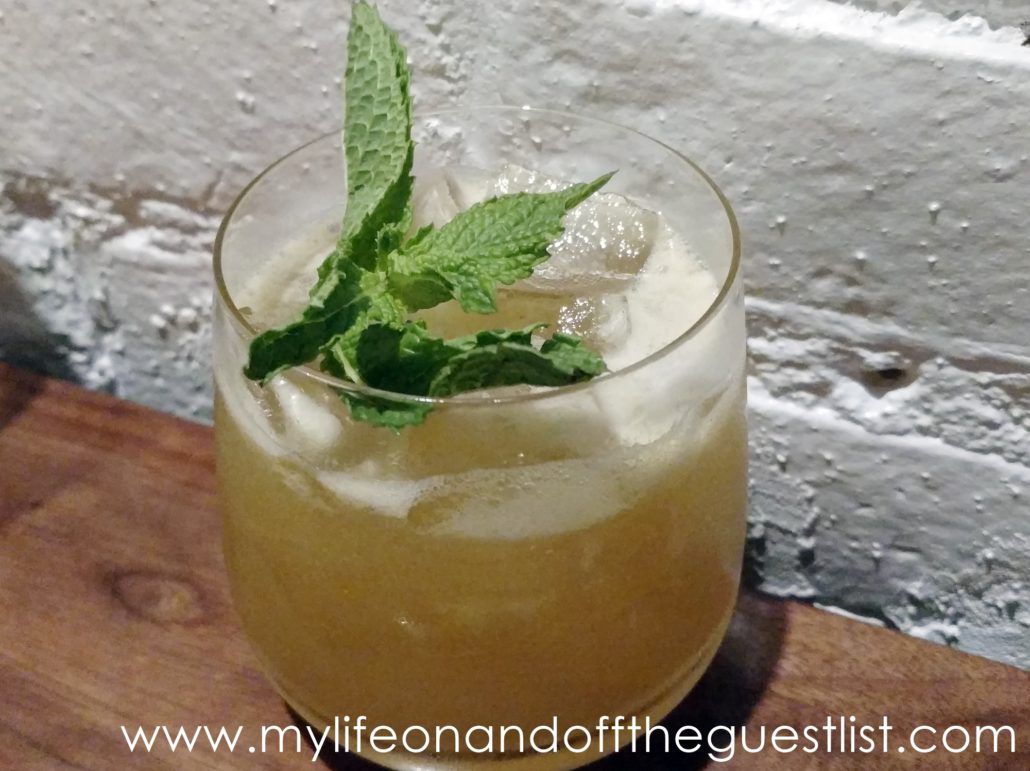 GLASGOW: As a bourbon lover, I was very excited to try this cocktail. Don't go thinking this is a grown up ice tea, that wouldn't do it justice. There's almost a licorice-esque taste to this cocktail, there's a slight kick to it that I really enjoyed, but it is mostly smooth. It's a definite must for a cocktail connoisseur.
APPETIZERS
Sunchoke Vada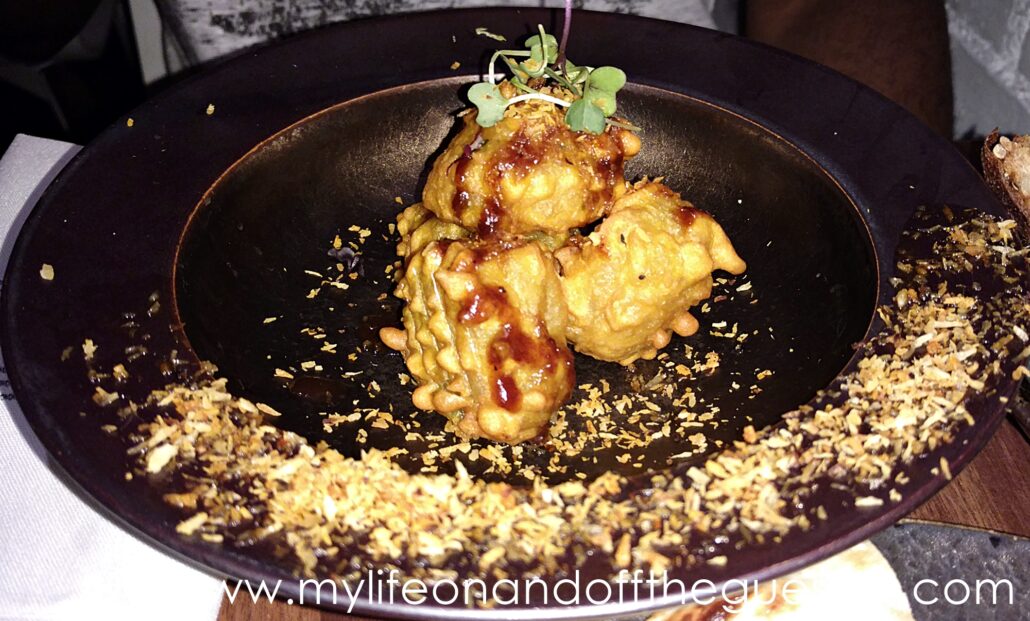 DAVID: This was a lovely light and airy starter with the soft and creamy texture of the sunchoke center. The heat of the chili and the sweet crisp comfort of the coconut marry nicely with the tart and sweet punch of the tamarind to create a pleasant and delightfully lingering finish.
GLASGOW: I like how the flavors of the coconut-chili crumble sat on the back of my throat, ensuring that every bite of the Sunchoke I swallowed had some heat to it. This dish was quite hearty and a bit rustic, it felt like I was eating potatoes without the heaviness.
Edamame Artichoke Chaat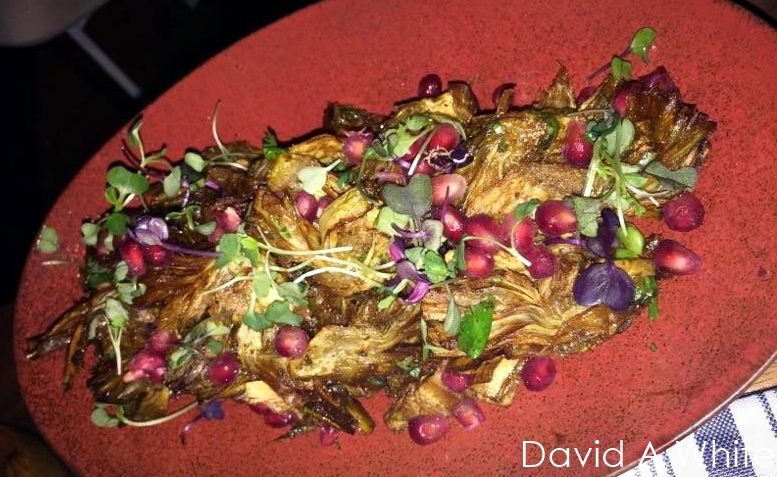 DAVID: This dish was just perfection. The slightly natural lemony pop of the artichoke soaks up the tamarind so well that when balanced on top of the bed of earthy edamame and the crunchy sweet pomegranate, a wonderful quartet is created: tart, earthy, sweet and salty.
GLASGOW: Love that this vegan dish highlights the sweetness of the tamarind as opposed to its tartness. The combination of the crunchy pomegranate seeds, spinach chips, and tamarind give it a highly flavorful dish with great levels of textures.
Chettinad Octopus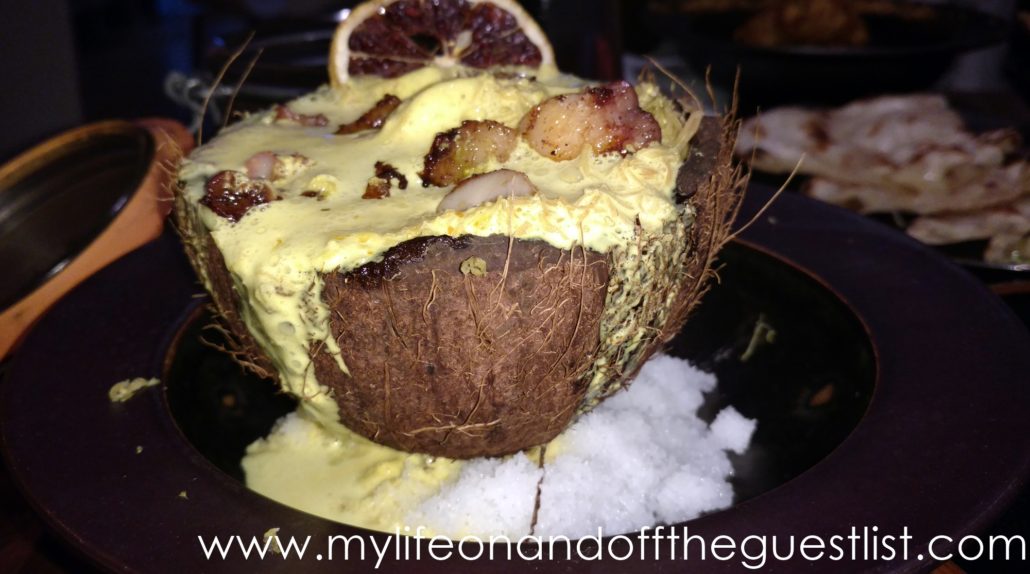 DAVID: This was a cool seafood triumph. Take the delicateness of tender octopus with the island kiss of a milky coconut broth teemed with spicy aromatic curry and what you have are two meals in one. The second meal arrives when you're left with that savory broth that is perfect for dipping Rahi's melt in your mouth naan bread.
GLASGOW: This dish practically left me speechless. The combination of a creamy, tropical coconut milk and turmeric highlighted the freshness of the octopus. The coconut turmeric foam was divine……each bite fills your mouth with unbiased flavor and your senses with aromas like no other. I'd enjoy this broth on its own as a soup. This dish felt like a special treat, like I was being rewarded for something.
Eggplant Bharta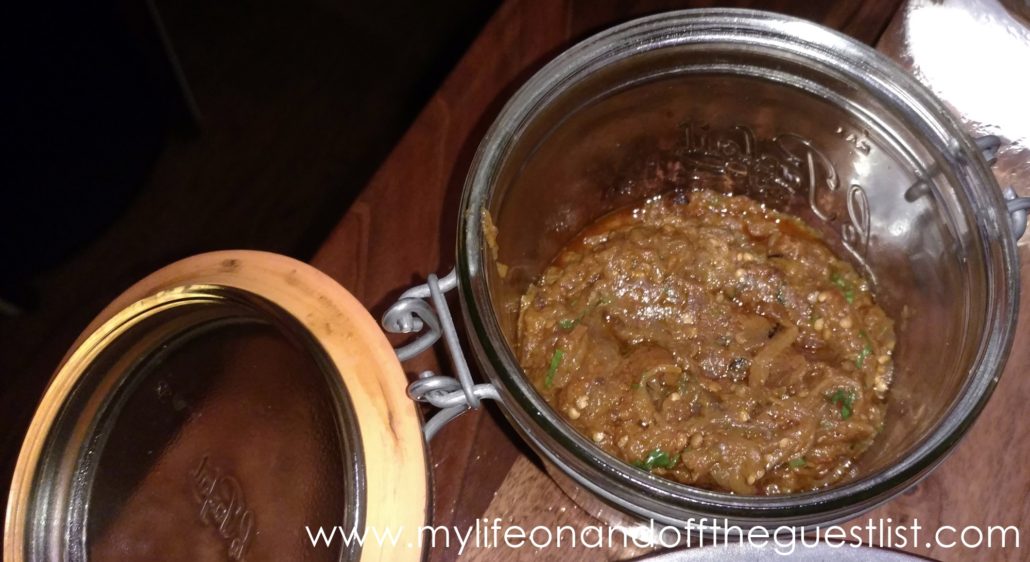 DAVID: I joked with the owner that this should be packaged and ready to be sold. This dish was oh so satisfying. The triumph of this dish was how the often-earthy quality of the eggplant disappeared in the spicy, smoky chunkiness of this dish. The blend of onions, cumin, spices and the consistency of the ragu-like dish were like the perfect vegan comfort food and the hearty grain toast it was served with was a great choice to hold up to the weight of the Bharta. I could easily see this as a veggie/vegan sandwich at a picnic as a great reminder of how satisfying meatless can be.
GLASGOW: I'm not a fan of eggplant, so I didn't partake but from David's reaction, it must be outstanding.
MAIN COURSE
Inked Crab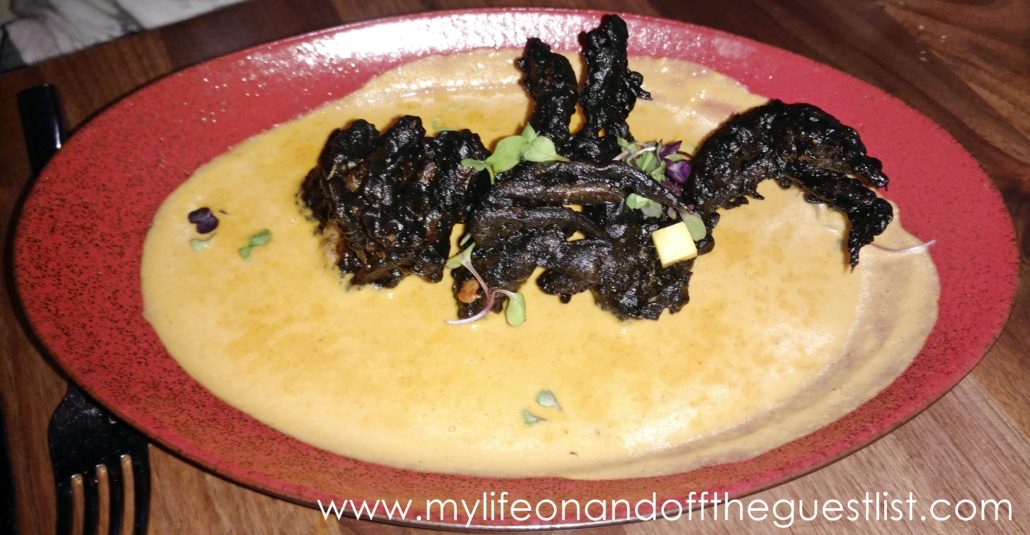 DAVID: This is crispy sea loveliness soaking in creamy briny harmony. The salt of this dish is nicely balanced with hints of sweet. The depth of the ink batter brings a sharpness to the delicateness of the sweet and crunchy soft shelled crab and offers up a different kind of satisfying savory to the dish.
GLASGOW: I didn't try much of the Inked Crab because I had my own decadent dish to enjoy, but from my one mouthful I noticed the distinct flavors, such as the marriage of subtle sweetness of the mango curry and how it emphasized the distinct character of the squid ink crab.
Dalhousie Shepherd's Pie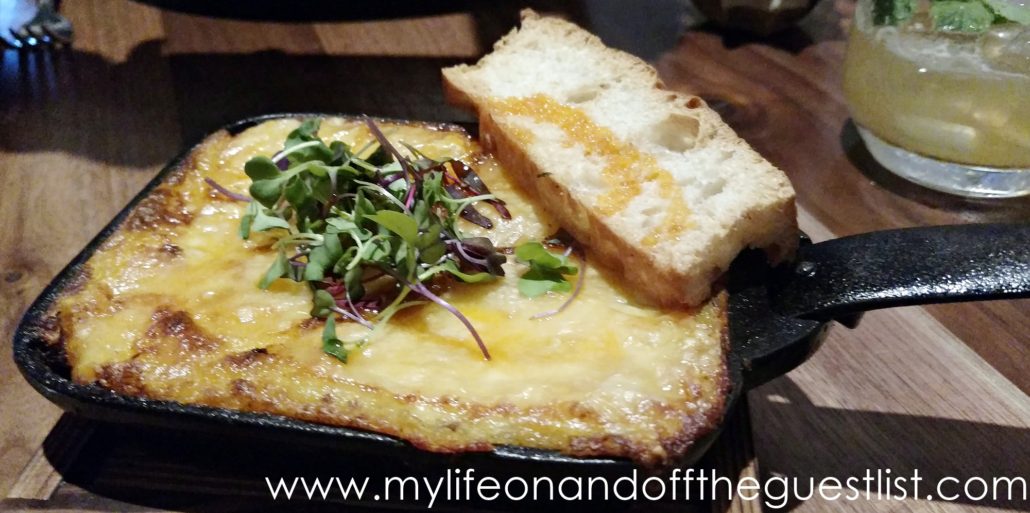 GLASGOW: Let me start by saying that Shepherd's Pie is one of my favorite dishes and I love eating it as much as I can. And Rahi's interpretation blew me away. I'll say it now, Cumin makes everything better. I loved Rahi's flavorful take because, let's face it, sometimes Shepherd's Pie can be a bit bland, but the combination of cumin potatoes layered with farm fresh Raclette cheese, took this basic dish to indulgent levels.
DESSERT
Mishti Doi Cheese Cake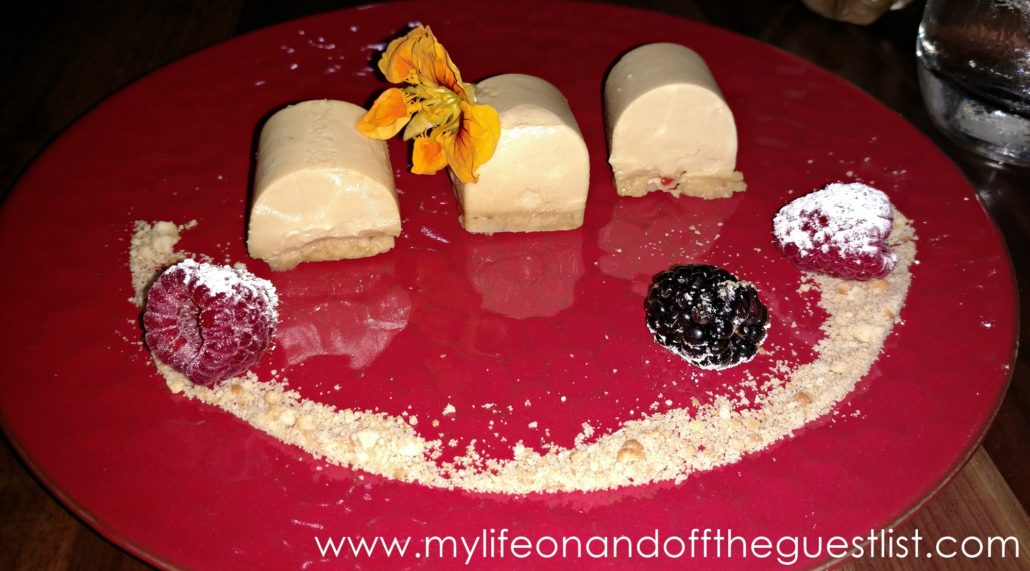 DAVID: This was a nice combination of smoky and sweet flavors with an interesting caramel and coconut cream combination with a delish crumbly Indian cookie crust.
GLASGOW: A creamy delight that was as decadent as it lovely. A great yogurt dessert on a crust of Karachi cookies that isn't overly sweet, and bears a distinct taste of rosewater. You should definitely make room for this dessert.
Cream Pakora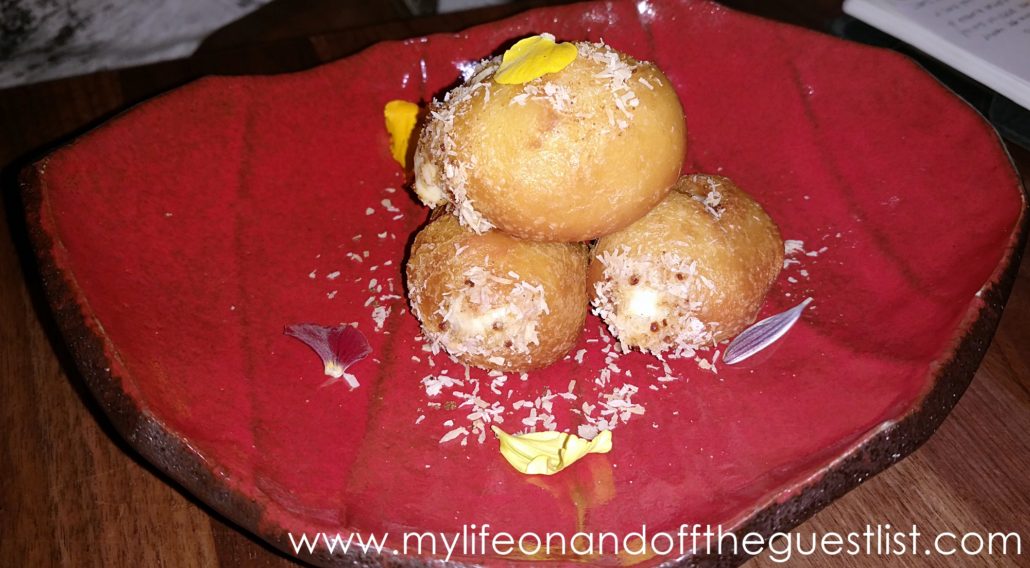 DAVID: Coconut shines in this dessert with a pleasing blend and nice execution of dried and creamy coconut that shows the fruits depth. The crust is just doughy, soft and tender with an underlying hearty pleasantness.
GLASGOW: If you love desserts like beignets or eclairs, you're going to love the Cream Pakora, a yummy coconut-jaggery cream housed in a light pastry dough. It may look heavy but it was quite light, so enjoy to your heart's (and stomach's) content.
DECOR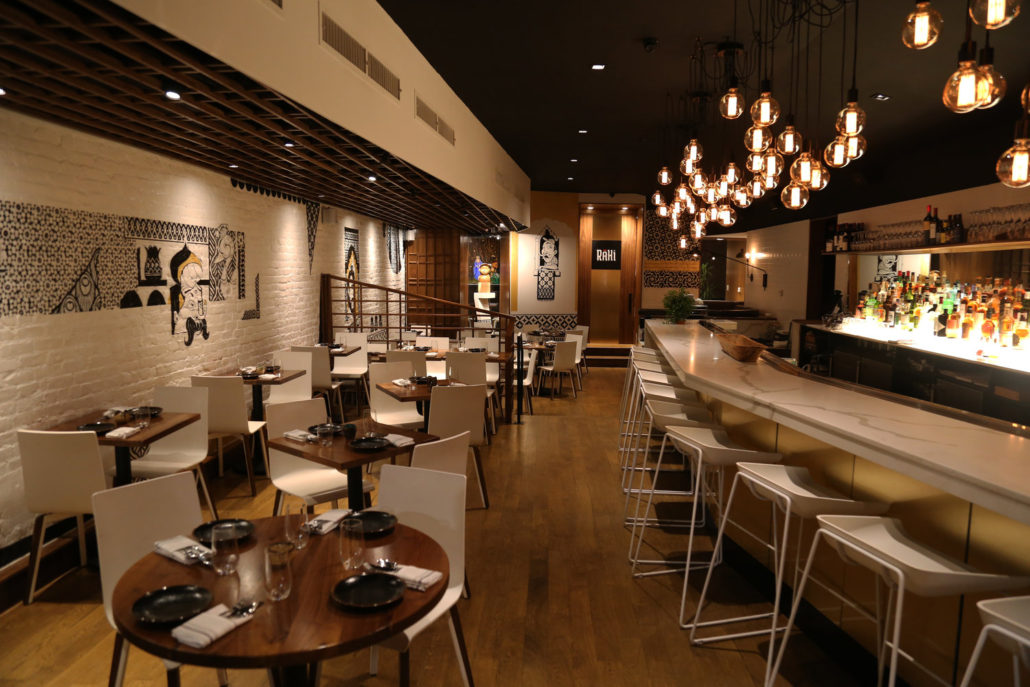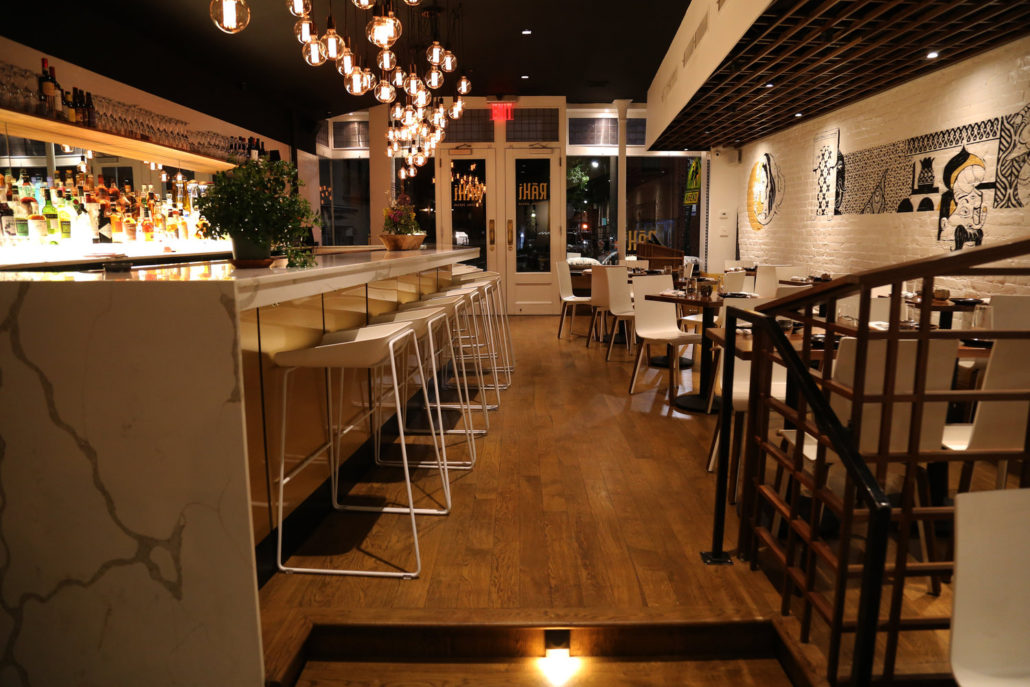 DAVID: The décor of Rahi Artisanal Indian Restaurant is charming like the collections of a "traveler" with a love for Indian roots and an eye for modern sensibilities. I was very pleased that their full bar also delved into the aesthetic of their establishment. This is a great location for Rahi and a necessary eatery to add and celebrate diversity to the neighborhood.
GLASGOW: It's not just the food that will transport you to India, the aromas and visuals of Rahi Artisanal Indian Restaurant. The tables are smaller to ensure an intimate setting for conversation and sharing. White modern chairs match the marble bar and brick walls, which highlight the black and gold mural, painted by artists, Yok & Sheryo. The dining area extends to a sunken level.
Take the Rahi Artisanal Indian Restaurant journey yourself at 60 Greenwich Avenue, (212) 373 8900.