We've been smiling a lot lately. We'd love to say it's because life is absolutely amazing but it's because Waterpik has given us two things to smile about. So when we say we're flossing, we're not flaunting any expensive purchases, we're enjoying an essential part of any oral health care routine. The esteemed oral care company has launched not one, but two wonderful flossing devices – the Waterpik Whitening Water Flosser, and the Waterpik Sidekick Water Flosser. Two very innovative oral care products guaranteed to make you smile more. The Waterpik Whitening and Sidekick Water Flossers were introduced by Dr. Chris Strandburg, DDS, also known as The Bachelorette's Dr. Cupcake.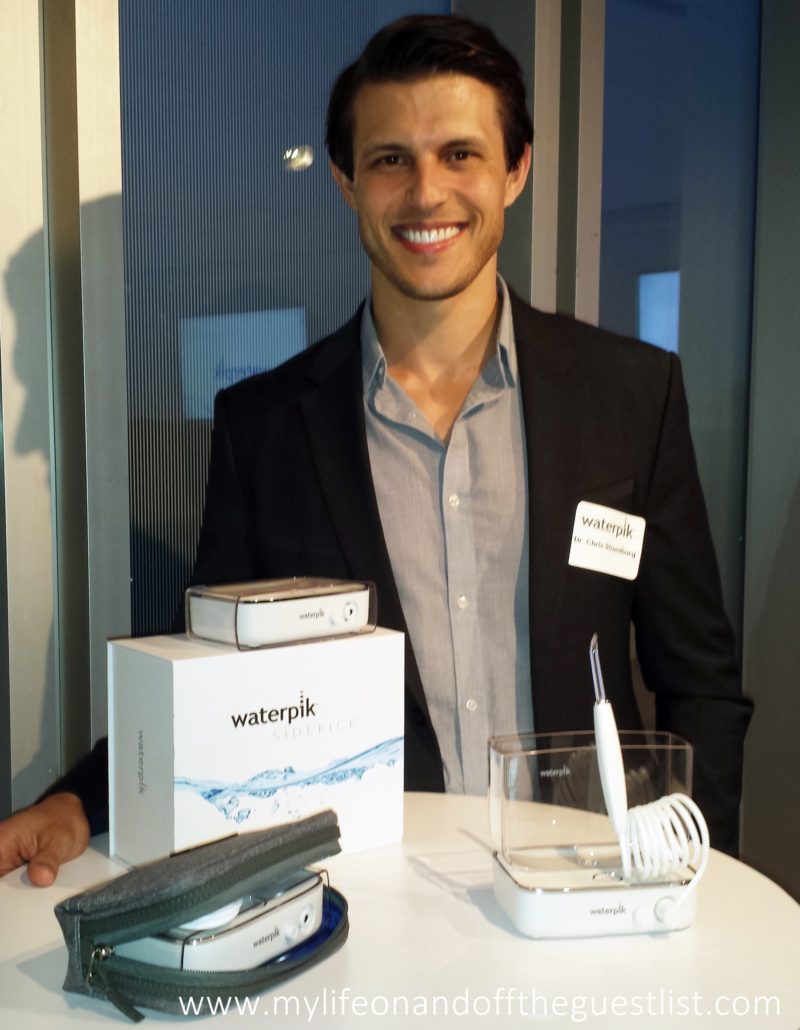 The Waterpik Whitening and Sidekick Water Flossers are available this month at www.Amazon.com and www.Waterpik.com, and both are accepted by the American Dental Association.
Waterpik Whitening Water Flosser, $79.99 – $99.99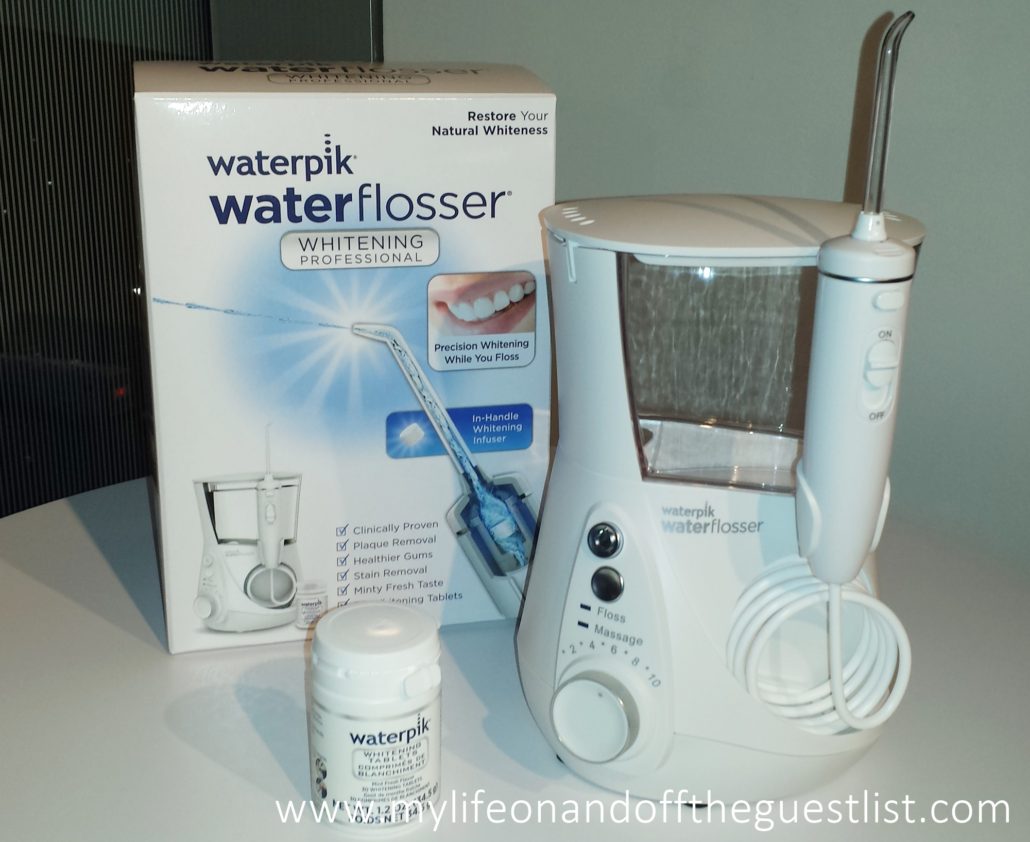 For coffee, tea, and dark liquid drinkers, we know how important it is having effective teeth whitening products. The Waterpik Whitening Water Flosser is ideal for those who don't want to use harsh bleaching chemicals or undergo expensive treatments. Clinically proven to remove an additional 25% of teeth stains between the teeth and in hard-to-reach places vs. brushing alone. The Waterpik Whitening Water Flosser is as gentle as regular toothpaste thanks to its combination of patented Water Flosser and Whitening Infuser technologies.
Using this whitening flosser for one minute per day helps restore your teeth's natural whiteness in four weeks and helps you maintain a whiter smile (we're not quite to the 4-week mark yet but we're already seeing subtle results…..and we're heavy tea drinkers). The Whitening Water Flosser removes up to 99.9% of plaque from treated areas, improves gum health, helps prevent future tooth decay, and is proven to be safe for teeth and gums. Apart from this, you might also need a teeth cleaning from your regular dentist once a while to catch the nasties that the flosser might not reach, like places below the gum line, so that's definitely an option to consider.
According to Dr. Chris Strandburg, DDS "The Whitening Water Flosser is a threefer because it whitens your teeth, it freshens your breath and it makes your gums healthy."
The Waterpik Whitening Water Flosser boasts a variety of features, including its patented whitening infuser, 10 pressure settings, 90 seconds of water capacity, removable and dishwasher-safe reservoir, in-handle water flow control, a new swivel-handle hose for improved access to hard-to-reach tooth surfaces, four interchangeable tips for standard use, and also works great for those of you with special dental needs, such as dental implants (visit https://allonfour.com/) and braces. Each Waterpik Whitening Water Flosser comes with 30 whitening tablets (a one-month supply).
Waterpik Sidekick Water Flosser, $129.99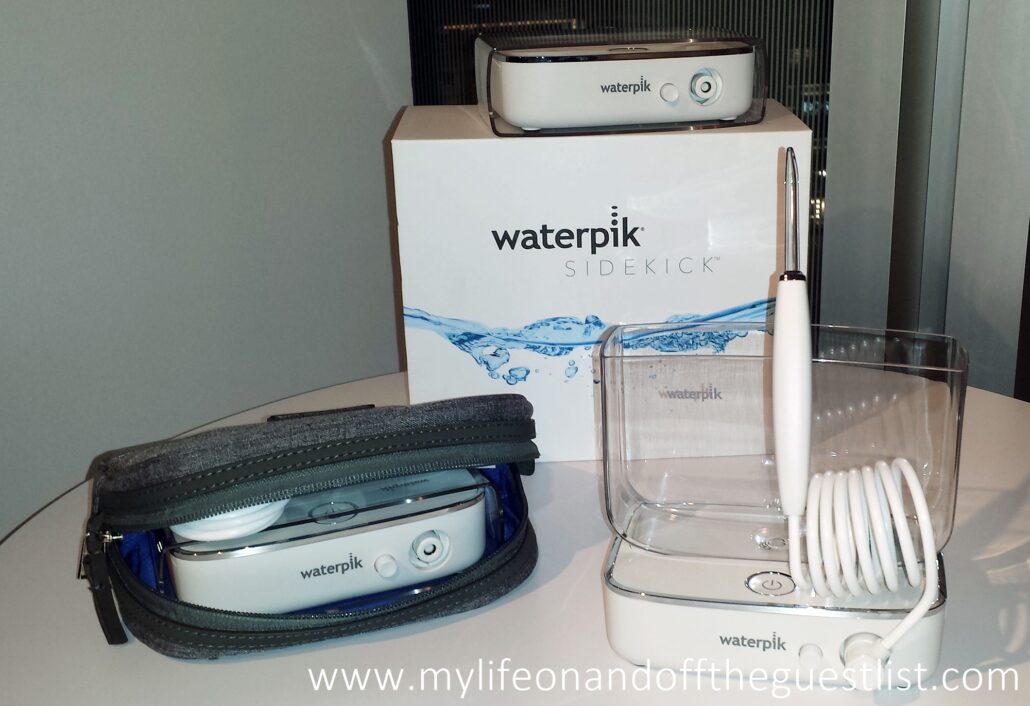 There is nothing like the Waterpik Sidekick Water Flosser currently available. Get ready for all the oral health benefits of a full-sized device in an ultra-compact, collapsible package that's perfect for easy, portable travel. Take it to work, on vacation, or school. This collapsible gadget assembles and disassembles in a snap for easy storage in a drawer, handbag, or briefcase. Transforming from a cube-like shape into what looks like a scaled down unit, the Waterpik Sidekick offers full-sized performance and water capacity for 60 seconds of flossing every time you use it. The Sidekick tucks inside an included, zip-up, water-resistant travel pouch to catch drips.
For those who are taking the journey to healthier teeth and gums, Waterpik introduces the "Waterpik ® 14 Day Challenge" app. Download the app to receive how-to-use information and inspiration to help you create a healthy oral care habit for life. The app will be available in March 2018.
What are your thoughts on the Waterpik Whitening and Sidekick Water Flossers? Could you use more smiles in your oral care routine?