We hope you're ready to discover another amazing NYC restaurant because we have one for you. Welcome to our culinary journey of one of New York City's leading steakhouses, Greenwich Steakhouse. They recently announced new brunch, lunch and dinner menus prepared by the new Executive Chef Oscar Reyes, which we had to experience for ourselves.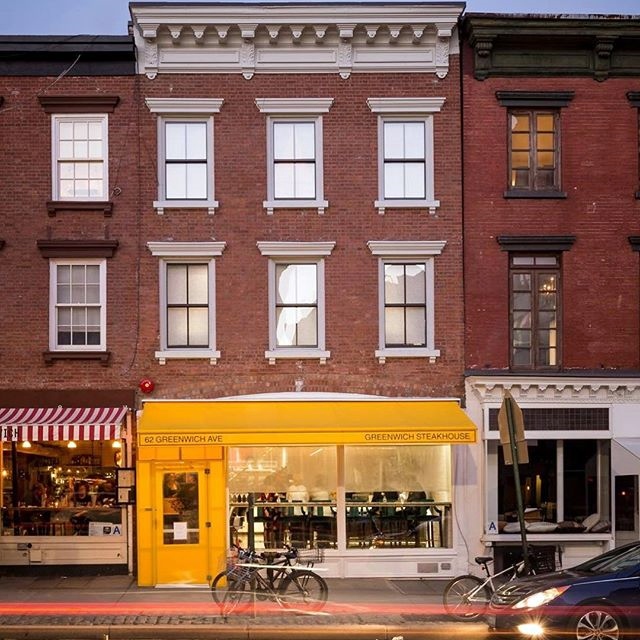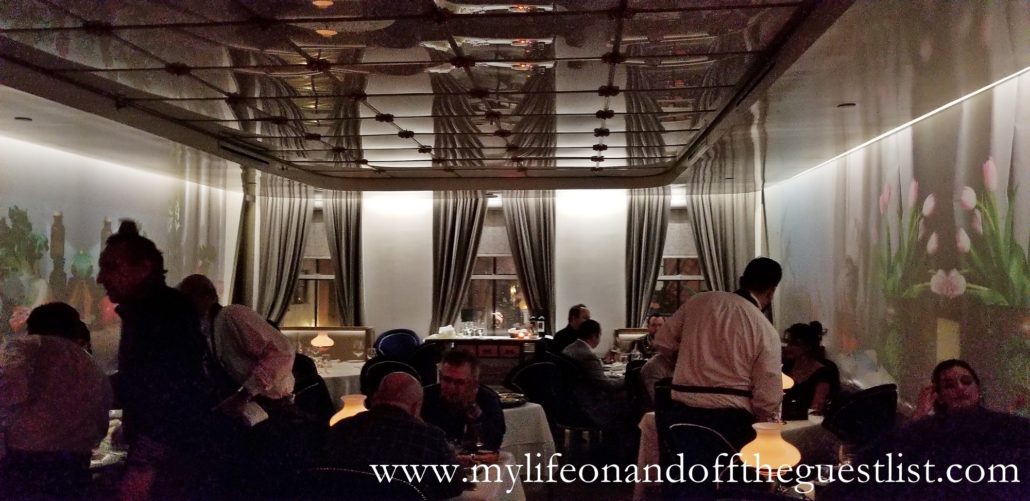 For those not familiar, Greenwich Steakhouse is a three-story restaurant located in the West Village. Casual diners can take a seat at the bar on the first floor. The second floor, the Blue Velvet room boasts beautiful, blue velvet high back chairs, seating for 40 and dreamy wall-sized artwork, and The Grand Reserve Room, located on the third floor is reserved for private parties. We settled on the Blue Velvet room for our foodie adventure. For this culinary journey, we enjoyed four courses and cocktails – starters, entrees, dessert, and a digestif.
COCKTAILS

Greenwich Steakhouse offers cocktails in a variety of categories: fruity, light and refreshing, light and smoky, stirred and boozy, and non-alcoholic. Our goal was to try cocktails from a few of the categories. We started off with the Lady Luck, a sweet and fruity blend of vodka, fresh raspberries, lemon, St. Germain, and champagne; the Greenwich Swizzle, a light and refreshing concoction that may look tropical but boasts a fall-ish flavor thanks to bitters, and is served in a frosted glass; the almost rustic Sazerac, a rye whiskey-based cocktail with an absinthe rinse; and the non-alcoholic and very refreshing Perry St mocktail.
STARTERS
PAN FRIED CALAMARI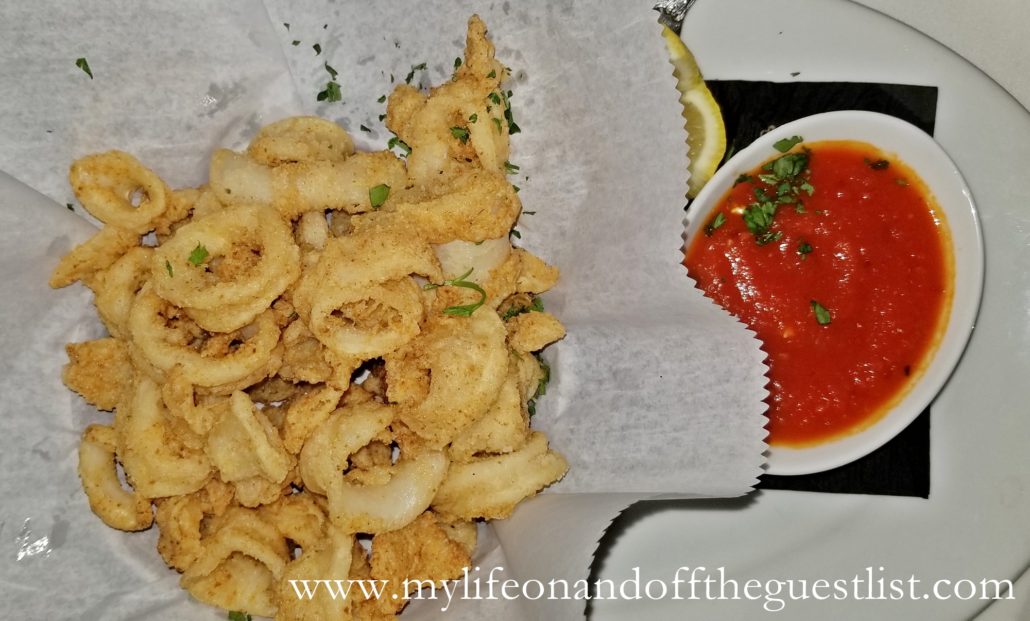 Great calamari never disappoints and you'll love the crisp yet succulent texture of this flavorful starter. Complimented with a warm, tangy sauce, you'll devour every bite.
GREENWICH COLOSSAL CRAB CAKE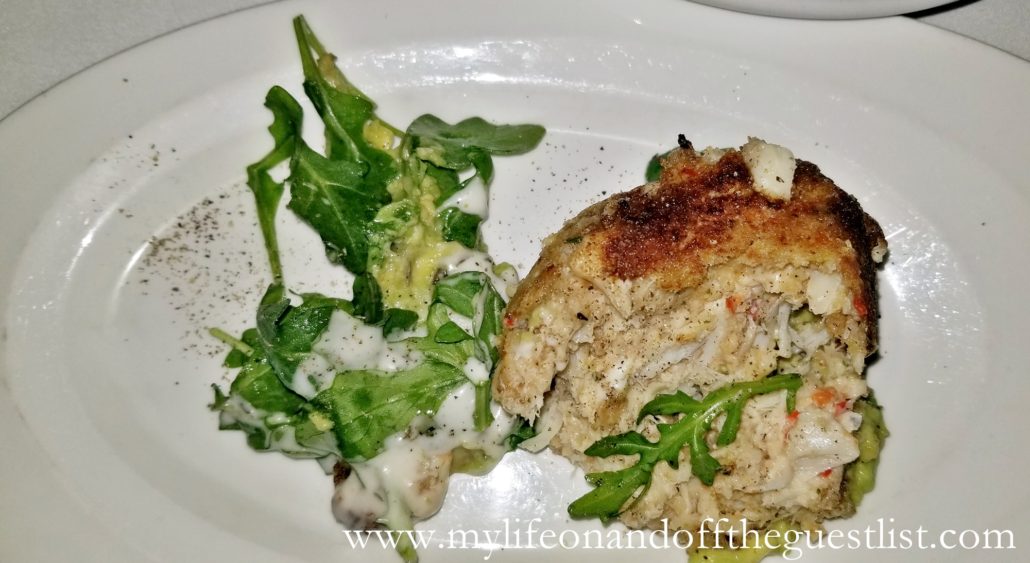 What you're seeing above is half of one of the crab cake. Served sitting on a bed of creamy avocado, the combination of flavors was intensely phenomenal. We topped ours off with a bit of black pepper for a slight spark.
MAIN ENTREES
NEW YORK SIRLOIN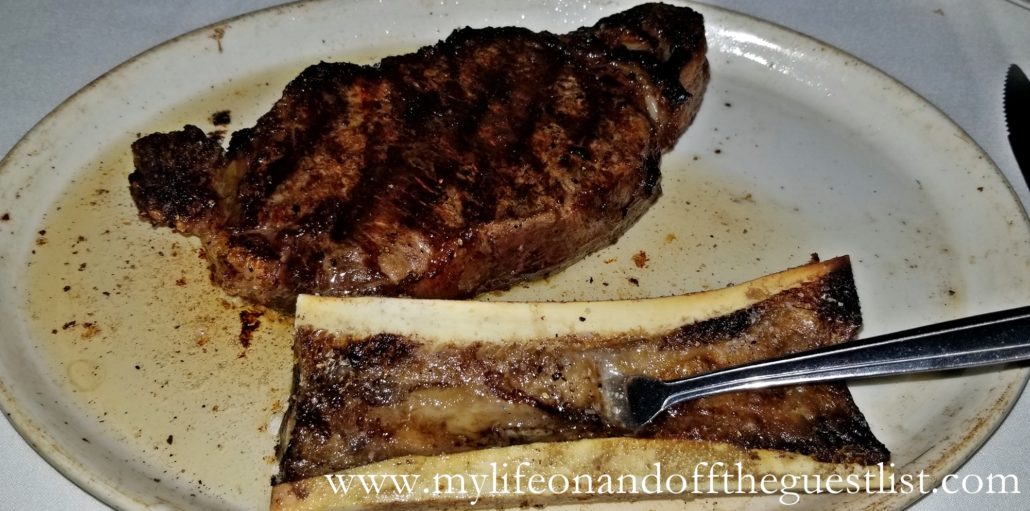 We have been thoroughly enjoying dry-aged steaks lately and this one was no exception. We requested our steak prepared medium well. The result was a tender steak with exquisite charring; it was mouthwateringly juicy yet and not at all chewy. In other words, perfect. We paired it with Greenwich Steakhouse's Lobster Mac & Cheese and Creamed Spinach (see our Sides highlight below).
DOUBLE CUT VEAL PARMIGIANA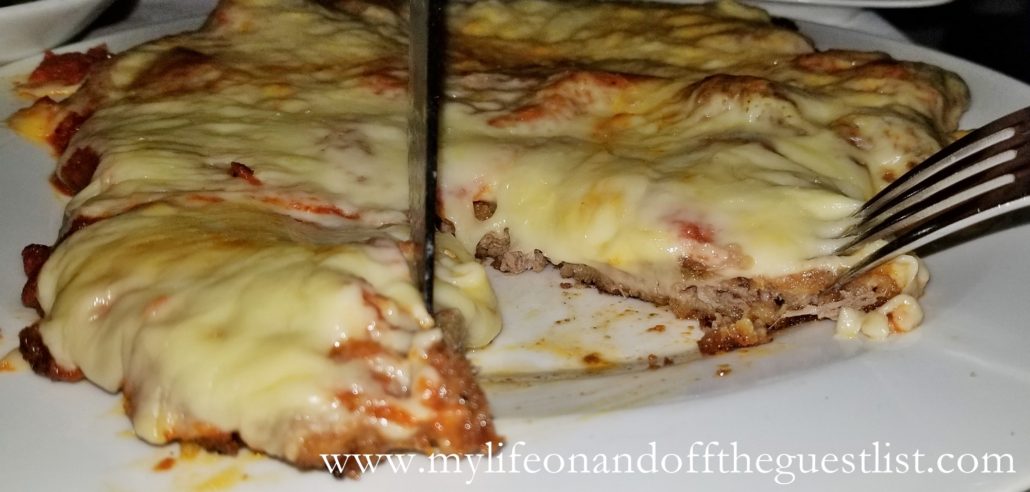 The delicious aroma rising from the dish was a clear indicator that this was about to be an unforgettable experience. Each tender bite of veal drenched in layers of sauce, aromatic spices and cheese was wonderfully satisfying. This is a must-have dish for any veal and cheese lover.
SIDE DISHES
LOBSTER MAC & CHEESE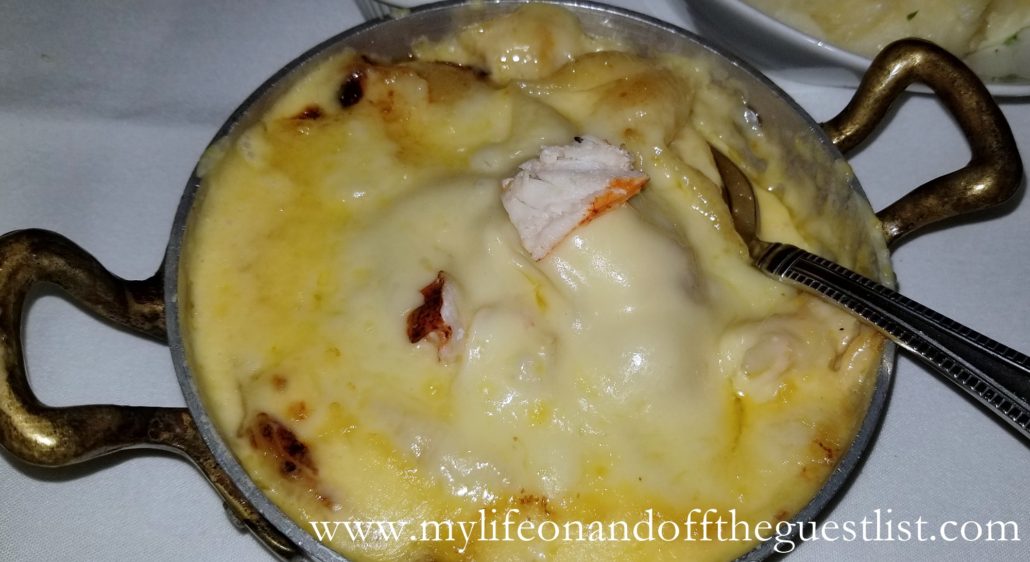 We hope you're ready for lobster mac and cheese with huge chunks of lobster in it because that's exactly what you will be getting. Every spoonful yields lobster baked right in. The perfect fusion of down-home goodness with sophisticated flair.
CREAMED SPINACH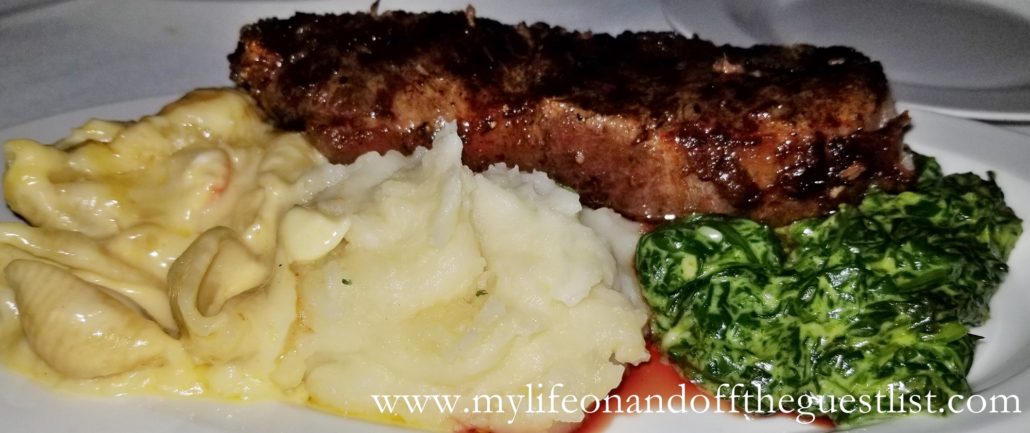 Sadly we didn't get to get a photo of the spinach by itself but for good reason. the staff is so attentive that as soon as your food arrives, they begin to serve them on your plate. We caught the servers in time for the other dishes but the lobster mac and cheese distracted us. However, the Creamed Spinach definitely deserves its own fanfare. We loved that the Spinach wasn't overly creamy or cheesy. The flavors, texture, and consistency were delightfully balanced.
GARLIC MASHED POTATOES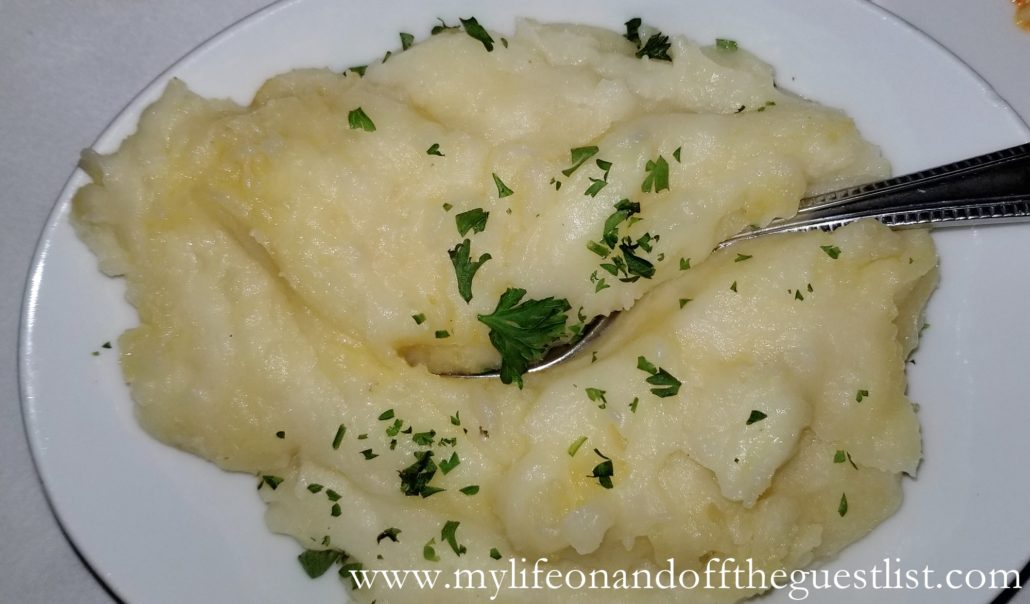 Rich in flavor, extra creamy in texture, this traditional side will have you reaching for multiple spoonfuls. The garlic was perfectly balanced without overpowering your other sides or main.
DESSERTS
TARUFO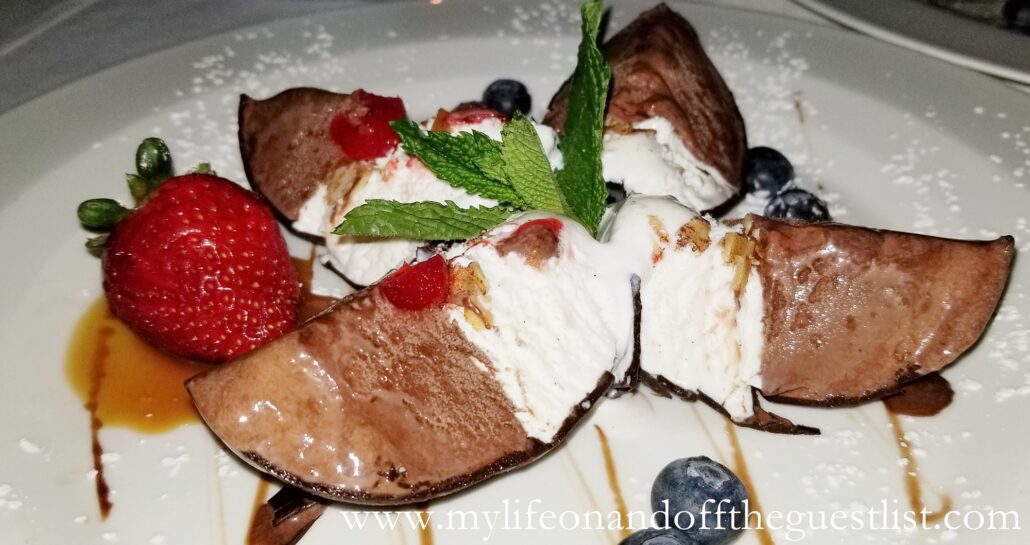 If you're going to try anything for the first time, this is the experience you want. This was our first time ever having a Tartufo and it was dessert heaven. The mash-up of two ice cream flavors, frozen cherries, caramel sauce, and the chocolate shell was almost too exquisite to devour, but we did.
TIRAMISU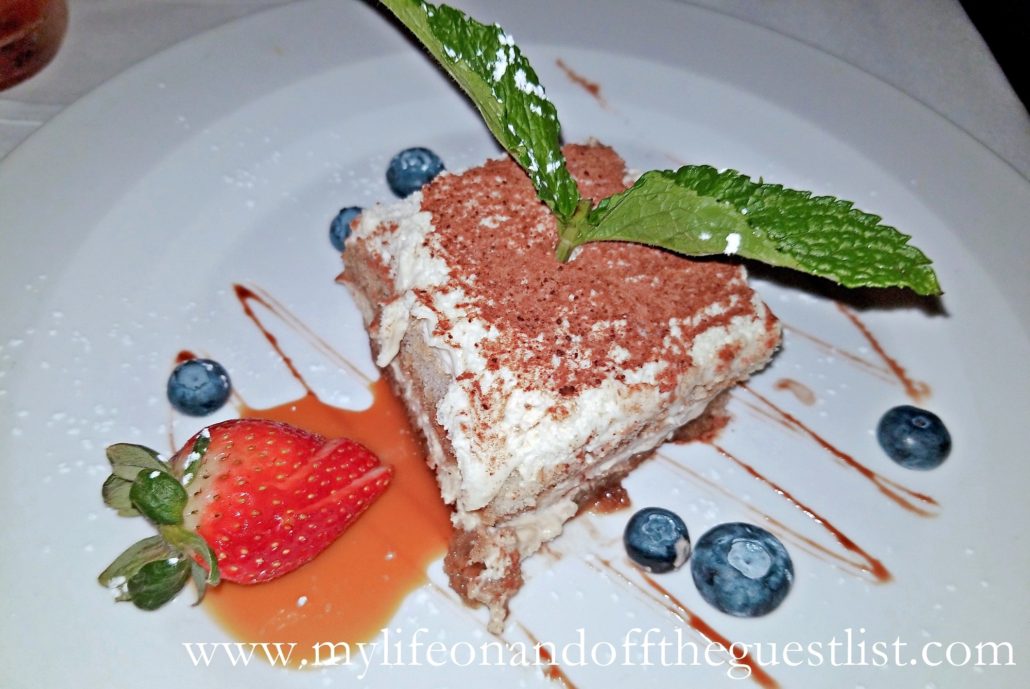 An Italian dessert and coffee lover's dream. If you love your ladyfingers truly soaked in coffee, you'll love the Greenwich Steakhouse Tiramisu. Get ready for an explosion of rich flavors from the layers of mascarpone cheese, cocoa, and liqueur.
LIMONCELLO DIGESTIVO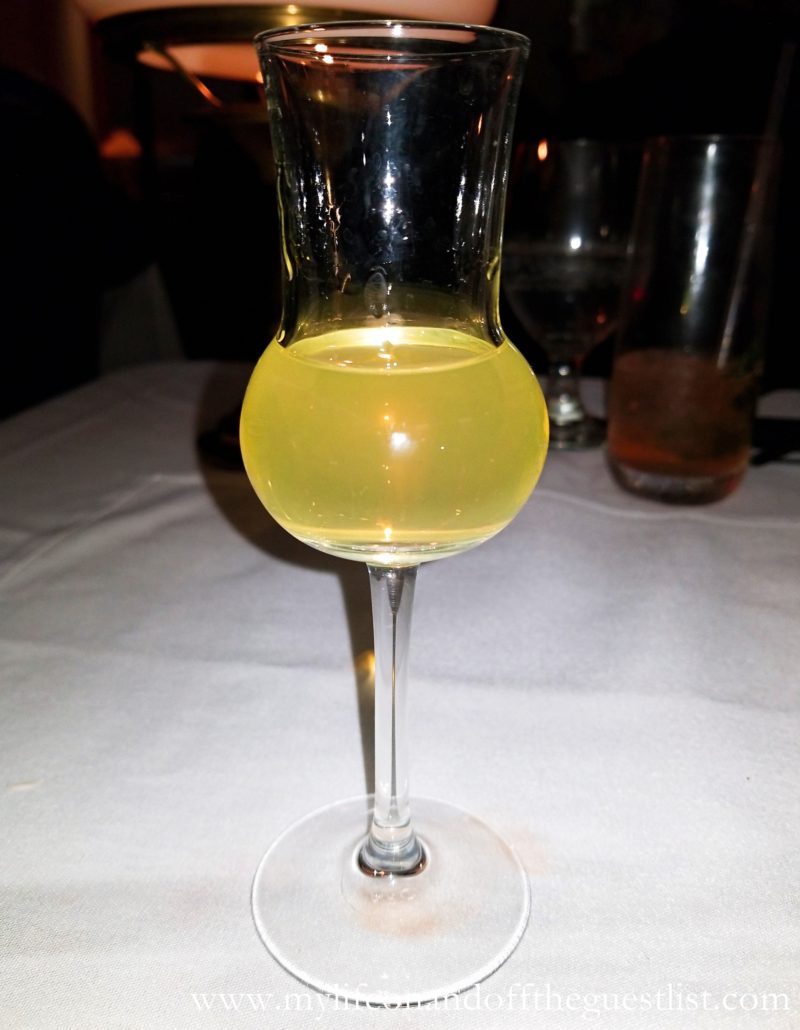 After such a decadent meal, a digestivo is a must. The Limoncello cordial, an Italian lemon liqueur, is not only delicious, but it also aids in digestion. Though we may have had room for something else, ending our magnificent Greenwich Steakhouse journey with this cordial was sublime.
We highly recommend adding this upscale to your culinary list. Greenwich Steakhouse is located at 62 Greenwich Avenue; they are open Monday to Wednesday 5pm – 10pm, Thursday & Friday 5pm – 11:30pm, Saturday 5pm – 11:30pm, and Sunday 5pm – 10pm. For reservations, call (212) 553-5000 or book your table here.