If you've ever purchased microwave popcorn then you've one or all of the following: lots of unpopped kernels, burnt popcorn, heat burns from trying to open the bag, and very oily hands. What if you can enjoy a great bowl of popcorn without the typical hassles microwave popcorn? Thanks to the original Colonel Popper Silicone Microwave Popcorn Popper, you absolutely can.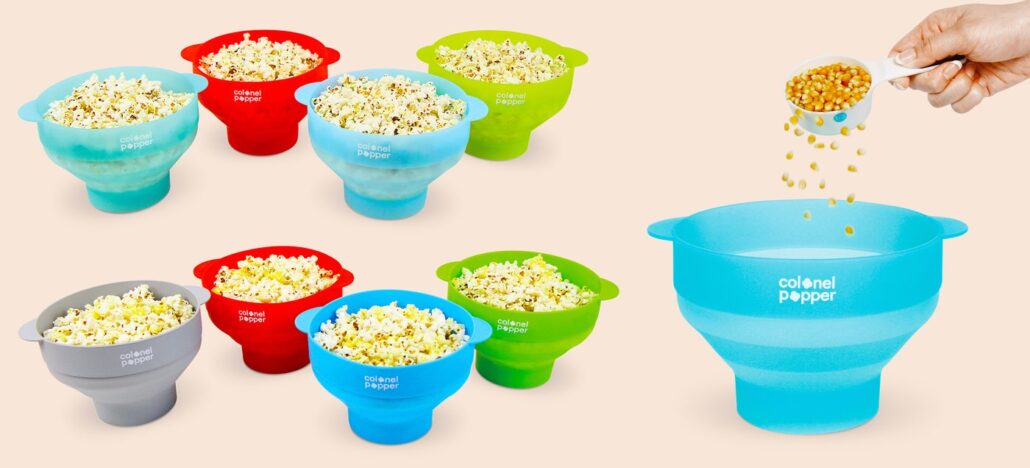 Whether you're making popcorn at home or work or dorm room, the portable Colonel Popper Silicone Microwave Popcorn Popper is ideal for mess-free popcorn enjoyment. It is super durable, safe, and eco-friendly. After using it once, you'll never want to make popcorn without a Colonel Popper again. Made from durable food-grade silicone, the 100% BPA Free, Colonel Popper passes the silicone pinch test. Say goodbye to those unhealthy microwave popcorn bags with harmful chemicals that burn easily. Enjoy popcorn your way for a fraction of the cost. That's right, this budget-friendly, microwaveable bowl is easy on your wallet and your waist.

There are so many flavor possibilities with using this silicone microwave popcorn bowl. You can prepare popcorn with or without oil (choose olive, peanut, sunflower, or coconut oil); enjoy it plain or seasoned (did you know plain popcorn is only 31 calories?), sweet or savory, or recreate the good old movie theater popcorn taste. In fact, you can use any popcorn kernels you want! The Colonel Popper Silicone Microwave Popcorn Popper makes up to 14 cups of popcorn. Make enough for yourself or for large family or friend gatherings. Because it's made from the highest grade silicone, you can reuse the dishwasher safe bowls over and over for years.

The silicone popcorn maker comes in eight colors; four classics (blue, gray, green, and red) and four transparent (Colonel Red, Fresh Mint, Glacier Blue, and Neon Green). We love that the transparent bowls allow you to see your popcorn popping. All the bowls boast convenient grab handles, so you won't burn your fingertips removing your popcorn from your microwave oven. The collapsible popcorn popper stores away at merely 2″ so it frees up your counter and cupboard space. Treat yourself or a fellow popcorn lover to years of delicious, healthy popcorn for $14.97 on www.shopcolonelpopper.com.