2020 marks the 50th anniversary of the NYC Pride March and many brands are honoring the anniversary with products to celebrate. In celebration of diversity and equality, multi-award winning, ultra-premium spirit, Crystal Head Vodka released a limited-edition PRIDE BOTTLE. They've also released a range of delicious colored cocktails, representing each of the Pride flag colors. These cocktails are a part of their #MADEWITHPRIDE campaign, which also features weekly Instagram Lives. Color plays such an important role in our world. when we think of color, we think of self-expression and a way to communicate.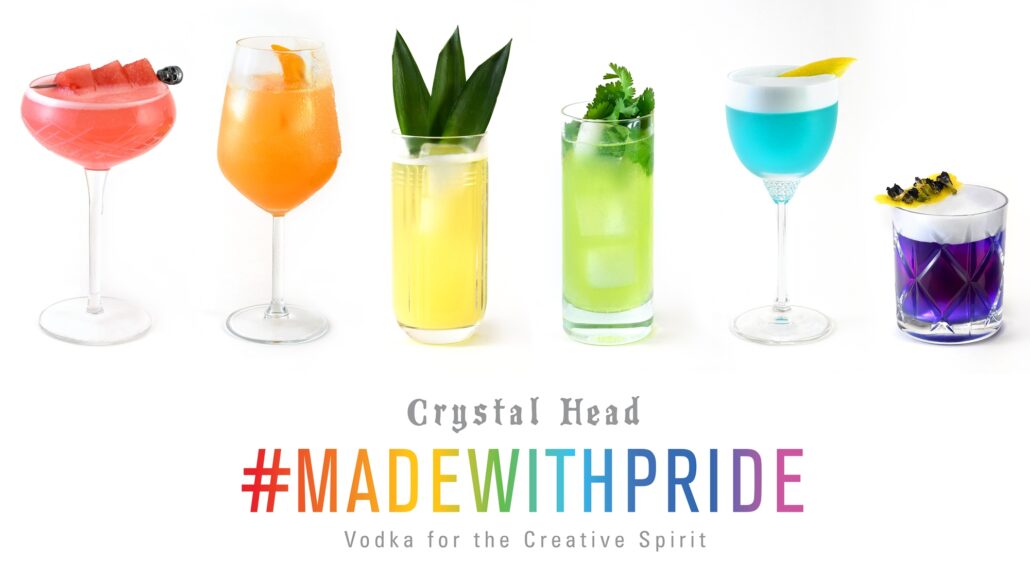 Color evokes a feeling, and this beautiful rainbow bottle and rainbow vodka cocktails shine proudly and brightly to celebrate Pride. It truly is the vodka for the creative spirit. Let's get you better acquainted with these delicious #MADEWITHPRIDE cocktails. Check out all six CHV cocktail recipes below:
Red: Feelin' Fruity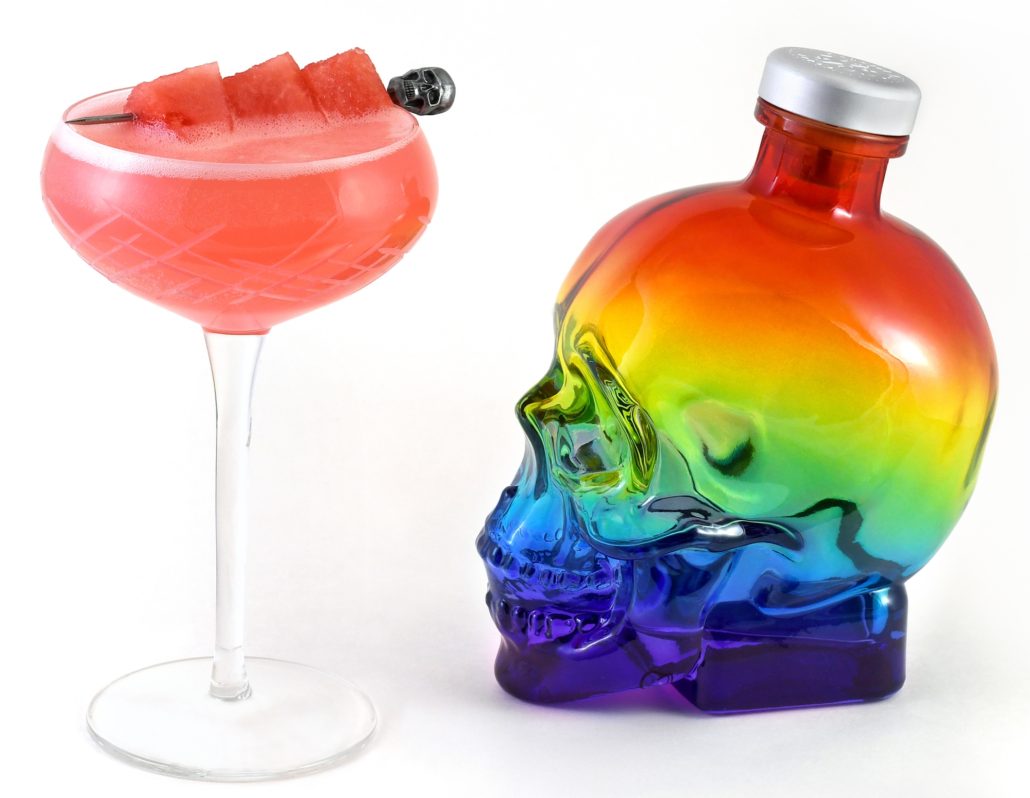 1 ½ oz. Crystal Head Vodka Original
1 ¼ oz. Fresh Watermelon Juice (muddled)
½ oz. Freshly squeezed Lemon juice
1 bar spoon (tsp) Simple Syrup
1 bar spoon (tsp) Rose Syrup
Garnish with a wedge of fresh watermelon.
Orange: Lady Marmalade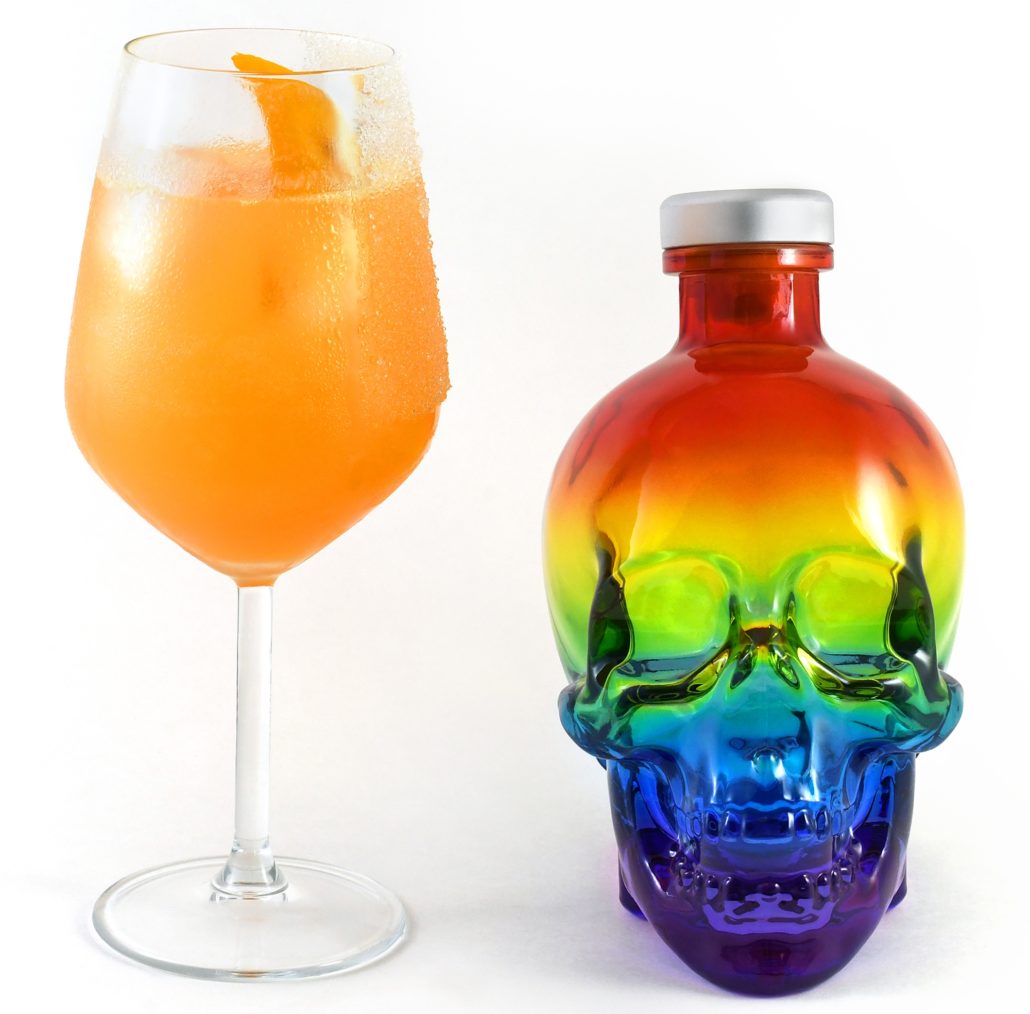 1 ½ oz. Crystal Head Vodka
½ oz. Aperol
1 ½ oz. Fresh Orange Juice
1 tsp Orange Marmalade
Top with Prosecco
Crusto-style sugar rim or orange zest for garnish.
Yellow: Golden Girl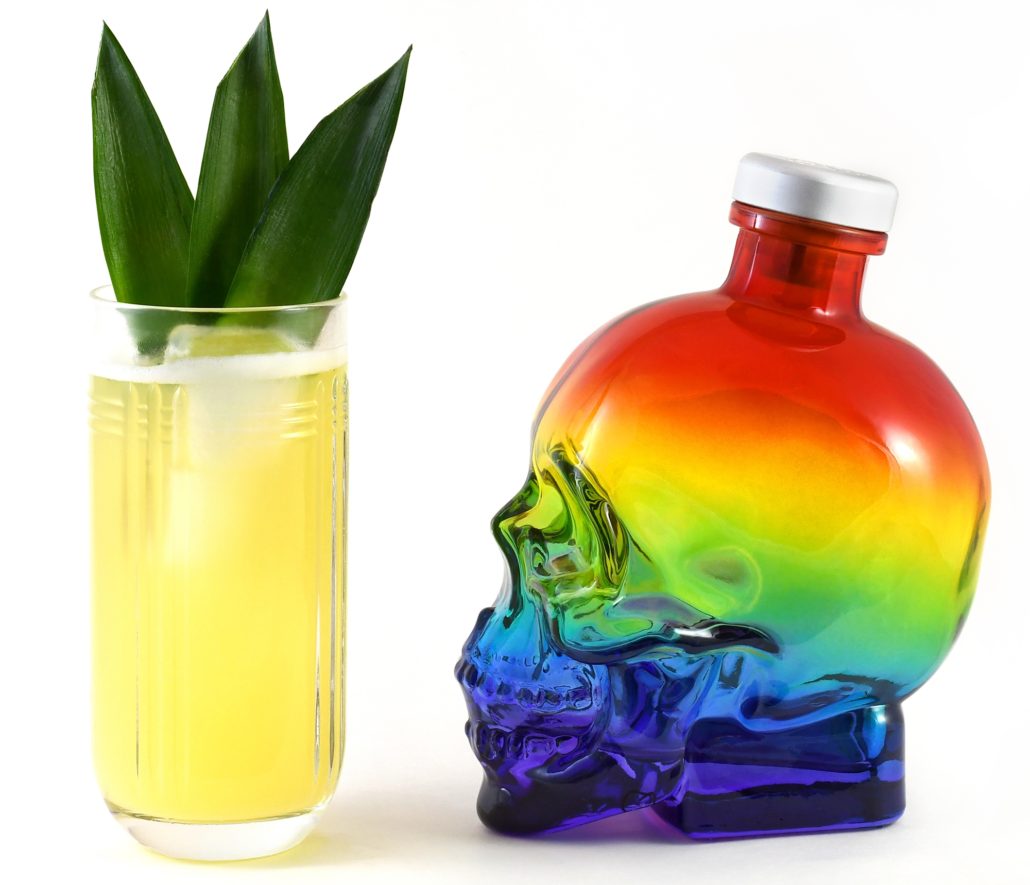 1 ½ oz. Crystal Head Vodka
1 ½ oz. Pineapple Juice
¾ oz. Lemon Juice
1 Heaping bar spoon Powdered Sugar
Stir to froth and top with soda water, garnish with a pineapple slice
Green: Loud and PROUD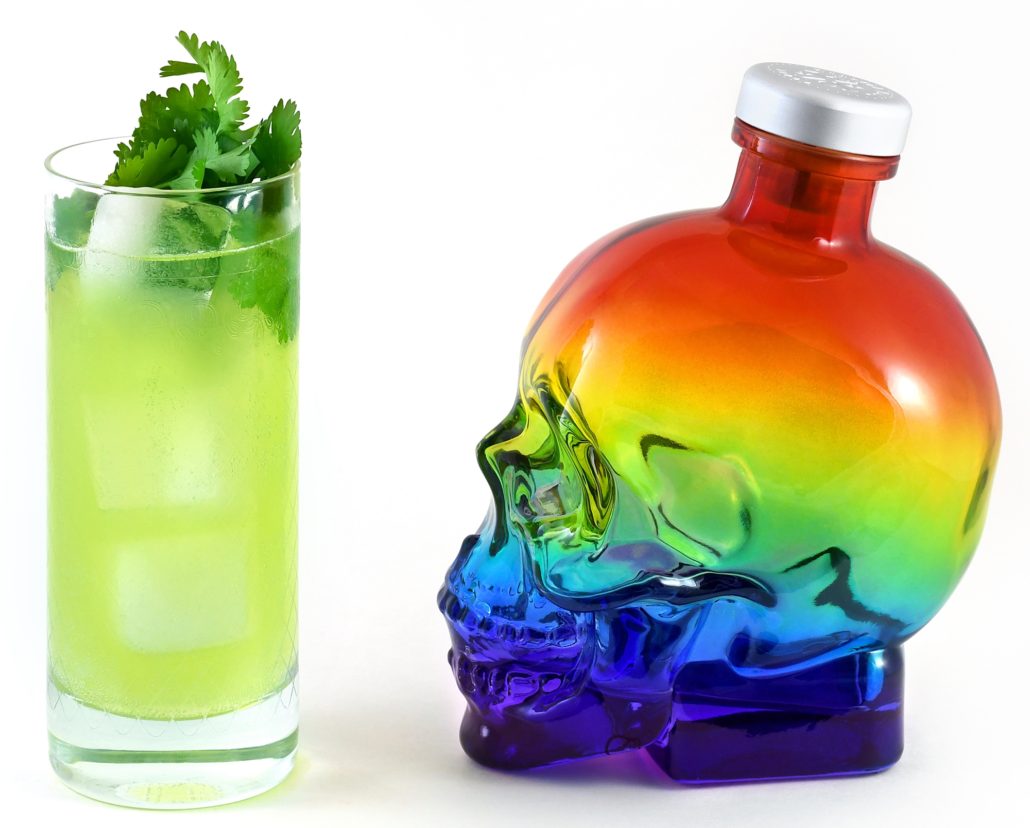 2 oz. Crystal Head Vodka
Fever-Tree Sicilian Lemonade
A handful of Fresh Cilantro
2-3 Slices Jalapeño
Muddle CHV, cilantro, and jalapeno in a shaker. Add ice and shake. Fine strain into a highball glass with new ice. Top with Fever-Tree Sicilian lemonade, stir and garnish with fresh cilantro.
Blue: Born this Way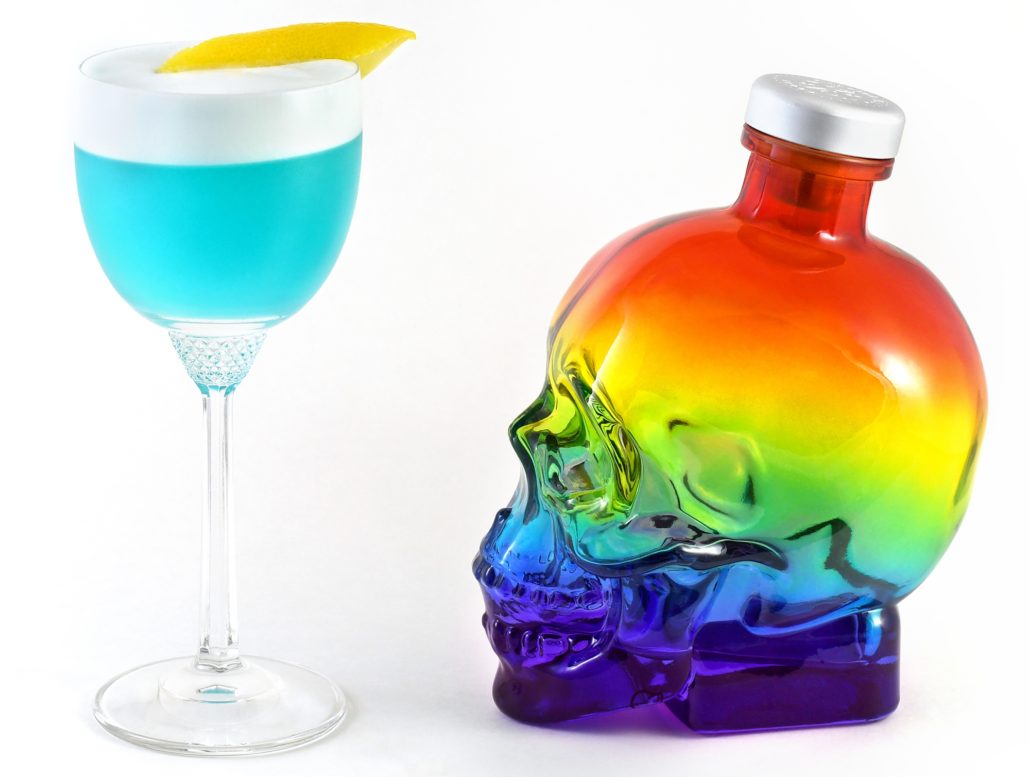 1 ½ oz. Crystal Head Vodka
1 oz. Fresh Lemon Juice
Pinch of salt
1 bar spoon (tsp) Caster Sugar
¼ oz. Blue Curacao
½ oz. Tio Pepe Fino Sherry
1 Egg white
Add all ingredients into a cocktail shaker. Dry shake. Add ice to the shaker and shake again. Fine strain into a chilled glass and zest with lemon peel.
Purple: Free-Spirit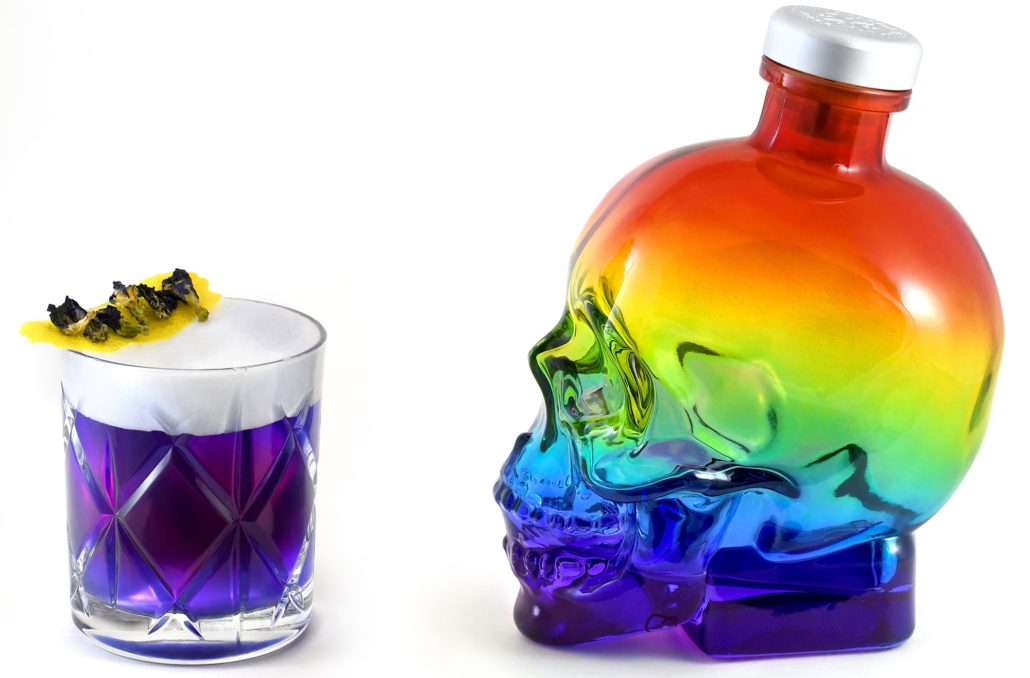 2 oz. Crystal Head Vodka
¾ oz. Fresh Lemon Juice
¾ oz. Simple Syrup
1 ¼ oz. Butterfly Pea Flower tea
Combine CHV, lemon, and simple. Shake and strain. Pour butterfly pea flower on top
The CHV PRIDE BOTTLE is available in select U.S. markets, Canada and Europe through July 2020. The limited-edition, 750 ml bottle will retail for $49.99 and will be released annually.