Despite what the commercials try to project, no one is happy on their periods or gleefully accidentally wetting themselves. Getting your period sucks on all levels; especially when it comes to changing your pads or tampons several times thanks to a heavy flow or having embarrassing leaks in public. Don't even get us started on having to carry around several pads and tampons everywhere we go (this is part of why women carry big purses). Hell, even in certain positions can cause leaks, proving that pads and tampons just don't cut it. Thankfully, there is a solution in period underwear. Thanks to Zorbies Underwear, makers of protective underwear, we're blessed with secure and comfortable period and incontinence undies. Today, we're concentrating on their period underwear.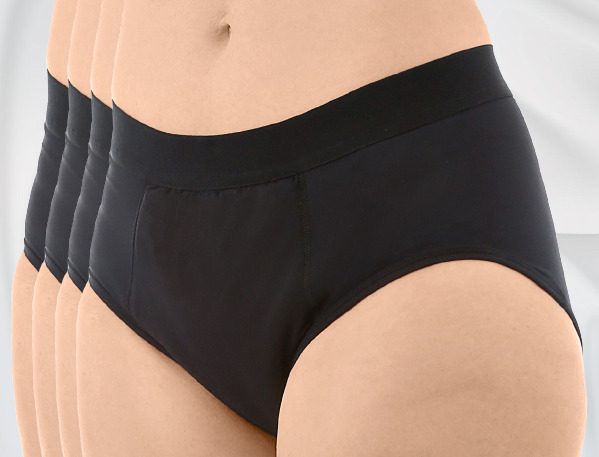 Say goodbye to your underwear getting stained (or that stain transferring to other surfaces like your pants); pads that twist, turn, and stick to where they shouldn't (big ouch); having to wear two pads (the horror), or the old tampon AND pad combo. If you're ready to wave embarrassing leaks and having to change your pad or tampon multiple times a day goodbye, then Zorbies Underwear is definitely what you need. What makes this reusable period underwear brand so great? More coverage, more protective layers, and better absorbency, which in turn, means YOU being more comfortable. Check out the graphic below of Zorbies Underwear's expanded built-in coverage and absorbency: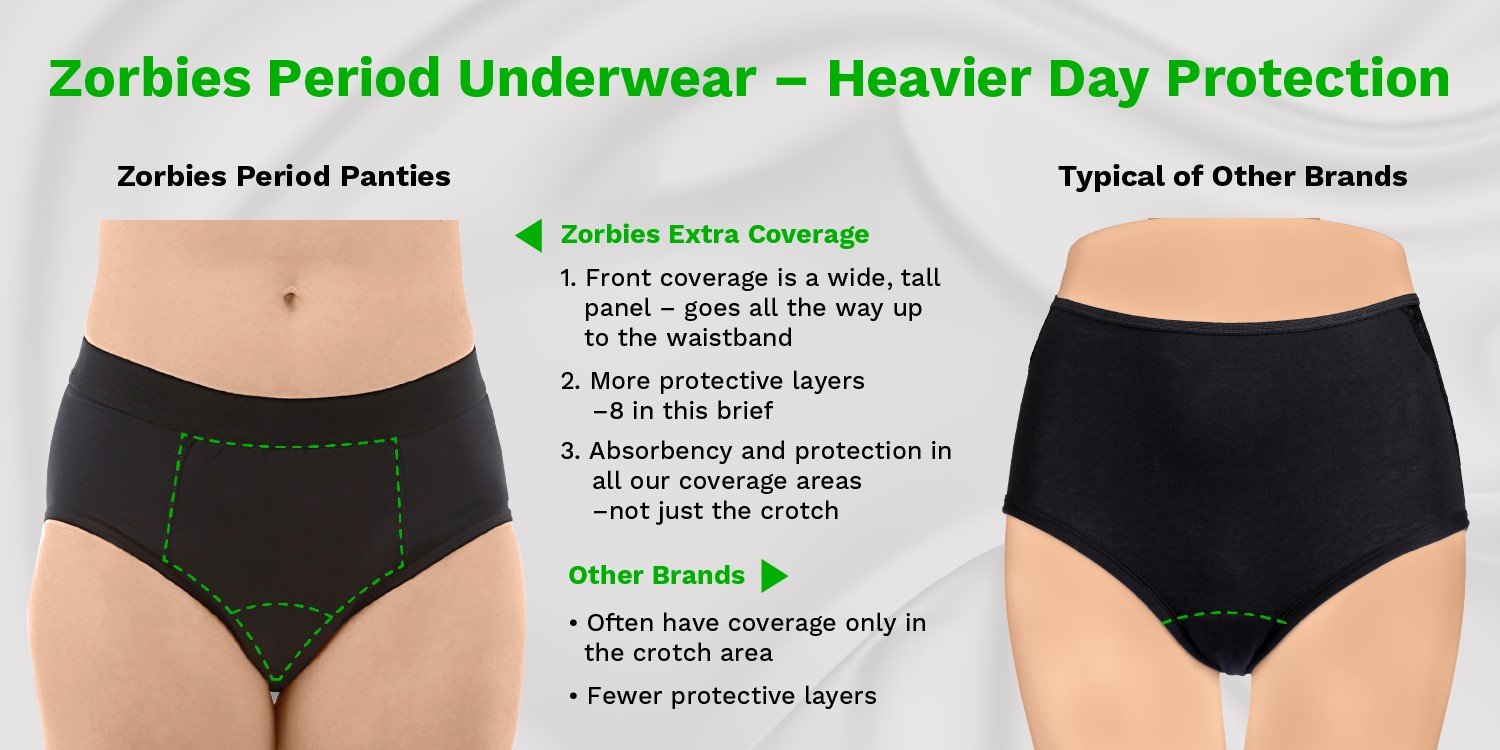 Imagine sleeping in whatever position you want, not just how your period is forcing you to. And bonus, if you add up how much you pay for pads and tampons, you'll realize that in the long run, investing in Zorbies Underwear is a more budget-friendly option; plus it's better for the environment. Whether it's your heavy days, moderate, or light days, you can never go wrong with extra protection.
These soft-all-over period panties have the perfect amount of stretch to hug comfortably. It also boasts a comfy, wide waistband that helps prevent the waist from rolling down to become an uncomfortable bulge. Now, for those of you who are more used to pads or just feel more comfortable wearing one, Zorbies also makes Pad Underwear.  These undies have a 2-layer pocket to hold a pad securely in place; it handles most levels of pads, from light to super absorbent. The layer that goes under the pad is waterproof, so you get 2X the protection. Your pad stays put to give you better coverage, and you get a safety net waterproof layer in case your pad leaks.
Both styles of Zorbies underwear range in size from small to 2XL, and are measured by hip size. The brief-style panties are available in the following packs: 1pk, 4pk, and 10pk. If you're ready to say goodbye to uncomfortable, unsecured, and disappointing menstrual products, add Zorbies period underwear to your life.