We recently tackled another eventful wash day (it's an adventure when you're dealing with a head full of thick hair), but we had the right tools, thanks to Ceremonia. We were lucky to enjoy a few of their hair products and new shades of their best-selling accessories. For those not familiar, Ceremonia is a clean hair care brand rooted in Latin heritage and they recently introduced new shades of their top-selling signature accessories that are essential to liven up your hair routine.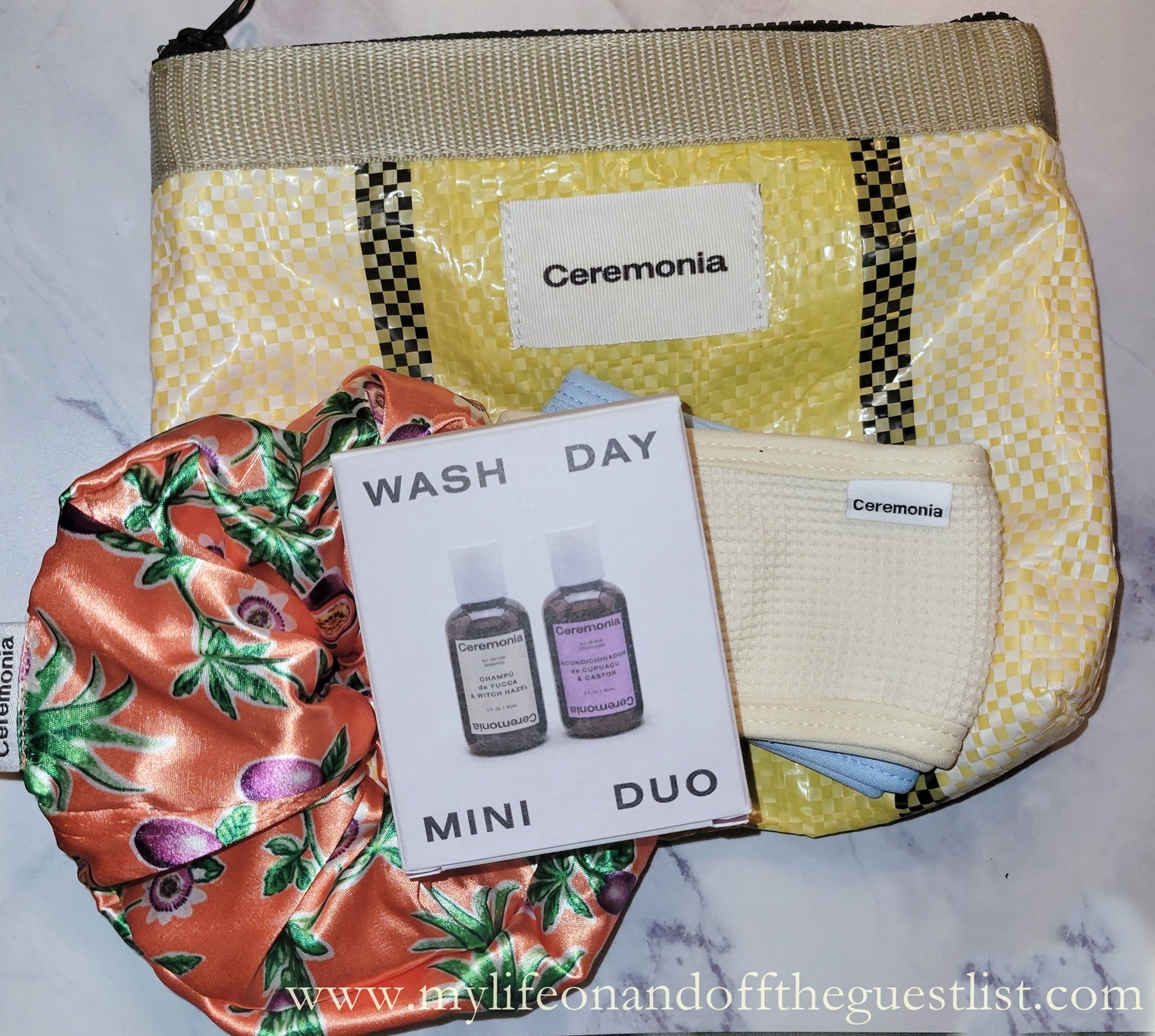 Healthy hair days are the new good hair days and Ceremonia can diagnose your hair needs and recommend the perfect products to start your clean hair journey. The above kit is perfect for travel, whether it be an overnight trip, weekend getaway, or a week or two in paradise.
The Frida Headband in Lilac, $28.00 – Ceremonia's iconic Frida satin braided headband is now available in its new color, Lilac! Ceremonia introduced the Frida Headband back in January of 2021 in the timeless Black. It was met with so much excitement that they released it in limited-edition colors, which sold out quickly! Now in Lilac, this headband is the perfect shade for all your Spring looks. The headband itself is a nod to famed Mexican painter Frida Kahlo's iconic braids featured in her self-portraits.
Pouch de Mercado in Limon, $12.00 – Ceremonia's signature pouch is produced in Bogotá with locally-sourced materials. The material was initially used for transporting goods at the local farmer's market. The bags were collected and repurposed into a new pouch, made partially with woven, repurposed polypropylene.
The Ceremonia Scrunchie in Coral, $14.00 – Your hair's new favorite accessory has arrived. This 100% satin, oversized and fluffy scrunchie reduces hair breakage and minimizes dents in the hair.
The Spa Headband in Cream, $5.00 – A 100% cotton waffle headband perfect for keeping hair swept off your face. It also features Velcro fastening, so you can adjust it to your head and take it on and off easily.
Mini Wash Day Duo, $16.00 – The ultimate shampoo & conditioner duo for thick and textured hair. The Champú de Yucca & Witch Hazel is a sulfate-free shampoo, and yes a clean shampoo that actually lathers. While the Acondicionador de Cupuaçu & Castor is a clean conditioner and silicone-free, leaving hair silky smooth without masking it under plastic.
All of the above hair products and accessories are available NOW on www.ceremonia.com in all new shades.