Getting back into the swing of these has been a stressful undertaking that has affected us in many ways. Naturally, it has affected our minds but mostly our bodies. The stress has thrown off our bodies' alkalinity, metabolism, and cycle, wreaking havoc on our delicate skin and exhausted bodies. We're experiencing more migraines, longer cycles, more exhaustion, and aggressive breakouts. While more self-care and painkillers are taking care of many of these stress-related issues, we turned to nature in the form of Colorado Aromatics, natural, cultivated skincare to combat those aggressive breakouts, with much success.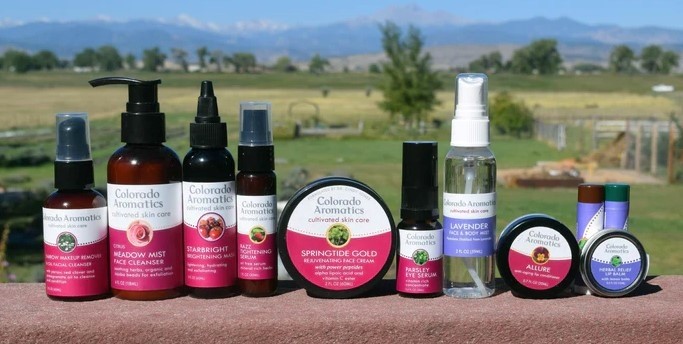 For those, not familiar, the Colorado Aromatics skin care line consists of face care, body care, bath and shower products, and handcrafted soaps. A cultivated skincare range boasting clean, functional skincare – from the Colorado Aromatics farm to your skin. The collection of highly effective sustainable skincare is natural, science-backed, and 100% health-focused. As mentioned above, we've been experiencing aggressive breakouts like never before thanks to stress, overactive hormones, and maskne. After using their Meadow Mist Face Cleanser for three days, our skin's response has been incredible (we tested this for two months). We went from using acne patches and tons of concealer to just our regular makeup. The more we used it, the better our skin. No more hiding because of stress or hormonal breakouts. Let us introduce you to some of Colorado Aromatics' farm-to-skin products.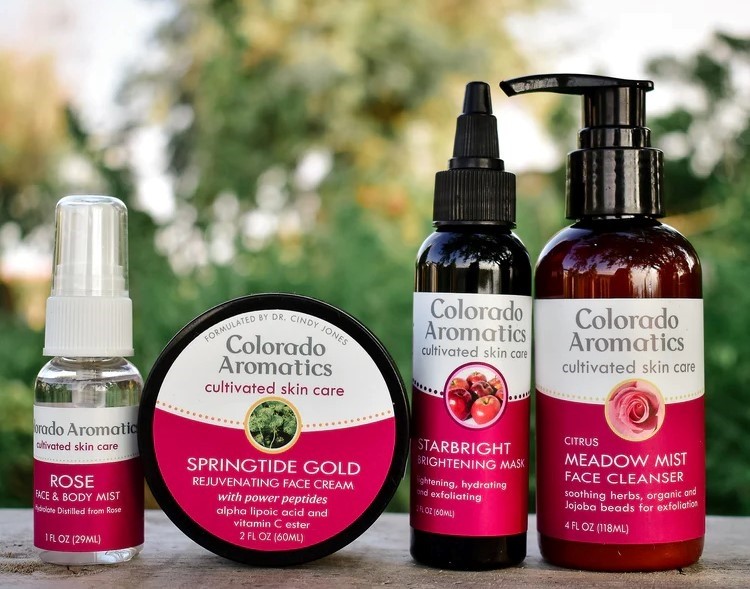 Meadow Mist Facial Cleanser with extracts of rose, mallow, and cucumber from the farm along with biodegradable surfactants and jojoba beads for a mild exfoliation. This milky cleanser will leave your skin clean and moisturized, not tight. With exfoliating beads, this cleanser will buff and cleanse the skin and remove impurities. We use herb extracts of rose, cucumber, and mallow to soothe skin and provide needed antioxidants to the skin to protect its barrier function. You can cleanse and exfoliate without stripping the skin of its natural oils and moisturizers. Oat powder cleanses and soothes the skin while jojoba beads provide mild exfoliation to remove dirt and to help keep the skin looking vibrant.
The Facial Hydrating Mists are distilled directly from herbs grown on the farm. These lightly aromatic waters, called hydrosols, will tone, hydrate, and refresh the skin. Distilled from herbs grown on their farm, these mists are naturally pH balanced to help restore your skin's natural pH. You'll love how these feel on your face.
Springtide Anti-aging Face Moisturizer is a skin's dream with calendula, fennel as well as alpha lipoic acid, green tea extract, and vitamin C ester. This creamy lotion feels great and is vegan. It boasts antioxidants and anti-inflammatories that help repair damage and support collagen production. This rich anti-aging face cream will moisturize, tone, brighten and protect your skin while minimizing fine lines and wrinkles even in harsh climates. This moisturizer has two versions;  Springtide (regular) and Springtide Gold face cream with added peptides to promote collagen production. Both are good anti-aging creams but the Gold has an extra boost due to the peptides.
Razz Tightening Serum is an oil-free hyaluronic acid serum with extracts of cucumber, raspberry leaf, and other mineral-rich herbs to feed the skin while tightening and toning. It's also great to decrease puffiness around the eyes. Plump and tighten your skin with this superb hyaluronic acid serum. A vegan serum that contains mineral-rich herb extracts to rebuild the skin.
Knuckle Balm is a soothing herbal balm to use for dry, cracked working hands. We use hard-working herbs for your hard-working hands. A perfect multi-purpose, first aid balm. Great for gardeners, farmers, mechanics, hikers, rock climbers, and others who use their hands a lot.
Colorado Aromatics Cultivated Skin Care celebrates its leadership in the farm-to-skin movement, with years of growing skin-friendly herbs on its Longmont, Colorado farm. Colorado Aromatics products are formulated for the extreme Colorado Climate. If it works there, it will work anywhere, which makes it ideal for our harsh East coast weather.