Did you know that AccuWeather has a migraine forecast because some weather patterns can increase the severity and frequency of migraines? While all migraine sufferers have unique triggers, ours are dehydration, stress, and excessive heat, weather can also play a part in triggering one. Like many, once a migraine hits, we must lay down on a solid, flat surface in the dark with a cold compress on our heads. This solution is not always available because migraines can hit at any time of the day. While we can't always lay down on a flat surface, the ability to be in the dark with a cold compress is achievable with the TheraICE Rx Headache & Migraine Relief Cap.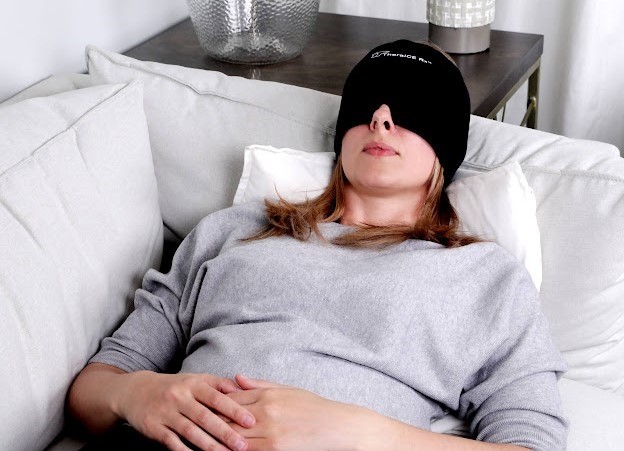 Say hello to relief and goodbye to headache and migraine pain with the TheraICE Rx Headache & Migraine Relief Cap. Thanks to its dual therapy technique, it works for all types of headaches, including common tension, sinus, cluster, and migraines. The TheraICE Rx Headache & Migraine Relief Cap is made from a pillowy, cloud-like fabric that gently cushions pressure points. There's no need for messy ice packs, uncomfortable hard inserts, scratchy velcro, or awkward straps. This comfortable, stretchable, and form-fitting cap provides complete 360° coverage, plus one size fits all heads! As frequent migraine sufferers, we utilize several methods to get migraine relief and we're very happy to add this cap to our regimen.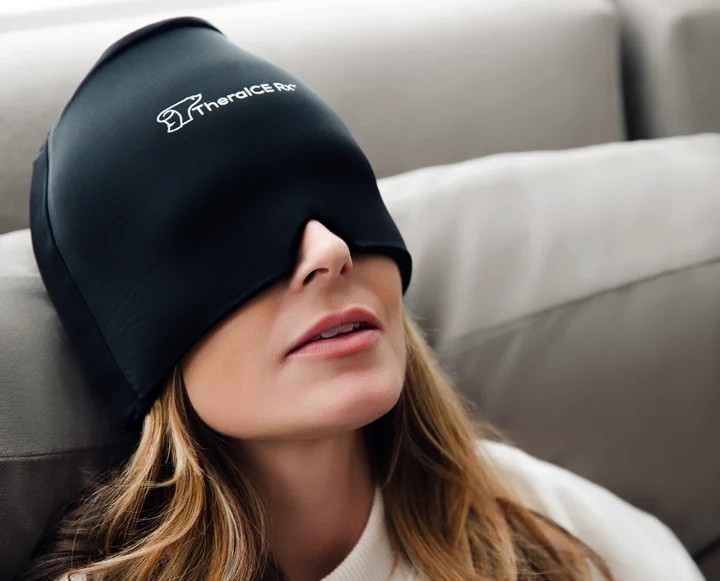 It can be worn over the eyes to block out 100% of the harshness of light to help with light sensitivity, or above the eyes to ease regular headache pain. Enjoy natural relief via hot or cold therapy as needed. We love the clean, convenient, and travel-friendly TheraICE Rx Headache & Migraine Relief Cap for migraine relief anytime we need it. We also love the options in cold settings. For mild headaches and migraines, we keep our TheraICE RX in the fridge and for those brutal, vertigo-inducing migraines, we keep it in the freezer.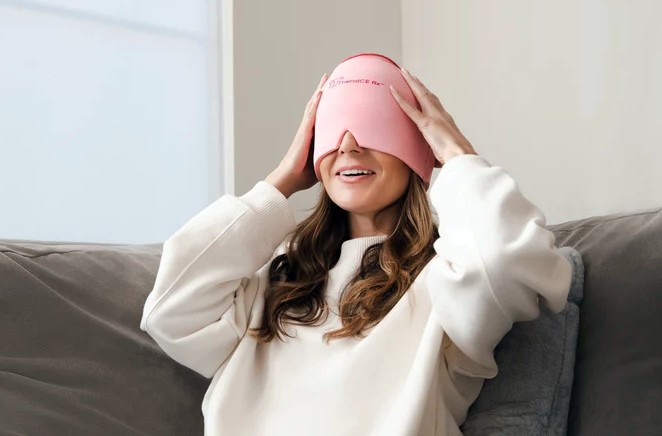 We also greatly appreciate TheraICE Rx for their support of Susan G. Komen. From 2021 to 2023, they will donate $35,000 to the Breast Cancer organization, regardless of sales. You can't help but love a brand that not only makes your life better but helps to make others' lives better through altruistic acts.
Every TheraICE Rx Headache & Migraine Relief Cap comes with a 30-day money-back guarantee and a 1-year warranty so you can try it for yourself 100% risk-free! Are you ready to say goodbye to migraines and hello to pain relief?