Today's haute couture designer highlight has to be the most exquisite collection we've seen during Paris Haute Couture Fashion Week. If you're a fan of our site, then you know we've gushed over quite a few but the Gaurav Gupta SS23 Collection has surpassed all others. Upon viewing the collection, we imagined if the city of Atlantis was present in our day and age, this collection is exactly what the women would be wearing as they glided towards you through the waters of the ocean. We imagined them covered in kelp or seaweed, adorned with pieces of coral, with fabric swaying in the water giving the look of angel fish.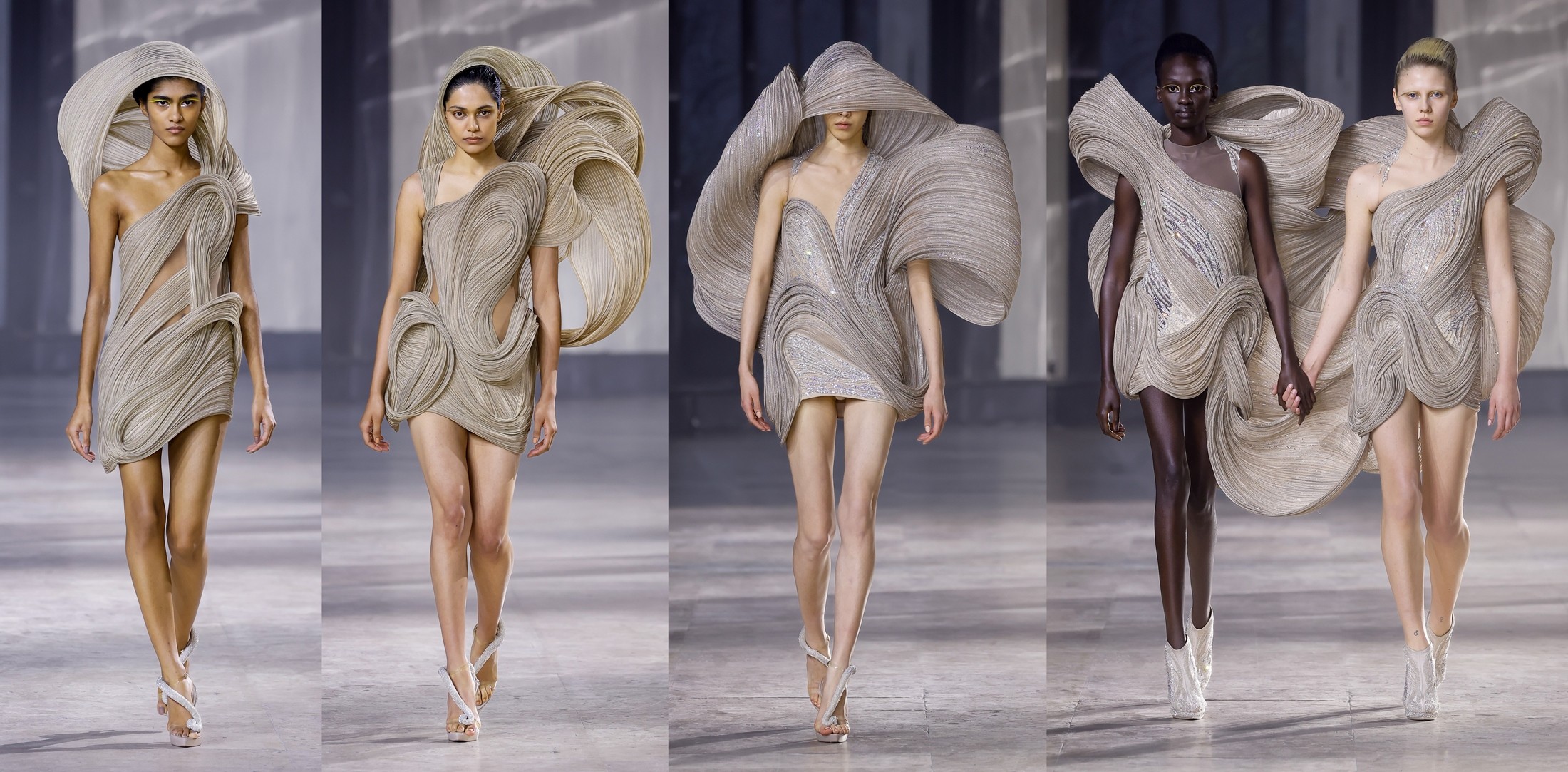 For those not familiar, Gaurav Gupta is an Indian couturier and artist known to explore the themes surrounding surrealism and fanaticism from the inception of the brand in 2004 after graduating from Central Saint Martins. In over 18 years, the designer has carved a world that is Indian at its core and boundless in its form merging indigenous construction and embellishing techniques with his idea of the future.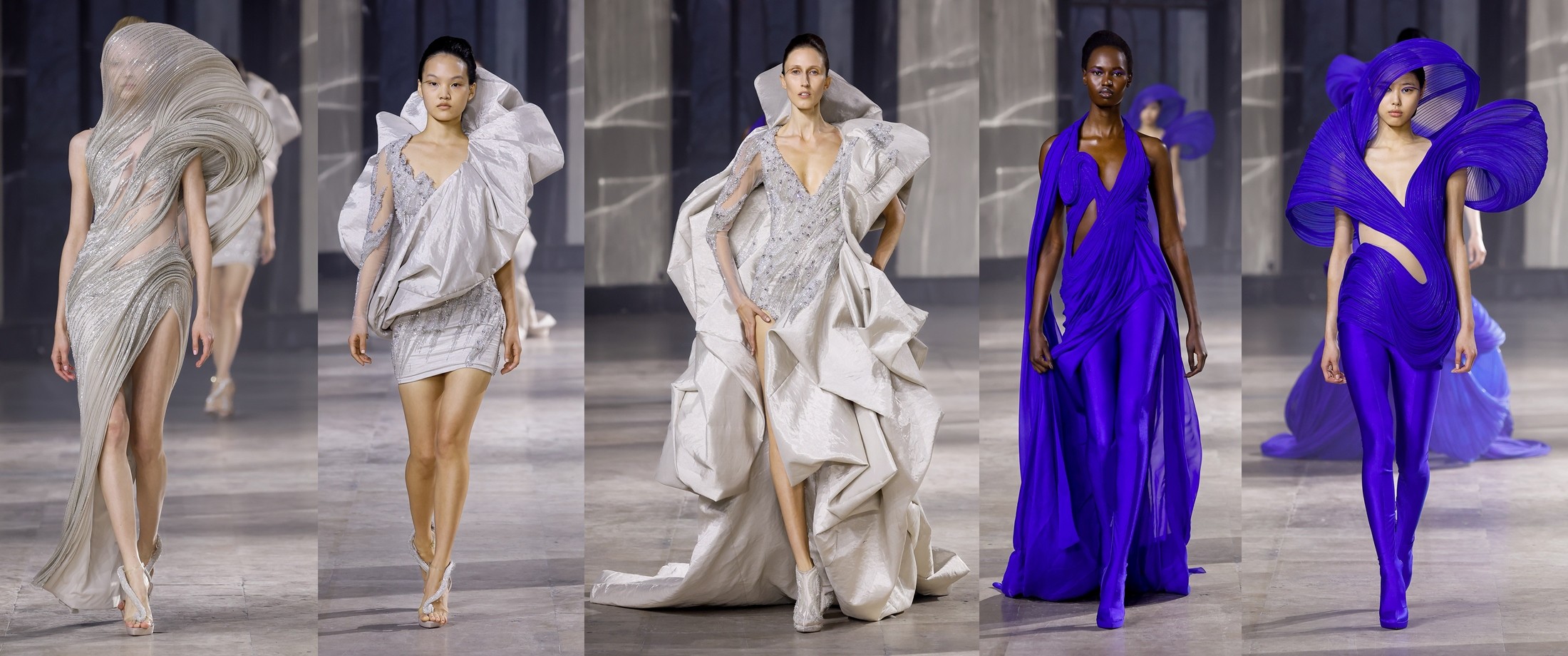 The Gaurav Gupta SS23 Collection is titled Shunya, named for a Sanskrit word that translates as zero. Zero was discovered in India many centuries ago. The stillness of zero and infinity expanded possibilities in studies of space and time. For his first showcase at Paris Haute Couture Week, the designer wanted to delve deeper into the mindscape to come up with a concept that is subliminal in thought and original in form. He explores the movement possibilities between zero and infinity with tangents of mythology, fantasy, and surrealism.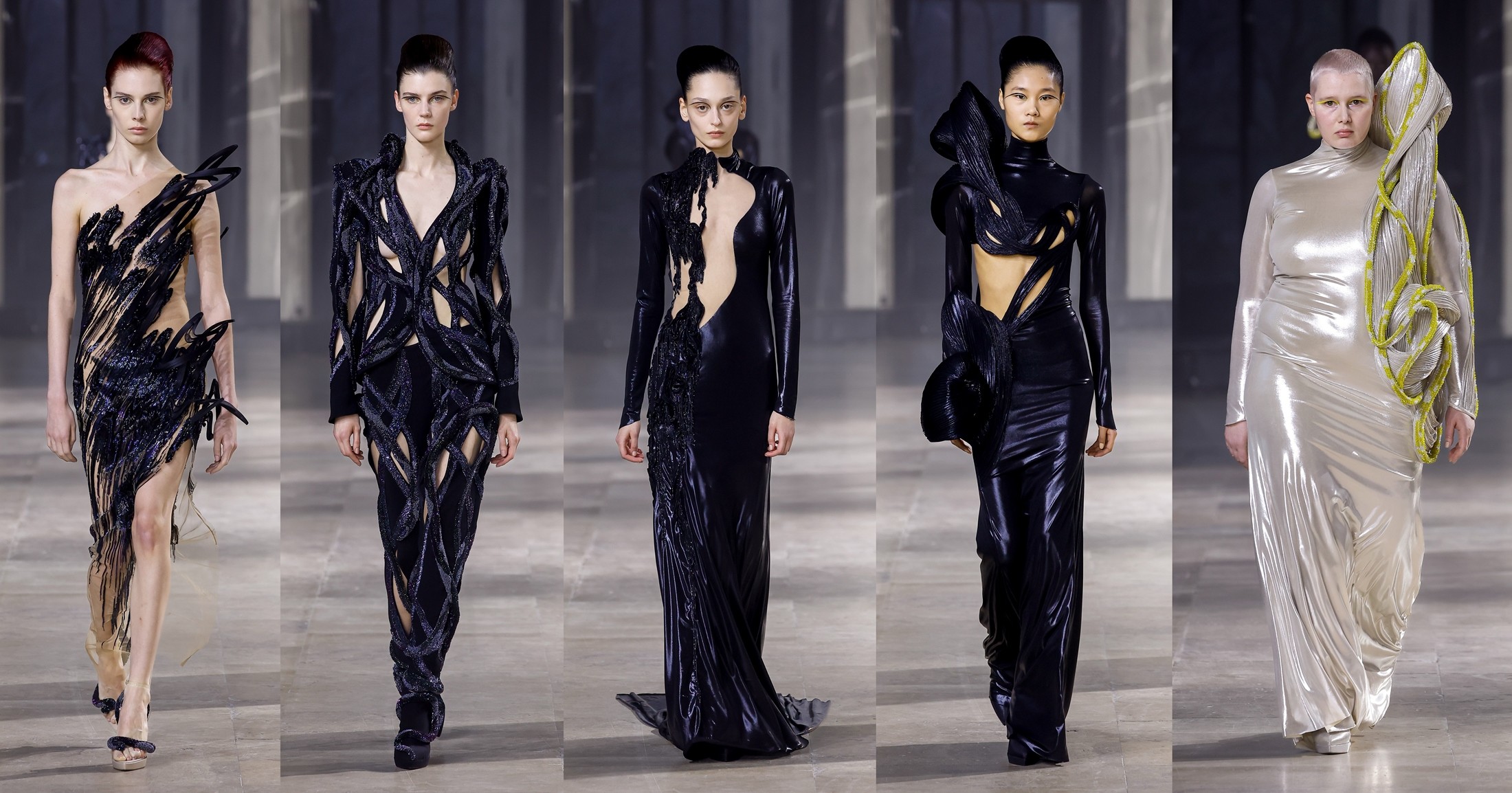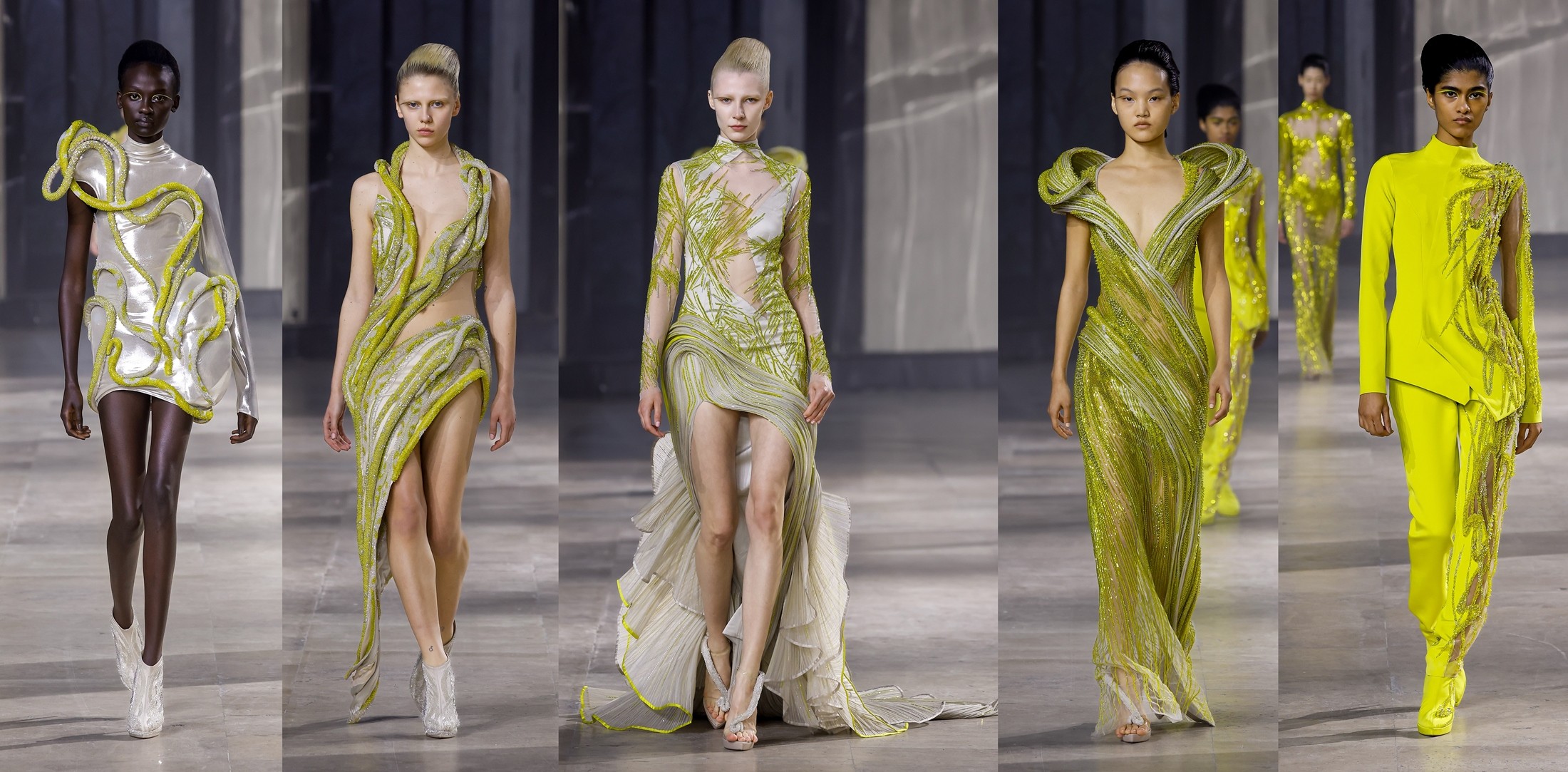 The collection boasted frozen strokes of dancing wind in infinite forms sculpted in gold and silver handwoven tissue. A set of twin dresses in silver are an embodiment of this. The Gaurav Gupta SS23 Collection explores sculptural draping forms in indigo electric blue in satins, chiffons, and organza, representing a sense of futurism.
This beguiling collection also featured elemental dresses in black and nude strategically revealing the form in its pristine state. Meteoric light embroideries emulate melting lava or deep waves of a very dark ocean. Gaurav Gupta also makes a statement on the environmental state of our planet with a garbage-like dress with abstract entangled wires as embroideries.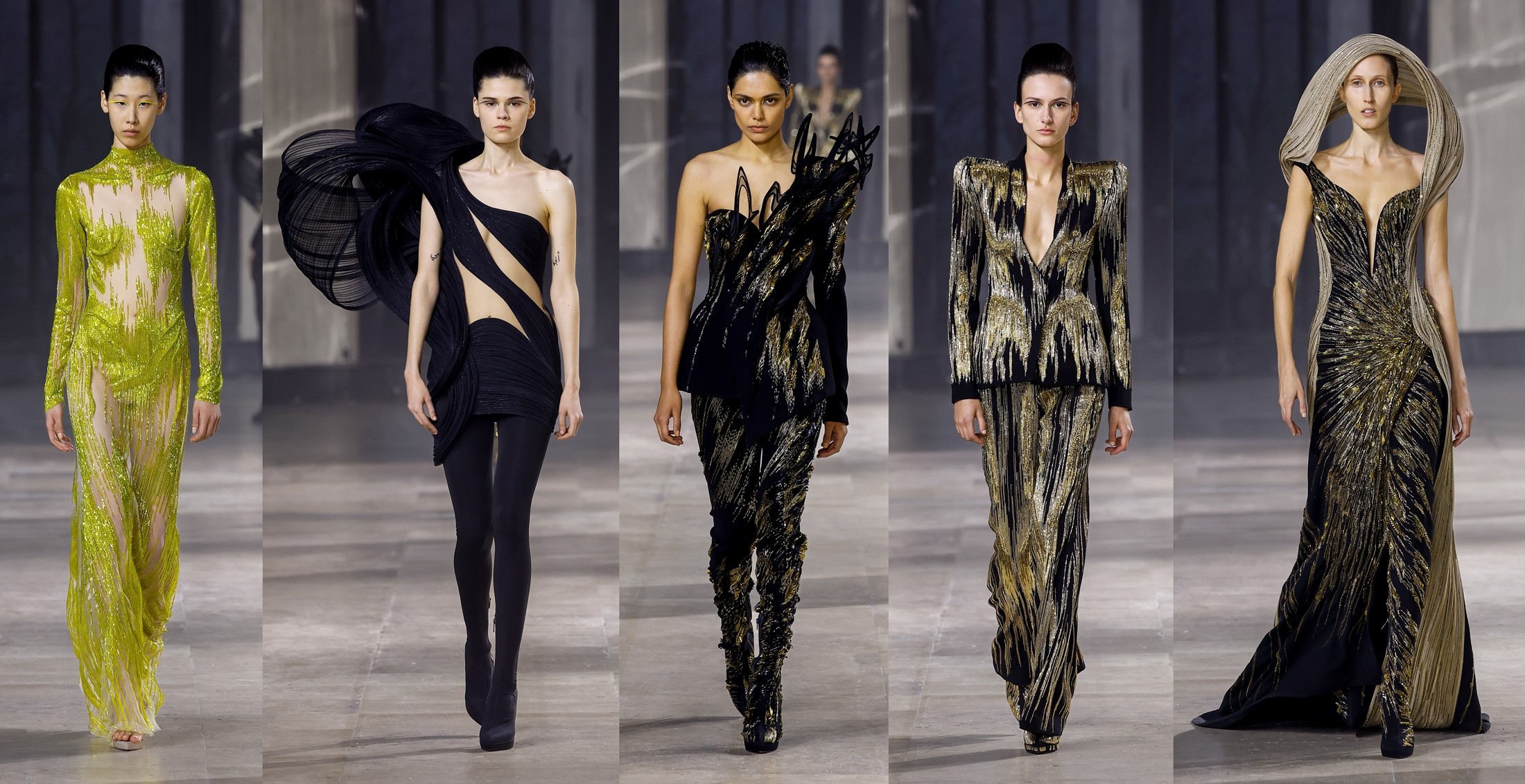 The future and planet are not the only themes present in the collection. There is a snake-inspired dress that seems to slither and intertwine all through the body. The snakes, inspired by the kundalini, softly meander on the body in hand-embroidered waves. Their form is made luminous with black and purple rainbow and blue iridescent glass beads. There are goth dresses in black leather-like jerseys and an acid trip neon yellow. There is also a silver and yellow kundalini snake dress.

The last segment of the Gaurav Gupta SS23 Collection is in stark gold and black. He reveals his constant fascination with ancient Egyptian civilizations, explorations of time, and metaphysics inspired these last looks. Closer inspection will find pyramid nails sewn into detailed directional embroideries. A handwoven, handcrafted story of form to infinity.
We are completely enamored with the Gaurav Gupta SS23 Collection and very much looking forward to what comes next for the couturier.
PHOTOS BY GRÉGOIRE AVENEL