If you live or hang out in the East Village, then you're already familiar with Dan Warren's Common Ground, a Gastropub Hot Spot, then you will love West 3rd Common Gastropub.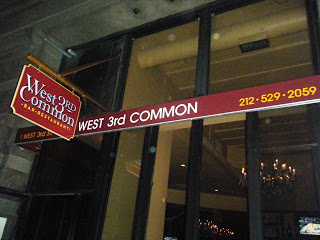 West 3rd Common, located at 1 West 3rd Street (between Broadway & Mercer), is an upscale take on traditional bar food delivered by a chef with southern roots, including one of the best (steamed!) burgers, create-your-own grilled cheese sandwiches, and all-you-can-drink brunch on the weekends including unlimited mimosas, screwdrivers & Bloody Mary's for $20 including your entree. With a loungey environment, this space brings the fun with its on-demand jukebox, a wall full of board games you can bring to your table, and several flat screens.
I experienced a fantastic and very satisfying dinner (I practically had to be rolled out) thanks to Chef David Scott Walker. I got the chance to sample several delicious items from the menu: Spicy Fried Chicken, Beef and Smoked Cheddar Slider, Pulled BBQ Pork Sandwich, Sweet Chili Glaze Wings, Pan Seared Sea Scallops (with orange pepper coulis and arugula citrus salad), Chipotle Buffalo Wings, Duck Sliders (with kimchi and sweet hoisin), and an amazing thing called a Scotch Egg (a sausage-wrapped hard-boiled egg that is then deep-fried).
I would be more beyond happy if I could have the Sweet Chili Glazed Wings, Duck Sliders, the totally amazing Garlic French Fries, and the Scotch Egg at least twice a week – so delicious. Another great aspect about West 3rd Common is the fact that you can build your own Grilled Cheese Sandwich, you can add anything from Smoked Gouda or Pepperjack Cheese to Pancetta, Prosciutto or Chorizo – Ok, I'm making myself hungry
I also got a chance to speak with Dan Warren, owner of West 3rd Common and Common Ground. A very cool, down to Earth and funny guy who informed me about what is probably the best thing ever – Happy Hour every day!
Hours: Mon-Wed, 12 pm – 2 am; Thursday – Sunday, 12 pm – 4 am
Happy Hour: Every day from 4 pm – 8 pm ($3 Draft Beers, $4 well drinks & wine, $5 Cosmos & Appletinis)
Brunch: $20 includes Entrée + all-you-can-drink Mimosas, Screwdrivers & Bloody Mary's.
Phone #: 212-529-2059