Our latest restaurant review took us to Harlem, not the usual neighborhood for great Italian food, but after our wonderful dining experience at Babbalucci Italian Kitchen & Wood Burning Oven, we recommend hopping the train uptown for some mouthwatering Italian cuisine on Harlem's Restaurant Row. Babbalucci, which translates to "snails" in Sicilian, offers a delicious and varied menu with the essence of slow food, with bread and pizza dough baked in-house.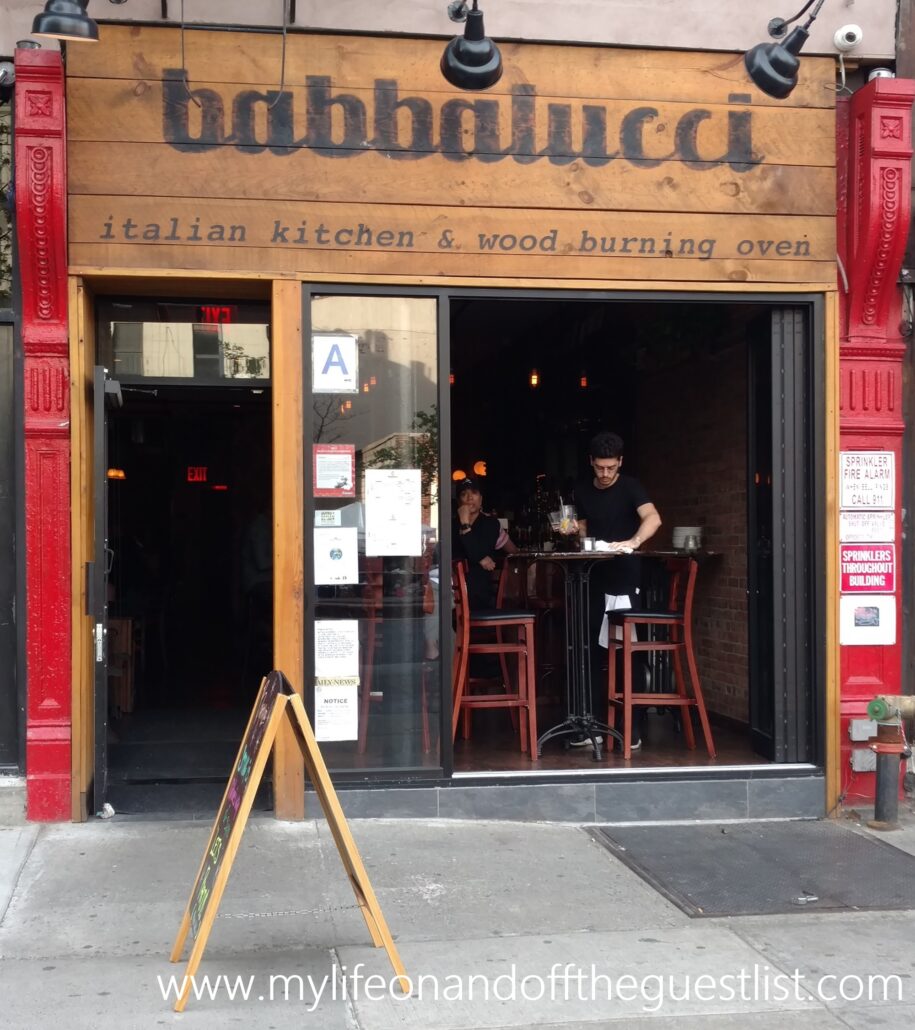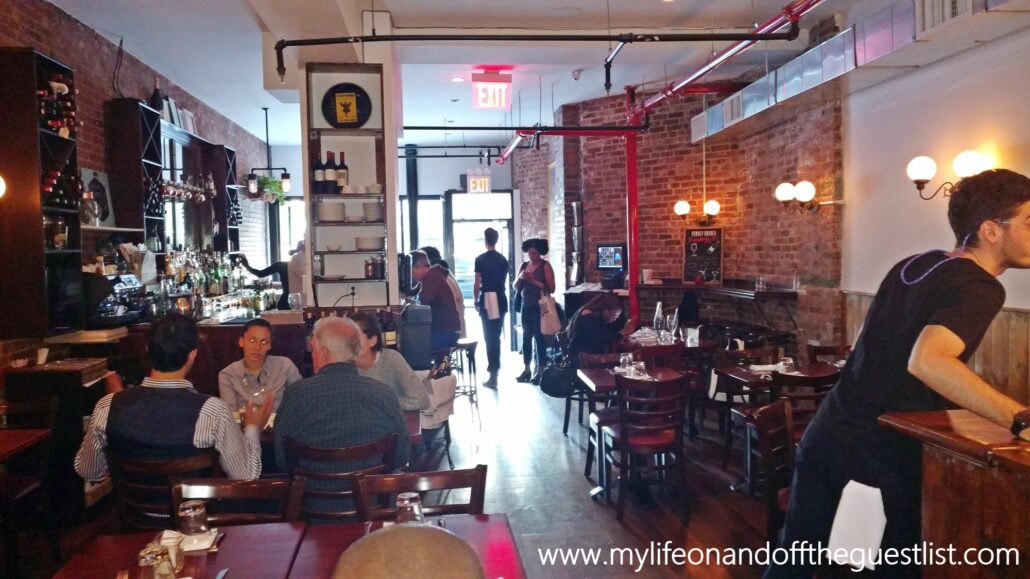 Babbalucci Italian Kitchen & Wood Burning Oven is headed up by Chef/Owner Andrew LoPresto, his wife, and Managing Partner Christy Phansond, and childhood friend/Co-Owner Bobby Freid. Dinner signatures include Antipasti, Primi, Wood-Oven Pizzas, and Specialty Pizzas. Curated cocktails are developed by award-winning Italian mixologist, and Campari Brand Ambassador, Enzo Cangemi. Little did we know we were headed for a night of full-bodied flavors without the heavy feeling.
1ST COCKTAILS
EL VIEJITO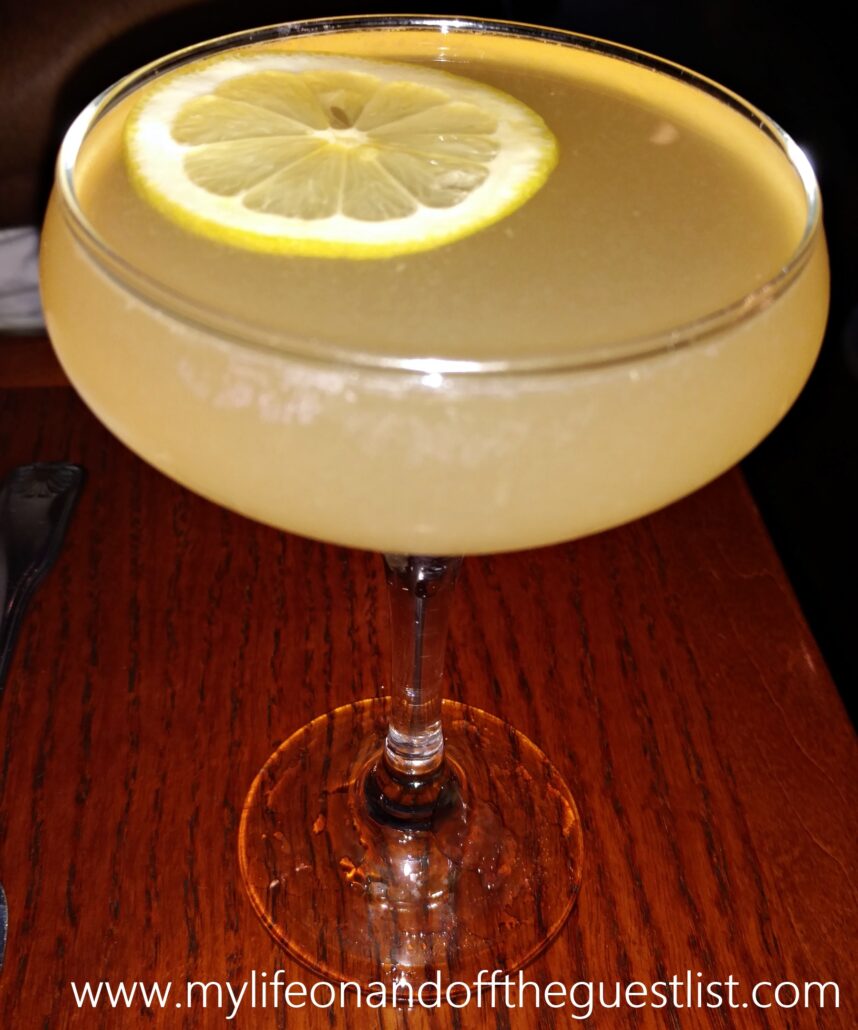 David: Enzo Cangemi, the award-winning mixologist, created the entire drink menu for the Harlem eatery. My drink was a testament to his accolades. It was a sweet and smoky tequila-based drink that was nicely layered first with a nice equilibrium of sweet and heat, then a dry tartness from the grapefruit.
ULTIMATE FRIAR MULE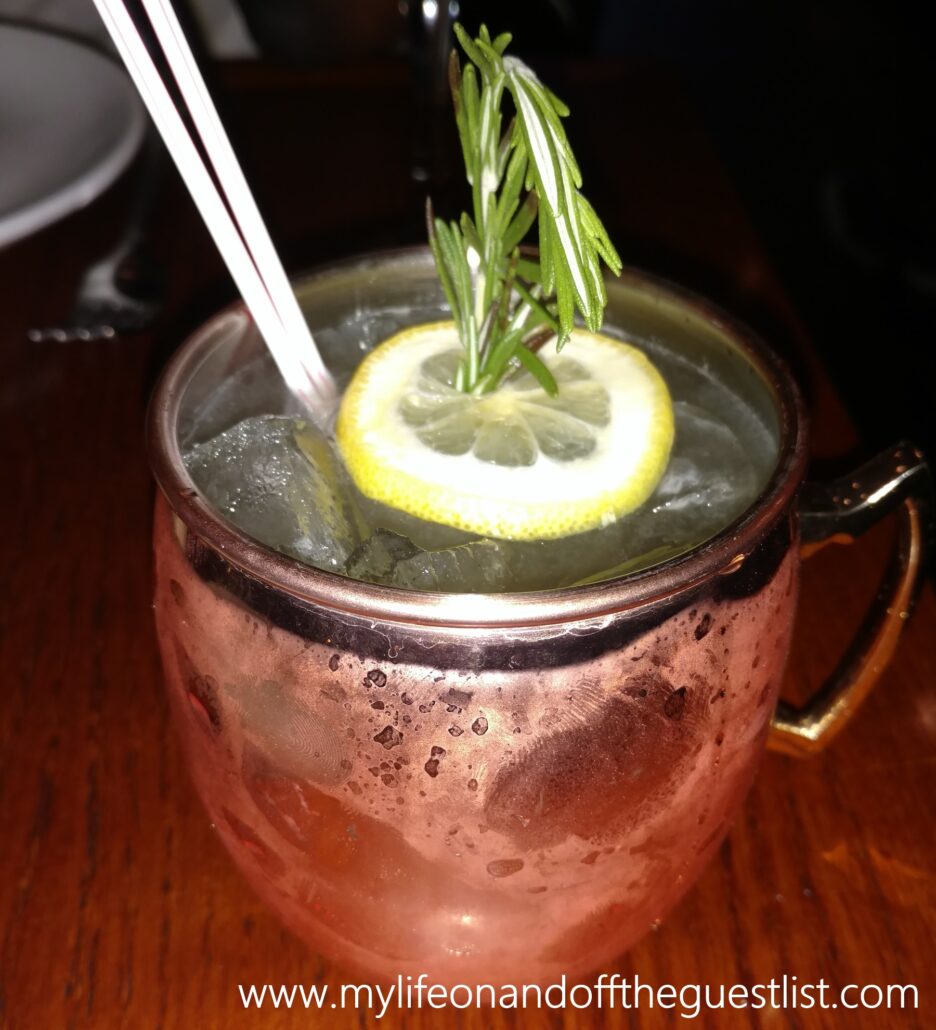 Glasgow: I don't usually like licorice but the addition of the spicy-sweet ginger marmalade and rum smoothed out the Frangelico so exquisitely that I had to restrain myself from finishing off this cocktail in three sips. One sip and you'll know why Enzo Cangemi is an award-winning mixologist, the man knows how to flawlessly construct a cocktail.
CROSTONI – ANTIPASTI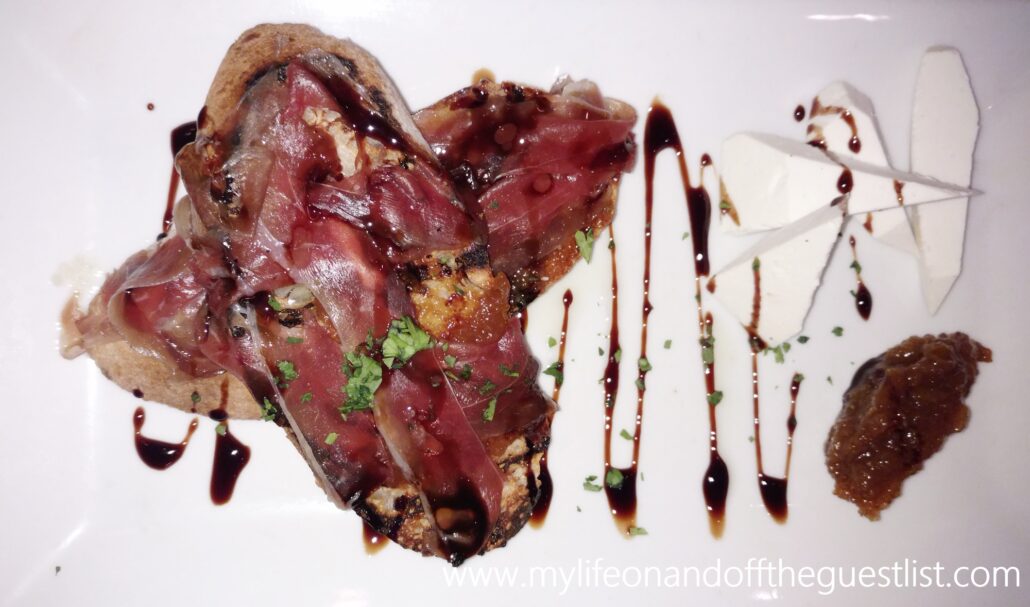 David: The house made duck prosciutto was firmer than its pig counterpart but just as flavorful as duck is a slightly more rich fowl. The cured prosciutto with the sweet fig and the tart balsamic reduction created a nice flavor profile layering salty, sweet and a tad of tartness all anchored by the hearty earthy crostini.
Glasgow: If you're a fan of the combination of sweet and salty flavors in a savory dish, make sure to add the Crostoni to your dining experience. You'll love the heartiness of the cured duck prosciutto, especially when topped with the sweet fig and sharpness of the balsamic reduction.
CARCIOFI – ANTIPASTI 2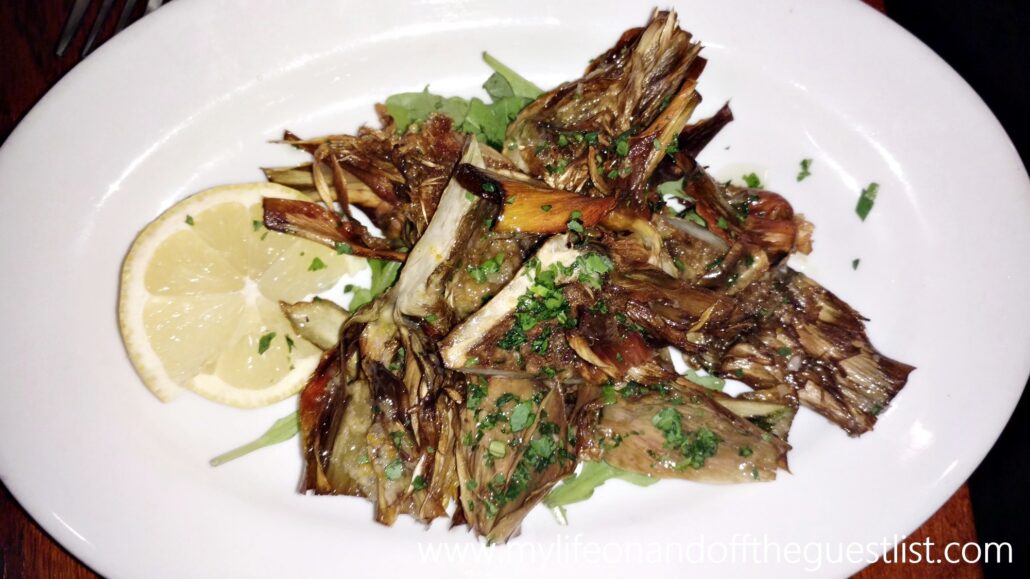 David: This was charred loveliness with a semi-sweet smoky crunch. The simplicity of this dish let the artichoke shine with just the fresh lemon and accompanying not overpowering herbs. This is a must order for the Spring Summer season.
Glasgow: I remember flavor, lots of delicious flavors, and this is coming from someone who would give you the evil eye if you put artichokes anywhere near her plate. I loved the varying textures and sweetness of the fried artichokes. This dish had me re-thinking my aversion to artichokes.
FRITTURA  – ANTIPASTI 3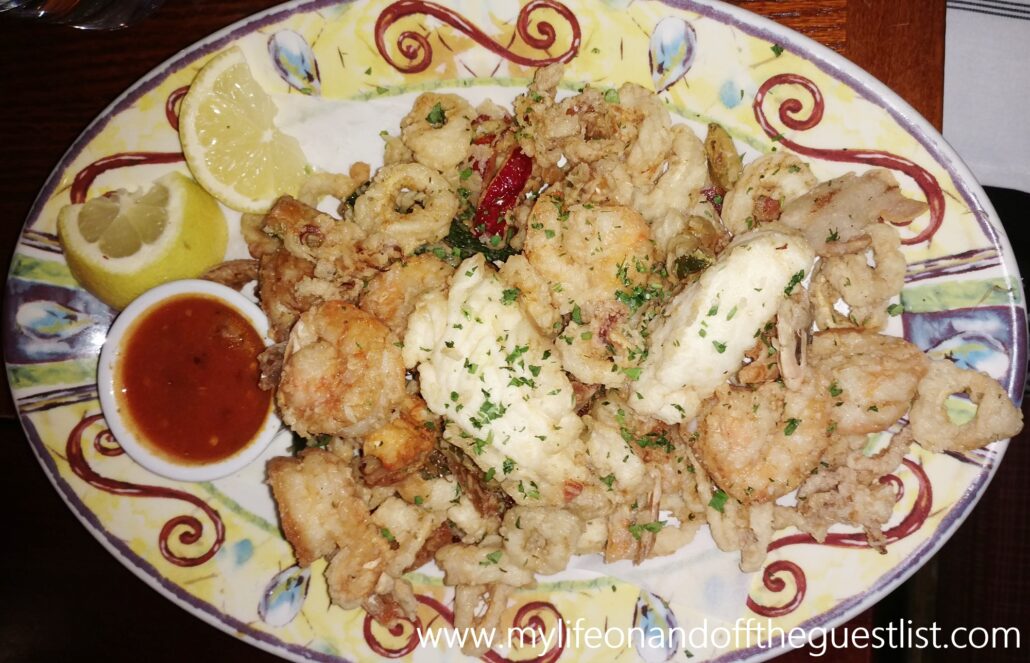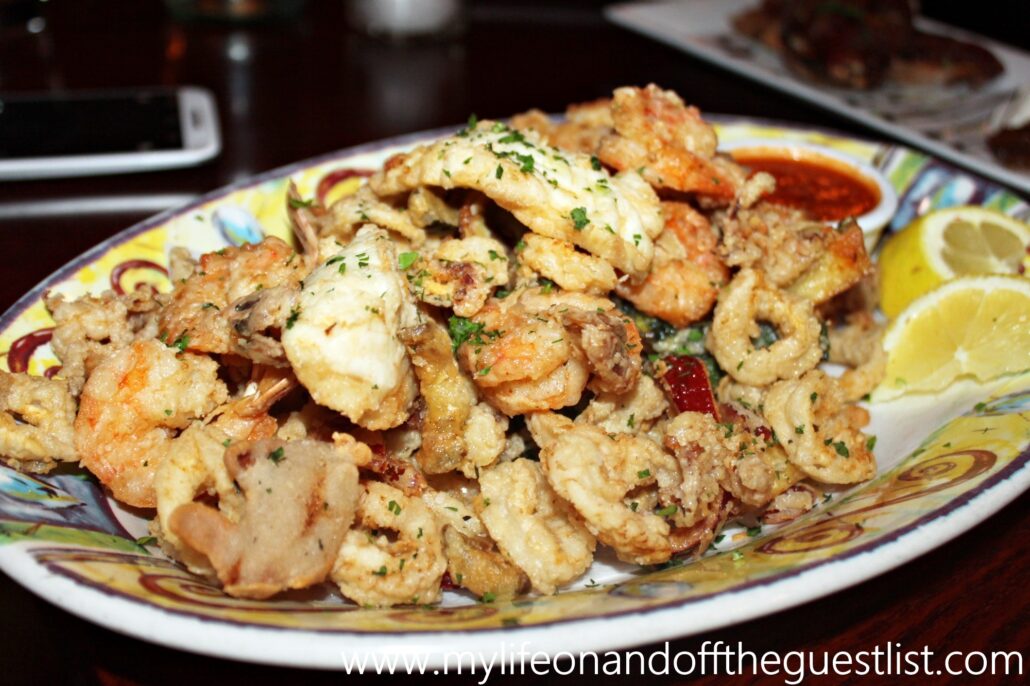 David: A simple dish allows you to taste what make its simplicity work. So with this dish, the breading was perfectly light and seasoned but not too much so that it overpowered the seafood but just enough so that it acted like a nice salting should where it just enhances the dish's briny flavor and herbal freshness.
Glasgow: I love seafood but usually stay away from the fried calamari dish at Italian restaurants because they're always oily, but you won't have that issue at Babbalucci Italian Kitchen & Wood Burning Oven. Not only do you get a mixture of fresh seafood (squid, shrimp, and white fish), everything (including the vegetables) was light, fresh, wonderfully delicious, and perfectly crisp….not a greasy hand was in sight. Adding to the dish's perfection was the spicy marinara sauce. The red pepper flakes in the sauce provided a superb flavor kick that accented the freshness of the Frittura.
2ND COCKTAIL
HENNY DEAR FRIEND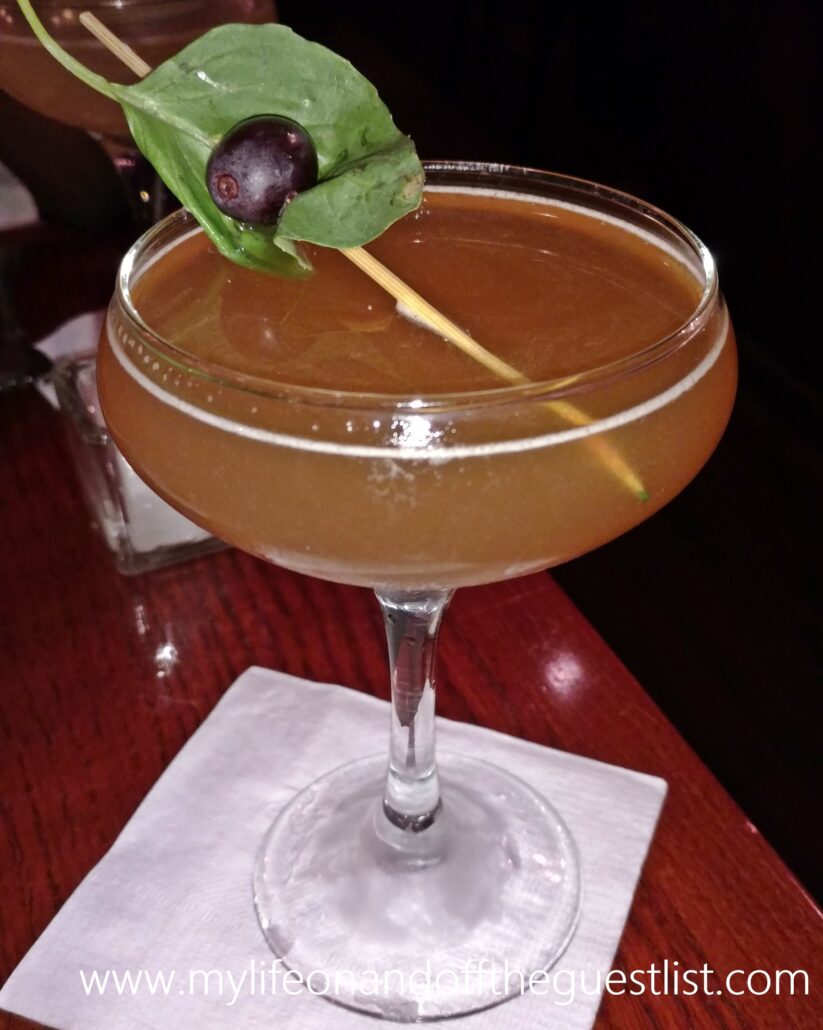 Glasgow: While David ordered another El Viejito, the Saint Germain lover in me wanted to try the above Henny Dear Friend just because I love anything and everything with elderflower. I'm not big on Hennessey but my goodness, Enzo Cangemi won me over with this cocktail. I loved it's smooth, slightly sweet taste. I'm finding that Babbalucci Italian Kitchen & Wood Burning Oven is an expert on making me love things I normally stay away from. **At this time I raise a glass to Robert J. Cooper, founder of St-Germain liqueur, who I sadly learned has just passed away. We thank you for your creation.**
MAIN COURSES
BABBALUCCI PIZZA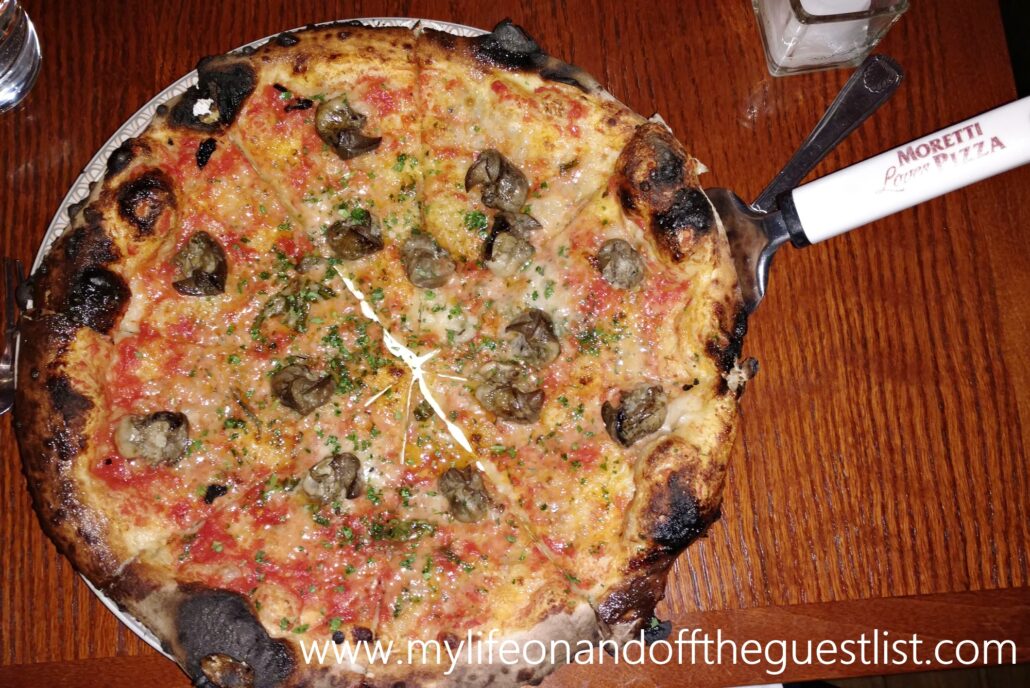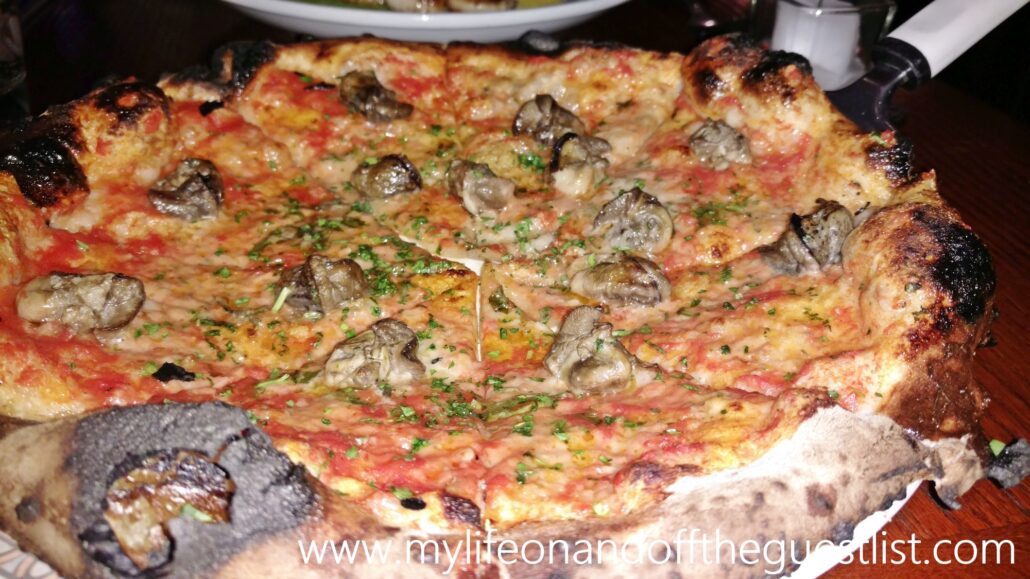 David: Named after the restaurant, and I can see why. It's clearly a star to me as it involves snails, which you don't find on too many menus at all. I adore snails so this was pizza nirvana for me. The earthiness of the full-bodied snails was perfect with the flavorful salty gorgonzola, verdant semi-sweet tomato sauce and the simple fresh garlic and parsley. The pizza crust, made by the chef on site daily, was the right thinness but kept the right body to hold the toppings and to withstand the wood-burning oven's heat. So you got the right amount of charring and softness to the crust.
Glasgow: My fear of not having room for dessert only allowed me one slice but that one was heaven (note to self: must return to fully indulge). The saltiness and earthy flavor of the snails were a great contrast to the slight sweetness of the tomato sauce.
RISOTTO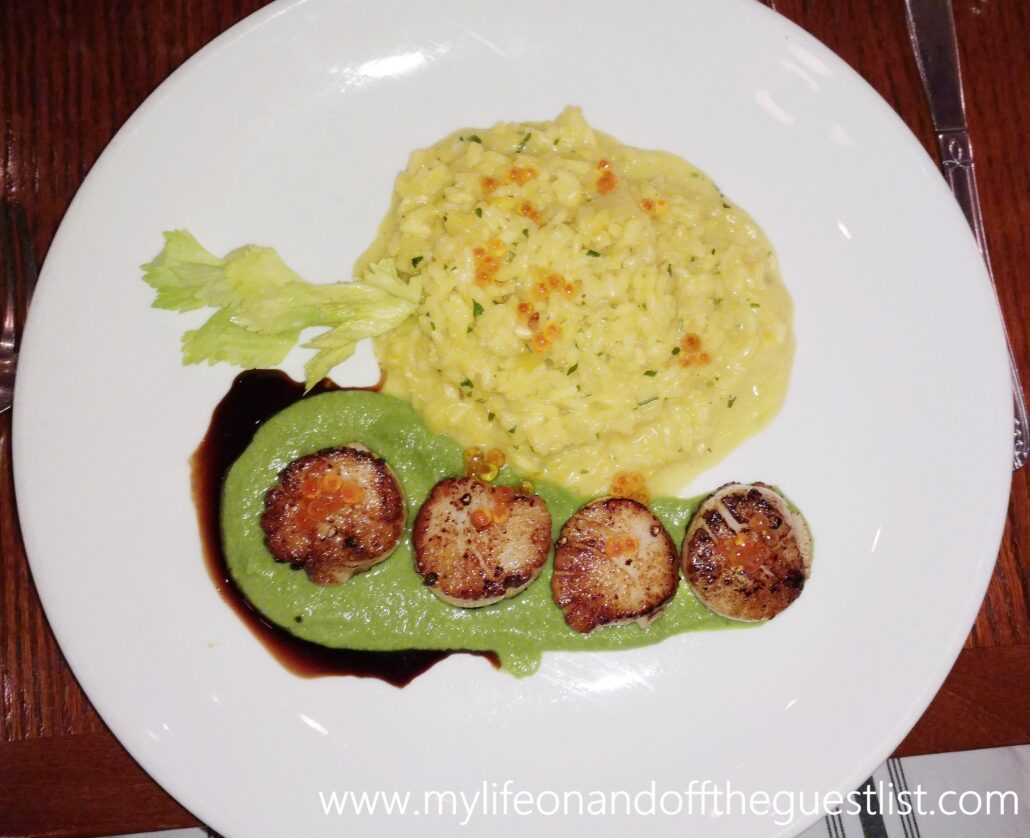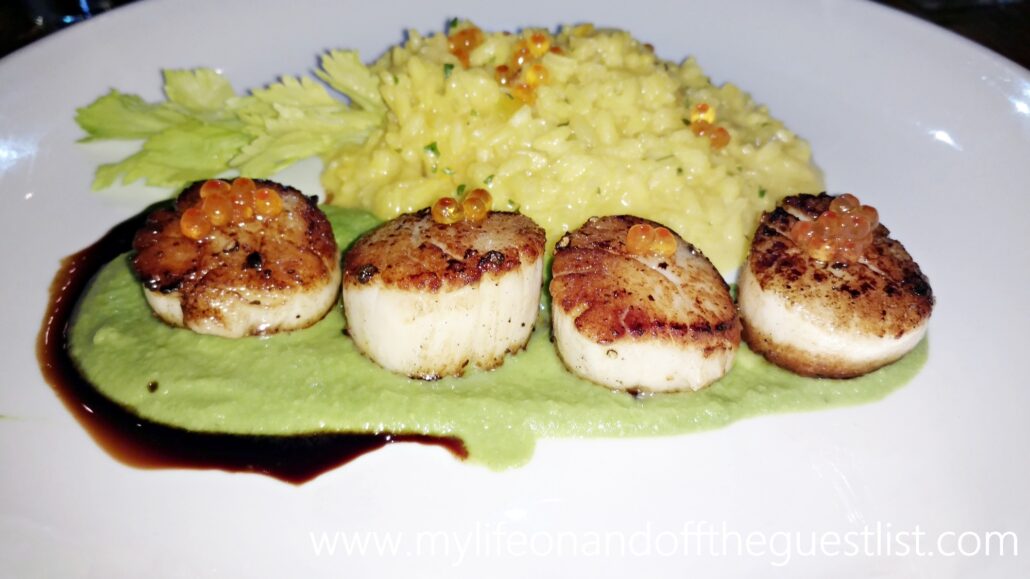 Glasgow: Have you ever eaten a meal that just has you humming and doing a little happy dance? This diving Risotto was mine. It always seems that restaurants love to primarily offer mushroom risotto which I cannot eat, so when I saw this saffron beauty on the menu, I was elated. First, I love cooking with this flavorful spice and diving into this creamy goodness paired with a wonderful pea puree, and sweet and light char flavor of grilled scallops. Topped with a bit of trout roe, which added a touch of saltiness to each bite and you are in risotto heaven.
DESSERTS
HOMEMADE NUTELLA CHEESECAKE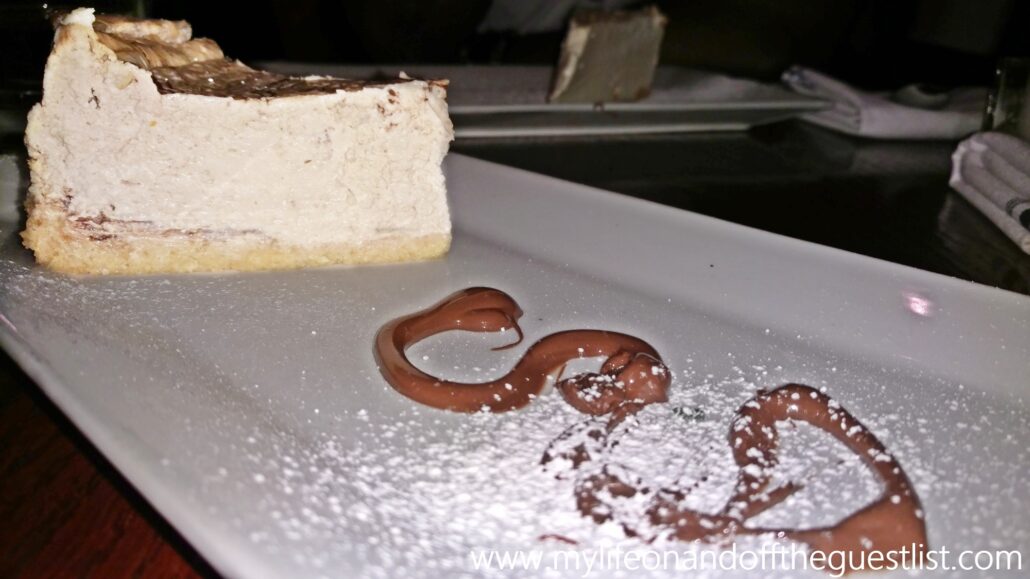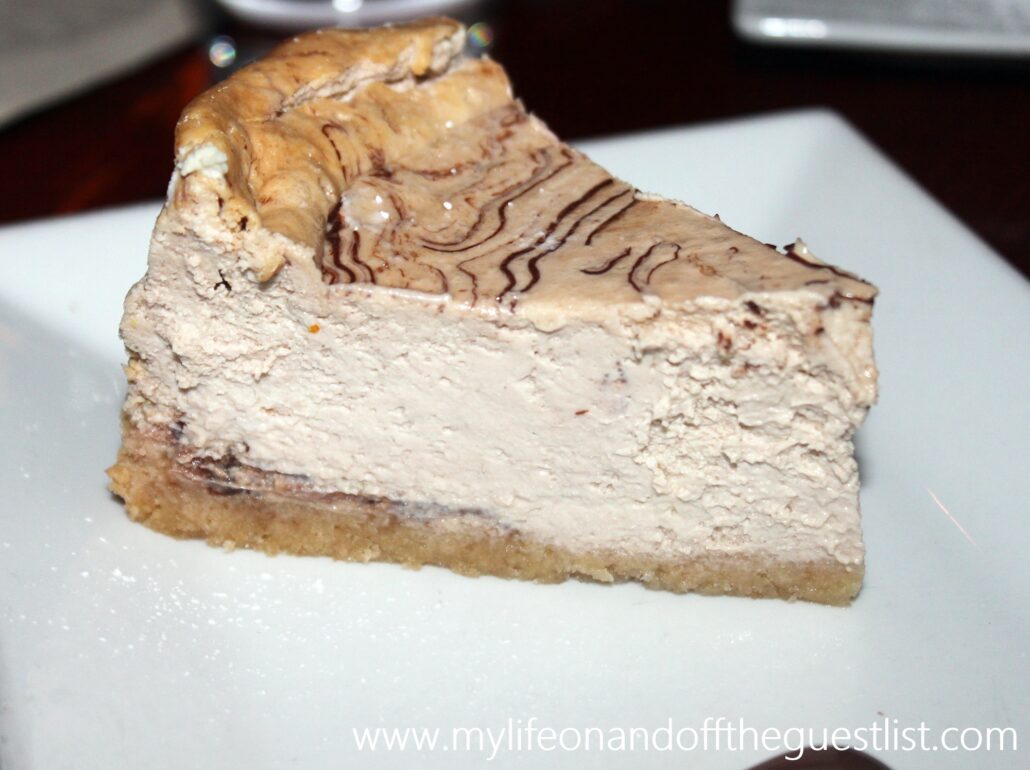 David: This is a perfect dish for a light but solid dessert. The cake itself was firm but melted so lovingly in your mouth with a good solid creaminess that together with the natural smoky, almost coffee-like bite of the hazelnut Nutella spread, created a rich satisfying finish.
HOMEMADE LEMON RICOTTA CHEESECAKE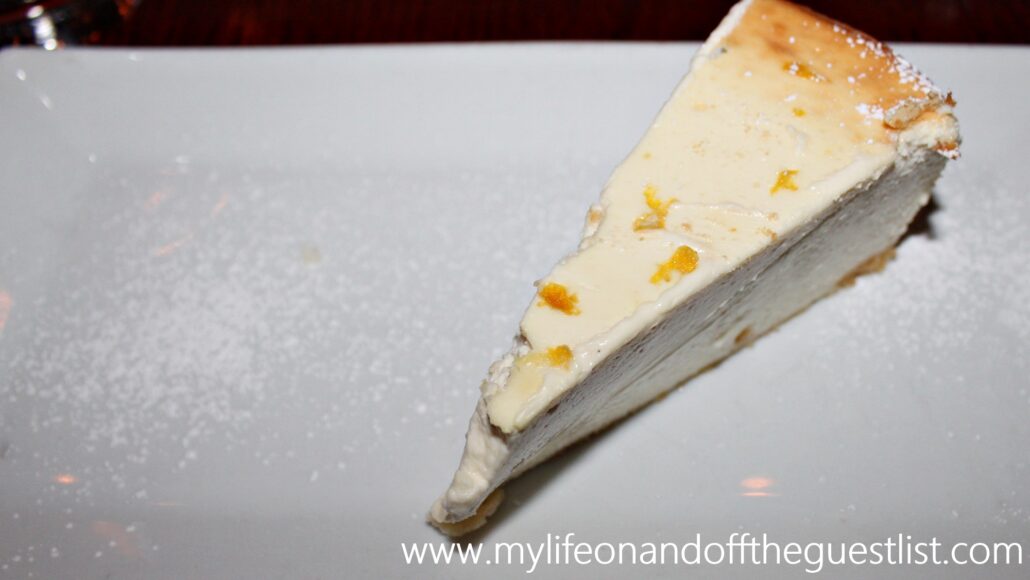 Glasgow: I usually can never eat cheesecake after a multi-course meal because I find it's such a heavy dessert but this slice of heaven was so incredibly light, it tasted like it as whipped until it was as airy as the clouds. A perfectly rich dessert without it being overly sweet or heavy.
ATMOSPHERE/SETTING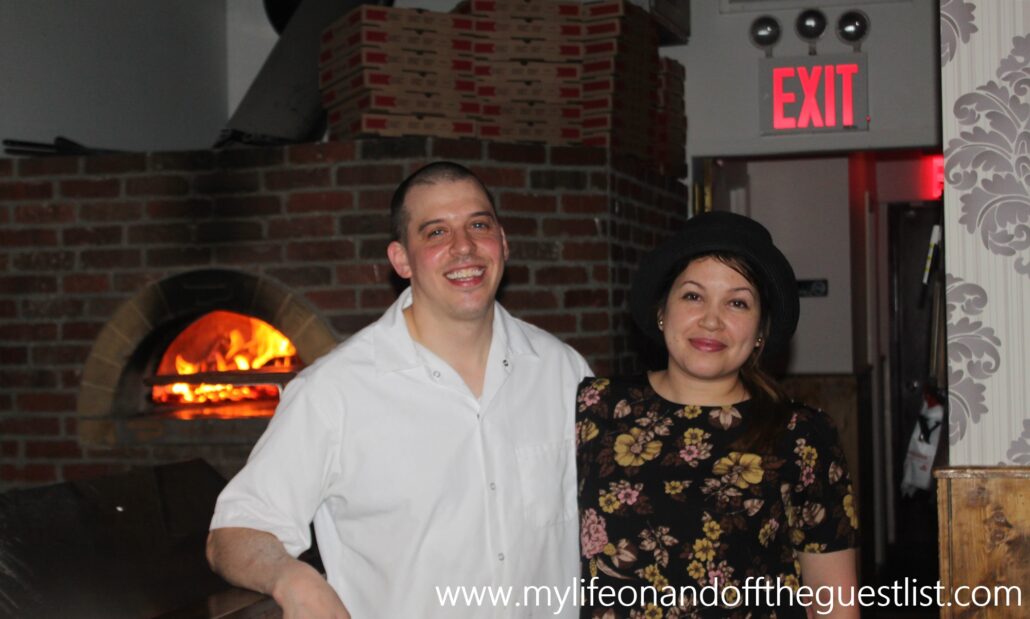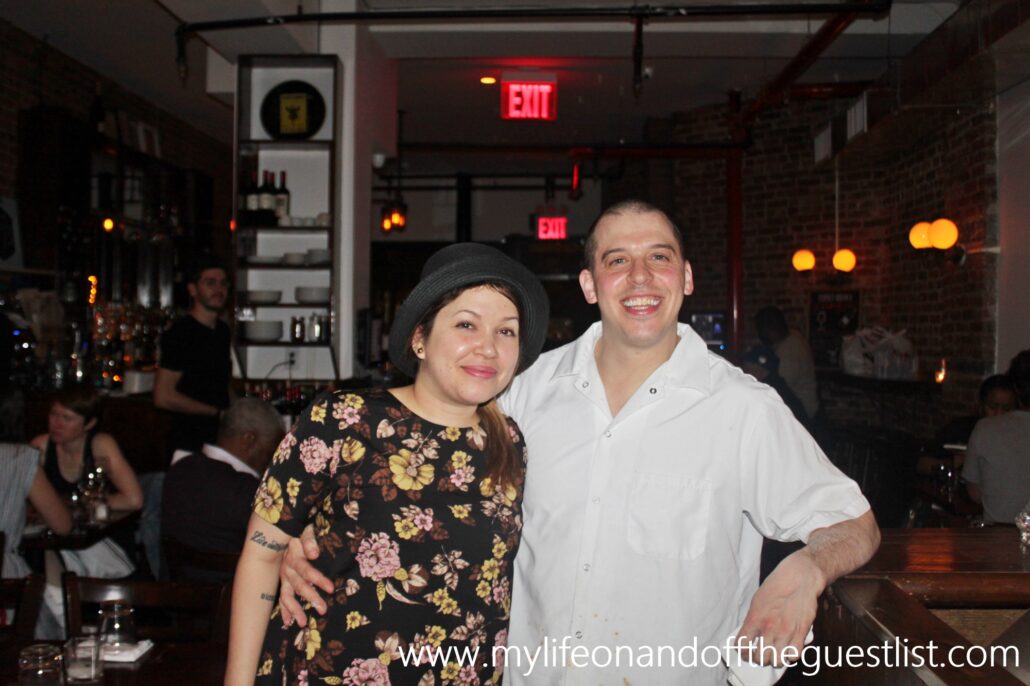 David: Love the fact that there's more diverse food in Harlem. Babbalucci Italian Kitchen & Wood Burning Oven is a mixture of traditional and modern Italian right in the heart of Harlem on a popular restaurant row. It's quaint and delightful with subtle nuances of a charming Italian trattoria and a modern cosmopolitan eatery.
Glasgow: Andrew grew up in the restaurant industry, following his father and grandfather, who were longtime bread bakers. You can find this Chef/owner positioned at their wood burning oven, seamlessly churning out hundreds of his artisan pizzas for both take out and dining in orders. The restaurant has an affectionate homey feeling and a cool, relaxed vibe. I loved the eclectic energy of it. I thoroughly enjoyed it's casual ambiance, and the coolness factor of Fela Kuti (or was it Femi Kuti) bursting through the speakers. It made me feel like I wasn't in a traditional Italian restaurant, which made me love it even more.
Babbalucci Italian Kitchen & Wood Burning Oven is located at 331 Lenox Ave, and is open for Lunch: Monday-Friday, 11:00am – 4:00pm; Aperitivo: Monday-Friday, 6:00pm – 8:00pm; Dinner: Sunday-Wednesday, 4:00pm – 11:00pm, Thursday-Saturday, 4:00pm – 12:00am; and Weekend Brunch: 11:00am – 4:00pm.