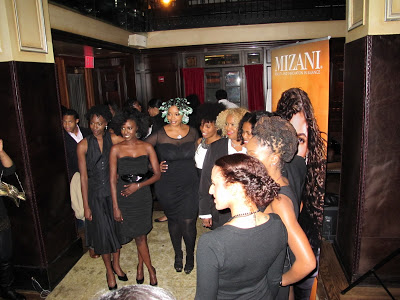 Hundreds of natural hair lovers packed the Millesime Lounge at The Carlton Hotel in New York City for Curly Nikki's first NYC meetup. The soiree was sponsored by Mizani, who featured new additions to their True Textures Collection; Curl Soft, a weightless leave-in conditioner and Curl Set, a moisturizing high hold jelly.
(From right to left) Janet Hubert, Curly Nikki, and Karyn Parsons

We were also treated by surprise celebrity guests from "Fresh Prince of Bel Air" actresses Janet Hubert (Aunt Viv) and Karyn Parsons (Hillary), who came to show their support.
"CurlyNikki has built an amazing network of women who are passionate about natural hair. We're happy to champion her, and what she's doing. It coincides with what's important to us in the beauty industry – a passionate exchange of ideas. "
-Veronique Morrison, MIZANI's director of education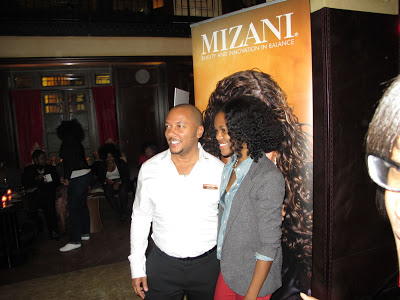 Nikki and Mizani team member, Rod Horton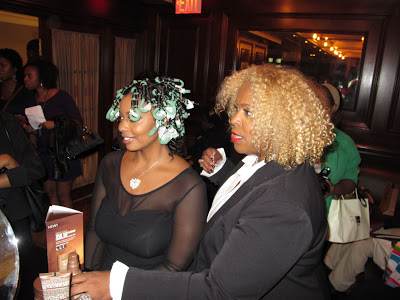 Toni Jackson-Garcia preparing to show the results of the Lacers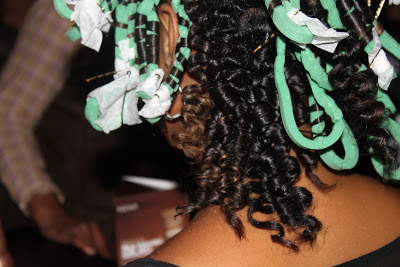 The model's hair turned out nicely defined in the end. Not your traditional curl shape
In the midst of all the lovely curlies was lot's of picture taking and even some styling. Mizani Team member, Toni Jackson-Garcia showed off a new Mizani styling tool called Lacers. These cool little thingys let you achieve defined curls/waves easily, weather your hair is straightened or naturally textured. They're soft and comfortable too. These are supposed to be available from Mizani, although they seemed to not be available on their website currently. I smell an investigation coming on!
I was a fan of Mizani products when I was relaxed and they are steadily convincing me to try the True Textures line on my natural locks now. I was so inspired by the products and styles I saw there, I rocked big, blow-dried, braidout hair the very next week!