Hello Los Angeles. I have a great event for you and it is FREE. To cap off their nine-day philanthropic motorcycle ride from Seattle to LA to raise funds and awareness for amfAR, Kiehl's is putting on an exciting PUBLIC finale event at The Grove in Los Angeles. The free and open to the public event, held August 8th from 12-3pm, includes a celebrity ride up (celebrity riders listed below),
a check presentation ceremony with Global Fundraising Chairman Sharon Stone, performances by Kelis and DJ Spinderella, an interactive photo booth with Harley-Davidson, temporary tattoo artists and more
.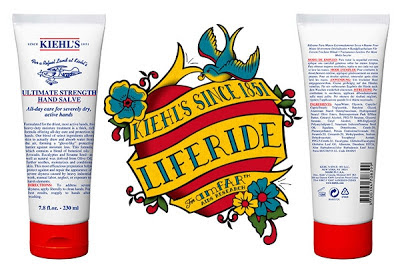 To help further support Kiehl's has introduced a Limited Edition Ultimate Strength Hand Salve, a new, jumbo size of the company's classic formula and customer favorite. 100% of the net profits from the sale of this product, up to $25,000, will benefit amfAR.
This year's celebrity riders include John Corbett, Gilles Marini, Kurt Yaeger, Grant Reynolds, Kiehl's President Chris Salgardo, amfAR CEO Kevin Robert Frost, Teddy Sears, Ben Cohen, Jon Beck, Conrad Leach, Tricia Helfer, Jason Lee and Katee Sackhoff.
Kiehl's will also offer a celebration discount of 15% off all purchases, with the exception of charitable products and value sets, all day on Thursday, Aug. 8, and will donate that 15% difference to amfAR, up to the $125,000 total donation.
For more information about LifeRide and how to get involved in the fight against HIV/AIDS is available at www.kiehls.com.