We had the great opportunity to indulge in another culinary delight, one that we feel everyone should attend at least a few times in their lifetime…..trust us, it's worth it. No longer are food trucks only regulated to post late night partying satisfaction (although you can't deny the brilliance of cornering that market) and since variety is the spice of life, we were excited to sample the delicious eats from the 22 food trucks participating in this year's tasting event. We had the pleasure to sample (and I use that one loosely because some well beyond filling) a wide variety delicious, international foods. Upon entry (we were given early access…yay!!), we were given a passport card, which was punched by every food truck we visited…sadly we only made it to about half the vendors. This year's event saw the addition of five new food trucks including
Carl's Steaks, Valducci's Pizza, Kelvin Natural Slush Co., Uncle Gussy's and Shanghai Sogo
. Our system for sampling was to go in the order the trucks were lined up in, but we were just so full, we couldn't sample anymore.
The 22 Food Trucks newly were parked on Pier 86 of the NYC Landmark, The Intrepid; the five new food trucks (named above) joined the seventeen previously announced participating trucks: Big D's Grub Truck, Comme Ci Comme Ca, Coolhaus Ice Cream Sandwiches, DUB Pies, Hibachi Heaven, Korilla BBQ, Love Mamak & Lucky Yim, Luke's Lobster, Luzzo's La Pizza Napoletana, Mike N' Willie's, Moo Shu Grill, Nuchas, Solber Pupusas, Souvlaki GR, Sweet Chili, Taipan Fusion Express and Toum. below are some of our favorite, mouthwatering dishes (in no articular order):
VALDUCCI'S – The best pizza we've ever had hands down and we love that is comes in a Green (biodegradable) pizza box whose cover can be used as plates. If you see this truck, we highly suggest you try their amazing Thin Crust Sicilian Pizza or the regular slice, or everything.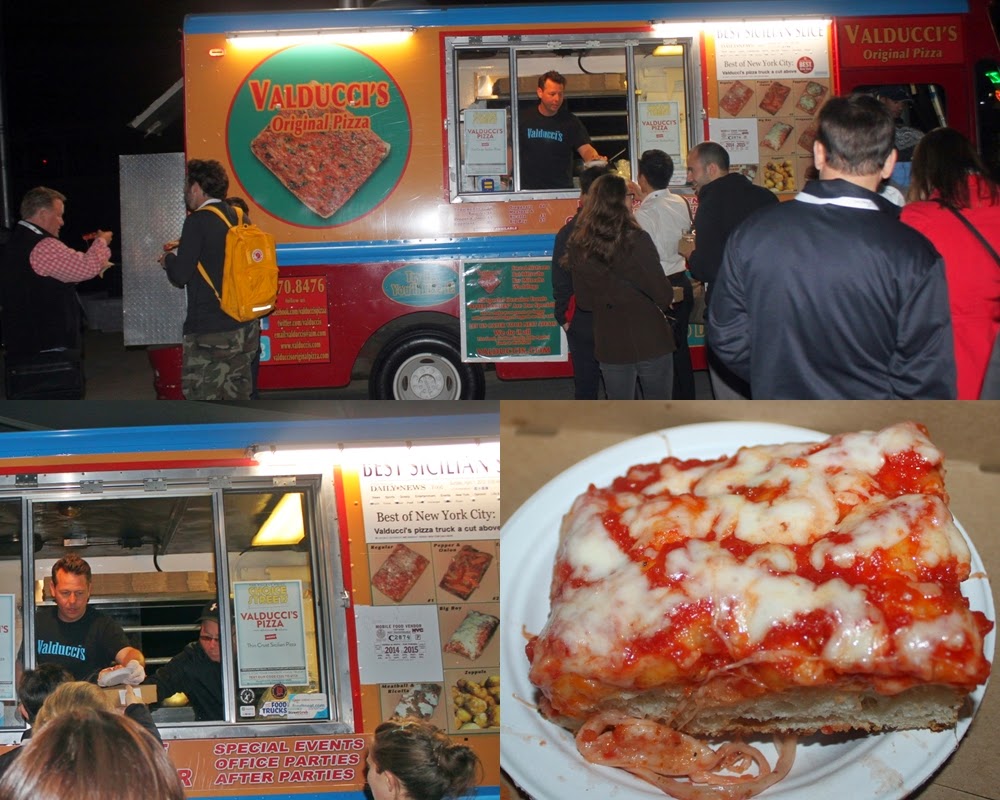 CARL'S STEAKS – each bite of this Authentic Philly Cheesesteak (with Cheez Whiz and White American cheese – with/without grilled onions) was so deliciously juicy, it definitely made you want to go back for seconds (if only we could).
LUKE'S LOBSTER – we discovered this cult favorite at the Village Voice Choice Eats Restaurants Event, and have sort of been stalking them every since. While they are called Luke's "Lobster", we were delighted to try their Maine Shrimp Rolls.
MIKE N' WILLIE'S – if you love pulled pork, you must try their Lil Piggie Slow Roasted Pulled Pork Sandwich. The juicy treat is marinated in their homemade Chipotle BBQ Sauce topped with Chipotle Lime Slaw set on a Brioche Bun. What more can you ask for….well….seconds of course.
We wish we could fit photos of all our favorites continuously but that would be a very long post, please find more culinary delights below:
What makes this event even more amazing is that it benefits a great cause. The Village Voice once again partnered with non-profit organization, Slow Food NYC, and will donate a portion of all ticket sales from Choice Streets to the foundation.
Although we were too full to visit all the wonderful sponsors for Choice Streets 2014, we hope to do so next time. participating sponsors included: Shock Top, Aperol, Fairway Market, Barefoot Wine & Bubbly, Verizon FIOS, New York Botanical Gardens, Southern Wines and Spirits, World View Travel, Four Roses Bourbon, Ste Michelle Wine Estates, Sidney Frank, Casamigos Tequila, Focus Camera, Pedal, City Tech, Tito's Handmade Vodka, Green Mountain Energy and Frames.