Sometimes we're the type to stick to a particular flavor if it's a favorite, but we're also front and center when exciting new flavors are launched. Here is one of those times. We love Chobani Greek Yogurt, and have indulged in several flavors that have become absolute favorites. We're sure many of you can say the same. Well, get ready to rejoice in some new deliciousness because Chobani welcomes new Greek yogurt flavors with the launch of new flavors from Chobani Oats, Flips, and Limited Batch Greek Yogurts.


Chobani introduces six new flavors in their Chobani Flip category, a unique combination of creamy Chobani Greek yogurt and wonderful toppings inspired by the chef's creations at the Chobani SoHo café in New York. Such toppings  include pistachios, chocolate chunks, almonds, and toasted coconut flakes,  which make for an irresistibly crunchy snack.  Are you ready to yield to these new flavors?
Peanut Butter Dream – Vanilla Low-Fat Yogurt with Honey Roasted Peanuts, Peanut Butter Clusters, and Milk Chocolate
Coffee Break Bliss – Coffee Low-Fat Yogurt with Crunchy Biscotti Pieces and Chocolate Chunks
Strawberry Summer Crisp – Strawberry Low-Fat Yogurt with Graham Crackers and White Chocolate
Pumpkin Harvest Crisp – Pumpkin Low-Fat Yogurt with Pie Crust Pieces, Glazed Pumpkin Seeds and Pecans
Chocolate Haze Craze – Chocolate & Hazelnut Flavored Low-Fat Yogurt with Hazelnuts and Chocolate Chips
Salted Caramel Crunch – Caramel Low-Fat Yogurt with Salted Pretzels, Chocolate, and Praline Pecans

Do you eat a yogurt for breakfast? With Chobani Oats, you can start your day with a powerful breakfast of yogurt, fruit, and gluten-free whole grains. Chobani adds to new flavors, Peach, and Raisin Brown Sugar to their existing, six hearty breakfast treats. So even if you have no time to sit down for a hearty breakfast, the combination of steel-cut oats, authentic Greek yogurt, quinoa, buckwheat, amaranth,  chia, and fruit, is all you'll need to start your day off right.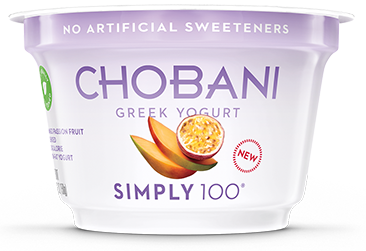 For those of you who love Greek yogurt but are counting calories, you'll love Chobani Simply 100 Blended Non-Fat Greek Yogurt in this new tropical flavor. With 12g protein, 5g fiber, and 75% less sugar than regular yogurt thanks to its perfect blend of natural sweeteners: stevia, monk fruit and evaporated cane juice, you won't be able to get enough of these spoonfuls of delicious Mango Passion Fruit. You won't believe it's only 100 calories.
Limited Batch Chobani

Sometimes seasonal flavor launches give you the opportunity to delight in some unique fruits, and that's exactly what you get with the Limited Batch Chobani Greek Yogurts. These unconventional yogurt flavors are a delicious escape from the standard and Chobani's new Limited Batch Plum, and returning Limited Batch Watermelon, both of which are available in stores now, will excite your taste buds. While the Plum is subtle in flavor with a slight sweetness and real slices of plum, the watermelon captivates with the refreshing flavor of the popular summer fruit.
Some of these flavors, especially the Limited Batch ones won't be available for long, so stock up before they're all gone. For a list of retailers that carry Chobani, click on their store locator.