Has the unpredictably hot and extremely humid summer season acted more like your enemy? Has your makeup been melting and running down your face? Do you and cooked lobsters share a similar skin tone after spending time out in the sun? If you answered yes to any of these questions, L'Oréal Paris Celebrity Makeup Artist, Sir John is here to help by sharing his top summer beauty hacks. Trust us when we say you're going to want to pay attention to these beauty tips and tricks from this renowned beauty expert.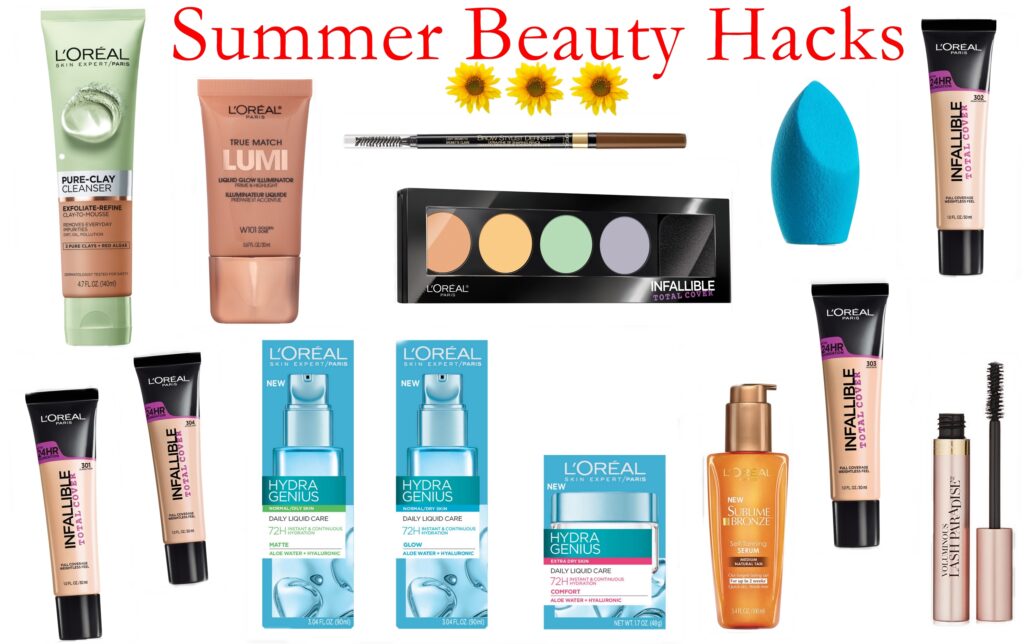 To summer-proof your beauty, you must, of course, have the right tools, like the above product recommendations from L'Oréal Paris. Sir John's summer beauty hacks cover everything from covering a sunburn, to melt-proofing your makeup, and achieving the perfect summer glow.
SUMMER BEAUTY HACK #1: COVERING A SUNBURN
SIR JOHN TIP: While everyone tries to avoid getting a sunburn, unfortunately sometimes it still happens. Luckily, there are some easy ways to cover it up. Sir John recommends using the L'Oréal Paris Infallible Total Cover Foundation ($12.99) along with a green color corrector as found in the L'Oréal Paris Infallible Total Cover Color Correcting Kit. The green will neutralize the redness on the skin. Using a makeup sponge like the L'Oréal Paris Infallible Blend Artist Concealer Blender ($7.99), dab it into places that are burned the most – areas like your nose and cheekbone.
SUMMER BEAUTY HACK #2: HOW TO — USE MELT-PROOF MAKEUP
SIR JOHN TIP: Melting makeup doesn't have to be synonymous with heat and humidity. Sir John has a trick to tame eyebrows and keep them in place to weather the elements – spraying hairspray on a thin toothbrush and then gently rubbing it on the brows (in more extreme cases like when on tour with clients, he has used a glue stick in place of hairspray). He then suggests penciling them in with an eye brow pencil like the L'Oréal Paris Brow Stylist Definer ($8.99). He also suggests using a waterproof mascara like the L'Oreal Paris Lash Paradise Waterproof Mascara ($9.99).
SUMMER BEAUTY HACK #3: HOW TO FAUX THE JLO SUMMER GLOW
SIR JOHN TIP: To get the perfect faux glow, Sir John recommends exfoliating with a product like the L'Oréal Pure-Clay Exfoliate and Refine Cleanser ($6.99) the night before you want to tan to prep skin. Then use a self-tanner and apply all over face and body for an even and natural-looking glow. Sir John loves the L'Oreal Paris Sublime Bronze Self-Tanning Serum ($10.99) as it's easy to apply and lasts up to two weeks.
If you already have a gorgeous glow but want to add some highlight to your face, mix a liquid highlighter like the L'Oréal Paris True Match Lumi Liquid Glow Illuminator ($12.99) with a hydrating facial moisturizer from the L'Oréal Paris Hydra Genius ($17.99) line and apply it on your desired areas.
What do you think of Sir John's summer beauty hacks? Could this summer-proof your beauty?