How will you celebrate New Year's Eve this year? Will you be out in the cold watching the ball drop? Packed in a crowded nightclub? Or will you be at home surrounded by family and friends enjoying a cocktail or four? No matter your plans, make sure your New Year's Eve cocktails are festive and fizzy! We've rounded up some delicious sparkling New Year's Eve cocktails for you to indulge in from zero-calorie Sparkling Ice, world-renowned Italian winery Santa Margherita, and authentic ginger ale brand Brooklyn Crafted.

These seasonal cocktail recipes are just what you need to welcome 2018, and toast to all the wonderful things the new year may bring. Ready your palates for the following sparkling cocktails:
Prosecco Punch – Recipe by Sparkling Ice
1 Part Prosecco
1 Part Sparkling Ice Black Raspberry
Mix together and garnish with small lavender sprig
Sparkle Shots – Recipe by Sparkling Ice

1oz Vodka
½ oz lime juice
1 oz Sparkling Ice Strawberry Watermelon
Sprinkle Rim, for garnish
In an ice-filled cocktail shaker, combine all ingredients and shake. Pour into a shot glass with a sprinkle rim and serve.
Prosecco Superiore Cranberry Skewer – Recipe by Santa Margherita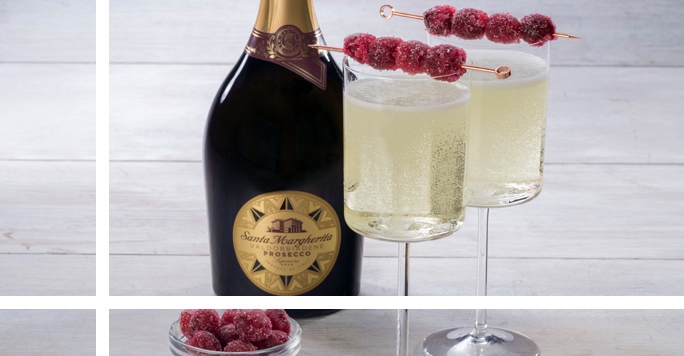 Servings: 2
1 bottle of Santa Margherita Prosecco Superiore DOCG
8-10 frozen cranberries
½ cup granulated sugar
1 tbsp water
Put cranberries on a skewer and rinse under cold water. Dip skewered cranberries in water, then roll in granulated sugar. Place skewers on wax paper and place in freezer for 5 minutes. Fill glass ¾ with Santa Margherita Prosecco Superiore. Place skewers on top of glass and serve.
ALTERNATE OPTION
For a slightly sweeter garnish, soak fresh or frozen berries in maple syrup overnight, then skewer and roll in sugar.
Ginger Raspberry Sparkler – Recipe by Brooklyn Crafted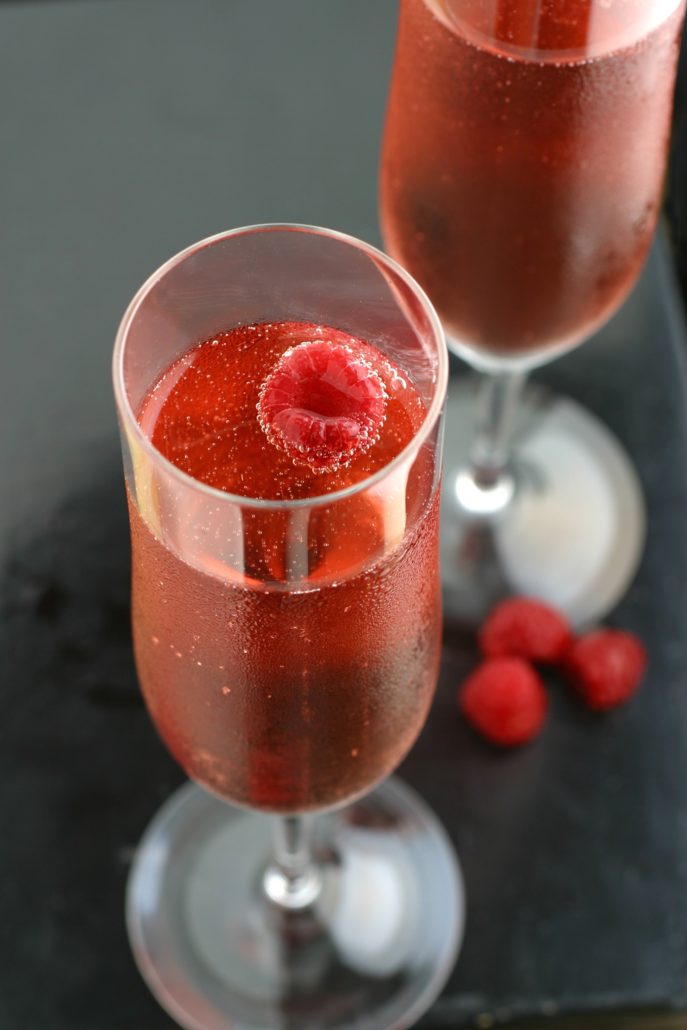 1/3 oz Raspberry Puree
1.5 oz Brooklyn Crafted Ginger Beer Mini, Lemon/Lime
Splash of Limoncello
4 oz Champagne
Squeeze of Lime Juice Fresh
Raspberries
Stir raspberry puree, Brooklyn Crafted Mini Lemon/Lime and Limoncello in a champagne flute. Top with champagne and a squeeze of lime juice. Garnish with raspberries and enjoy!
We hope you have a wonderful and safe New Year's Eve celebration and remember to drink responsibly. Happy New Year!