The holiday season is a time of boundless festivities and activities to celebrate. While there are several childhood activities we have enjoyed as an adult during the holidays, none was as amazing as enjoying the Twelve Days of Christmas as told through specialty cocktails. We were back at our favorite modern Speakeasy, The Tuck Room for their Twelve Heizenbergs of Christmas cocktails. You may remember we celebrated National Doughnut Day with an evening of their Drunken Doughnuts, an experience you can enjoy every Thursday night, and one we highly recommend.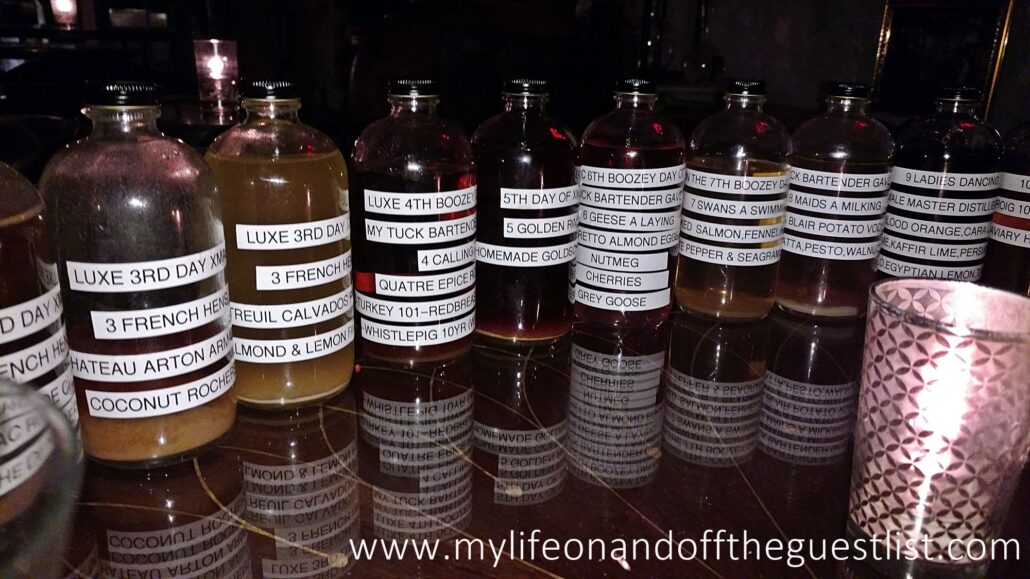 The Tuck Room NYC's Twelve Heizenbergs of Christmas cocktails (there are actually fourteen because The Tuck Room give you three options for Three French Hens) includes (feel free to sing along). Our livers wouldn't allow us to partake in all, but we did enjoy quite a few: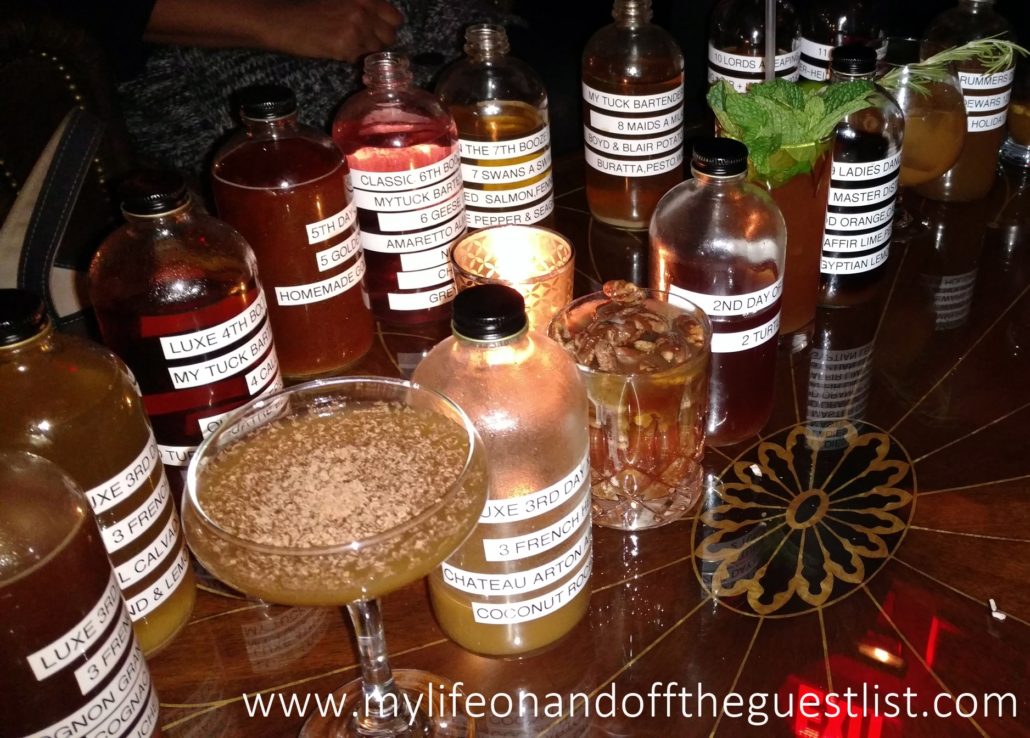 DAY 1: Partridge in a Pear Tree – St George 'Terroir' Spruce Tip Gin, Heirloom Pears, Genepy Alpine Liqueur
DAY 2: Two Turtle Doves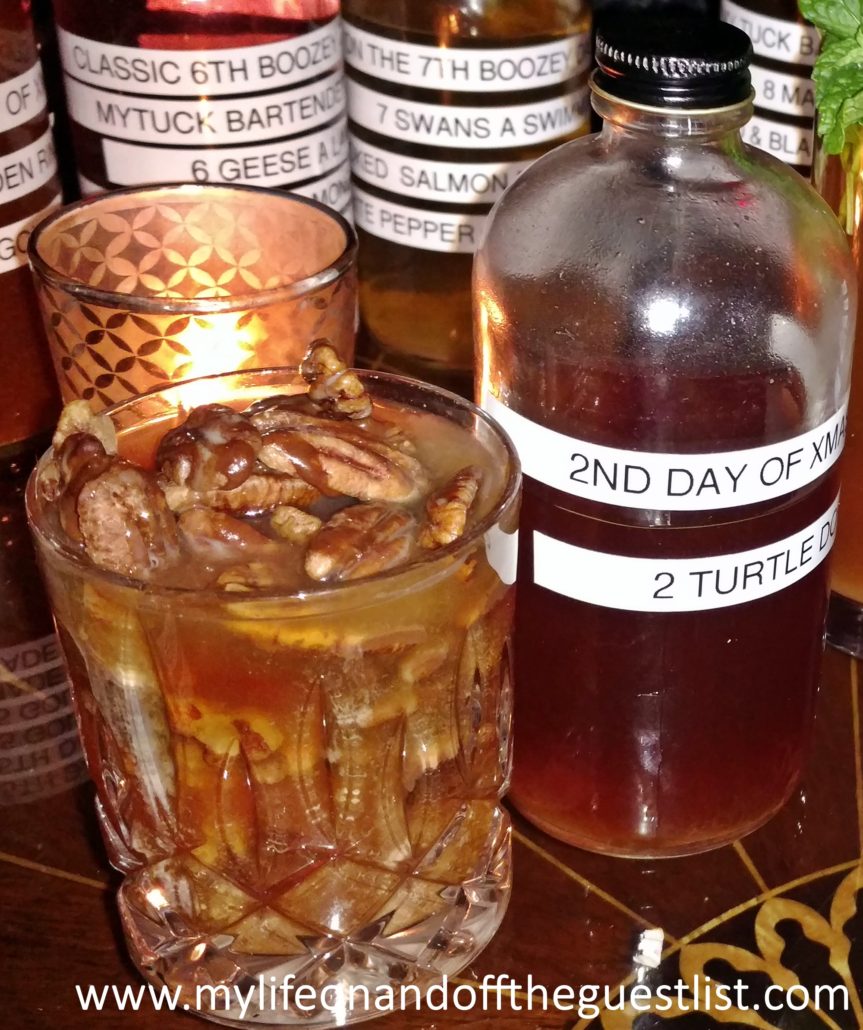 Sour Mash Bourbon, Deconstructed Turtle Chocolates
DAY 3: Three French Hens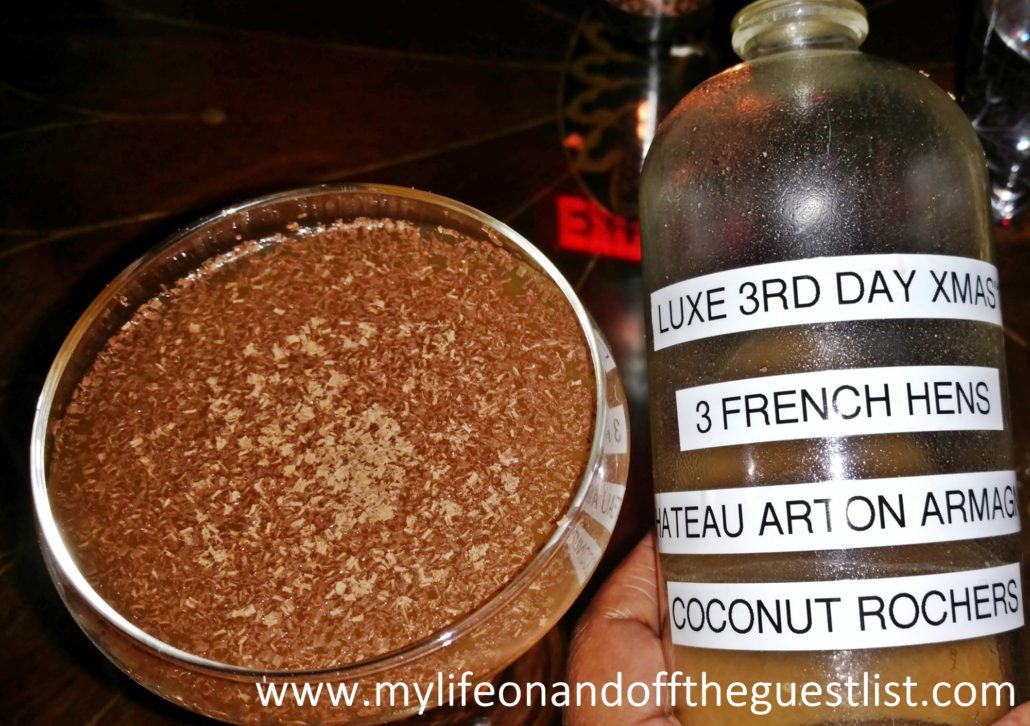 Calvados, Cognac, Armagnac, Almond Financiers, Bouche de Noel, Coconut Rochers
DAY 4: Four Calling Birds – Wild Turkey 101, Redbreast 12 Year Irish Whisky, Eagle Rare Bourbon, Whistle Pig Rye (when pigs fly), Crispy Duck Skin, Quatre Epices
DAY 5: Five Golden Rings – Homemade Goldschlager
DAY 6: Six Geese a Laying –  Grey Goose, Nutmeg, Almond Eggs
DAY 7: Seven Swans a Swimming – Seagrams 7 Crown Whisky, Smoked Salmon, White Grapefruit, Fennel, White Pepper
DAY 8: Eight Maids a Milking – Boyd & Blair Potato Vodka, Buratta, Pesto
DAY 9: Nine Ladies Dancing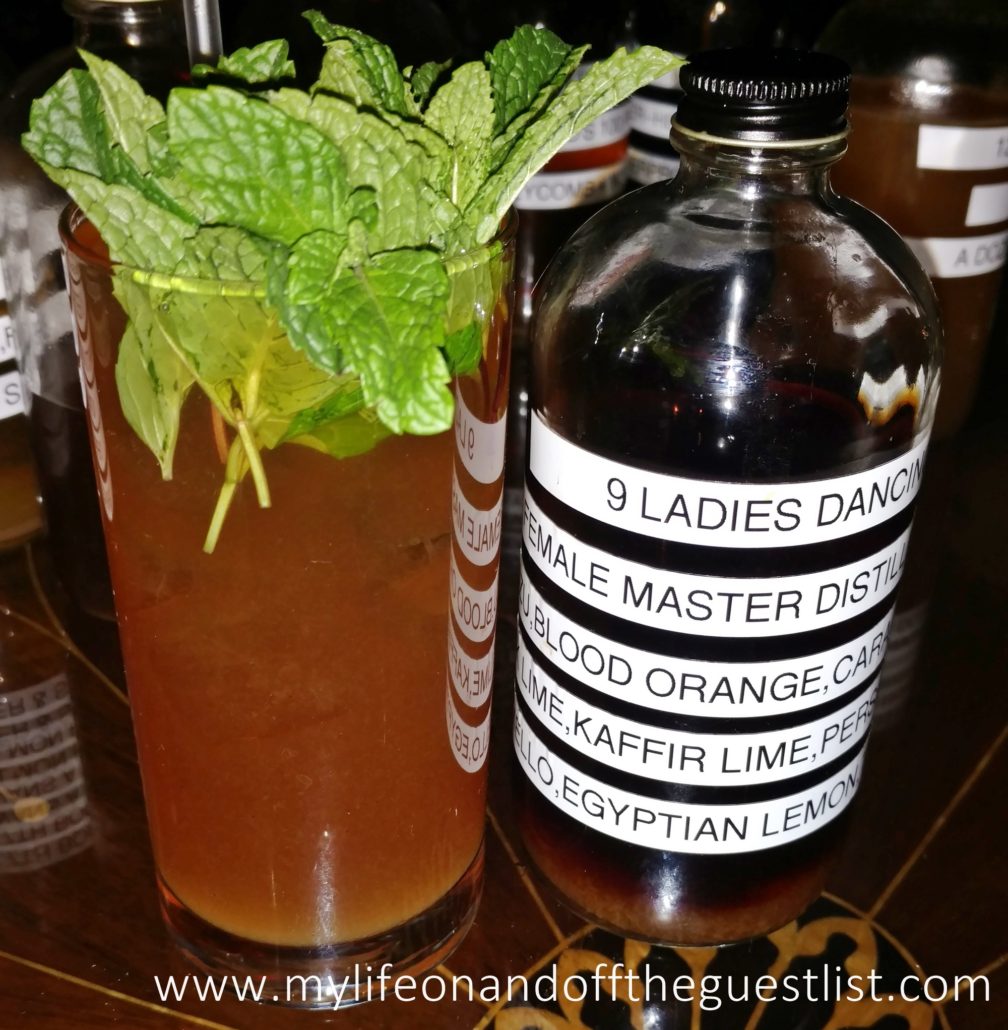 Appleton Female Master Distiller Year Rum, Ron Zacapa Female Master Blender Rum, Grenada Three Sisters Distilled Rhum Agricole, Nine Exotic Citrus
DAY 10: Ten Lords a Leaping – Laphroaig 10-Year-Old Scotch, Laird's 100 Proof Apple Brandy, Honeycomb, Winter Spices
DAY 11: Eleven Pipers Piping – Balsam Rose Vermouth, Piper-Heidsieck Champagne Syrup, Rhum, Cherries
DAY 12: Twelve Drummers Drumming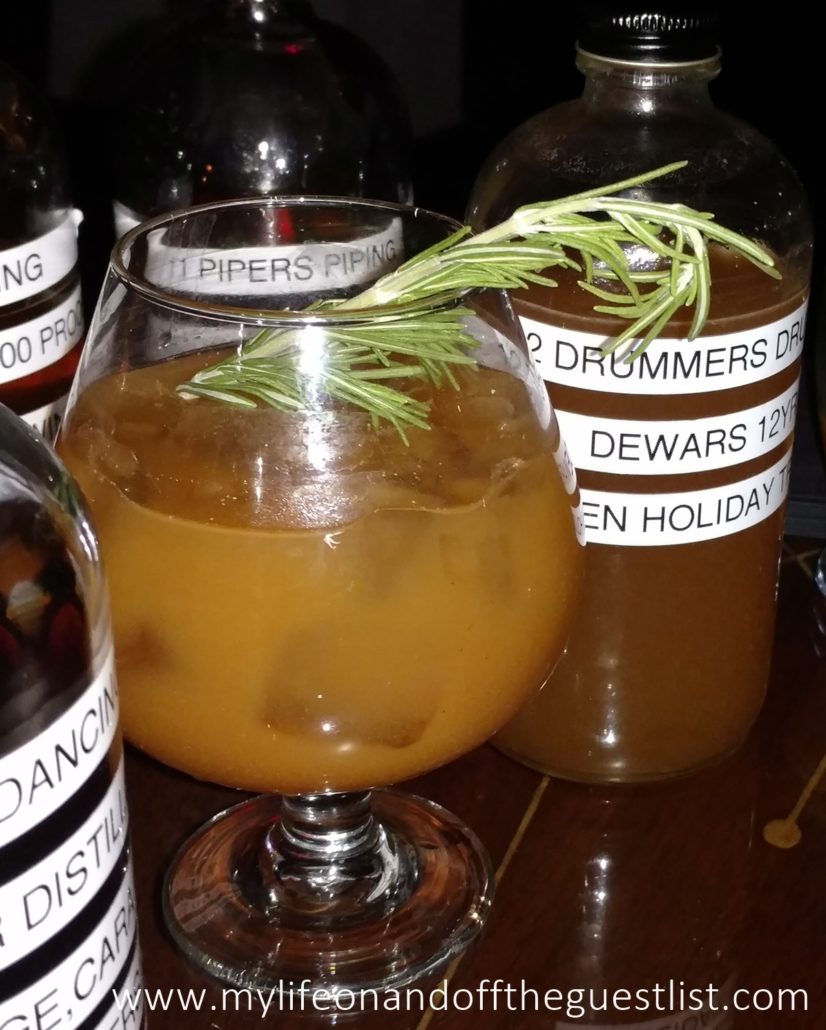 Dewar's 12 Year Old, A Dozen different Holiday Treats
Our journey through the Twelve Heizenbergs of Christmas started with The Tuck Room's Adam Seger having us experience the very essence of each specialty blend via liquid nitrogen. Check out our reaction to DAY 5: Five Golden Rings, made with Homemade Goldschlager (di you see the beautiful golden shimmer?)
Before all this begun, Adam and his amazing team warmed us up with three delicious libations, the DrinkupNY cocktail, a blend of Balsam white Magnolia Blossom Elderflower, New York Aperitif wine, and a housemade tonic; The Kiss cocktail, featuring House-infused lemon berry vodka, rare tea cellar lemon berry tea, Aperol, fresh lemonade, and naughty mint; and lastly a not-so-classic Mulled Apple cider (check them out below):

In between cocktails, we feasted on Reuben Croquettes, "K-Town" Short Rib Sliders, and Brioche Crusted Crab Cakes.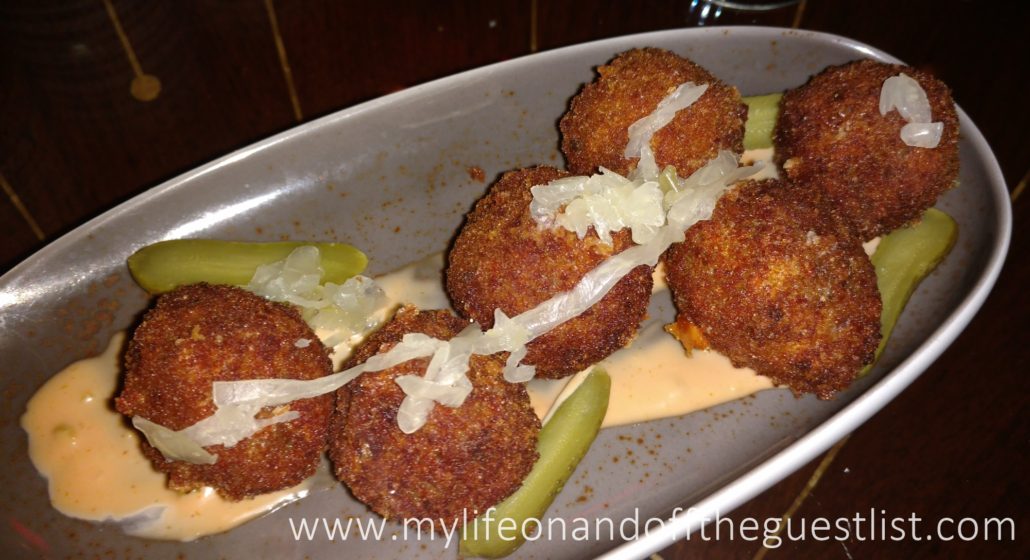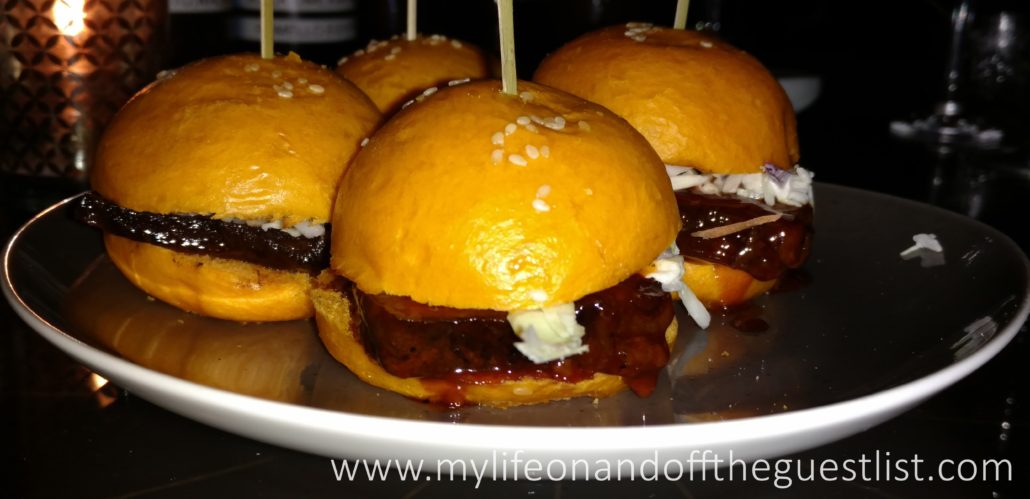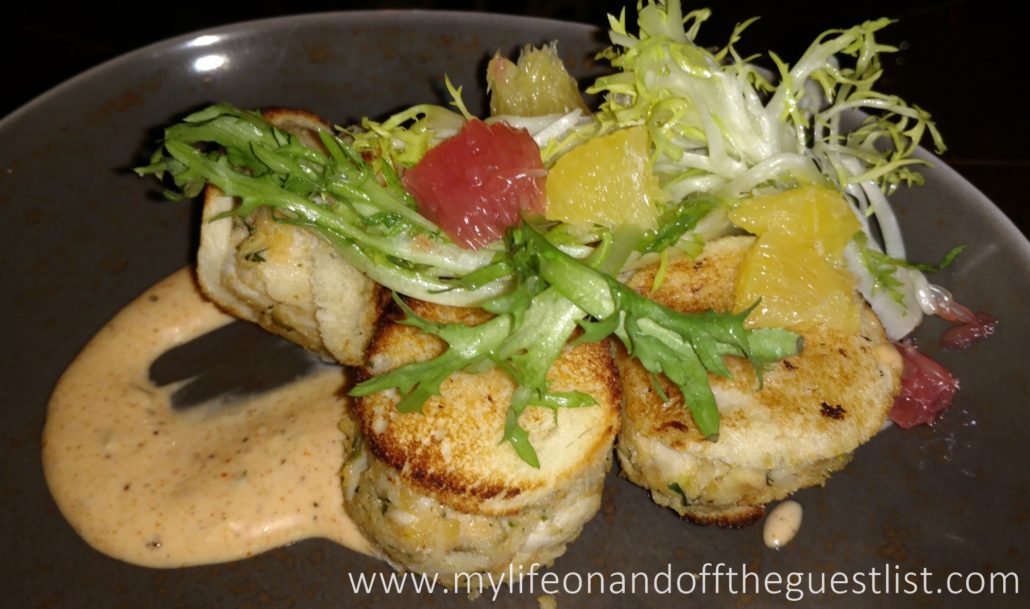 Last, but certainly not least, because all of this happened on a Thursday night, that only meant one thing – DRUNKEN DOUGHNUTS!!!! Our already decadent night of Twelve Heizenbergs of Christmas cocktails ended with indulging in Underwest Donuts Lavender, Chocolate, and Peppermint donuts. These donuts were accompanied by Bourbon Dulce de Leche, Boozy Chocolate Sauch with Dark Rum and Red Wine, Beth's Black Raspberry Jam spiked with Campari, and Boozy Whipped Cream with Cardamon Syrup, Boyd & Blair 151 proof.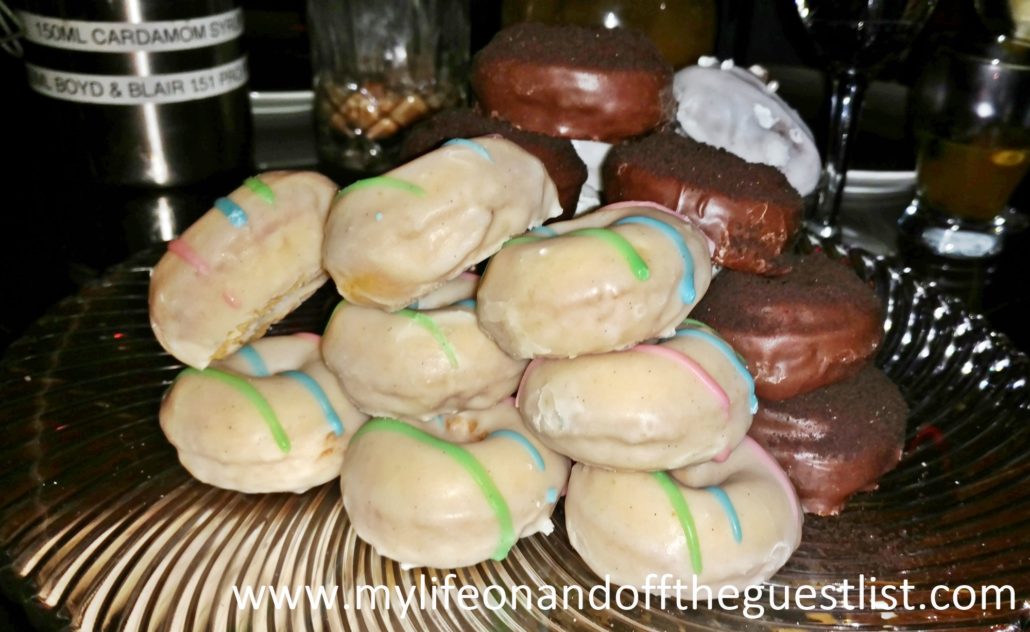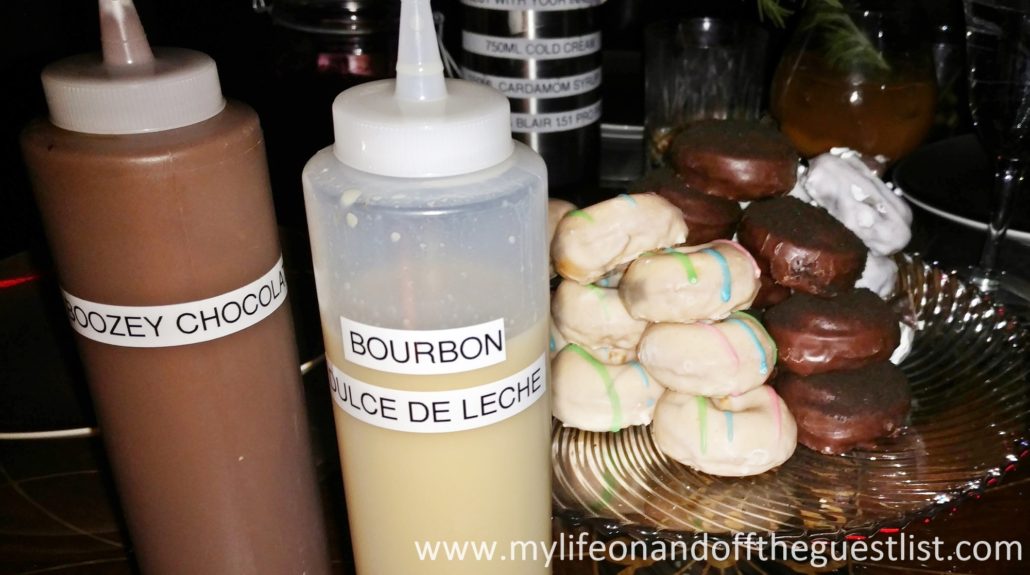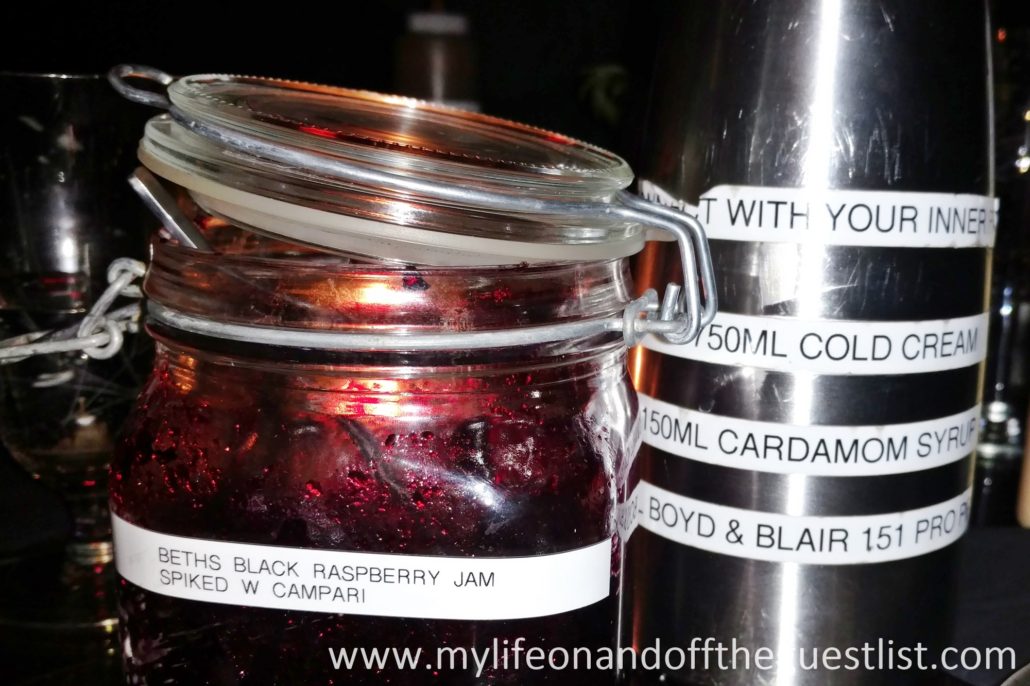 It was the perfect ending to an almost indescribable and incredibly wonderful experience. Although Christmas has come and gone, there is still time to enjoy The Tuck Room's Twelve Heizenbergs of Christmas cocktail experience, but once the limited edition blends are gone, those curated cocktails are gone. And of course, Drunken Doughnuts can still be enjoyed every Thursday.  For more information, visit www.thetuckroom.com.