Are you ready for the sweetest part of the holiday season? We're talking holiday gift baskets, the perfect gift for those with a sweet tooth. We're not talking about boring popcorn tins or fruit baskets with one or two pieces of chocolate, we mean one-of-a-kind, sugar rush goodness. The holiday season is the perfect time to indulge in something sweet and Sugar Plum has everything you need to add more sweetness into the world.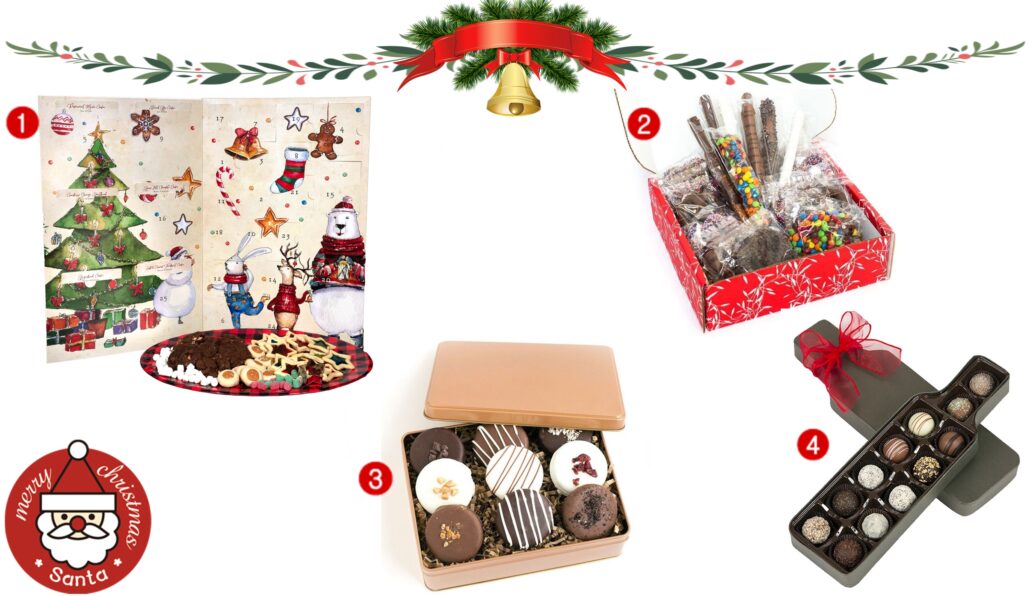 From cookie-making advent calendars to chocolate covered cookies, chocolate-dipped logs, and everything in between, Sugar Plum is here to make your holiday sweet, merry, and delicious.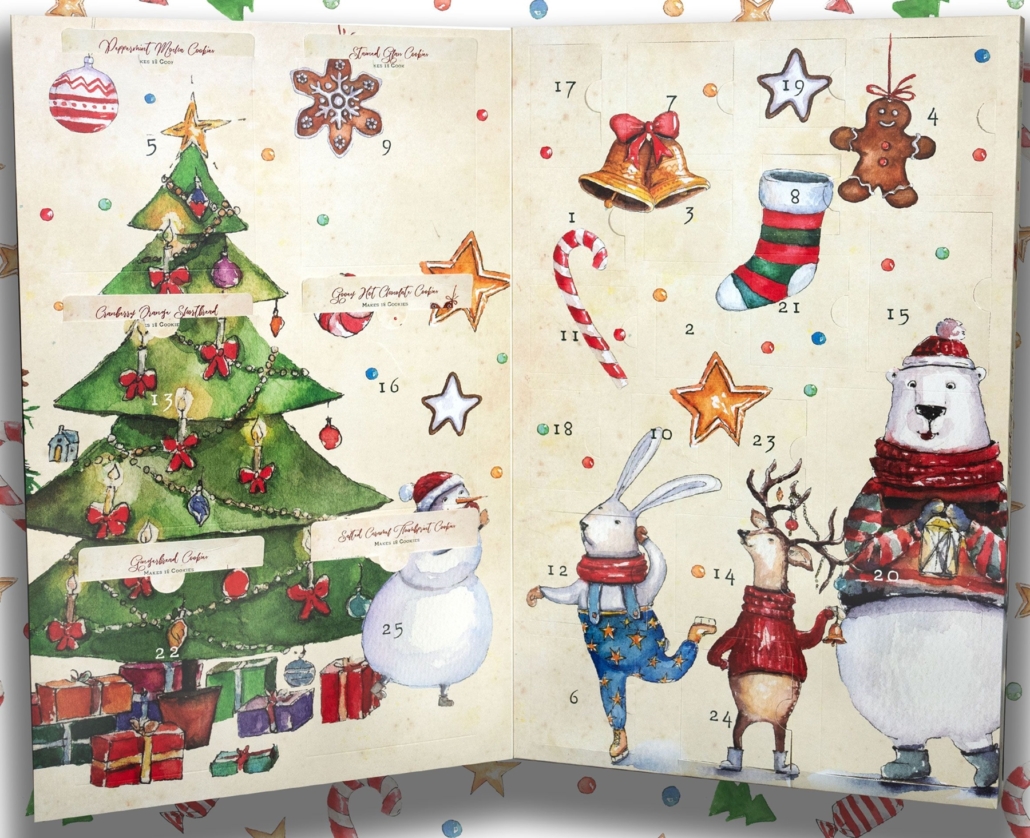 One of our favorite things to enjoy during the holidays is Christmas cookies. The moment the whole house smells like fresh baked cookies is a magical one. Whether you're home with your family or by yourself, a fresh-baked, warm delicious cookie can also erase all sadness. Sugar Plum gives you the opportunity to indulge in that warm feeling with their wonderful Cookie Making Advent Calendar. Give the gift of yummy goodness; this supersized 25-day advent calendar is filled with ingredients and tools to make everyone's favorite holiday cookies. Each of the 25 individual pockets is filled with one component needed to make six different varieties of holiday cookies; these include recipe cards, ingredients, cookie cutters, and kitchen tools!
Enjoy a variety of recipes including Peppermint Mocha Cookies, Stained Glass Cookies, Cranberry Orange Shortbread Cookies, Hot Chocolate Cookies, Christmas Tree-shaped Gingerbread Cookies, and Salted Caramel Thumbprint Cookies. The Advent Calendar is available now for $65.00, exclusively at www.uncommongoods.com.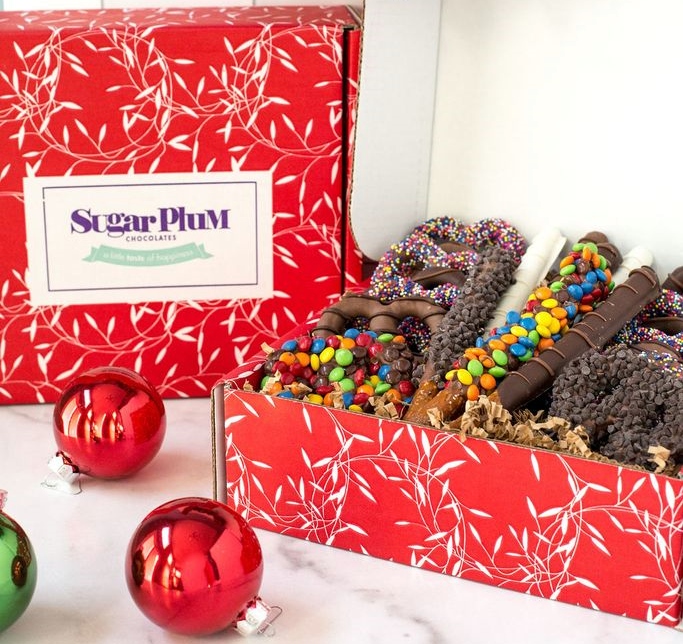 You may have seen the video of the above chocolate goodness on our Instagram and we're still salivating over its sinful deliciousness. Chocolate covered pretzels have brought joy to many for decades and you can see why. Sugar Plum's Chocolate Pretzel Passion Gift Tray includes a variety of twenty-three pieces of chocolate-dipped logs covered in chocolate candy pieces, chocolate sandwich cookie logs, double chocolate chip pretzels, and pretzels dipped in our signature milk, dark, and white chocolates with even more chocolate drizzled on top and finished with sprinkles. Once you put this out, don't expect it to last for very long.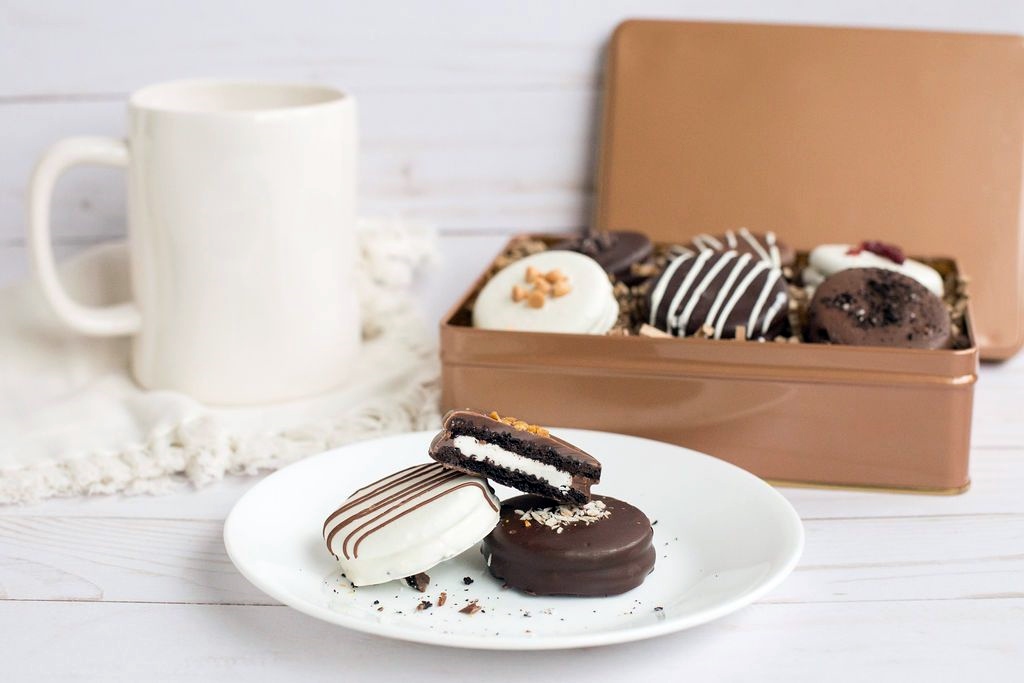 Cookies are absolutely delicious. Chocolate is ironically delicious. Combine those two and you have absolute heaven. When it comes to chocolate-covered treats, perhaps nothing is more delicious than the idea of chocolate-covered stuff. The Signature Chocolate-Covered Sandwich Cookie Sampler includes nine (9) total chocolate-covered sandwich cookies, including one (1) each of Sugar Plum's renowned milk, dark, and white chocolate-covered sandwich cookies. The sampler also includes 6 additional cookies, including Milk Chocolate with Ground Cookie, White Chocolate with Cranberry, Dark Chocolate with Toasted Coconut, Milk Chocolate with Ground Toffee, White Chocolate with Peanut Butter Chips, and Dark Chocolate with Chocolate Chips.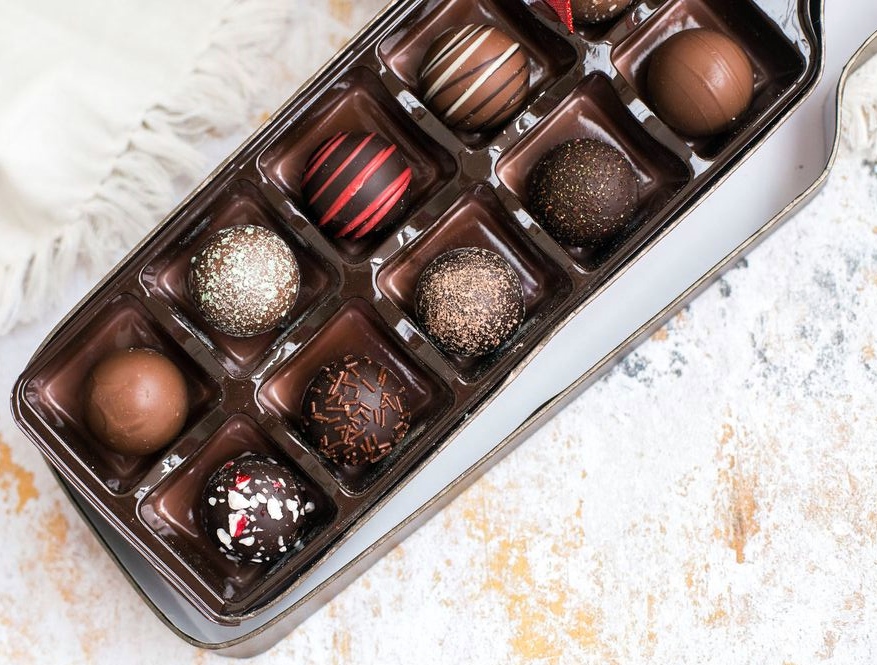 For those that want to be a little more fun with a truffle assortment; look no further than Sugar Plum's Wine Box Truffle Assortment! It features a 12-piece assortment of Sugar Plum's incredible handcrafted chocolate truffles all beautifully laid out in a wine bottle-shaped box that will set the mood for a fantastic day and holiday night. each set comes with truffle varieties that include Milk Chocolate, Dark Chocolate, White Chocolate, Black Raspberry, Chai Tea, Cappuccino, Crème Brulee, Tiramisu, Pomegranate, Lemon Merengue, Champagne, Rum, Coffee Caramel, Caramel Pecan, Strawberry Cheesecake, Coconut, Kahlua/White Russian, and Irish Crème.
We'd love to hear your thoughts on these decadent Sugar Plum holiday gift baskets. Let us know, which would you give and which would you love to receive.