Are the pandemic, the world in general, and the holiday season stressing you out? If you answered yes, then you need a holiday de-stressing tool. We are happy to introduce you to Kindroot Adaptogems holiday survival kit. Kindroot is a brand of plant-powered supplements that help you de-stress. They are very beneficial to the body; In fact, you will actually look forward to gifting and taking them. Kindroot Adaptogems are the first line of lozenges that include nurturing adaptogenic plants and aromatic, all-natural flavors, blended into silky-smooth little lozenges. Not familiar with adaptogens? If you've heard of ginseng, melatonin, reishi (the "immortality mushroom" in traditional Chinese medicine), marine collagen, etc, then you're already familiar with them.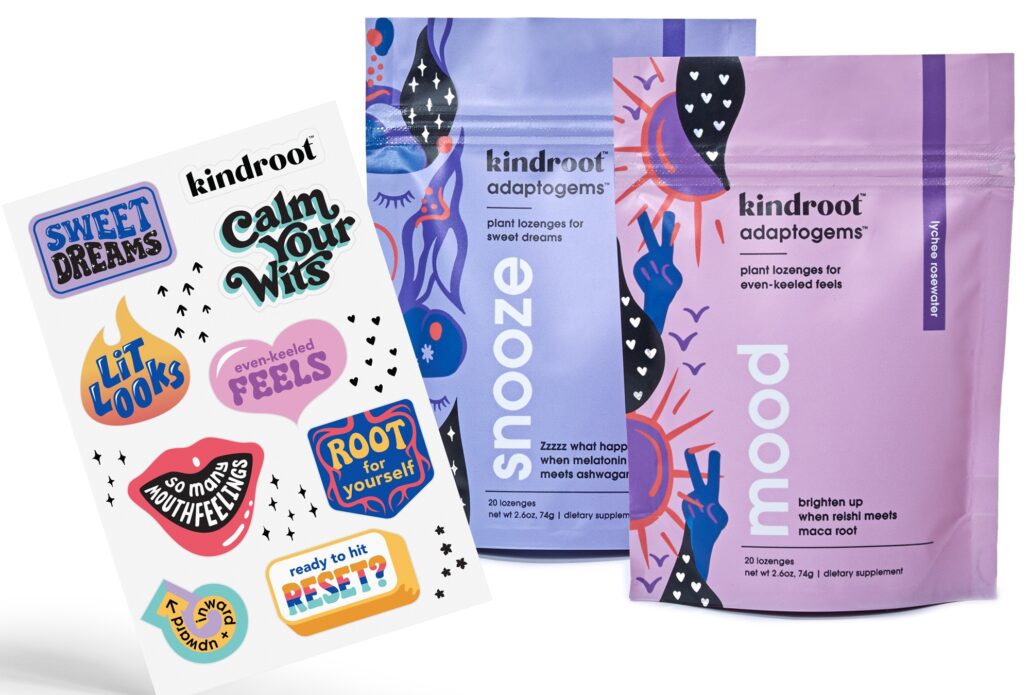 The Kindroot Adaptogems holiday survival kit, $35.00, is just one way to combat the stress you and your loved ones are feeling during this stressful time. It features 20 snooze plant lozenges for sweet dreams, 20 mood plant lozenges for even-keeled feels, and some fun, cool stickers. The lavender vanilla-flavored snooze lozenges combine the power of melatonin and ashwagandha (an ayurvedic herb that helps you relax and promote calmness) to help you get the restful sleep that you need; while the lychee rosewater flavored mood lozenges boasts reishi and maca root (an adaptogenic root that helps maintain positive levels of energy and mental well-being). Perfect to help you start your day, no matter what it may entail.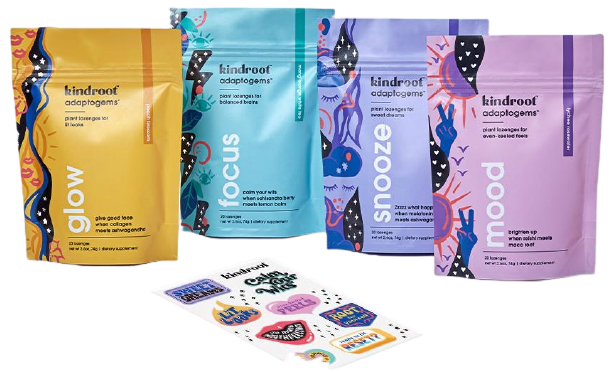 We love their Inward + Upward bundle, $65.00 (shown directly above). Along with the snooze and mood plant lozenges, it also contains their glow Adaptogems (peach blossom lozenges that combine marine collagen and ashwagandha to help you "give good face"); and focus Adaptogems (mang'orange white tea flavored lozenges with Schisandra extract and organic lemon balm extract to boost your energy, mental alertness, and cognition). This bundle features 20 focus plant lozenges for balanced brains, 20 glow plant lozenges for lit looks, 20 snooze plant lozenges for sweet dreams, 20 mood plant lozenges for even-keeled feels, and the stickers.
All of Kindroot's Adaptogems are made from organic ingredients; they are gluten-free, vegan, have only 2 grams of sugar, and are available in delicious, sensory flavors. Could you use some de-stressing during the holiday season?