It's clear that Americans have had to make incredible sacrifices during the COVID-19 pandemic. In order to slow the spread of the novel coronavirus, we've had to adjust to working from home, seeing our friends through a screen, and even canceling major life events. Weddings and graduations have been postponed, while nine out of 10 funeral services held today have loved ones who are unable to attend.
That said, the pandemic has forced us to get creative. Necessity is, indeed, the mother of invention — and despite the risks, many are determined to soldier on (albeit in new ways). That's especially true for the restaurant industry, which was arguably one of the hardest-hit sectors during this health crisis. Things may not be back to normal yet, but we've found plenty of ways to support our favorite eateries — and experience something slightly resembling normalcy, in some cases.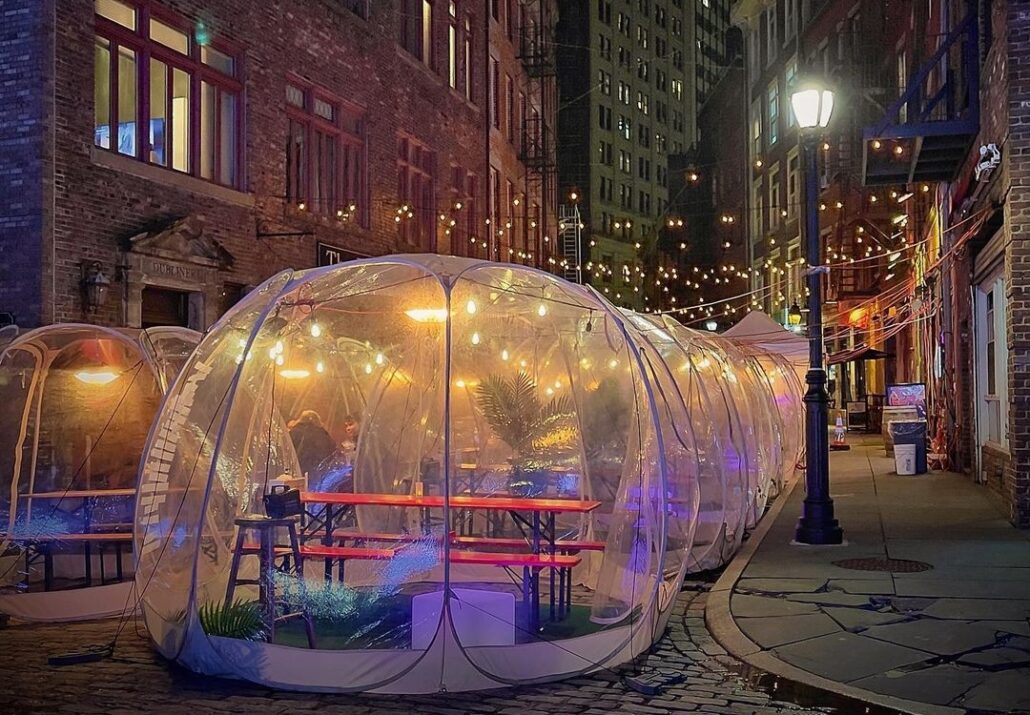 Is Winter Outdoor Dining Safe?
One of the main questions being asked is whether winter outdoor dining is actually safe. Not only are the temperatures rather frigid in many parts of the country, but temporary structures are being erected by many restaurants in order to accommodate customers. The problem is that many of these structures don't seem much safer than indoor dining when it comes right down to it.
There's a lot of variation when it comes to outdoor dining structures. Some restaurants are using igloos or yurts, while others have enclosed areas on two or three sides. It's a bit of a mystery as to whether or not any of these structures have proper airflow, which could be a problem if you're dining with someone outside your immediate household. It's also up to the municipality to set rules pertaining to outdoor dining capacity — but there's no guarantee whether or not the restaurant will comply.
When an environmental engineering professor was interviewed by Vice News, it was revealed that an enclosure with multiple walls or sides can't technically be categorized as outdoor dining from a safety standpoint. It's also important to note that there are no totally safe indoor environments, even with good ventilation and air purification. Some restaurants are forgoing the six-feet rule with outdoor dining, as walls or tents provide a false sense of security and separation. And because customers don't wear masks during meals, dining outdoors might be a lot riskier than you'd think. Of course, weather conditions can also make outdoor dining less safe. Snow, freezing temperatures, and even heat lamps could pose dangers to diners.
COVID-19 is certainly a huge concern for most Americans, given the number of rising cases across the country. Although anywhere from 8,000 to 18,000 U.S. residents are hospitalized with Legionnaires' disease every year, more than 27.8 million cases of COVID-19 have been reported in the last year with approximately 488,000 fatalities. While this isn't deterring Americans from eating outdoors (or inside, in many cases), many experts agree that it's nearly impossible to know whether an outdoor dining setup has good ventilation — and you might not know until you arrive how a given restaurant is adhering to health guidelines. Although virtually no situation is without risk, it's worth asking yourself whether it's really worth it in this case.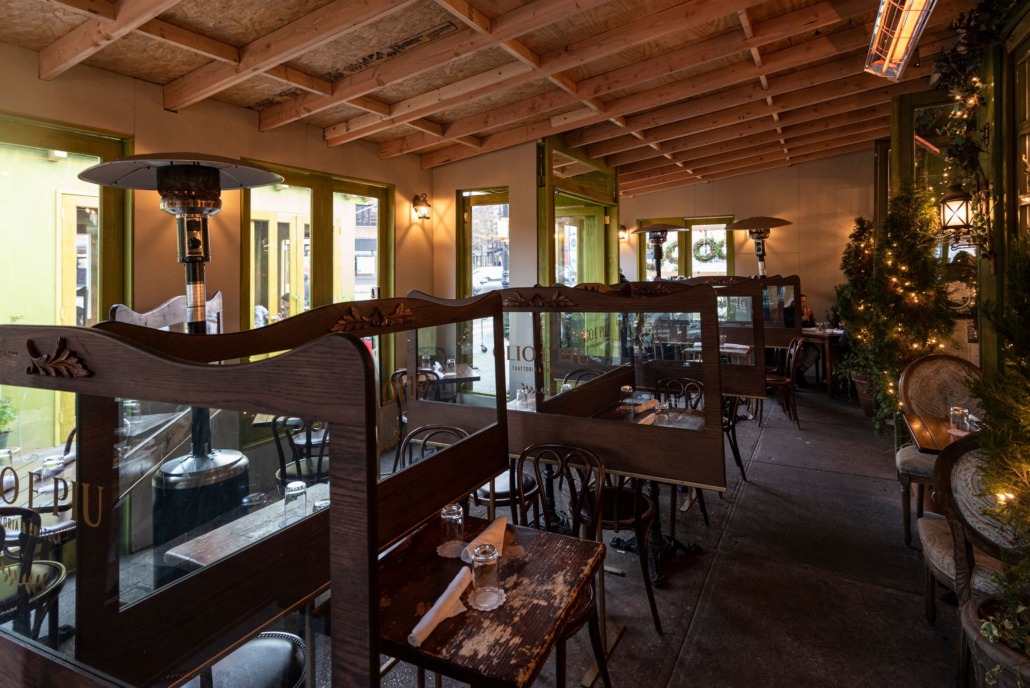 What Should You Wear When Dining Outdoors This Winter?
If you live in a warmer state, you might not have to bundle up for outdoor dining. But in many areas, cold temperatures and inclement weather can make eating outside a lot less comfortable. And while some eateries will attempt to use technology to fight some of those effects, it's never going to be as pleasant as indoor dining would be.
So how can you stay cozy? Dressing in layers is key. Instead of wearing breathable fabrics like cotton, opt for wool or synthetic fiber for your base layers. You should probably wear a thick, long puffer coat, thick socks, insulated boots, a scarf, leather gloves, and a hat, as well. It's a good idea to BYOB — bring your own blanket, in the case — to cover yourself up as your body temperature drops throughout the evening. You might even consider getting yourself a battery-powered heated jacket or hand warmers for some extra warmth.
Overall, try to keep your meal brief (which you should do anyway to reduce transmission risk!) and check the weather forecast before you decide to dine out. It's a good idea to call the restaurant directly, as well, to assess whether they have the room or what kinds of accommodations they might have. If you know you're someone who is sensitive to the cold, it might be best to sit this one out.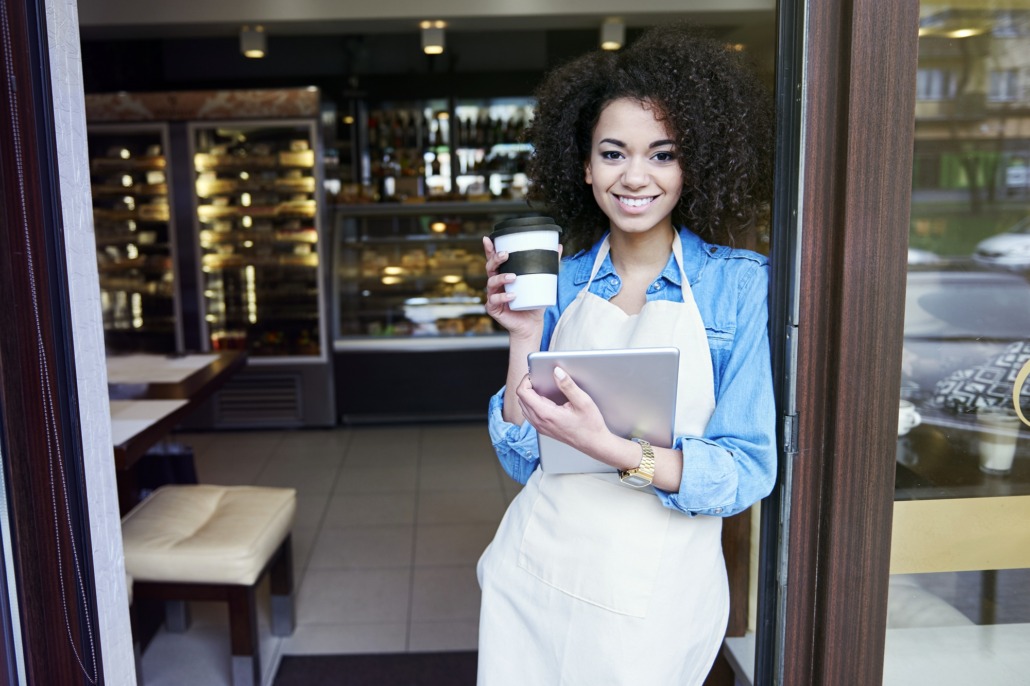 What's the Best Way to Keep Supporting Local Restaurants?
Many people choose to dine outdoors because they simply miss the restaurant experience. But a CDC study from September found that adults who tested positive for COVID-19 were twice as likely to have reported dining at a restaurant than those who tested negative (and there was no discrimination made between indoor and outdoor dining). Another study published in November found that restaurants were the riskiest places for new infections. If you're being tempted because you see others enjoying meals outside or you want to support your favorite eatery, you might want to consider some alternatives.
Although fully loaded semi-trucks can weigh as much as 18,000 pounds, lighter-weight food trucks are still a common sight on many roads throughout the United States. If you have a favorite, follow them on social media to see where they might be headed if you're looking for a restaurant experience without taking as big a chance. Ordering take-out is also a popular option, albeit not a new one. Instead of relying on GrubHub or DoorDash, which take a percentage of sales from the restaurant, opt to order directly through the restaurant for pick-up or delivery. Many restaurants put together special dining packages for holidays or even virtual events, so inquire with them about whether there might be something exciting to try at home.
It's not easy for many of us to accept that restaurant dining isn't yet back to normal. But until it is, dining outdoors this winter might be a bit too risky — or just a bit too uncomfortable — for some.