Although you may be completely preoccupied with the current snowstorm, today is January 4th, and you know what that means? National Spaghetti Day!!! If you're like me, finding a gluten-free pasta that doesn't taste like it is missing gluten and can hold its weight is hard. There are so many brands out there, it's like kissing a ton of GF frogs to find the one wheatless carb Prince. Well, my Prince in noodle armor is Explore Cuisine. Explore Cuisine offers delicious spaghettis (and pennes, and lasagna noodles) made from ingredients like chickpeas, lentils, black beans, edamame, and more.

I am thankful for brands like this because you don't feel like you're missing out when it comes to pasta dishes. But I am also a label reader. So seeing that it is organic, non-GMO, vegan, gluten-free, and gives you a serving of protein, what better way to indulge without the guilt on National Spaghetti Day. Find me a glutinous pasta that can do all of that.
I am such a major fan of the Explore Cuisine Black Bean Spaghetti. Who says pasta has to come in one color? To be honest, when I purchased it I didn't think I would like the taste as much because…….black bean pasta! I mean I love black beans…over rice. However, when it comes to GF foods, I like to try everything once so I can speak on it. But surprisingly, I wound up loving the flavor as a spaghetti pasta! The black bean flavor was not overwhelming and added a nice element of taste with my spaghetti sauce. It became one of my fave pasta go-to's. And while I am not totally committed to it yet, I can be vegan-ish, and this line of vegan pastas really help for when I want to Carbe Diem!
Since it is a snow day and National Spaghetti Day, I like to cook even more because I am home and I eat. It's what I do. You might not have a box of Explore Cuisine pasta in your cabinets (of which I highly suggest you stock up), but for those of you that do (or will), here's a couple of good recipes for you to try –
Simple Vegan Chickpea Spaghetti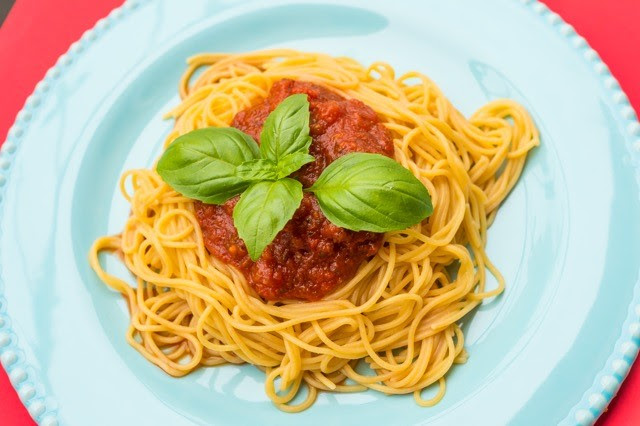 1 box Explore Cuisine Chickpea Spaghetti
1/4 cup nutritional yeast (optional)
1 cup organic pasta sauce
Cook the spaghetti until soft according to the packet directions. Drain the water from the pasta, and stir in the pasta sauce. Add more if you like more sauce. Serve in bowls and then sprinkle the nutritional yeast on each one. Season with salt and extra nutritional yeast if desired.
Southwestern Black Bean Spaghetti
Recipe and Image Credit: Lee Tilghman (Lee From America)
Serves 1 person
Preparation 30 minutes + 10 minutes cooking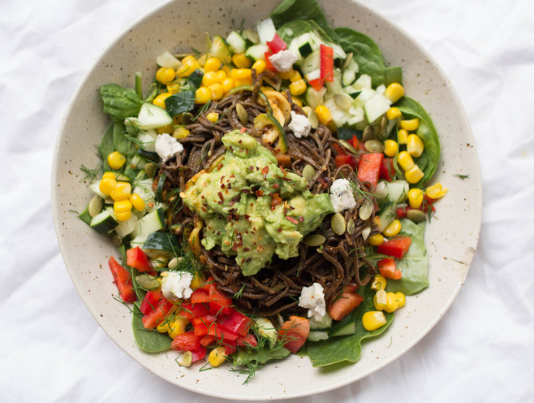 1/4 box Explore Cuisine Black Bean Spaghetti
1/2 zucchini spiralized into "noodles"
1/4 Red Bell Pepper
2 handfuls Baby Spinach
1/4 cucumber
1/4 cup corn (canned in water works great- just rinse them)
1/4 avocado mashed with fresh organic lemon juice
1 tbsp. vegan cheese (I used Leaf Cuisine Plain Cream Cheese) pumpkin seeds + dill for garnish
Start by boiling a big pot of water for your black bean spaghetti. Once boiling, add the spaghetti and let cook for 6 minutes.
Once done, remove from heat, rinse under cool water and set aside.
Prep your veggies! Finely dice your cucumber, bell pepper, mash your avocado, spiralize your zucchini. Next, add a spicy adobo chipotle sauce to your noodles and zucchini noodles. Combine the ancho and guajillo chiles in a large bowl and add plenty of cold water to cover. Let them soak until soft, about 30 minutes. Place the soaked chiles in a blender along with the ginger, cumin, salt, and pepper. Blend until very smooth. Stop the motor a few times to scrape down the sides with a spatula and give things a stir, just to make sure everything's getting puréed. Don't be tempted to add liquid—you want the final sauce to be thick. Scrape the purée into a small bowl if you plan to use it soon, or into a jar with a tight-fitting lid if you want to save it for later. It'll keep in the fridge for up to 5 days, or in the freezer for 3 months. Add a few handfuls of baby spinach to a big 'ol bowl. Add some noodles, guac, then add cucumber, red bell pepper, vegan cheese, pumpkin seeds, and freshly chopped dill!
Explore Cuisine and their awesome pasta varieties are also oh-so-perfect for National Gluten-Free Day on January 13th! Enjoy!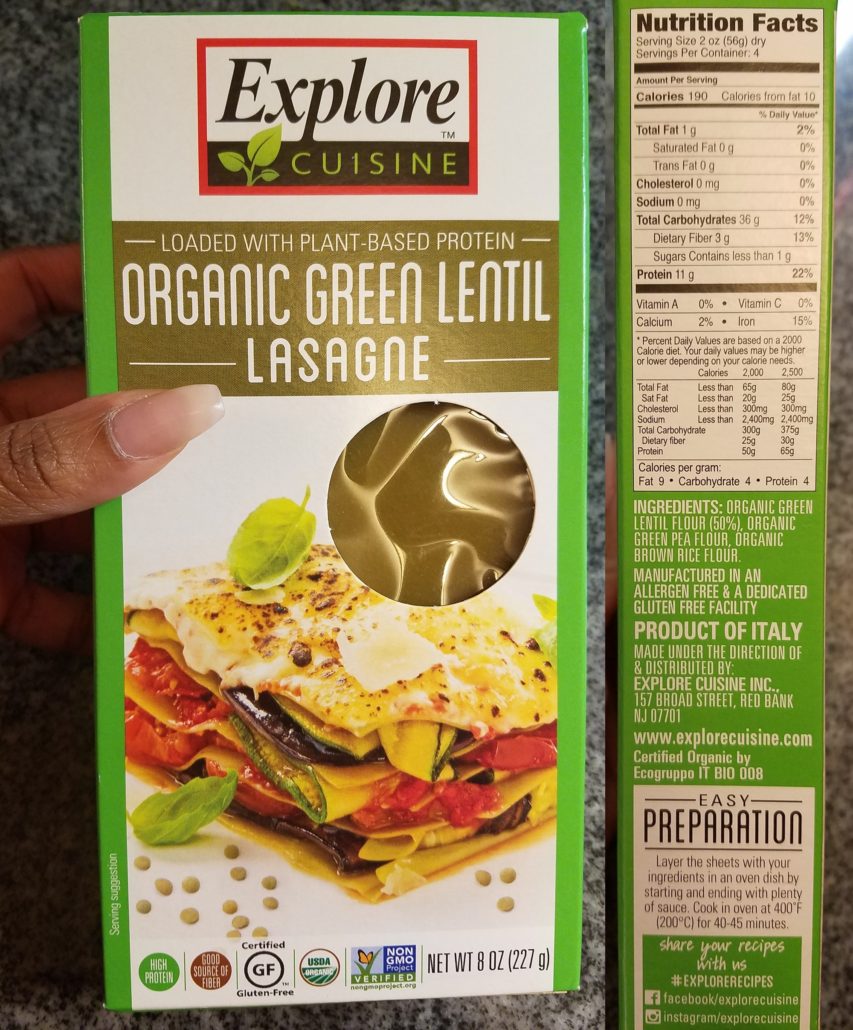 **P.S. I need to know when it is National Lasagna Day because I will definitely be making my lasagna with these Explore Cuisine Green Lentil Lasagna Noodles! What spaghetti dish are you enjoying on this snowy National Spaghetti Day?