Mother's Day is fast approaching but there's still time to get the perfect gifts for the mom in your life; especially if they're skincare and beauty addicts or want to concentrate more on self-care. We've got some wonderful Mother's Day beauty gifts that she will love from some of our favorite brands.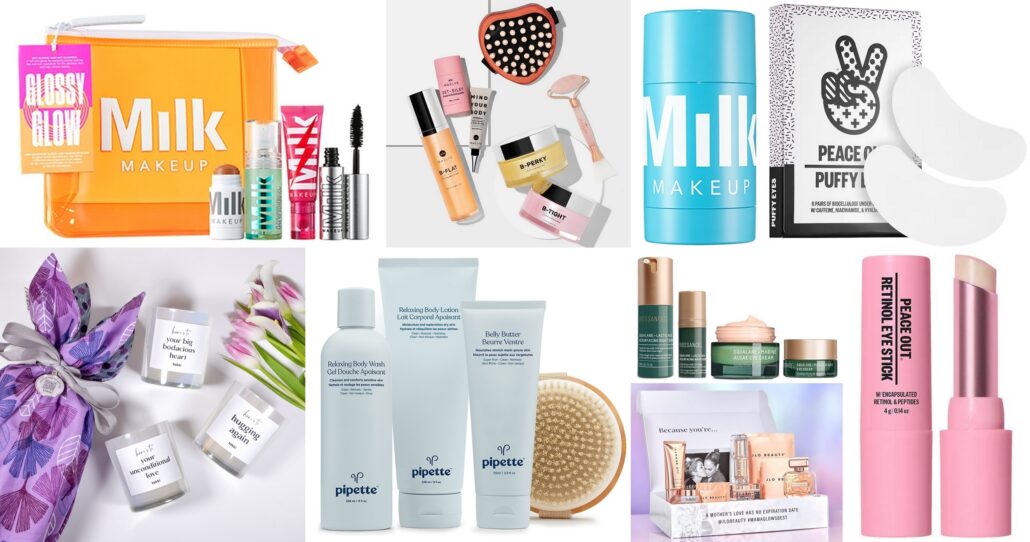 Your mom, sister, wife, and even you will love these self-care must-haves. Whether you get a collection of individual products or gift bundles or beauty sets, we're sure these wonderful gifts will be a hit. This Mother's Day, she's sure to love the below Mother's Day beauty gifts from Milk Makeup, Maelys, Peace Out Skincare, Tokki, Pipette, JLO Beauty, and Biossance.
Milk Makeup Glossy Glow Set & Cooling Water Deodorant
Glossy Glow Set, $35.00: Don't let mom leave home without this kit. Inside the sunny, reusable bag you'll find a full-size Electric Glossy Lip Plumper in Charged (bright pink), a Mini Hydro Grip Primer, a Mini KUSH Mascara, and a Mini Matte Bronzer in Baked.
Cooling Water Deodorant, $16.00: This clean, 100% natural, cooling deodorant is formulated with kaolin clay and a natural enzyme complex to absorb wetness and neutralize odor. Caffeine and seawater refresh skin and natural eucalyptus oil provide a subtle invigorating scent.
MAËLYS MOTHERLOVER Ultimate Mama Bundle
There's A LOT of beauty gifts packed in this bundle. The MOTHERLOVER Mother's Day bundle, $239.00, is truly is the ultimate bundle, whether you're a new mom or not. It's the perfect gift for the beauty-loving mom that needs to focus on her own self-care. Some product benefits include a cream that fades stretch marks, promotes cellulite reduction, and helps in tightening and firming the belly area.
B-TIGHT Lift & Firm Booty Mask: Fights cellulite and tightens buttocks.
B-FLAT Belly Firming Cream: Reduces the appearance of stretch marks and firms that belly.
B-PERKY Lift & Firm Breast Mask: Lifts those boobs the natural way for some all-round. perkiness.
GET-SILKY Breast Exfoliating Stick: Helps unclog pores, hydrates skin and reveals your hidden glow.
MIRACLE Instant Under-Eye Cream: Smooths fine lines and deflates under-eye bags.
SMOOTH-ME Body Quartz Roller: Flushes toxins, rejuvenates skin and helps apply other MAËLYS products.
TEASE-ME Anti-Cellulite Brush: Reduces cellulite for smoother, tighter skin.
Peace Out Skincare Retinol Eye Stick & Puffy Eyes Patches
The eyes are the windows to our souls, so why not help mom's eyes shine a little brighter. Fight wrinkles like a mother with this hero duo. First, apply Peace Out Skincare's best-selling Retinol Eye Stick, $28.00, that helps address tired, aging skin by minimizing the appearance of fine lines, wrinkles & texture for firmer and smoother-looking eyes.
Next, soothe those eyes with their Peace Out Puffy Eyes patches, $25.00 for 6 pairs. These eye patches help revitalize and reduce the appearance of puffiness and dark circles in just 15 minutes.
Tokki Mother's Day Candle Trio Giftset
Make her feel seen and loved with the perfect Mother's Day gift that's woman-owned, eco-friendly, vegan, minority-owned, handcrafted, and made in the USA! This Tokki Mother's Day gift set, $98.00, includes three timely candles in Tokki's top-selling fragrances come with sweet sentiments printed on the back and wrapped in a limited edition Tokki gift bag.
Here's to your unconditional love in "New Day", a fresh and clean ocean air scent.

Back of candle: "Here's to how you're always there for the people you love. Here's to your unwavering support, and how much that strengthens those around you. Here's to how lucky we are to experience the fullness of your love. Here's to you."

Here's to hugging again in "Zen", a refreshing lavender balanced with an uplifting ylang-ylang scent.

Back of candle: "Here's to being able to squeeze you and never letting go. Here's to how much this kind of connection fills us up. Here's to you."

Here's to your big bodacious heart in "Coastal", calming waves and subtle citrus scent.

Back of candle: "Here's to how your heart is so big that it stretches across time and space. Here's to the way you know how I feel even before I can articulate what it is. And here's to the way you are always 1000% on my side, no matter what. Here's to you."
The best part? 10% of proceeds go to Every Mother Counts-helping to make pregnancy and childbirth safe for mamas everywhere.
Pipette To Mama, with Love Mother's Day Bundle
Whether you're gifting your own mom, appreciating your best mom friend, or giving yourself some much-needed TLC, Pipette's got the beauty gifts; the To Mama, with Love bundle, $48.00, has their bestselling self-care items, all in the cutest cloth bag. Their Mother's Day Bundle is designed with expecting moms in mind and is gentle enough to use during pregnancy, postpartum, breastfeeding, and beyond. The Mother's Day Bundle includes:
• 8 oz Relaxing Body Wash: Cleanses and comforts mamas' skin
• 8 oz Relaxing Body Lotion: Adds weightless, natural hydration
• 2 oz Overnight Brightening Mask: Brightens skin and combats the appearance of dark spots
JLO Beauty Limited Edition Mother's Day Kit, $149.00
This specially curated skincare kit by Jennifer Lopez's mother, Lupe, with all her favorite go-to glow-starters valued at $189.00. These beauty gifts are perfect for Mother's Day and this kit includes:
1.7oz Single Cleanser
0.5oz That JLO Glow Serum
0.5oz That Blockbuster Cream
0.17oz That Fresh Take Eye Cream
2-pack That Limitless Glow Mask
Jennifer Lopez Promise Eau de Parfum
Biossance Bright Renewal Set
Help mom wake up to smooth, luminous skin every day and save 35% off the Biossance Bright Renewal Set, $147.00. The skin-pampering set includes the Biossance Lactic Acid Resurfacing Night Serum, which exfoliates with 10% Vegan Lactic Acid and boosts skin cell turnover for smoother, brighter skin, and start the day instantly bright-eyed with the Marine Algae Eye Cream to hydrate, visibly smooth, and fight fine lines and wrinkles.
Which of these Mother's Day beauty gifts would the moms in your life love?